Adelaide & Christopher McClelland

Adelaide Galetta Trumper (b: 26 Jun 1896 in Temuka to parents Elizabeth and Benjamin Trumper; d: 09 Aug 1979 in Winchester, Temuka Bur: 11 Aug 1979 Temuka Cem.) These childhood photos are believed to be Adelaide as an infant, the 2nd, aged abt 3 with sister Lucy.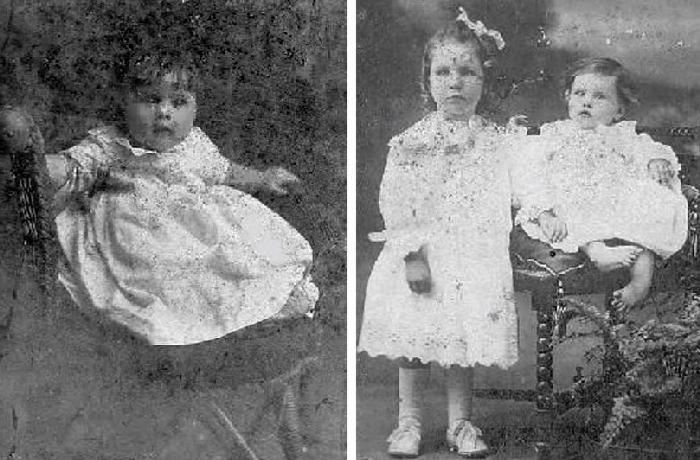 Adelaide was 16 when her baby Evelyn Margaret (BDM Registry spelling records name as "Margareatt") Trumper was b: 1 Nov 1912 and d: 12 Jan 1913 aged 3 months; bur; Temuka Cem. with grandparents Ben and Liz; Plot; Row 155 Plot 514)
The photo (right) just may have been Adelaide's child....
Adelaide mar: 01 Jun 1921 at Temuka to Christopher Gordon McClelland. He was b: 06 Aug 1899 in Temuka to parents Mary Jane Gordon and Thomas Warnick McClelland; d: 09 Nov 1963 in Winchester Temuka; Bur: 11 Nov 1963 Temuka Cem.
In another un-named photo, Adelaide is the bridesmaid

Can you help identify the wedding group and other un-named photos kindly sent by descendant Charlie.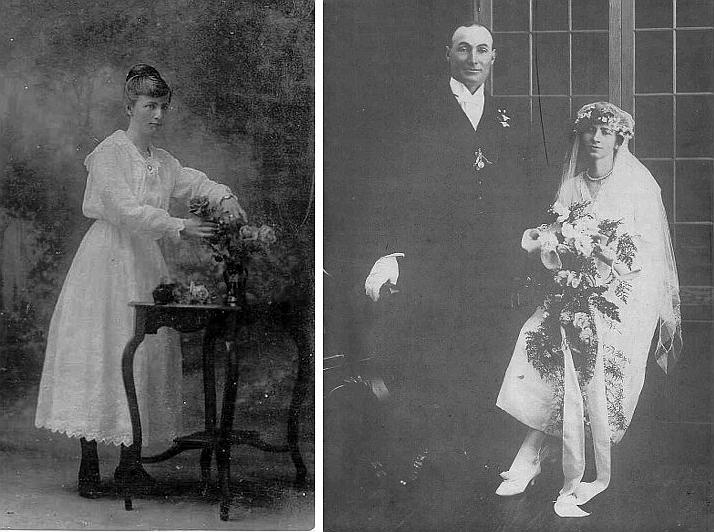 Left: Adelaide aged abt 15 yrs, Marriage; Mr and Mrs Gordon McClelland
Wedding Group: Best man: ? Gordon and Adelaide McClelland; Bridesmaid ?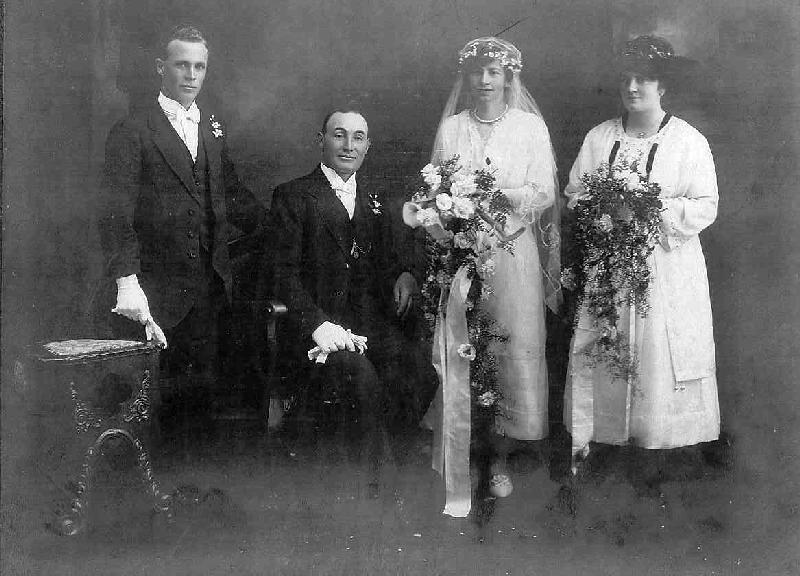 Below: A wonderful photo - proud Gordon McClelland with his 7 children.
Above: Left to Right - Letitia, Noeleen, Gracie, Doug, Winnie, Eric, Mavis and Gordon McClelland.
i Gordon William McClelland (b: 11 Jan 1922 in Temuka d: 03 Jan 1987 in Rawhiti House, Geraldine Bur: 05 Jan 1987 Temuka Cem)
ii Mavis Elizabeth McClelland (b: 23 Mar 1924 in Temuka d: 2008) Mar: 1951 to Leonard Charles Fulton (b: 22 Dec 1920 in Auckland d: 2009) Family are -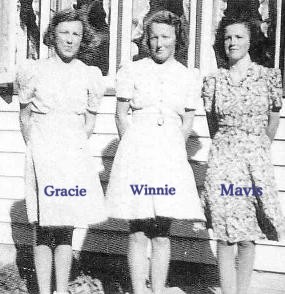 a Charles Leonard Fulton b: Oamaru mar Judith Ann

Their children Paul Charles and Amy Lee Fulton

b Shirley Anne Fulton
iii Eric Samuel McClelland (b: 08 Jun 1926 in Temuka d: 24 Dec 1999) Mar: 1951 to Helen Nancy Scott (b: 03 May 1924 in Featherston d: 1984 in Papakura, Auckland) Family are -
a Leonie Mary McClelland mar Samuel Charles Parker

b Lloyd Douglas McClelland mar: Deborah Anne Maddren

Their children are Luke Peter; Jesse; Jordon and Faith Lucy McClelland
iv Winifred (Winnie) Mary McClelland (b: 01 Oct 1928 in Temuka d: 27 Jun 1984 in Timaru Bur: 29 Jun 1984 Timaru Cem) Mar: in Timaru George Patrick Moore (b: 29 Sep 1925 d: 07 Aug 2006 in Timaru Bur: 11 Aug 2006 Timaru Cem) Family are -
a Christopher John Moore (b: 1959 in Timaru d: 11 Jul 1968 in Timaru Bur: 12 Jul 1968 Timaru Cem)

b Beverley Anne Moore mar James Munro Bartlett

Their children are Fiona Mary and Andrew James Bartlett

c Jane Moore b: 04 Sep 1962 in Timaru d: 05 Sep 1962 in Timaru Bur: 7 Sep 1962
v Douglas McClelland (Twin - b: 23 Nov 1930 in Temuka d: 13 Aug 2004 in Temuka Crem: 13 Nov 2004 Ashes to Temuka Cem) Mar: 1954 to Joyce Gould b: Temuka. Family are:
a Raymond Douglas McClelland mar: Veronica Jane Elliot

Their children are Rebecca Jane and Benjamin Raymond McClelland

b Christine Joyce McClelland Mar: Trevor Noel Evans

Their Children are Nellisa Jane and Brad Stuart Evans

c Lynette Gracie McClelland mar: Gary John Pierce

Their children are Symon Mark and Anthony James Pierce

d Peter Godfrey McClelland b: Temuka

e Judith (Judy) Mary McClelland Mar: Andrew John Davidson
vi. Grace McClelland (Twin) b: 23 Nov 1930 in Temuka She mar: Gilbert John Cooper.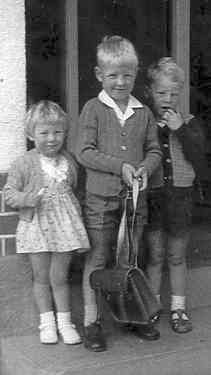 Their family are:
a Michael Godfrey Cooper b: Invercargill

b Leslie Alan Cooper b: Invercargill

c Jan Marie Cooper mar: Marin Adrian Haana Their children are Fred; Dominic; Curtis and Astrid Haana

d Stephanie Adelaide Cooper b Invercargill
vii. Noeline Adelaide McClelland (b: 25 Dec 1933 Temuka; d: 25 Sep 2008 Margaret Wilson Rest Home, Seddon St, Timaru
viii. Letitia (Teash) Lucy McClelland (b: 29 May 1937 Temuka, d: 24 Oct 2014) mar: William John Lester. Children are:
Dianne Sara Lester and Phillip John Lester
Gracie, Letitia (photo is Teash's 21st celebration) Winnie, Gordon, Noeline and Doug with parents Chris and Adelaide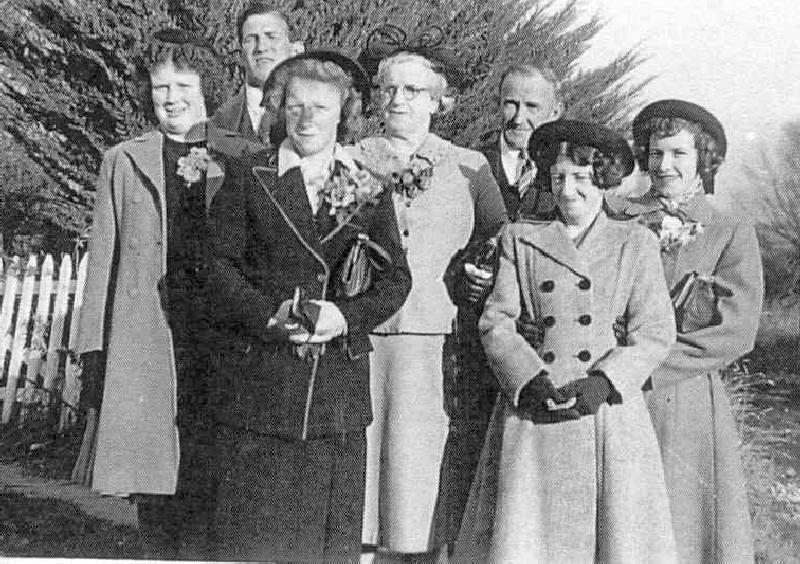 Teash, Gordon, Winnie, Adelaide, Chris, Noeline and Gracie McClelland
Under construction...can you help? Family photos from descendant Charlie Fulton
To conform to the Data Protection Act all pages have been altered to exclude details for living people other than the name. Images and data used in this site copyright - ©

If you can help, have comments, alterations, corrections, amendments etc. please