Press F11 to limit top toolbar
Press again for toolbar to return
Mabel Beatrice & William Charles Good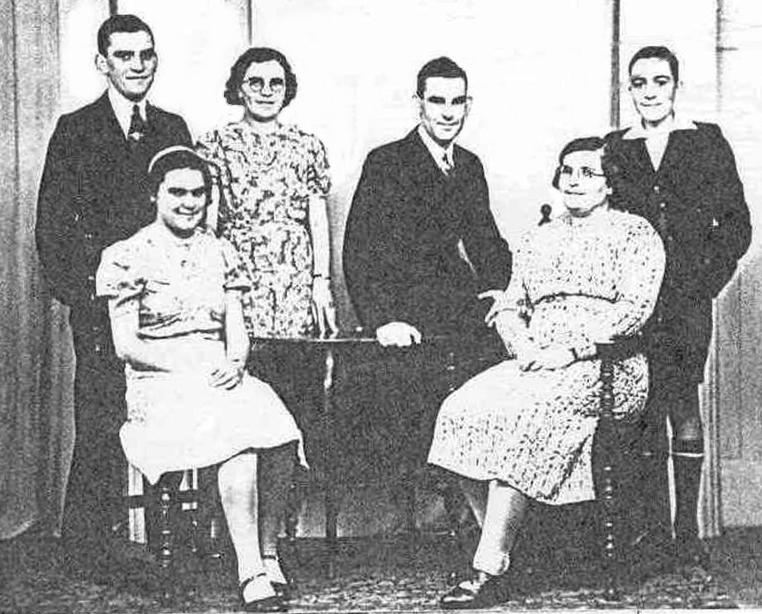 Back: Colin, Joyce, Stan, Mervyn; Seated front: Noeline and mother Mabel Good
Mabel Beatrice Cross b: 25 Oct 1889 in Temuka, South Canterbury to parents William (Bill) Cross and mother Mary Caroline Benbow; she d: 20 Jul 1976 in Christchurch Bur: Christchurch
Mabel mar: on 26 Nov 1912 to William Charles Good (b: 31 Oct 1889 in Ashburton, son of Charles Joseph* Good (1867-1902 and mother Clara Evans (1870-1940)
William Good worked for the NZ Railways until ill health forced his retirement - he d: 16 Apr 1940 in Christchurch.
Their children:
1 William Charles Good (b: 10 Jun 1913 in Ashburton; d: 8 hrs; bur: 11/06/1913 Ashburton Cem.)
2 Alan Charles Good (b: 12 May 1914 in Timaru; He attended the Westerfield School; d: 26 Oct 1924 aged 10Y; His home address 396 Montreal St, in Christchurch; bur; 28 Oct 1924 at Bromley Cem, ChCh)
3 Mabel Joyce* Good (b: 17 Oct 1916; d: 08 Aug 2005) Mar: 1945 to Thomas Austin Shears (b: 19 Apr 1909 - d:17 Dec 1957) His father James Shears (b: 3 Jul 1876; d: 17 Dec 1957) mar: his mother Minerva Ineson in 1904 (she arived into Lyttelton in Nov 1882 on the "Minerva" with her parents James & Maria Ineson (1835-1892) and attended Hilton School in Timaru; she d: 12th Sept. 1963 aged 83) The Shears family started the SHEARS BRICKYARD in Timaru in 1874 - this story of their Brickworks and of the life of the Shears T
heir children: Muriel Ivy; Benjamin James; Walter Ineson; Thomas Austin Shears and William Edward Shears
Mabel and Austin Shears family are:

i Allan Thomas Shears mar: Margaret Jean Hands

Their children: Michael Allan Shears; Aaron Glen Shears; Kylie Susan Shears

ii Charles Wayne Shears mar: Patricia Anne Brook Born: 10 Oct 1954

Children are Lindsay Wayne Shears and Kimberley Joy Shears

iii Lynda Joyce Shears mar; Ray Donnell

Two sons: Grant Malcolm Donnell and Stuart Craig Donnell
4 William Stanley* Benbow Good (b: 17 Apr 1919 in Christchurch; d: 27 May 1989 aged 70 Yrs at Mercy Hospital, Palmerston North; home address 64 Slacks Road, Palmerston North; Crem: 30/05/1989 Kelvin Grove Cem; ashes to Whenua Tapu Cemetery, Porirua) mar: 1941 to Eleanor (Ella) Rose Marshall nee Wilson (b: 12 Dec 1918; d: 8 Oct 2004 in Lower Hutt, Wellington ) Family are:
i Jennifer Anne Good mar: Donald Jeffery

Family are; Karen Jeffery and Stephen Jeffery

ii Russell William Good mar: Jenny McDonald

Their children: Raewyn Good and Adrian Good

iii Raymond Good mar: Kay O'Halloran

Their girls: Sarah Good and Michael Good
5 Vivian Colin* Good (b: 23 Jul 1922; d: 24 Aug 1987) Mar: 1947 to Muriel Kathleen Everest (b: 28 Jun 1917; d: 02 Jun 2004) Their family:
i David Good mar: Raylene Anderson

Children are; Rimu Good and Erza Good

ii Trevor Good mar: Margaret Akahata

Their dau. Kiri Anne Mahara Good

iii Bruce Good mar; Jeanette Strangewood

Their family: Craig Good and Melissa Good

iv Keith Good (twin) mar: Lesley Labrum

Their family; Stephen Good; Colin Good; Kellie Good

v Gavin Good (twin) mar Karen Ambler

Their son Jeremy Good

vi Paul Good
6 Rita Noeleen* Good (b: 18 Dec 1925 d: 15 May 2011) Mar: 1948 to Ronald Maurice Ingold (b: 11 Dec 1920; d: 13 Aug 1990) Electorl rolls: 1946 and 1949 St Albans, ChCh; 1953 and 1957 Sydenham, Christchurch; 1963 to 1981 Lyttelton. Their Children are;
i Derek Maurice Ingold mar Janet Green

ii Judith Ingold mar; Phillip Jones

Their family: Simon Jones and Leigh Jones
7 Mervyn Rowland Good (b: 22 Jul 1927 in Christchurch, d: 03 Sep 1999) Mar: 1951 to Margaret Lillian Bowers Their daughter:
i Sharon Good mar: Warren Barry

Their family : Timothy Barry, Liam Barry and Rachel Barry
*2nd Wife of Mervyn Rowland Good: Mar: Aft. 1978 to Pauline Lorraine Jarvie (b: 30 Nov 1927 d: 22 Jun 1992) Div.
Images and data used in this site copyright - © (Srce: Benbow Book - Catherine Lincoln)
Descendant input to up-date family pages is very welcome - can you help, please?