1906 2 Mar Waihi Daily Telegraph: APPLICATION FOR BRIDGE David Leach and sixteen othors petitioned for assistance for tho erection of a bridge over the Queen's Creek en route to the Waihi Reach, Referred to the Works Committeo,
1907 - David Leach - Engine driver on list of 100+ residents of Karangahake, who signed an unsuccessful petition to have the goldmining township at the foot of the Coromandel peninsular declared a borough in 1907.
1909 -Waihi Daily Telegraph, 29 Mar: A meeting of the newly-formed branch of the Auckland Acclimatisation Society was held in Karangahake recently, Mr, A. S. Hill presiding. It was decided to apply immediately for a consignment of trout yearlings, for distribution in tho following streams: Whitawheta, Mangakara, Tararekc, Doherly's, Matauru, Waitete, Waitoke, The following officers have been elected: l'atron, Mr, Hugh Poland, M.P.; President Mr Armstrong Turnbull; vice-presidents, Very Rev. Dean. Jackott, Messrs, Daw, Stanslield, Nieholl, Auld, G. N. McGruer, T. Wells and J. Sinclair; secretary, Mr. D. Leach.
Children of David and Margaret Leach:
1 David Leach (b: 31 Mar 1879 in Temuka; d: Feb 1955 Bur Paeroa Cem.) Mar: 24 Dec 1903 at Mackaytown, Karangahake to Annie Jane White (b: Sep 25 1879, her parents Frances & Edgar Douglas White; d: 1968 Auckland, bur: Paeroa Cem. 90 yrs) When his father and family left; David Leach, stayed behind with his grandparents to attend secondary school and to work for the local baker, delivering bread with horse and cart, coming north to Coromandel later. He was a stationer at Karangahake
1909: David Leach, Storekeeper, Karangahake, wishes to take out a licence to sell explosives; On leaving Coromandel he first wished to spend some time with his father and brother Archie who had moved to the North Island from Temuka. They had secured a small contract in connection with the final link of the Main Trunk Railway in the King Country.
Ohinemuri Regional History Journal 20, June 1976; (Bill (W.E.) LEACH documented diary excerpts reflecting the life and atmosphere of the early 1900's.)
"Arrived at Waitekauri last night from the King Country at leaving which place I was not at all sorry".
This is the first entry in the diary kept by David Leach from AUGUST 22nd 1900.
"Went to the mine in the morning and secured the job as Engine-driver which had been kept open by the kindness of Mr. Robert Calloway. I was agreeably surprised to find that my quarters were shared by three other Coromandelites, namely: Bert Yeoland, Fred Beckman and Alec Ogilvie".
It was at Coromandel that David had attended the School of Mines in the late nineties. Members of his family have recently been shown the register of attendances kept while he was at night classes preparing for his steam "ticket".
However, on leaving Coromandel he first wished to spend some time with his father and brother Archie who had moved to the North Island from Temuka. They had secured a small contract in connection with the final link of the Main Trunk Railway in the King Country.
AUGUST 28th 1900 "Alec and self at Komata in the evening at the store, which trip cost me 6/- for goods. Must therefore visit less frequently".
This mine was named Te Aomarama [Te Ao Marama – E]. Most readers are familiar with shaft-sinking and the associated timbering. This particular shaft was now at 350 feet and water had to be lifted out by steam-winch. Trucks of mullock were regularly being raised and the SEPT 6th entry reads "a record for one day's winding, 24½ trucks [second figure not clear – E]". Later forty-four were raised by working until 7.20 p.m. "under great difficulties as we had only candle light".
Entertainment was seldom and simple - the odd practical joke with bush-lawyers, buck dances in the hut, cribbage, and occasionally an organised dance at the Waitekauri boarding house kept by Mrs. Adams and family. The football and social outings to other "centres" attracted great interest and sometimes support - "Peter had made arrangements to carry us from Komata to the Station for 1/- per head". Later they were told that the owner was unwilling to make the trip under 1/3 per head. - "The climax was reached to-day when he wrote asking if we meant to engage his brake, offering to take us for 1/6 per head. Consequently our relations as grocer and consumers are much strained".
CHRISTMAS 1900 brought nine days' vacation, not much longer than our present Statutory Holidays. Going by brake to the station, train to Thames, and "S.S. Falcon" to Coromandel, David joined his brother Archie, who had arranged to take supplies by yacht to the Barrier. Their father was soon to engage on a timber contract on the island.
DEC 30th 1900: "To-day all hands were assisting to build the cook-house and tents which were ready for occupation by night". It is interesting to note the inference that the tent walls were timbered.
Back in the Goldfields it was taken for granted that mining development ran parallel with job insecurity. The limited resources of small companies could not sustain prolonged unproductive periods. So it is not surprising to read that David Leach was spending the close of 1901 working for various timber contractors near Waihi.
The entry for JANUARY 6th, 1902, however, reads: "Reached Helensville by train at seven o'clock". This job was concerned with the steam-plant in a timber-mill at Matakohe. It entailed a ten hour day with Saturday work until 12-30 p.m.
Later came the decision which was to affect his future in all respects.
AUG 26th 1902: "Received word that I am to go to Karangahake and start work on the air compressor". This was at the Woodstock Battery. After ten months he was employed at the Talisman.
In December 1903, David Leach mar: Annie Jane White, daughter of E.D. White, who had built the large home opposite the Mackaytown side-school.
Their first house cost £80 plus twelve months spent in week-end renovation. Diary notes include a reference to wallpaper at 1/3 a roll as well as: APR 12th "Up in the bush this morning picking out a few posts for the fence".
In 1908 they entered into partnership with a Mr. Meekins, in the purchase of a stationery shop on the Lower Road. This proved a thriving business meeting an increasing demand for reading matter, a surprising portion of which was non-fiction. Three of their four children were born in the little home on the hill just south of the cutting.
By the year 1912, Henderson, Auckland, offered greater security than fading Karangahake. Bakery experience with a relative there led to the purchase of Cameron's old bakehouse at Paeroa, near the original site of the Railway Station. The little shop was opposite Ott's butchery.
In 1915 David and Jennie, in partnership at first with Donald Macdonell, a highly qualified "small goods" man, acquired the Victoria Bakery in Belmont Road, from the Stewart family. A very popular shop-assistant was Belle Bunting from Karangahake.
By the mid-twenties the bakery was supplying bread to Kerepehi, Komata, Netherton, and to a shop in Hikutaia. The foreman then was Fred Pivott, a very efficient five-eight for the West Senior Rugby team. Bill White served 21 years on delivery to the "country", even flooded areas were not omitted. The town van was in the hands of Mr. Woods, ex-Somerset, father of Audrey, whom many will remember as an accomplished entertainer.
Records show that David was Secretary of the Ohinemuri Acclimatisation Society for several years. His younger son recalls accompanying him to the Waitawheta River to distribute trout-fry. Fifteen thousand was an impressive figure which had been railed in large cans from the Rotorua hatchery and taken from the "Wild Cat" after one of its erratic runs one Friday night. By horse-drawn cart they were taken to Dickie's Flat. From memory it took most of Saturday to billy-spill the young fish into the pools up and downstream from this relatively accessible spot.
A summer Sunday fishing-picnic was always popular with the Paeroa based family. Earlier trips were by cart, dawn to dusk adventures. However, 1918 saw and heard the recently acquired Chevrolet serve for transport, at least for most of the journey. The last part of one return was by foot from the 'Hake rail bridge.
While David fished, the family gathered luscious blackberries, in four-gallon tins. If one were lucky enough to find an old board it became an easy matter to reach those bigger and more attractive bunches towards the middle of the huge clump. Bathing in the cool clear Waitawheta was a pleasant reward, at times an alternative. And fifty odd years later the memory of those delicious Cornish pasties still whets the appetite.
Road access was via Owharoa and in the native bush beyond stood the Dean homestead, built entirely from pit-sawn timber.
It is of interest to record here that Reverend Enticott, at this time Scoutmaster of the Paeroa troop, organised an Easter camp nearby. Pup Clews, Geoff Thorp, Ralph and Phil Dixon, David and Bill Leach, Cyril and Ben Gwilliam - were among the party invited one afternoon to tea and hot scones in this charming home. The boys were lucky enough to be shown the huge cradle or frame used in the pit-sawing operation. One of the Dean boys attended the Paeroa High School. He was actually named "Kauri" Dean by the boys.
In Journal 19 Ivan Hall recalls accurately the sad days of the 1918 "flu" epidemic. David Leach's contribution then was the daily early morning transport to the Central Theatre of the volunteer Nurses. Two of his family were successfully treated there.
It was fortunate for many 'Hake men that the Public Works Department was expanding its programme on flood control at this time. Andy Hamilton was one of many whose mining experience was now of wider value. He bached for many years at the eastern end of the Puke bridge. Another was Jack Manders who retained his home in 'Hake and travelled daily on a Red Indian "Scout".
In 1923 David Leach served a term on the Paeroa Borough Council. The family was then living in Millar Avenue in a house built by Reg. Roberts.
The year 1924 saw extensive additions to the business premises. Now machinery and bakehouse equipment included a large steam-oven. Loaves were now mechanically conveyed direct from the bakehouse to the shop. The new tearoom could now cope with the increased demand, especially on stock sale-days. Some older Paeroa residents may remember the special appeal of the steak and kidney dish-pies.
Then came the depression years. Along with other local business firms the Victoria Bakery "did its bit" towards the sustenance of the Auckland men at the Racecourse relief camp.
About this time David stumbled across an attractive lump of quartz beside a disused track in the vicinity of Scotsman's Gully. Back from the Thames Assay Office came a very encouraging report and the gold-fever struck. With one assistant (there was a Government subsidy available to "promising" prospects at this time) David sank a small shaft in a vain effort to locate the reef. Each attempt resulted in a flooded shaft. There were of course many such frustrations in this district!
With the faithful help of Miss Mina Power, David and Jennie retained control of the Victoria Bakery and Tearooms at Paeroa and afterwards, they retired to Auckland's North Shore where David died in 1955, in his seventy-sixth year. His wife stayed with daughter Joan at Birkenhead, surviving her husband by nearly fourteen years. There are 12 Grandchildren and 26 great-grand children.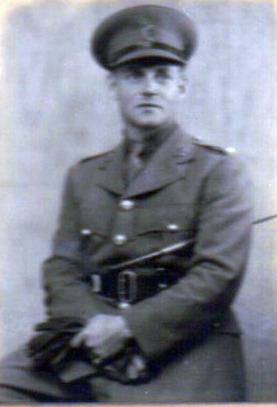 Their family:
i David Leslie Leach (b: 6 Dec 1904 Karangahake; d: 1 Mar 1985 Warrington, Eng.) mar: 1935 at Auckland to Sadie Berstone; div: 1948; Mar: (2) Ella Cook abt 1953 Kuching, Sarawak; Note: Jun 1976: David lived in Devon after spending his adult years abroad on various survey projects. WW2 - Lt Col. Royal Engineers; 2 children

ii Frances Leach (b: 19 Sep 1906 Karangahake; d:12 Aug 1994; bur: Waikumete ) Mar: 1938 to David Eric Mackie (b: 14 Sep 1896; d: 9 Jun 1971; L/Cpl; bur. Waikumete Cem 74 yrs) 2 children

iii William Edgar Leach (b: 6 May 1908; Occ teacher/principal; d: 23 Jan 2006; bur: Kelvin Grove Cem. Palm. Nth; 97 yrs) June 1976: retired to Havelock North from the Raumati School Headship. Mar: Amy Cocks 2 children; Partner; 2 family

iv SBC Leach b: 1913

v Joan Leach (b: 1913; d: 30 Apr 2018) Mar: 1941 to Thomas Leslie Kenneth Bogue (b: 18 Sep 1917 Whangarei; d: 4 Aug 2009) They had 4 children.
David Leach and family, Paeroa; 1926
THE LEACH - WHITE FAMILY; Ohinemuri Regional History Journal 48, Sept 2004
By Joan Bogue (nee Leach) Where we came from:
In 1860, a young man left his parent's home in Delaraine, Tasmania, for New Zealand. David Leach made his way to Temuka in the South Island. He was the son of John and Annie Leach (nee McKinnon). He later met and married Margaret, daughter of Archibald and Margaret McCallum, a family who had emigrated from Greenock, Scotland. The McCallum family stayed in the south and many of the branches still live there.
David and Margaret married in Temuka, raising a family of six boys and one girl before leaving the south for Great Barrier Island, and later for Haumanga, near Waihi. Their eldest son, David Leach, stayed behind with his grandparents to attend secondary school and to work for the local baker, delivering bread with horse and cart, coming north to Coromandel later.
Another young man, Edgar Douglas White, left his home in Yarmouth, Nova Scotia, to arrive in Little Akaroa, he being the son of Job and Elizabeth White (nee Douglas). He too made his way to Coromandel, to the goldfields. Contact with both families has been maintained through the years, by descendants.
In 1852 the Inchinann arrived in New Zealand with immigrants, among whom were Richard and Frances Organ (nee Davis) and their young family. Twins had been born en route, but only the girl, Mary, survived, she being renamed, Eliza. Other children were born, the youngest being Frances, born in Howick, where her father was a Fencible.
Frances and Edgar Douglas White met and married at the parsonage at St. George's Church, Thames, in 1872. His photo hangs in the Coromandel Museum. Thirteen children were born, the fourth, Annie Jane and David Leach met and married. These are my parents. David's name is on the roll of the School of Mines at Coromandel. The White family were then on the move to Karangahake. While the men went ahead to build the family home, my mother and her mother used to ride horseback along the coast with baking, to stay and prepare meals for the men. My mother had worked in the Post Office in the hotel on the top of the Tokatea, between Coromandel and the eastern settlements. The White family home in Albert Street, Mackaytown, was, in later years, known as Mrs White's Boarding House. Part of the house still stands.
My parent's first home was a cottage on the hill over Karangahake, and their first business venture was the stationery and ironmongery shop on the banks of the river, in what, in those days, was a thriving town. The Department of Conservation have erected a series of plaques on the Walkway, giving the history of the mining, and on one of these, the shop is depicted, with my parents standing at the shop doorway, with two of their children, Bill and Frances. David would have been at the school on the hilltop, above the Gorge. It was at this school that we held several reunions of the Leach and White families - here in 1982 my brother, David, who returned to New Zealand on his wife's death, recalled his childhood memories, as we sat on the school steps.
During the Great War, my parents were persuaded by a brother-in-law of Henderson, to try their hand at the bakery business. They set up in New Lynn and the brick bake house and homestead were still standing on the corner of Titirangi Road up to the 1960s. The two families spent a few years living close until my parents bought into the bakery in Paeroa. Except for a couple of years, this business operated right through until the 1960s, before being sold out to Morrinsville bakers. The premises had been enlarged early to accommodate stables, bakery, tearooms and living accommodation. For some years it was said that everyone in Paeroa had worked in or for Victoria Bakeries. Names like Fred Pivott, Ted Wood, Mena Power, Dave Murdoch, Molly Goonan, Jessie Jenkinson, Belle Bunting, Betty Purdie, Dorrie Robbyns, Jim Russell and Noel Vinnicombe will be recalled by many residents.
The four Leach children were brought up in the area. David Leslie, the eldest, attended Thames High School by train, as did his friend, Lyall Noakes. David was persuaded by Courtenay Kenny to go surveying and it was in 1930 that these two friends left for Sarawak to work for the White Rajah, Major Brookes. David became Director of Surveys there and it was while on leave in New Zealand that the outbreak of war took him directly to London in the British Army, where he later took part in the survey side of war in Tunisia, and later still re-entered Sarawak with the forces that flew in to get rid of the occupying forces. He ultimately retired to New Zealand, setting up a survey practice and had a team doing the cadastral survey of Tonga and later, of the Bahamas. He retired to Devon, on a farmlet until his wife died. He then spent the last three years (with his horse) on two acres at Big Bay, Waiuku. He passed away in England, while on holiday there.
Bill, the other son, did his pupil teaching in Paeroa, before spending long service teaching throughout New Zealand, sometimes under very difficult conditions and now, at 95 years old, has only just vacated his villa at Coombrae Court in Fielding, to let someone else do his cooking and housekeeping. At age 94, he stopped his two favourite things, driving on the road and on the golf course.
Frances was training as a nurse when a serious fall caused her to spend several years on her back both at Rotorua Hospital and at home, where she led a really productive time with the young ones with Sunday School and Busy Bees. Full recovery took many long years with great courage and at age 70 she went overseas to Africa, Britain and Europe, without her walking stick.
The White family home, in Albert Street, Mackaytown, later known as Mrs White's Boarding House

2 Archibald (Archie) Leach (b: 27 Aug 1881 in Temuka Occ. gold miner of Waihi d: 03 Jun 1973 in Waihi Beach Bur: 05 Jun 1972 Waihi Cemetery) mar: 25 Apr 1911 at Ladymoor, Waitohi, Temuka to Ruth Mary Benbow (b: 20 Jun 1885 in Temuka d: 28 Dec 1966 in Waihi Beach Bur: 30 Dec 1966 Waihi Cem.) Their children
*2nd Wife of [2] William Leach: Mar: 08 Feb 1926 in Waihi to Mary Lindsay Hands (b: 06 Aug 1903 in Waihi, Coromandel; d: 07 Dec 1976 in Waiomu, Thames) Their dau:
*2nd Husband of Elizabeth Ann Leach: Mar: 1953 in Oneroa, Auckland to Ernest Harold Collett Sadleir (b: Oct 1881 in Acton, Warwickshie UK; d: 14 Oct 1956 in Auckland)
*3rd Husband of Elizabeth Ann Leach: Mar: Abt. 1963 to George Grey Nicholl (b: 02 Oct 1885 in Auckland, d: 03 Sep 1965 in Auckland, Bur: Purewa, Auckland0