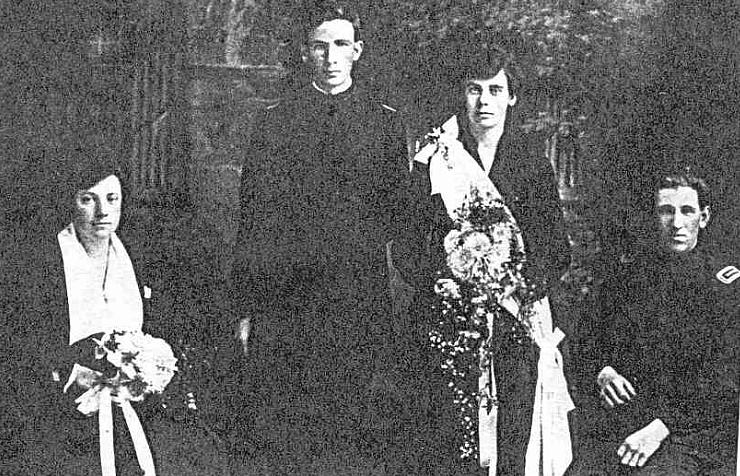 Raybert's skill was as a cabinet maker in Timaru and mar: 23 Mar 1920 Bertha Louisa Robbins, (daughter of George Robbins and Ellen nee Ward b: 08 Dec 1898 at Morven. ) The wood dust started to affect Raybert's lungs and he was advised to do outdoor work and in 1927 was farming at Kowhiterangi on the West Coast
The difficult times came and in the depression he lost the farm, then worked on a relative's farm at Hunter, near Waimate, for a year before shifting to Christchurch in 1936.
The family rented a house in Edgeware Road, St Albans which Raybert later bought. He got work with the Christchurch City Council three days a week on road repairs. He later got a full-time job with the Christchurch City Council driving a grader until he retired. He drove the grader in a sub-division in Bexley where, it is thought, Mattingley Street was named after him.
He was a 'no nonsense' hard working man who could turn his hand to anything. On 30/3/1925 he paid £30 deposit for a 1919 Model T Ford to Cecil Wood Ford Dealers in Timaru. He remodelled it over a period and also built two caravans. This car eventually finished up in a playground in Prebbleton. He had collected tools from the time he left school and if he didn't have the right tool for a job he would make it.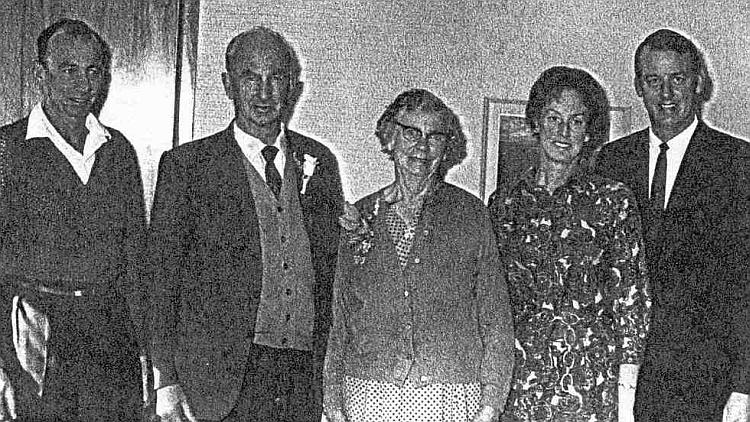 Raybert and Bertha celebrate their Golden Wedding Anniversary From Left: Ken, Ray, Bertha, Joan & Don.

Bertha and Raybert celebrated their golden wedding anniversary Mar 1970. She d: 29 May 1972 aged 73 yrs in Christchurch and Raybert passed away 22 Jul 1983 aged 84 yrs at Christchurch. They are bur. at Memorial Park Cemetery, Christchurch.

Children of RAYBERT and Bertha MATTINGLEY:

1. SBC MATTINGLEY b: 22 Aug. 1924.

2. KENNETH (KEN) MATTINGLEY, b Westcoast snf went to Hunter School He m. GWENDOLINE FLEET. A farmer he moved to Hinds, Mid Canterbury and in later years he took up flying achieved his private pilot's licence and enjoyed aerobatics

Children of KENNETH MATTINGLEY and GWENDOLINE FLEET are:
i. PAMELA MARY MATTINGLEY mar: IAN VINCENT WILKINS b: 1950; a farmer; d. 06 Aug 1995 aged 55 yrs; bur: 10/08/1995 at Ashburton Cemetery

ii. LESLIE MALCOLM MATTINGLEY mar: SANDRA MAREE CHAPMAN

iii. SHIRLEY CHRISTINE MATTINGLEY mar: ROSS CLIFFORD KNAPP

iv. ALAN KENNETH MATTINGLEY, b. 09 Aug 1961; d. 13 Mar 2001 aged 39 yrs; bur: 19/03/2001 Ashburton Cemetery.

v. ELAINE DENISE MATTINGLEY
3. JOAN OLIVE MATTINGLEY; Educated at the Hunter School mar: JAMES ARTHUR PERRY

Children of JOAN MATTINGLEY and JAMES PERRY are:
i. GREGORY JAMES PERRY, mar: ALISON BREARS Their children are LOGAN THOMAS and KARINA REBECCA PERRY

ii. CAROLYN LOUISE PERRY
4. DONALD (DON) CEDRIC MATTINGLEY was by trade a cabinet maker, then owner of "Don Mattingley Motors"in ChCh. He mar: DOROTHY ELWOOD (b: 23 Jun 1933 in Milport Scotland; d: 16 Dec 2015 in Christchurch)

Children of DONALD MATTINGLEY and DOROTHY ELWOOD are:
i. GRANT IAN MATTINGLEY

ii. LYNDA JOY MATTINGLEY
Images and data used in this site copyright - ©
Please