George and Sarah Bartrum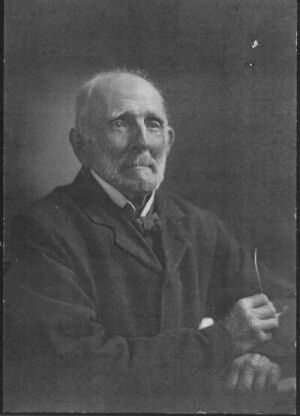 GEORGE STOTHERT BARTRUM was born at Bath, England in 1827, and died November 16, 1916 died at the residence of his son - in - law, T.L. Flaus, who lived in Christchurch. He was buried at Rangiora. He married SARAH PURSEY December 29, 1851 in St Mary's Church, Paddington. She was the daughter of JAMES PURSEY and LUCY FRAMPTON of Somersetshire, and was born 1829, and died February 04, 1904 in Rangiora.
George was brought up as a surveyor, and also gained experience of farming, arrived at Lyttelton on the ship "Stag" on 17th May 1852.This Illustration was by Mr. John Drurey, a passenger from England by ship in 1851. Upper Riccarton Ch. Ch. (1863) and is held by family descendants.
George settled at the Ferry Road on Rural Section No. 48 Christchurch. This was north of Ferry Road 150 acres, and the eastern boundary would have been approximately where Ensors Road now is. Today it is occupied by the locomotive sheds (Linwood Loco).
CANTERBURY JURY LIST List of persons qualified and liable to serve as Jurors with in the Province of Canterbury, 1853 includes Bartrum George, Ferry Rd., Farmer
George and Sarah's first two children (Ben and Charlotte) were born at Ferry Road and the rest born on Rural Section No. 14. This was about 100 acres in area and situated on the south side of Ferry Road between what today is Rutherford and Bamford Streets. The southern boundary of the the section finished about half way between Ferry Road and the Heathcote River. He grew wheat and other crops to support his household, and like so many, used a spade to prepare the ground.
Christchurch Militia List 1860: BARTRUM, George Stothart; Ferry road; Farmer
In 1861 he is stated as being a merchant and carter at Ferry Road and was also engaged in the business of bringing limestone up the estuary to the Heathcote.
ELECTORAL ROLL FOR CHRISTCHURCH 1867-68:Bartrum George; Ferry Rd
His farm at Ashley Bank, pt section 1455 (registered 10.6.63, sold 16.8.1871) beside the Ashley township, was under crop in 1866.
George Stothert Bartrum also had land in Oxford County, section 6049 (registered 10.10.63, sold 24.10.1871) on Bay Road; in Dixons Road (Ashley County) section 2856 (registered 10.10.1863, sold 24.5.1862; and on Smarts Road, Rangiora County, section 443 (registered 9.3.1875, sold 7.11.1884)." (Ref: Horrell Land Transactions; Museum Library, Christchurch)
He also leased two reserves in the Ashley River Bed – No 2431 of 36 acres and run 75 of 109 acres." George Bartrum had settled in the Rangiora district 1867, and with his brother-in-law Thomas Pursey was for some time engaged in carting. Afterwards he commenced farming over the Ashley river where he leased Ashley River Reserves Land No 199, and after selling his Ashley Bank farm and bought 50 acres on the Woodend – Rangiora Road, called 'Willow Farm" which was sold to George Kinley in July 1889 for £18 per acre. George and his wife Sarah celebrated their Golden wedding in April 1902 with the family and for some years before his death, George lived at King Street, Rangiora.
George Bartrum was much interested in religious activities. It was noted in his obituary, at the time of his death, the names of his family, "Messrs B Bartrum (deceased), G. Bartrum, F. Bartrum, Miss Bartrum (England), and Mesdames Ivory, Opie, (deceased), Robinson, Baker, and T. L. Flaus."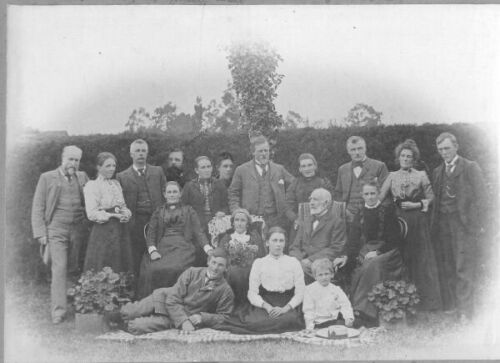 Bartrum Golden Wedding George Stothert Bartrum and Sarah (née Pursey), April 1902.
Standing – from left: George Tour Baker; Fanny Matilda Baker (née Bartrum); Charles Henry Adolphus Truscott Opie; (Inset) Frederick Robert Bartrum (Frederick was south at this time – probably at Kurow); Louisa Taylor Opie (née Bartrum); (Inset) Charlotte Pursey Bartrum ( in England); Benjamin Packer Bartrum; Amy Bartrum (née Hayden); Thomas Leslie Flaus; Alice Flaus (née Bartrum); George Nathaniel Bartrum;
Seated: Mary Robinson (née Bartrum; Sarah Bartrum (nee Pursey; George Stothert Bartrum; Ellen (Nellie) Stothert Ivory (née Bartrum)
Front: John Arthur Bartrum; Grace Ivory; George Bartrum Baker.

Children of GEORGE BARTRUM and SARAH PURSEY are:
i. CHARLOTTE PURSEY BARTRUM b. October 16, 1852, Christchurch; Baptism: November 07, 1852, Christchurch; )Charlotte sailed for England when about 8 years old in the "Blue Jacket" to be adopted by GSB's brother, John Stothert Bartrum, who lived in Bath. In 1881, Charlotte is living with her aunt Matilda Osmond at 33 Cassland Rd, London with cousins aged 19 to 2 years; in the 1901 census Charlotte Bartrum 47 b. New Zealand living at Somersetshire; Bath. She died August 24, 1937, 88 Newbridge Rd; possibly Bath. She married Frederick Hayden (Three Generation photo below - Charlotte Hayden on left) On right is her daughter, baby Charlotte Amy Hayden on the knee of her mother Sarah Pursey who married George Bartrum. (Photo sent by gt-gt-grandaughter Jocelyn)
ii. BENJAMIN PACKER BARTRUM b. October 09, 1853; Baptism: December 04, 1853 He died August 14, 1910 at Wanganui; m.August 24, 1882 at Helmdon Berks Church, England to CHARLOTTE AMY HAYDEN (1857 - 1907) Amy was the daughter of a minister, Frederick Hayden who married George Stothert Bartrum's sister, Charlotte Bartrum in England - she and Ben were cousins. Benjamin Bartrum was a wool classer and also ran a wool washing business beside the creek in Geraldine and was a lay reader in the Anglican church. Monumental Inscriptions: St David's Anglican Church, Raincliff; In Memory of C. AMY BARTRUM; born Helmdon Rectory, Northamp, Eng Fell asleep March 24th 1907 Aged 50 "Her children rise up and call her blessed" Also of BENJAMIN P. BARTRUM Who died August 14th 1910 Aged 55 years also CHARLOTTE AMY DOROTHY STOCKER Eldest daughter of BENJAMIN PACKER BARTRUM and CHARLOTTE AMY STOCKER born 28th November 1883 died 11th July 1971. Benjamin and Amy had 9 children:
........... 1. Charlotte Amy Dorothy Bartrum (1883 - 1971) m. Ives Stocker
........... 2. John Arthur Bartrum (b. 24 May 1885 - 1949) m. 1912 to Constance Lorie. John was born at Creek station, Geraldine, Canterbury, son of Benjamin Packer Bartrum, wool scourer, and his wife, Charlotte Amy Hayden. He became a Geologist and university professor. They had 4 children
........... 3. Agnes Mary Bartrum (1887 - June 1970) m. 21 December 1910 in St Lukes Church to John Brownlie (1885 -)They had 13 children.
............4.Irene Scott Bartrum (1889 - 1976)
........... 5. Oswald Benjamin Bartrum (1891 - 1940)m. Bessie Mansell; 5 children: 5
........... 6. Constance Frances Bartrum (1893 - 1894)
........... 7. Frank Victor Bartrum (1897 - 1899)
........... 8. Gertrude Beatrice Bartrum (1900 - ? ) m. Malcolm Carter; 5 children
........... 9. Cyril Frederick Bartrum (? - 1918)
iii. ELLEN STOTHERT BARTRUM (b. January 16, 1855, Heathcote; d. January 08, 1938, St Albans, Christchurch) She was 19 when she married (1) EDWARD BARNARD, watchmaker, aged 21; on February 25, 1874 in Wesleyan Church, Kaiapoi, son of THOMAS CHARLES BARNARD and MARIA COOPER. He was born 1853 in Bermondsey, London, and died July 22, 1875 in Greytown. She married November 13, 1878 at "The Willows", the house of her father, George Stothert Bartrum to JOHN IVORY (1844 - February 10, 1910) son of WILLIAM EMMS IVORY. They had 4 children
............1 Margaret Ivory (1878 - 1969) m. C. W. Wycherly; 4 children
........... 2. George Ivory (1885 - 24 April 1976)m. Lucy Burrows - 1 child. * George Ivory's 2nd Wife was Winnie ?
........... 3. Grace Ivory (1888 - ?)
........... 4. William Emms Ivory (1890 - 1918)m.1913 to Alice Elizabeth Stacey; 2 children
iv. LOUISA TAYLOR BARTRUM (b. April 03, 1856, Lower Avon District;Baptism: June 22, 1856; d. June 09, 1907, Sockburn) m. May 18, 1880, Glentunnel to CHARLES HENRY ADOLPHUS TRUSCOTT OPIE (b. 1853) Their 8 children
........... 1. Winifred Opie (1882 - ?)m. Joughin
........... 2. Frank Bartrum Opie (1884 - ?)m. Dulcie Barber; 7 children: 7
........... 3. Gwen Lilias Fanny Opie (1886 - 1946)
........... 4. Vivienne Alice Opie (1888 - 1972)
........... 5. Ronald Opie (1890 - 1920)m. Bertha Gadd; 4 children
........... 6. Charles Opie (1890 - ?)m. 1913 to Katherine Brown Finlay (1885 - ?) 9 children
........... 7. Otira Opie (1894 - 1962)
........... 8. Agnes Rita Truscott Opie (1901 - 23 September 1990 in Christchurch)
v. FREDERICK ROBERT BARTRUM( Baptism: April 18, 1858 Lower Heathcote; d.December 18, 1919, Avon St. Oamaru)He married (1) LOUISA NORTON on November 24, 1877 in House of Mr Charles Norton, Woodend. She died December 06, 1882.They had 1 child b. 1882
He married (2) ISABELLA BENNIE HARVEY on March 09, 1892 in Home of J Leishman, Oamaru. Isabella was born 13th April 1866 at Oamrau where whe died May 25, 1947) Their five children:
........... 1. Florence Ethel Bartrum (1893 - ?) m. Harold Ross-Clark in Dunedin
........... 2. Stanley Frederick Bartrum (1895 - d: 26 May 1985 in Public Hospital, Oamaru)m. 1924 in St.Lukes Church, Oamaru to Gladys May Townsley (d.18 May 1967) 7 children
........... 3 Olive Pearl Bartrum (1898 - d: 15 February 1949)m. Ernest James Valentine in Oamaru. 5 children
........... 4. Arthur Eustace Bartrum (1901 - d. 31 July 1987 in Christchurch)m. 9 November 1926 in Columba Church, Oamaru to Flora Janet Shaw (1898 - d: 1 July 1980 in Christchurch) 1 child
........... 5. George Eric Bartrum (1905 - d. 1 November 1986 in Oamaru) m. Christina Gibson on 26 September 1959 at Oamaru. 3 children
vi. MARY JANE BARTRUM b. December 29, 1859, Ferry Road, Christchurch.Baptism: April 22, 1860; d. February 28, 1937, Gresson's Road, Waikuku, Nth Canterbury.
Friday 26 March Lyttelton Times: Marriage - Robinson - Bartrum. 15 January 1886; at the residence of the brides father - Ashley Street, Rangiora by Rev. W. Rowse - Robert James Robinson to Mary J. Bartrum, Rangiora. They had five children:
........... 1. Pursey Robinson (1891 - 1945) m. Agnes ? in 1923
........... 2. Jane Robinson (1893 - 1976)
........... 3. Frederick Robinson (1895 - 1918)
........... 4. Wesley Robinson (1894 - 1962)
........... 5. David Robinson (1903 - d.result of an accident 31 July 1977 in Christchurch Hospital.) m. Ada Griffiths in 1929; 4 children
vii. FANNY MATILDA BARTRUM (b. May 16, 1861, Ferry Road, Baptism: July 14, 1861, Christchurch; d. 1951) Christchurch; and GEORGE THOMAS BAKER (d. 1928) married on October 24, 1892, St Michaels Church, Christchurch. Their 7 children:
........... 1. Rata Wells Baker (b.1893) m. 1920 to Allan Henry Gillingham (1893 - 1962)
........... 2. Bartrum Baker (1895 - 1971)m 1919 Gwendolen Maude Isabelle Osmond (1894 - 1972)6 children
........... 3. Penelope Ida Baker (b. 1896) m 1923 Vernon Bowker (d: 1974)
........... 4. Henry Pursey Baker <1898 - 1961) m. 1923 to Phyllis Margaret Turner; 3 children
........... 5. Moira Fanny Baker (b. 1899)m. Peter A. Chapman; 6 children
........... 6. Marjorie Ethel Baker (1901 - )
........... 7. Arthur Bartrum Baker (b.1903) m. 1924 Sylvia Amyes (d. 1947)4 children
........... *2nd Wife of Arthur Bartrum Baker was Andrée Belay (b. 1914)( m. Aft. 1936)
viii. ALICE BARTRUM b. December 13, 1863. Baptism: January 17, 1864was at St John the Baptist Church, Rangiora; m. May 24, 1901, Rangiora to THOMAS LESLIE FLAUS (d. July 02, 1938, Christchurch)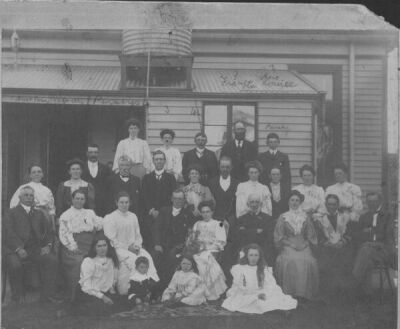 Wedding of George Bartrum and Annie Lock:
Front Row: Jane Robinson; David Robinson; Agnes Rita Truscott Opie; _____?.
Second Row: Charles Charles Henry Adolphus Truscott Opie; Mary Jane Robinson (née Bartrum); Irene Scott Bartrum; George Nathaniel Bartrum; Annie Lock; George Stothert Bartrum; Grace Ivory; Ellen (Nellie) Ivory (née Bartrum); Benjamin Packer Bartrum;
Third Row: Fanny Matilda Baker (née Bartrum); Charlotte Amy Dorothy Stocker (née Bartrum); Thomas Leslie (Tom) Flaus; ______?; Alice Flaus (née Bartrum); Possibly Frederick Robert Bartrum?; Winifred Joughin (née Opie) Louisa Taylor Opie (née Bartrum) ?? Vivienne Alice Opie; Gwen Lilias Fanny (Leila) Opie; Top Row: The first 3 are possibly Purseys; Frampton; _________?; Pursey Robinson.
ix. GEORGE NATHANIEL BARTRUM b. 16 November, 1867, Ashley Bank, Rangiora;and when he died was a farmer in early 1941 was a farmer at Wanganui; He married October 25, 1906 at 242 Durham St. Christchurch ANNIE LOCK (b. 1866 Walton, Somersetshire; d. 1945)and they had 4 children
........... 1. Georgina Frances Bartrum (1907 - d. 24 September 1974)
........... 2. Clifford Benjamin Bartrum (b. 1910)m. 1938 to Edna Marsh; 4 children
........... 3. Mary Agnes Bartrum (b.1911)
........... 4. Charlotte Bartrum (1913 - 1983) m. Gordon Howard Frampton Oliver; 3 children
*2nd Wife of George Stothert Bartrum was Jane Mulholland m: 16 October 1905 in Rangiora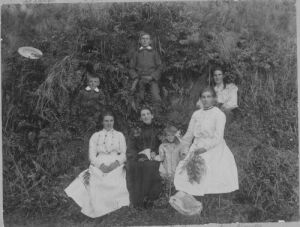 Group Photograph Taken by Fairlie Photographer J.E. Pigott.
Left to right First Row: Charlotte Amy Dorothy Bartrum (became Mrs Dorothy Stocker); Amy Bartrum (née Hayden); Gertrude Beatrice Bartrum (now Mrs. Malcolm Carter) Agnes Mary Bartrum (married John Brownlie). Top Row: Cyril Frederick Bartrum; Oswald Benjamin Bartrum; Irene Scott Bartrum. [A note above the hat, top left hand corner states, "Arthur missing, at college"
Please contact Brian Bartrum who is documenting his Bartrum family.









Images and data used in this site copyright - ©

Descendant input to up-date family pages is very welcome - more detailed information available on request