Frank Stephenson Smith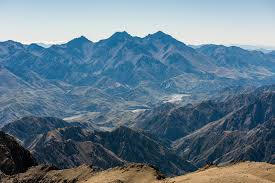 FRANK STEPHENSON SMITH was b: 09 May 1846 in Gillingham, Norfolk, England immigrating aged 3Y in 1849 to New Zealand and d: 12 Oct 1922 in Blenheim aged 76Y. Bur: Omaka Cem., Blenheim
1873- 74 - F S Smith - Ensign Omata Militia Officer forces were issued with a Crown Grant - Private Frank Stevenson Smith received a 1 acre allotment in the township of Mokoia.
He mar: 07 Oct 1896 in Kaikoura Church to FLORENCE SARAH PARSONS, daughter of GEORGE PARSONS and SARAH. She was b: 1867 to parents George Estcourt and Sarah Parsons, and d: 27 Oct 1942 in Blenhiem. Florence shared her husband's passion for the outdoors and exploration.
Her father: The death occurred 5 Jan 1925 at the home of his daughter Mrs Stephenson Smith, Blenheim on Tuesday of Mr. George Parsons a settler in Marlborough for about 56 years. The late Mr. Parsons was born 84 years ago at Newcross, Somerset, England, where he married Miss Sarah Parsons. He came to Nelson with two brothers, Mr. W. H. Parsons, now of Auckland, arid Mr. E. A. of Melbourne, and after living there for a period, the late Mr. Parsons went to the Wairau Valley, and subsequently took up land with his brothers in the Pelorus. Mr. Parsons later went to the Kaikoura district, where he farmed, amongst other properties, the Swinley Estate, Later; he entered into possession of Kincaid Downs, a property upon which he resided until about six years ago, when upon the death of his wife, he went to live in retirement in Blenheim. He and Mrs Parsons celebrated their golden wedding at their home, Kincaid Downs April 1915. Mr. Parsons was a member of the River Board and A. and P. Association at Kaikoura for long periods, had been a Justice of the Peace for many years, and was a Past Master of the Masonic Lodge at Kaikoura. He established the first flourmill in that district. he leaves a family of six children, twelve grand-children, and four great-grand.children.
George Estcourt Parsons b: 1842 in Newcross, Somerset d: 05 Jan 1926 in At residence of his dau, Mrs Stephenson Smith, Blenheim 84Y mar: 1865 to Sarah ]] b: 1840 d: 17 Dec 1919 in Kincaid Downs, Kaikoura 79Y Their children:
Florence Sarah Parsons b: 1867; George Edmund Parsons b: 1869; Emily Gertrude Parsons b: 1872; Ella Jane Parsons b: 1876; Louisa Penny Parsons b: 1878; Mabel Estcourt Parsons b: 1883;
F. S. Smith was 2nd son of John Stephenson Smith, an early Taranaki settler, a younger brother of Stephenson Percy Smith, a former Surveyor General of New Zealand and Frank retired as Chief Surveyor and Commissioner of Crown Lands for Marborough.
He became a survey cadet under Octavius Carrington in Taranaki. During the war in Taranaki, in 1860 he served in the Taranaki Militia. Later he took part as a Volunteer in the Parnell Rangers in the Waikato campaign. He returned to Taranaki and assisted in the subdivision of the confiscated territory in southern Taranaki and in the Waitotara district, during the period when the survey parties carried out their tasks under the protection of covering parties of Imperial troops and the Armed Constabulary (1873- 74 Ensign F. S. Smith - Omata Militia Officer) In 1874 he joined his brother S. P. Smith in the Auckland district as Assistant Surveyor.
During his long service in the Lands and Survey Department he spent many years in the Marlborough and North Canterbury districts, one of his tasks being the triangulation of the high rugged territory where the boundaries of the former Provinces of Nelson, Marlborough and Canterbury join.
It was in this region that disaster befell Smith's party on 9th June, 1886. At that time he was District Surveyor and he and his party, comprising Messrs. Hugh Thompson, L. Paske, W. Mitchell and J. Bagley were engaged on the triangulation in the ranges at the head of the Waiau and Clarence Rivers at elevations of between 3,000 and 7,000 feet. With threatening deterioration in the weather they were moving out to take up winter quarters in the lower country of the of the Waiau. They were caught in a severe snowstorm in the early part of the day, but, in expectation of finding less snow in the lower levels they pushed on over Fowler's Pass into the Clarence Valley, only to find all tracks obliterated and the blinding snow piled up to a depth that rendered travelling by man or horse almost impossible. After nightfall they struggled on and about 10 p.m. Mr. Paske died from cold and fatigue. Mitchell had set out in search of assistance and being unable to force his way through the snow he rode his horse into the Clarence River and worked his way down its freezing channel for four or five miles to the St. James homestead where a relief party Was quickly organised, and led by John Campbell and Mitchell reached Smith and his companions at 2 a.m. just as Hugh Thompson died on horseback in the arms of Campbell. But for the efforts of Mitchell it is probable that the whole party would have succumbed.
As District Surveyor, F. S. Smith was in charge of the Kaikoura Survey Office from 1897 to 1902 and during that time he superintended the surveying of some 25,000 acres of better class land into sixty farms and a further quarter of a million acres into twenty-nine Small Grazing Runs in 1902. At the end of the period the Kaikoura Office was closed and he was transferred to Gisborne district as Inspector of Surveys in charge of the Gisborne end East Coast surveys. At that time the Auckland Land District comprised the whole of the former Auckland Province except the Gisborne and East Coast districts and the Gisborne Office was administered from Hawkes Bay. 1901 - Kaikoura - JP
In July, 1906 he returned to Blenheim as Chief Surveyor and Commissioner of Crown Lands for Marlborough Land District. He retired from the Government Service at the end of August, 1911 and died in Blenheim not long afterwards. He was a foundation member of the New Zealand Institute of Surveyors.
He was a foundation member of the New Zealand Institute of Surveyors.

OBITUARY: MR, FRANK STEPHENSON SMITH - It is with great regret that we record the passing of another member of one of the pioneer families of Taranaki, in the person of Mr. Frank Stephenson Smith, the second son of the late John Stephenson Smith, which occurred at Blenheim on Thursday, October 12, from an acute attack of pneumonia. Mr. Smith came to New Zealand with his parents and other members of the family by the ship Fekin, landing at New Plymouth in 1849. His youth was spent on the farm, now part of Westown. Soon after the outbreak of hostilities with the natives in 1860 he joined up with No. 1 Company of Bushrangers, and saw a great deal of active service, remaining with that company until its disbandment.
His first big experience of surveying was with his brother, the late Mr. Percy Smith, in laying off for military settlers the extensive block of country lying between the Waingongoro and Patea Rivers, covering the whole of the Hawera-Patea districts. This was in 1865-6, and was a most dangerous undertaking, being in constant danger of ambuscades by the natives. His most important survey work, and one that will mark him for all time as one of the leaders of his profession in this country, was the triangulation, combined with a typog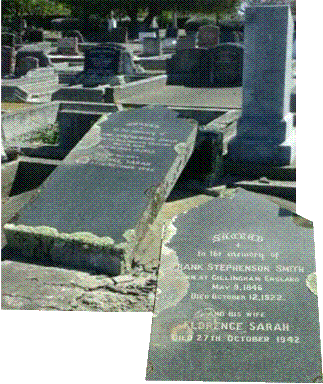 raphical survey of the Southern Alps lying to the north of the Hurunui/Waimakariri watershed, combined with the country covered by the Kaikoura Mountains. This work demanded great determination and resource. It was highly dangerous at certain seasons of the year, as witness the tragedy that nearly overwhelmed the whole party in the Upper Wairau and Clarence country, when two of the party died from exposure.
Like his brother, Mr. Percy Smith, he had taken more than an ordinary share in the dangers that beset the pioneers of the Survey Department in New Zealand. After a long and honourable service he resigned his position as Commissioner of Crown Lands and Chief Surveyor of Marlborough in August, 1911, and had since then resided in Blenheim. He is survived by his wife, a daughter of Mr. Estcourt Parsons of Kaikoura, a sister, Miss D. Smith, New Plymouth, and a brother, Mr. Harry Smith, San Francisco.
Burial: Omaka, Blenheim; Frank Stephenson Smith grave monument: Legible names and details (First name on monument) Frank Stephenson Smith (burial year) 12/10/1922 (age)76 (birth year) 9 May 1846, Born Gillingham; England.Florence Sarah Smith 27/10/1942 wife of Frank Stephenson Smith Stone has fallen over and is lying flat.