Hidden Slide Menu on Left
Sydney Rosina & Samuel James Clegg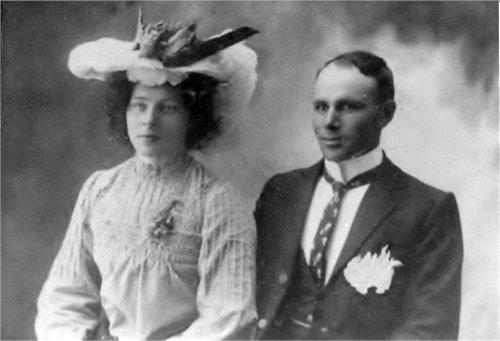 Sydney Rosina May Prosser (b: 10 Mar 1886 in Johnsonville, Wellington d: 30 Dec 1974 in Opunake Bur: 01 Jan 1975 Opunake Cemetery) Mar: 03 Aug 1904 in Opunake to Samuel James Clegg (b: 31 Aug 1874 in Tokomairiro, Otago d: 01 Oct 1959 in Opunake Bur: 03 Oct 1959 Opunake Cemetery)
Taranaki Herald, Opunake: 3 Aug 1904: Snow fell for about two hours on Wednesday evening. Hail showers have been frequent during the week, and the weather is still very cold.
A prettv and rather novel wedding was solemnised at the Anglican church by the Rev. T. H. Rawnley on Wednesday morning, the contracting parties being Mr S. Clegg, of Awatuna, and Miss Prosser, of Opunake. The bride was dressed in a neat sage-green travelling dress, while the bridesmaids were dressed one in royal blue and the other in red. It was called a rainbow wedding.
Their family:
1 Samuel James Clegg b: 16 Sep 1905 in Opunake, Taranaki Died: 1982 in Calvery Hospital, Wellington Mar: 1931 to Elizabeth (Liz) Mary Annis (b: 04 Jul 1910 in Opunake Died: 07 Apr 1999 in Wellington) Children are:
i Patrick James Clegg mar Marie Therese Geary - Children are Brendon Patrick mar Joanne Cheer; Christopher David; Paul Richard; Nicola Anne; John Clegg and Amanda Clegg

ii Max Russell Clegg mar Maureen Joan Keating - Their family are David William mar Debra Mules with 3 children - Krystal Marie; Elizabeth Anne and Rebecca Jane Clegg; Thomas Michael mar Heather Ruth Elley; Anne Elizabeth; Helen Margaret mar David Grenville Beckley - 2 children Suzanna Marie and Daniel Grant Beckley; Maxine Maria and Catherine Lucy Francis Clegg

iii Brian Samuel Clegg mar. (1) Adele Winifred - Children are - Simon Peter; Michael Brian and Emma Mary Clegg

*2nd Wife of Brian Samuel Clegg: mar. Pamela Florence Nicholseon
2 Elliot Vivian Clegg (b: 16 Feb 1907 in Opunake, Taranaki d: 1984) Mar: 1932 Evelyn Marion Gilshnan (b: 1910 d: 1964) Children are:
i Peter John Clegg mar Marylyn Smale - Family are Jeffrey Aaron; Julie and Jason Clegg

ii Olwyn Pamela Clegg mar Ron Bird - their children are Christopher and Kathleen Bird
3 Maude Isabella Clegg (b: 13 Feb 1909 in Opunake, Taranaki d: 1988) Mar: 1928 to Stanley Philip Hopkins (b: 1904 d: 1979) Family are:
i Iris May Hopkins (b: May 1930 d: 1991) mar Joseph Walter Charleston Their Family: Kristine Mary mar Raymond Ormsby; David Richard Stanley mar Sharlene Reynolds; Grant Joseph Charleston

ii Lorna Vivian Margaret Hopkins mar Jack Horrocks Their son is Paul John Robert Horrocks

iii Sylvia Phyllis Hopkins mar Phillip Rupert Hart Their 2 children: Rohan Phillip and Amelia Eleanor Hart

iv Stanley Samuel Hopkins mar Raewyn Halsey Their 6 children are: Gregory Raymond mar Andrea Patterson; Shelley Amanda Hopkins; Steven McGregor; Phillip Rex; Angela Elizabeth mar Roger Raymond; Richard Stanley Harold Hopkins

v Janis McGregor Hopkins mar James Jackson Their son Shaun Clifford Jackson mar Barbara Belcher

vi Averil Elizabeth Hopkins (b: 1951 d: 1966)
4 Garnet Prosser Clegg (b: 08 Apr 1911 in Opunake, Taranaki d: 09 Apr 2003 in Auckland Bur: 12 Apr 2003 Waikumete Cem, Glen Eden) Mar: 17 May 1940 in New Ply to Linda Jacqueline Jamieson (b: 12 Oct 1917 in Taueru d: 09 Jul 1981 in Henderson, Auckland) Their Children:
i Garnet Edward Clegg mar Tau Apiata Children are Mark and Marea Clegg

ii Valerie Constance Clegg (b: 19 Nov 1941 in Auckland d: 11 Mar 1983 in New Ply) Mar: 29 Apr 1960 in New Ply to Neville Ronald Adlam (b: 18 Aug 1939 in New Ply d: 12 Nov 2009 in New Ply) Their 6 children are: Angela Kaye mar Leslie Reynolds; Katherine Ann mar (1) Peter Kahui (2) Thomas Tyapa; Janice Rae mar Murray John Waitere; Ronald James Adlam (b: 07 Aug 1965 in Hawera d: 08 Aug 1965); Denis Andrew mar Kerry-Ann Millar; Andrew Douglas Adlam

iii Margaret Emma Clegg mar William John Plaisted. Their 3 children - Linda Rose, John and Sally Plaisted

iv Lorraine Kay Clegg mar (1) C McMartin (2) John Francis Woods Their children: Antony and Clare Woods
5 Claude Prosser Clegg (b: 14 Jul 1913 in Opunake, Taranaki d: 29 Sep 1991 Bur: 30 Sep 1991 Opunake Cem) Marr: 1940 to Jean Lorraine Bassett (b: 28 May 1920 d: 2006) Their children:
i Hermoine Jean Lorraine Clegg mar Edward Michael Jahn Family are Edward and Helen Jahn

ii Rowley Prosser Clegg mar Elaine Gail Boon their 4 children are Christopher Rowley; Jonathon Martin; Anthony James and Natalie Jean Alice Clegg
6 Sarah Hermonine Constance Vivian Clegg (b: 06 Sep 1914 in Opunake, Taranaki d: 23 Mar 1925 in Opunake Bur: 23 Mar 1925 Opunake Cem)
7 Sydney Rosina May Clegg (b: 06 Oct 1916 in Opunake, Taranaki d: 1986) Mar: 1938 to Frederick James Langton (b: 1909 d: 1975) Their family"
i Rosalie Mary Langton mar Russell Leslie Kingston - 4 children: Susan Mary; Brian Leslie; Kevin Russell and Joanne Brenda Kingston

ii James Frederick Langton mar Valerie June Smith They have 6 children: Valerie Anne mar Grant Neal Richards; Julie Maree mar Michael Steven Walsh; Sandra Leigh mar Hank Schrader; Karen Patricia mar Keiren Stone; James Graeme; Jan Sydney June Lanfton

iii Douglas Graeme Langton mar Omeka - children are Isabel, Sarah Jan and Prosser Langton

iv Anne Sydney Jean Langton mar Edwin McLean Eggers - sons are Allan Stewart and Simon James Eggers

v Rex Bruce Langton mar Lorraine Alice Lister - their 4 children are Aarn Steven; Haydn Mitchell; Bartholomew Rex and Lynley Maree Langton

vi Frederick Sydney Langton mar Glenys Evelyn McIntyre - their three sons are Ross Frederick mar Sharon Donna Mackie; Mark Brice mar Donna Marie Bacon; Jason Prosser Langton

vii Samuel Allenson Langton mar Margaret Ann Roderick - family are Roderick Allenson; Wade Trevor, and Samantha Rosina Langton

viii Glenys Vivian Langton (b: 1961 d: 1977)
8 Rowley Dick Prosser Clegg (b: 07 Jun 1918 in Opunake, Taranaki d: 26 Feb 1988 in Opunake Bur: 05 Mar 1988 Opunake Cem) Mar: 1941 to Jean Chalmers McIntosh (b: 1920 d: 1969)
i Lee Clegg mar Roger Mathews - their daughters are Deborah and Karen Matthews
9 Anne (Lucy) Dorothy Clegg (b: 19 Feb 1919 in Opunake, Taranaki d: 29 Oct 1958 Bur: 31 Oct 1958 Opunake Cem) Mar: 1945 to Kenneth William Henry Southwell
All images and data used in this site are copyright - ©

Descendant input to up-date family pages is very welcome and more detailed information is available to family on request. Acknowledgement must be given to this research source and no content may be published without permission.