Hidden Slide Menu on Left Side of Page
Bayly Index
Children of Thomas (Jnr) and Ann Bayly
1 George Thomas Bayly (b: 19 Mar 1856 in Tataraimaka, Taranaki d: 26 Jun 1938 in Whangarumera, Auckland) Marriage: on May I7th, at Christ Ohurch, Wanganui, by the Rev. T. L. Tudor, George Thomas Bayly, Esq., of Mokoia, Hawera, to Alfreda Gertrude Louisa Dawson-Welsh, oldest daughter of the late Rev. Ralph Dawson-Walsh, of Pomeroy, County Tyrone, Ireland. (b: 1867, d: 20 Nov 1919 Mount Street John Avenue, Epsom, Auckland Bur. Purewa Cem.) They moved from New Plymouth to live in Auckland after death of their son. George Thomas Bayly purchased Kaikoura Island in the Hauraki Gulf on 16 June 1911 and the Bayly family owned the island for nearly 30 years before selling in 1941 to William Warren In the 1920s or early 30s the Bayly's released fallow deer. Their children:
i Arthur George Bayly b: 04 May 1888 in Mokoia, Taranaki, School Nelson College 1896/97; d: 17 Aug 1909 in New Plymouth.

Taranaki Herald, 17 August 1909 The death occurred this morning of Mr. Arthur Bayly, eldest son of Mr. Geo. Bayly. The deceased, who was in his twenty-first year, had been laid up for the past two years, having received at football an injury which led to his death. As a pupil at Nelson College be was very popular, and his doings in the athletic department showed great promise. His first year at the institution saw him a member of both the senior football and cricket teams, a position which he maintained until compelled to retire owing to injuries Not only at school but in New Plymouth he was well known on the cricket field, and his death will widelv regretted by a large circle of friends. Bur; 18 Aug 1909 Te Henui Cem.

ii Beresford Richard Bayly b: 1891; School 1897 Nelson College; A farmer in Sth Auck, he served WW1 Unit 24th Reinforcements Auckland Infantry Regiment, A Company; d: 1 Oct 1919 in an accident Auckland; Bur: Purewa Cemetery

iii Georgina Bayly (b: 25 Aug 1895 d 1984) Mar. 1917 to George Neville Hill (b: 1891 to George and Mary Eliza Hill; served WW1; Occ: Real estate salesman; he d: 1944) They are buried Purewa Cemetery Auckland

iv Charles Dennis Bayly (also known as John Charles Denis Bayly) b: 1906 Occ: Sales manager; d: 1964 in Palmerston Nth; Mar: 1929 to Lois Muriel Allen (b: Apr 1912 d: 1980) They are buried Kelvin Grove Cemetery, Palmerston Nth
*2nd Wife of [1] George Thomas Bayly: Mar: 18 Nov 1930 to Vera Elizabeth Taylor b: 12 Sep 1889 in Thames; her Father: George Byron Taylor; Mother: Henrietta (Hetty) Waite She d: 11 May 1963 in Auckland Bur: 1963 Purewa Cemetery, Auckland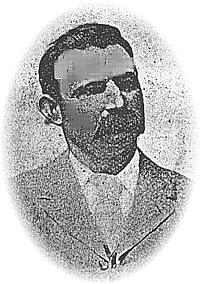 2 Fred Bayly b: 26 Mar 1857 in New Plymouth and was educated in New Plymouth and Wanganui. He was brought up to farm life, and owned farms at Manaia, White Cliffs, and Mokohia. His property Hillside of 950 acres, carried 2,200 crossbred sheep and 150 head of cattle. He took a considerable interest in all athletics, but principally in football and cricket. d: 12 Dec 1930 in New Plymouth. He married on 24 May 1888 in St Mary's Church, Hawera to Frances (Fanny) Louisa Fantham (b: 27 Sep 1866 in Canterbury, NZ d: 10 Sep 1948 in New Plymouth) In 1885, when she was 19, she was one of a party who climbed to an un-named peak on Mt Egmont. This was named Fanthams Peak in her honour, the first woman to climb that far on Mt Egmont. In WWI she went to England, where she worked in a munitions factory and nursed at a hospital at Walton-on-Thames. Their family:
1 Basil Oscar Bayly b: 1889 in Manaia WW1; Occ: Storekeeper Awapuni; d: 24 May 1946 in Te Maika, Kawhia; Mar: 1913 Martha Jane Walker b: 19 March 1892 the daughter of Fanny and Robert Walker. She d: 1991

2 Howard Albert Bayly b: 05 Oct 1890 in Manaia Occ: farmer; d: 28 Jun 1963 in Inglewood where Bur. He Mar: 10 Apr 1912 in Stratford Josephine Pauline Levandowski B: 1887; d: 1965

3. Zaida Pauline Bayly (b: 25 May 1893 in Hawera, d: Abt. 1967 in Sydney) Mar: 15 Aug 1914 in Stratford, Taranaki to Harry Leopold Spratt (b: 20 Dec 1888; Migrated to Australia in 1928 ; d: 13 Mar 1977 Sydney) Div. 23/08/1944. Their 3 sons: Aleric, Harry Geoffrey d: WW2 Missing-in-action and Miles Havyatt

4 Fay Cora Frederica Bayly Born: 18 Aug 1894 in Taranaki Died: 13 Sep 1982 in NZ Married: 26 Mar 1919 to Stanley Home Crossley

5 Patricia Mary Bayly b: 1896 in Toko, Stratford; d: 06 Dec 1952 in New Plymouth; Mar: 05 Oct 1915 in St Mary's New Plymouth to Arthur Noland Foye Bignell b: 27 Nov 1889 Parents: Arthur Gorbell and Florence Catherine Bignell; d: 1982

6 Geoffrey Fantham Bayly b: 27 Jul 1901 in Stratford; d: 1961 in Auckland; Bur: 1961 Purewa Cemetery, Auckland; Mar: 1927 to Alexandria (Lexie)MacLeay. From the Taranaki province he and family moved to the Waikato where he farmed at Putaruru and was for a time a member of the firm of Thos BORTHWICK and Son. During some 16 years in the Waikato district he became actively engaged in sporting activities being President and Captain of the golf club, secretary of the bowling club and a rugby selector. He went to Te Puke in 1952 where he took up a mixed farm holding of 200 acres on the No. 3 Road, and later after subdivision, elder son, Fred, farmed the balance of the property. Geoffrey built up the bottom portion of the holding retaining an interest in the farm up to the time of his illness.
During his time in Te Puke he also took a great interest in golf, bowls,and rugby.
He died in March 1961 at his home on the No. 3 Road, Te Puke, leaving his wife, two daughters, Anne (Mrs J HAWORTH of Putaruru) and Beverley (Mrs B BENNETT of Te Puke) and two sons, Fred (of Te Puke) and Ian (of Takapuna)
3 Amelia Bayly b: 12 Dec 1858 in New Plymouth; d: Apr 1939 in Waikaraka; She Mar: 05 Apr 1887 in Wesleyan Church, Waitara to Joseph John Mather; Occ: Wesleyan Minister; b: 1857; d: 8 Nov 1921 in Waikaraka; Their Burials at Onehunga Waikaraka Cemetery. Their family;
i Florence Marion Mather Born: 21 Mar 1902 in Auckland Died: 28 Aug 1909 in Whangarei Burial: Onehunga Waikaraka Cemetery

ii Clifford Wharfedale Mather Born: 13 Mar 1889 in Auckland Died: 30 Jun 1916 in France

iii Violet Anne Mather Born: 1891 in Auckland Died: 1959 in Auckland Bur: Onehunga Waikaraka Cemetery

iv Harold Wilson Mather Born: 1888 in Auckland Died: 11 Jul 1956 in Hellensville Bur: Onehunga Waikaraka Cemetery Married: 1913 to Gracie Cheyne

v Edna Jeanne Mather Born: 1893 in Auckland Died: 16 Oct 1971 in Mt Albert, Auckland Bur: Onehunga Waikaraka Cemetery

vi Charles Gordon Mather Born: 10 May 1896 in Auckland Died: 25 Mar 1951 in Stratford Married: 1922 to Emma Eliza McQuay Born: 1895 Died: 06 Mar 1959 in Stratford Their burial at Kopuatama Cemetery Stratford
4 Frank Rundle Bayly Born: 1860 in New Plymouth Died: 31 Jul 1864 in Taranaki
5 Harry Bayly was born in New Plymouth in 1862, and educated at Wanganui and the Parnell Grammar School, Auckland. He had considerable experience in managing farms, before taking up land of his own in 1891. While a resident of the Toko district he owned "Tokoawa," a fine property of 1649 acres, on the banks of the Toko river. It carried 3,500 sheep, and about 400 head of cattle; and the woolshed could house 500 sheep at night, and had accommodation for shearing 5000 each season. Mr. Bayly acted as judge for the Stratford Racing Club. After leaving Toko, Mr. Bayly lived at Palmerston road, Gisborne.

He married 28 Feb 1893 in St Mary's Anglican Church, New Plymouth to Ella Sidney Rennell a daughter of Wilfred and Eliza Jane Rennell. She was b: 1868 and d: 1942 in Auckland Bur: Purewa Cemetery, Auckland. Harry died 29 May 1935 Crem. Rotorua ashes to Tirau. Their children
i Winifred Sidney Bayly b: 1894

ii Harry Leslie* Bayly b: 08 Aug 1895 in New Plymouth d: 1974 in Tirau Burial: 1974 Crem Rotorua; Mar: 1922 Edna Mary Moore-Jones b: 17 May 1903 d: 2000
6 Norah Bayly Born: 1864 Died: 1957 in Auckland Burial: 1957, Married: 1895 to Henry Edward Vaughan Born: 1863 Died: 1949 in Auckland ; Crem. Waikumete Cemetery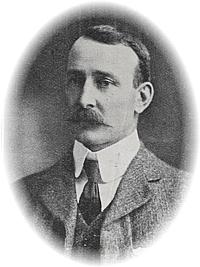 7 Alfred Bayly Born: 20 May 1866 in Waitara married 1895 to Mary Eleanor Georgina Cashel She was born 1875; her parents John and Mary Cashel ; she died: 1972 in Auckland Buried at Purewa Cemetery,

Alfred played rugby for six different Taranaki clubs from 1882 to 1901 and was chosen in 1893 to tour Australia as a member of the first official New Zealand team - in all 10 matches in Australia and finished as joint top try scorer. The following year he captained New Zealand from the centre three quarter position in their one match, a 6-8 loss to New South Wales. 1897 he captained the North Island team in the first inter island match and then led the New Zealand team on their tour of Australia. His nine tour appearances included games at fullback, wing and five eight. Whilst still playing Bayly was active in rugby administration as Taranaki selector 1891-98, 1901, 1906 and president 1899-1906. He was New Zealand national selector in 1901, 1905 and NZRFU president 1907 at the time of his death.

Alfred's five brothers Walter (who also represented New Zealand in 1894), Charles, Frank, Harry and George all played for Taranaki, the latter was NZRFU president in 1898.
The Bayly name lives on through the Bayly Scholarship, awarded annually to a Taranaki primary school representative. Alfred was a member of the Stratford Council, and for several years held a seat on the Land Assessment Court and the New Zealand Rugby Union soon after its initiation made him president. In his younger days Mr Bayly did a good bit of rowing on the Waitara, and later he took up cricket, being one of the mainstays of the Hawera Club. His health suddenly collapsed, and a strong man became an invalid, believed due to heart strain in his earlier years. 1889, the owners of 5000 acre blocks at Toko, in 1906 he sold the property to the Government, and went to live at Wanganui where he died 14 Dec 1907 and was buried at the Stratford Pioneer Cemetery. Their daughters:
1 Marguerite Eileen Bayly Born: 1897 Died: 1902

2 Maud Rita Mary Bayly Born: 1898 Died: 1910

3 Doris Ethel Cashel Bayly Born: 1899 Died: 01 Jan 1972 in Auckland

4 Alice Alexander Bayly Born: 1901 Died: 1902

5 Audrie Minchin Bayly Born: 05 Mar 1907 Died: 1981 Married: 1933 to Bertie Coleman Jacobs Born: 1881 Died: 1947
8 Charles Bayly Born: 1868 in Taranaki Died: 1939 Pahia; Occupation: Grazier, Married: 1891 Bessie Sarah Jonas (Born: 1867 Married: 1891 Died: 10 Nov 1918 in Toko, Stratford )

*2nd Wife of Charles Bayly was Muriel Molyneux Born: 20 May 1899 Married: 1920 Died: 1983

The Bayly Brothers (Alfred Bayly and Charles Bayly) were educated at the New Plymouth High School, brought up to farming by their father, and became sheepfarmers at Toko. Their property, 3000 acres of good pastoral Land, carried about 6000 sheep, and 500 head Of cattle, Two fine homesteads, and large woolshed with one of Taylor and Bremmer's latest Woolpresses. The Ab over Toko brand of wool is well known in the market. In their younger days were well known representing thier province on the football field and as members of athletic clubs.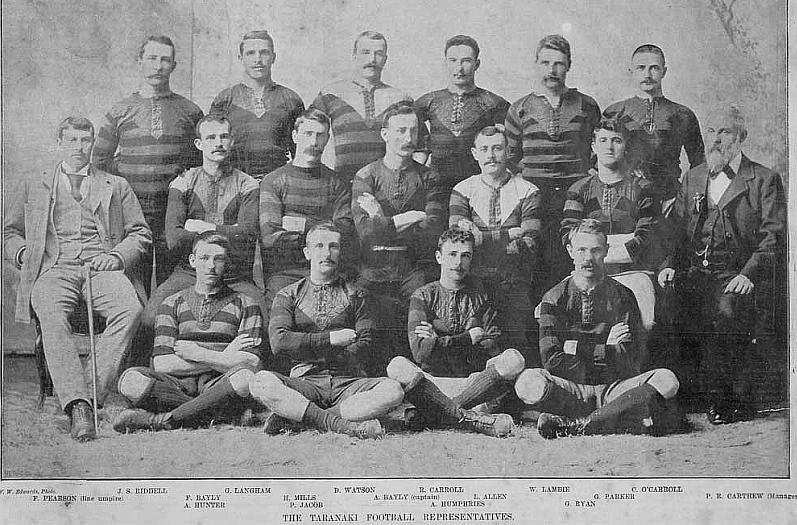 9 Ernest Bayly Born: 18 Nov 1869 in Taranki Died: 22 Oct 1950 in Waitara Married: 1899 to Rosa Kate Clarke Born: 1866 Died: 1947 The children:
i Eric Bliss Bayly b: 1899 Died: 1967 Mar: 1924 to Mary Ann Jones b: 15 Nov 1899 d: 1985

ii Olga Stope Bayly b: 1901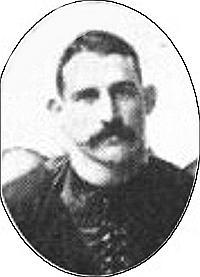 10 Walter Bayly b: 18 Nov 1869 in Waitara d: 20 Aug 1950 in Auckland mar: 18 Feb 1896 in St Mary's Anglican Church, New Plymouth to Mary Standish b: 27 Aug 1871 in Taranaki d: 08 Oct 1954 in Auckland
A wing forward, Walter Bayly played for Taranaki between 1889 and 1894 and had his one game for the country at Christchurch in 1894 in the 8-6 defeat against the New South Wales side known as the Cornstalks.
i Owen Walter Bayly b: 04 Jul 1898 in New Plymouth d: 1972 in NZ

ii Colin Standish Bayly b: 21 Jun 1901 in NZ d: 22 Jul 1913 in New Plymouth

iii Gwendoline Mary Bayly Born: 1903
11 Frank Bayly b: 1870 in Taranaki d: 1948 in Silverdale, Auckland Mar: 1904 to Constance Ivy Walker b: 1881 d: 1960 in Auckland Bur: 1960 Purewa Cemetery

Their family:
i Enid Franklin Bayly b: 1905 d: 1959 Married: 1926 to Alan Bracken Matthews

ii William Alfred Bayly b: 15 Jul 1906 in Auckland d: 20 Jul 1934 in Auckland Bur: 1934 Cremated Waikumete Cemetery; Mar: 29 Aug 1928 to Phyllis Dorothy Palmer - 2 sons

iii Frank Trevor Bayly b: 23 Nov 1909 d: 1976 in Auckland Burial: 1976 Purewa Cemetery, Auckland
12 Lawrence Bayly b: 1873 in Taranaki Married: 1896 to Mary Emily Rountree b: 1876 to parents John and Emily Rountree; They died 1956. Their sons
i Cyril Thomas Bayly b: 1897
ii Charles Bayly b: 1904
Please Email

Sarah if you can help with Bayly research.