ISABELLA PELVIN
Bella was b: 11 Sep 1888 in Glenavy, South Canterbury to parents Charles and Jessie Pelvin. In Nov 1893, she was admitted as a new entrant to the Tawai school and in 12 Nov 1900 she attended the Waimataitai school; parent/guardian PELVIN Richard (her grandfather); Address - St John's Wood, Avenue Rd, Timaru.
Oamaru Mail, 19 September 1902: SUNDAY SCHOOL EXAMINATIONS The following passes were obtained by the Waitaki Sunday School at the New Zealand Presbyterian Church Assembly's annual scripture examination: Isabella Pelvin and Jessie Pelvin
Oamaru Mail, 11 Nov 1904: Trinity College Examinations
The following results were obtained by the Waimate candidates in the Trinity College practical examination : Junior: Isabella. Pelvin (pass),
1911 Electorate: Riccarton;Surname: Pelvin; Given Name: Isabella; Residence: Mental Hospital Sunnyside; Occ: spinster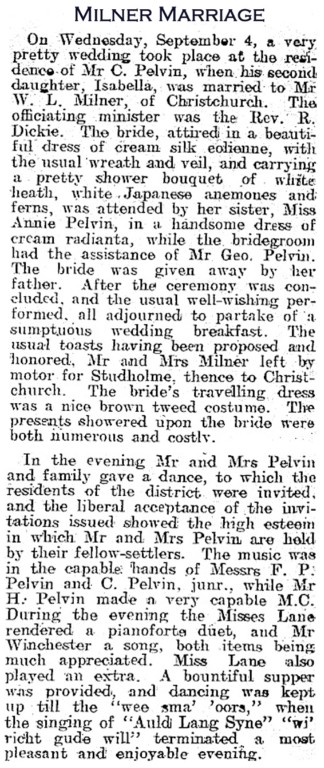 Bella mar: WILLIAM LEONARD MAXWELL MILNER on 4 Sep 1912. He was the son of SAMUEL MILNER, a farmer and JANE MURRAY. (b: 1881 in Alford, Aberdeenshire, Scotland - he immigrated to New Zealand in 1910.
The Register of the Waitaki (later Morven) Presbyterian Parish of Waihao reads: William Milner age 31, Bachelor, Attendant at a Mental Hospital, residence present Glenavy, Usual Christchurch; to Isabella age 23, Spinster; Nurse Mental Hospital; Residence present Glenavy; Usual Christchurch; Witnesses George Andrew Pelvin, Farmer, Tawai and Elizabeth Ann Pelvin, domestic duties, Tawai. mar: at the residence of Richard Charles Pelvin, Glenavy by Rev Robert Dickie
William In 1914 was Bowler for Sunnyside and bowled for Beckingham Cricket Club 1921, elected to SpreydonSchool Committee in 1923.
William had lived 25 years in New Zealand and d: Thursday, 24 Oct 1935 aged 56Y home at 38 Mather Road, Hallswell, ChCh. He was bur: Friday, 25 October 1935 at Sydenham Cem. Block No: 18A Plot 9; occ: Gardener, Christchurch. (Probate files; 1946; William Leonard MILNER formerly a Mental Hospital Attendant and latterly a Greenkeeper of Halswell.Green Grocer)
Bella d: 2 Dec 1943 aged 53 years - her bur: took place on 04 Dec 1943 at Sydenham. Their headstone reads: "William Leonard Milner 1878 - 1935; Isabella 1889 - 1943"
Children of ISABELLA PELVIN and WILLIAM MILNER are:
i. JEAN GEDDES MILNER was b: 22 Dec 1912 at Avonside, Christchurch, and d: 27 Apr 1997 aged 84Y in Christchurch. She married ARTHUR LESLEY CHAMBERS in 1942. Arthur was born 05 Jan 1912 and was a Fitter & Turner. He d: 2 September 1978; home address: 1 Glynne Crescent aged 66Y. Both Jean and Arthur are bur: at Sydenham Cem. Block no: 18A, Plot number: 9
ii. MAXWELL MILNER was b: 11 Oct 1914 in Avonside, Christchurch, Occ; 1946 Warehouseman, ChCh; he d: 1980 in Avonside, Christchurch. On 15 Sept 1945 he mar; NANCY MARY NEAVE at Avonside, Christchurch. She was the daughter of Francis Digby Neave, a sheepfarmer and Ethelberta nee Washbourne and was b; 2 Sep 1921 at Christchurch. Their 2 children are daughter JUDITH ADRIANNE MILNER and son BRUCE MILNER ( a resident of Los Angeles USA and prior to that lived in London for a couple years in the early 1970's - he is mar: with two daughters Tanya mar Watts and Samantha Milner who both live in Manhattan, New York City.
iii. IDA PROFFIT (AKA Margaret) MILNER was b. 22 May 1917 Avonside, Christchurch; d: 23 Sep 1988 ; mar: in 1941 to ALEXANDER THOMPSON BLUE . (b:04 Sep 1916; d: 27 Oct 1994)
iv. HEATHER BELL MILNER, b. 1918, Avonside, Christchurch. Both Heather and Allison moved to live in Sydney, Australia in the early post war years. Heather had 2 boys.
v. JESSIE PELVIN MILNER was b 1922 in Avonside, Christchurch, and d: 25 Jul 2001 in Christchurch,(Funeral Notice: 2.30 pm Thursday 27 Jul 2001 at Westpark Chapel, 467 Wairaket Rd, Chrstchurch (Lamb and Hayward)
In 1944 Jessie married ALAN FRANK CURGENVEN. He was b: Mar 1916 in Wellington to parents Frank Leslie (Richard) CURGENVEN and Alice May (Dolly) MARSH, enrolled Rongatai College 5 Feb 1929 and d: Mar 1996 in Christchurch. Alan and Jessie had four Children:
(a) Sandra Margaret CURGENVEN mar: to Warwick DONNELLY and have 3 children born at Napier: Their family:

i. Meredith Lesley Alice who with Paul Seaman have a daughter Millie Anne Seaman;

ii. Monique Jessica Cecile

iii. Andrew Warwick Graham DONNELLY.

(b) Denise CURGENVEN, Spouse: Phillip MINEHAN with a son Martin Alan MINEHAM

(c) Julie CURGENVEN, Spouse: Geoffrey Charles BERRY – son is Alexander Phillip BERRY

(d) Wayne CURGENVEN was born on 23 Dec 1948 in Christchurch, New Zealand and died at birth.
vi Alison Winifred Milner b: at Avonside, Christchurch. Allison moved to live in Sydney, Australia with Heather in the early post war years and had one son.

My thanks go to Bruce

for his help in documenting his family.