Richard Pelvin, his wife Elizabeth and their four children arrived at Timaru 10th October 1863 on the "Lancashire Witch". He and his wife Elizabeth were hospital attendants on board. and when they landed, Richard was appointed Barrack Manager looking after the Emigration Barracks before settling on his farm at Claremont where he built a stone house on Pelvin's Road. Image on left, the original bluestone house built by Richard Pelvin at Otipua, Timaru in 1864/65. The photo was taken about 1918 when the house was being demolished and it's stones built into the steeple and fence of the Otipua Church (right).
Richard Pelvin (the son of HENRY PELVIN and SARAH STONE, was born April 28, 1821 in Gravel Pits, Kensington, Kent, and died May 03, 1902 in Timaru. He married EIZABETH BEAKE on August 18, 1856 in St Mary's, Curragh Camp, Donnybrook, Dublin, Ireland, the daughter of WILLIAM BEAKE and ELIZABETH SALTER. She was born December 01, 1828 in Western Zoyland, Somersetshire, and died October 15, 1914 in Timaru.
Richard Pelvin Time Line:

1838 - Arrival end March on the convict ship "Moffatt". Built in Bengal 1807. Sailed from Sheerness, Kent to Tasmania leaving on 9th Nov. 1837 and escorted 400 prisoners of whom 3 did not survive the 143 day voyage to Sydney.

1839 - Promoted Lance Corporal. From Sydney on the ship "Cornwall" ( built Calcutta 1811, 872 tons) to Norfolk Island Mutiny. Escorted by the "Alligator" (man-of-war - 28 guns.)
1841 - Made full Corporal. Sailed to Sydney and following month to Calcutta. Barracks in Cawnpore until war with Gwalior.

1843 - With General Grey at the attack on Punniar.
1844 - Transferred July to the 16th Lancers, a cavalry regiment.

1845 - At the war with the Sikhs at Sutlej, Moodkee and Sabroan. Regiment ordered home so transferred to 3rd King's Own Light Dragoons (now King's Own Hussars) and served 7 more years in India.

1846 - At Ambullah. Volunteered for further 7 yrs in India - joined 3rd Kings Own Light Dragoons


1848 - Second Sikh Campaign at Ramnagag & Chillianwallah under Sir Hugh Gough.

1851 - At Chillianwallah. Promoted Corporal. Awarded Good Conduct Medals.

1853 - Sailed on the "Somersetshire" for Gravesend then to St Mary's Barracks, Brompton.

1853 - April: Transferred to King's Own Light Infantry at Chatham
1855 - Promoted Sergeant. No.2718, Colour Sergeant Richard PELVIN, Punniar Star, Army of Sutlej, Aliwal 1846 with Sobraon bar, Punjab Campaign Medal MDCCCXLIX with Chilianwala and Goojerat Bars. Sailed on "Jumma" for Garrison Duty at Malta; fought in Crimean War. Back to England then Ireland.

1856 - Married 18th Aug at St Mary's, Donnybrook,Dublin to Elizabeth Beake.

1858 - Ordered back to India because of the Indian Mutiny but asked for discharge.
1859 - 29 March. Discharged and admitted as an Out-Pensioner of Her Majesty's Royal Hospital at Chelsea and to receive 1 shilling and threepence halfpenny per Diem.
Joined West Kent Militia as instructor at Hyde and Tunbridge Wells.
1861 Census: Richard was staying with extended rellies (his uncle Stephen Pelvin mar: Elizabeth Latter)Richard's wife, Elizabeth had 2 small children Henry and Charles and her 3rd, daughter Rose was born March 22nd 1861 - she may have have been with family as he would be involved with his recruiting job.

1863 - Discharged from the army 1/7/1863, and immediately on the 5th July sailed on the "Lancashire Witch" with wife Elizabeth and 4 children for New Zealand. Richard was appointed constable during the voyage and both he and wife Elizabeth were hospital attendants during the voyage when scarlett fever struck - 3 adults and 23 children died.
1865 - Timaru Herald, 22 April 1865, Page 5
Electoral Claims Continued : Names of Persons Attesting - Christian name and Surname Pelvin, Richard; Place of Abode Near Timaru, section 6353; Nature of Qualification - freehold; Place where Property situate, and Name and Description of Same Levels district, section 6353 Attesting Signatures of Claimant at full length T. W. Hall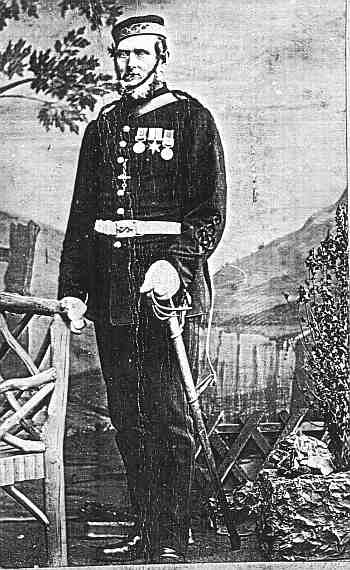 Richard put in his first crop with a spade, cut it with a scythe and threshed t with a flail.

1866 - As a consequence of the Native Wars in 1863, Volunteer Corps were formed throughout the country. Drill was held for the 62 Timaru members in the woolshed on the beach until a hall could be erected
Timaru Herald, 22 September 1866, Page 2: TIMARU RIFLE VOLUNTEERS.
A meeting of the Rifle Volunteers was held at the Club Hotel on Thursday evening last, for the election of officers, and other business. It was agreed that Monday and Friday evenings should be devoted to drill, and Mr Pelvin was appointed drill-instructor pro tem.

1867 - Timaru Herald, 6 April 1867, Page 2 RESIDENT MAGISTRATE'S COURT TlMARU— Tuesday, April 2, 1867. [Before B. Woollcombe, Esq., R.M.] UNREGISTERED DOGS. George McKnight, Thomas Eeed, B. Koster, R. Pelvin, and W. Wade, were each fined £1 and costs for having in their possession unregistered dogs.

1869 - Timaru Herald, 27 January 1869, Page 3; New Advertisements.
'THE UNDERSIGNED beg to intimate that on and after the lst FEBRUARY, 1869, the price of Milk will be (6d) Sixpence per Quart. WILLIAM PRINGLE, JOHN BARGFUEDE, RICHARD PELVIN, JOHN HIGGS. Timaru, Jan. 26, 1869.

1869 - Timaru Herald, 15 September 1869, Page 2 LEVELS ROAD BOARD.
A requisition was read, received from Mr Pelvin and others, asking the Board to make a culvert passable near section No. 11524. Resolved - "That the Engineer be authorised to expend a sum not exceeding £12 in forming the culvert, as requested by Mr Pelvin and others."

1870 - Timaru Herald, 12 November 1870, Page 2
LEVELS ROAD BOARD. The monthly meeting of the Levels Road Board was held in the Town Clerk's Office, on the 10th November. A requisition was read from Mr R. Pelvin, to repair upper Washdyke road; Resolved - " That the application of Messrs Pelvin and Anderson and others be referred to the Engineer for his report on the same."

1871 - Timaru Herald, 24 May 1871, Page 2: Grain Destroyed.
Yesterday afternoon at about 4 o'clock, some wheat stacks belonging to Mr Pelvin, at the back of Timaru, (near to Mr Hall's fence), were totally destroyed by fire. The stacks contained in all somewhere about 300 bushels, but whether or not they were insured we are unable to say. The origin of the fire is supposed to be from some children playing about with matches.
In the 1973/74 Canterbury Provincial Roll, Richard Pelvin owned Rural section 6353.

1873 - Timaru Herald, 15 August 1873, Page 4 LEVELS ROADS BOARD:
A letter was read from Mr Pelvin, stating that it would be a great convenience to the public if the Board would erect a small stone bridge over the creek near his property, as drays at present have to go round by Walker's bridge. Proposed by Mr Stericker, seconded by Mr Acton, and carried - " That the Engineer be instructed to call for tenders for executing the work in accordance with the recquisitions of Messrs Pelvin and Shaw."

1874 - Timaru Herald, 13 May 1874, Page 3 LEVELS ROAD BOARD
A letter was read from Mr R. Pelvin, stating that the road on the north side of the Otipua Creek opposite his property is in a dangerous state. Mr Acton proposed, Mr Hall seconded, and it was carried - "That the Engineer be requested to attend at once to the application of Mr Pelvin."

1875 - Timaru Herald, 13 January 1875, Page 4 LEVELS ROAD BOARD.
Correspondence - From Mr R. Pelvin, requesting the Board to metal a portion of the road near his property. Mr Macintosh proposed, Mr Acton seconded, and it was resolved - " That the" Engineer be instructed to call for tenders for metalling Pelvin's Cross-road with broken metal." 12th May - Metalling of Pelvins cutting - Malloy tender accepted £100

1875 - Settled in Levels County, near Timaru on Section No.6353, at Claremont.
Waiho Roads Board General Register - PELVIN Richard, 511 acres, Section No. 25834;
29 acres, Section No. 33560.

Sections in close proximity on Redcliff Road, either side of Thorntons Road. Known as "Sabroan Farm". (16 miles from Waimate and 10 miles from Glenavy.)

Richard Pelvin bought 400 acres in the Redcliff district in 1876 and was active in the 1880's in setting up the Redcliff school. A meeting of householders met 30th May 1881 in the house of Robert Stewart. George Oliver, John McNeill, John Geddes, Robert Stewart, Richard Blackwood, Richard Pelvin and George McLean were elected as representative to fight for a school at Redcliff. From the time it was opened in July 5th 1882 until it closed in 1947, it was in addition a social centre of the district community.

1876 - Timaru Herald, 14 February 1876, Page 3
Educational. — A meeting of householders interested in the establishment of a school in the Claremont district was held on Wednesday last in Mr Pelvin's house, there being present- Messrs Macintosh, Pelvin, Selby, Hicks, and Pringle. At the request of the meeting Mr Macintosh promised to write to the Minister of Education, reminding him of former correspondence between Capt. Tosswill and the Education Department re the establishment of a school in the Claremont district. The Claremont district is a very important one comprising a large area of cultivation and contains a considerable population, and it is to be hoped therefore that the Education authorities will see that a school is established there without delay. Another great want in the district is a post office, the residents suffering great inconvenience through being unable to obtain their letters or papers without travelling a distance of some seven or eight miles to Timaru. By the establishment of a school a post office could be provided without any trouble, as no doubt the schoolmaster for a slight remuneration would be glad to undertake the duty of postmaster. The expense of conveying a mail to the district two or three times a week would not be much. Considering the importance of the district we should think that the authorities would be fully justified in incurring the small cost that the whole postal service would involve.

1878 - Timaru Herald, 4 September 1878, Page 3
R. Pelvin v. J. Lukey — Claim, £7 11s 9d. Mr Hamersley appeared for the plaintiff, and Mr Jameson for the defendant. In this case the plaintiff , who is a farmer living near Timaru, sued the defendant, who is a carter living in Timaru, for the above sum being the price of some oats. It appeared from the evidence, that the plaintiff sold to the defendant 120 bushels of oats at 3s 3d per bushel, of which only 70 bushels were delivered and the defendant refused to pay as the plaintiff did not fulfil his contract. Mr Hamersley urged that that was no defence. If the defendant felt, that he was at a loss in not receiving the full quantity of oats which he purchased, his proper way to obtain redress was to enter a cross-action against the plaintiff. Mr Jameson submitted that the law on the subject was different. It was a case in which the plaintiff had contracted to deliver 120 bushels of oats to the defendant, and he could not set up his right to sue for a portion of it until the whole contract had been fulfilled. After considerable argument on both sides, his Worship held Mr Hamersley's view of the case, and gave judgment for the plaintiff for £7 5s 9d, with costs. The Court then adjourned.
1879 - Timaru Herald,1 November 1879, Page 2
SHEEP IN CANTERBURY. 800 Pelvin, R., Otipua Creek
1880 - Timaru Herald, 5 May 1880, Page 3 RESIDENT MAGISTRATE'S COURT
T. G. Cork (trustee in the estate of W. A. Herbert) v. R. Pelvin— Claim, £66 5s, balance due for work and labor done. Mr Austin for plaintiff, and Mr Hamersley for defendant. Mr Austin put in the Gazette notices to prove the plaintiff's appointment as trustee. In this case the plaintiff sued to recover a balance due under an agreement to harvest and stack 125 acres of grain at £1 per acre, made between W. A. Herbert and the defendant, part of the contract price having been paid before the completion of the contract. The agreement was in writing, and stated that the work was to be done in a "workman and husbandlike manner." The defence was that the work had been done so badly and negligently that the defendant had received no benefit from it, but, on the contrary, had suffered great loss. The evidence ehowed that the stacks had been so badly built that rain had saturated them from top to bottom, about two-thirds of the grain had been more or Iess damaged, and the defendant had been put to an expense of £46 for pulling down, drying, and re-building the stacks. The man who built the stacks stated that he had had three years experience in New Zealand, and many years experience at Home, as a Stacker. He built the stacks in this case as he had been accustomed to build them, keeping the outside level with the middle. Several witnesses showed that stacks so built could not keep out rain, as when the stacks settled the straw would slope downwards towards the centre of the stack, and the moisture would go in the same direction. These stacks, when pulled to pieces, were found to possess this fault, and a very heavy rain falling, they were wet from top to bottom. Stacks on the adjoining farm, built about the same time, had not suffered materially from the same heavy rain. The defendant estimated his loss through the damage to grain at £150, besides the amount (£46) paid for drying and rebuilding the stacks to prevent further loss. His Worship gave judgment for the defendant, on the ground that the stacks had not been built in a workmanlike manner, according to the agreement, a fact proved by other stacks in the neighborhood, exposed to the same rain, having sustained no material injury. Mr Austin, in his address, raised the point of contributory negligence, the defendant not having looked very closely after the work while it was in hand, drawing attention to a portion of the agreement which set forth that the work was to be done as directed by the defendant from time to time. His Worship considered that holding with that view of the case would make the plaintiff's responsibility nil, and render the contractor a mere servant. Costs, £6 14s, followed the judgment.
1881 - Timaru Herald, 11 July 1881, Page 2
Claremont School Concert. — A soiree and concert was held in the schoolroom, Claremont, on Friday evening last, in aid of the school funds. There was a very large attendance of settlers from the surrounding districts, besides a good number from the town of Timaru, the large playground connected with the school being filled with horses and vehicles. The schoolroom was tastefully decorated with evergreens and flowers. Tea commenced at 6.30 p.m. There were six tables, presided over by Mesdames - Granger, C. Gosling, Pelvin, W. Gosling Gibson, Grooves, and Miss Ada Gosling. Full justice was done to the good things provided to tempt the appetites of the guests. After the tables were cleared Mr George Selbie took the chair, and announced that a long and attractive programme would be commenced by a pianoforte duet by Misses Ada and Alice Gosling, which was followed by a song, "'the Tars," by Mr Walcot in a rich tenor voice. Miss Innis being called upon sang very nicely " The Skipper and his boy," and Mr Kirby recited a portion of the "Merchant of Venice." Mrs Jamieson followed with a song called "Apart." A solo on tho pianoforte entitled "Marcho aux Flambeaux" was next on the programme and was rendered very effectively by Miss Youdale. Mrs Greaves then favored the company with a song, " She sat beside thc mountain spring," the accompaniment being played by Mr John Page. A Scotch reading by Miss Dick provoked some mirth. Mr Duval sang " The Marsellaise " and Mrs Filmer concluded the first half of the programme with " Happy be thy dreams " which evoked an encore Mr B. Haigh broke the spell by playing with much taste, Schulhoff ' Grande Walse. Mr and Mrs B. Foster sang a duet (the gem of the evening) " The Red Cross Banner," which was encored and partly repeated. Miss F. Crammond recited "Semiramade" and "Jooin the Xi-chen," the latter piece causing the most serious faces to relax. Miss Ada Gosling gave a solo, " The Silvery Waves," which was , followed by a song from Miss Warrington entitled " The Ship Comes Home," which so pleased the audience that they demanded another, which she gave. " The Waggoner ", by Mr Foster, and 'To the Wood" by Miss Bourne, were next in succession. Mr Holthouse showed good elocutionary ability in reciting " The Eaven," after which Mrs Filmor sang "Lenoro." Miss Dick read very fluently in Scotch dialect a humorous extract that caused a good deal of fun. Mrs Innis gave the finale to the programme for the evening by singing " Barney O'Hea," which ( was deservedly encored.) The Chairman called upon Mr Granger to address the meeting, but that gentleman remarked as the evening was far advanced ho would not detain them, but had pleasure in proposing a vote of thanks to those ladies and gentlemen who had assisted in bringing the entertainment to so successful an issue. The meeting was closed by singing "God Save the Queen."

1882 - Freeholders of N.Z. Published 1882.
Richard PELVIN of Redcliff.................Waimate 476 acres.......G.V. £1648
On a map of Timaru and suburbs, 1882, the road west of"Maranui" (later Brockley Road) is shown as "Pelvin's Road. Richards 20 acre section was 11524 and 50 acre section as 15323 Maranui. Pelvins Gully was near the the site of the original kennels at Claremont.
1882 - October 25th, it was reported in the news that Richard Pelvin had bought an abandoned farm of 440 acres (178 ha) with a house and fenced and it was stated that "From what we know of this gentleman's energy and success in the district, we need not fear of the said property ever being abandoned again."
He had farms on the east side of the Quarentine Reserve, a property on Old Ferry Road, and a property along Middle Road, all in the Waimate County - totaling 476 acres valued at $3296 and his wife Elizabeth owned 218 acres in the Geraldine County valued at $5232 and 511 acres in Waimate County valued at $5110. Total value between the two of them, was $13,638.
1883 - Timaru Herald, 15 January 1883, Page 3
THE CROPS: Extending a good way to the left, and to the right along the foot of Mount Horrible, a strip of alternate grass fields and fallows or young turnips is to be seen, and then comes as distinct a strip of grain, extending from tbe road a long way towards tbe Pareora. Most, or the whole of this belongs to Mr A. W. Wright. It consists chiefly of wheat, and if the margin to be seen from the Claremont road is a fair sample of the whole, a very satisfactory yield will be obtained. A good deal of it will be ready for the binder very soon. From the road thence to Wai-iti a moderate quantity of grain only is to be seen, a few fields lying between the Glengummel plantation and Coonoor showing alternately wheat and oats, for the most part still green. On tbe opposite side of the road, nearer town, are a few small fields of wheat and oats and one of barley crops, belonging to Mr Pelvin.

1884 - North Otago Times, Volume XXVIII, Issue 3565, 7 February 1884, Page 2
At the annual meeting of householders at Redcliff, on the 28th ult., the following gentlemen were elected on the school committee for the year : R. Pelvin (chairman), George Oliver (secretary and treasurer), R. Stowart, 0. J. Burst, J. M. M'Neill, R. C. Pelvin, and J. Geddes
In April Richard tendered his resignation, possibly as a censure for the request that the teacher be asked to resign as he had allowed a minister Rev McPherson entry to the school to tutor and for examination of the pupils. Richard Pelvin firmly supplorted Mclintock and wrote to the board complaining the committee "had closed the school to a minister of the Church of England." The committee supported Rev Coates and after the results of the end of year examniation, they determined that a change of teacher be granted straight away. In the New Year the prize giving which had been held over from the previous year took place. Elizabeth Pelvin, daughter of Richard, MacLintock's strongest supporter on receiving her prize from a member of the committee, threw it out one of the school windows. This act, the committee considered contemptuous and disobedient yet went unchecked by the teacher. A stormy meeting in Jan 1885 when it was attended by Rev Gordon McPherson and 3 or 4 others "made considerable disturbance" . A letter was sent to the board pointing out there was a low pass rate and that the teacher be replaced.
The area of Redcliff / Ikawai was never more than a settlement - there was an early hotel at the ferry crossing and a blacksmith's shop for some years east of the school.
1887 - Timaru Herald, 27 June 1887, Page 2
The name of Mr Richard Pelvin was omitted from the list of veterans in the Jubilee procession
1890 - Wises Directory: 1890, Farmer Redcliff. Member of the first Redcliff School Committee.

1891 - North Otago Times, 23 April 1891, Page 2: WAITAKI NORTH MONTHLY SALE
Barclay and Foot report a large entry at the above sale on Monday, when all lines were quitted at very satisfactory prices. There was a good representative gathering of farmers and others from Tiimru to Oamaru. The number of sheep yarded was 1,300 which sold as follows : On account of Mr R. Pelvin : 100 crossbred 2 tooths, at 11s 7d : 150 crossbred lambs, (stores), 8s 11d : 130 crossbred ewes, full and broken mouths, at 5s lOd. On account of Messrs Lane and M'Kenzie : 230 crossbred ewes and wethers, 2-tooth, at 11s; 200 halfbred wethers, 2-tooth, at 10s 3d. On account of Mr V. S. Buxton : 460 merino ewps, at 4s. On account of Mrs Johnston : 1 cow, just calved, £ 3 10s. On account of Mr Mc'Naughton : Heifers, at £ 2 10*. On account of Mr Forbe : horses from £I3 10s to £4 10s. A large quantity of harness and several ploughs brought satisfactory prices.

1891 - North Otago Times, 10 April 1891, Page 2: BOROUGH COUNCIL
It was decided to grant Mr Pelvin permission to erect a blacksmith's shop on a section facing Thames street north.

1893 - Timaru Herald, 19 January 1893, Page 1
TENDERS.WANTED for a Small Crop of OATS, 30 or 35 Acres, situated at Claremont' The highest or any tender not necessarily accepted. Apply to FARMERS' CO-OP. ASSN., Or to R. PELVIN, Sen.; Waitaki North. Tenders to be sent not later than TUESDAY, the 31st JANUARY, 1893.

1893 - Timaru Herald, 14 October 1893, Page 1
TO LET FOR A TERM. LARGE STONE HOUSE and 20 acres of Land, splendid Orchard, permanent supply of water, and convenient to a school, at Claremont, six miles from Timaru. Apply to R. PELVIN, Senr., or Mr JOHN SELBIE, Claremont.

1894 - North Otago Times, 9 May 1894, Page 2
Messrs Vallange, Christie, and C'o. report holding a sale of freehold properties and stock at Waitaki North yesterday, when they sold, on account of Mr J. Gray, sections 42, 43, and 44, town ot Glenavy, with blacksmith's shop, store, and other improvements, at £200 to Mr Richard Pelvin.

1895 - Timaru Herald, 20 July 1895, Page 3 MAGISTERIAL. WAlMATE— Thursday, July 18th. (Before Major Keddell. S.M.) R. Pelvin v. David Corbett ; claim £87s6d. Mr Tripp for plaintiff, and Mr Hamilton for defendant. The evidence showed that the plaintiff had agreed to reduce defendant's rent on certain conditions, which he maintained had been broken by the defendant. Defendant swore that he had paid £50 before it was due, and admitted paying £7 a week after it should have been paid. Judgment was reserved.
1898 - Timaru Herald,30 April 1898, Page 4; HUNTING.The hounds are a fine level pack, and the huntsman seems to have them in fair condition and well under command for the beginning of the season, On leaving the Kennels the Master, Mr A. S. Elworthy, took the pack down Pelvin's Road and threw off in the Hadlow paddocks. A hare was soon put up, and after a short spin was lost near Mr Park's house. Soon afterwards, however, another was viewed away and the hounds being quickly laid on, a smart run took them into Pelvin's Road, where there was a short check, then turning ,' back the line was followed across a double into Mr Armstrong's farm, when away went the pack to a good scent past Mr Armstrong's.and straight towards the cliffs at the back of the Hadlow Estate The going was good and the fences numerous, chiefly with wire in the gorse one big gorse fence out of a tussock road testing the mettle of some of the best of the horses.........
1898 - Timaru Herald, 2 April 1898, Page 1; TO LET BY TENDER.
I98 ACRES near the Kennels, Claremont (lately leased by Mr John Selbie), for 5 years ; immediate possession.
Also,— 20 Acres (at present occupied by Mr Gibson), Pelvin's Road, for 6 years ; possession 22nd Oct. next; Particulars and conditions can be obtained from Mr R. Pelvin, Waitaki North, or seen at my Office. The highest or any Tender not necessarily accepted. Tenders close FRIDAY, APRIL 15th, at my Office. C. HOWARD TRIPP, Solicitor, Timaru.

Richard and Elizabeth Pelvin retired to 7 acres in the centre of Timaru Avenue Road. After Richard's death, this property was leased to Mr Lidstone who later bought it and used the land for vegetable growing. Elizabeth died in the flu epidemic in 1914 at her residence at Church St West.

1902 - Cemetery Timaru Cemetery Surname PELVIN Forenames RICHARD; Age at Death 83; Date of Death 3/5/1902;
Date of Interment 6/5/1902; Section GENERAL Block H Plot 168

1902 - Hawera & Normanby Star, 21 May 1902, Page 2
A very old soldier died at Timaru the other day in the name of Sergt. Major Richard Pelvin. When a mere lad of 16 he enlisted and at one time or other in his long career had served in Norfolk Island, India (where he was stationed in the stirring times of the forties), Malta, and Ireland. After five years service in the West Kent Militia at Maidstone, Sergeant Pelvin decided to migrate to New Zealand and landed at Timaru in 1863, and as a colonist he proved himself to be as valuable as he was a soldier in the armies of King George IV and of Queen Victoria.

1902 - Hawera & Normanby Star, 5 November 1902, Page 2 DECEASED PERSONS' ESTATES.
Deceased Persons' Estates, finally certified by the Secretary for Stamps, Wellington, for month ended October 30th, 1902, over £500 :— Christchurch. — Richard Pelvin, £4850

OBITUARY OF RICHARD PELVIN

Sergeant Richard Pelvin who died on Saturday morning at his residence, Avenue Road, at the good old age of 83 years, was a fine specimen of the British soldier of the old school - the long service man. He was born at Kensington on the 27th. April, 1819, and commenced his military career at the early age of 15 years and 9 months. On the 31st. , January, 1837, he enlisted in the 50th. Foot, which under the present territorial system is the 1st. Battalion of the Royal West Kent Regiment. Having passed through the usual training, he and a few nore of the 50th. sailed to join the regiment, which was then quartered in Sydney. The vessel took out a large number of convicts, the guarding of whom was a service very much disliked by British soldiers. However, Richard Pelvin did his duty well from the very first hour he joined the army and made for himself a thoroughly good name in the regiment. During a portion of his service in Australia, he was stationed at Norfolk Island. In those days, the locality, one of the most beautiful spots on the face of the earth, was the prison house of the very worst class of convicts, criminals of the deepest dye.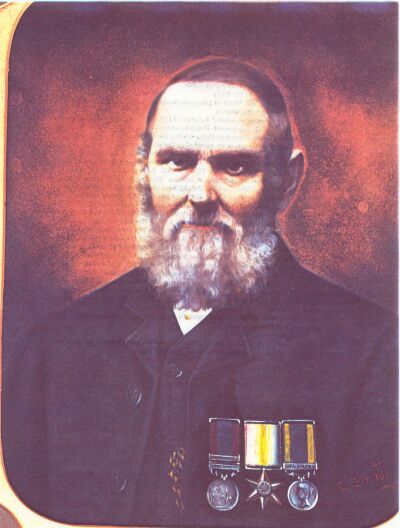 It must have been with a very keen sense of relief and satisfaction that the soldiers of the 50th. heard that they were ordered to India. The regiment sailed in February, 1841, Richard Pelvin having already obtained good conduct nedals and the rank of full Corporal. During the first months of its service in India, the 50th. Regbrent suffered somewhat severely from Cholera, but Pelvin was fortunate to escape. On the rumour of impending hostilies with Bumah, the regiment was embarked for the scene of action, but at the time, matters were accommodated to the satisfaction of the Indian Govermlent, and the troops were withdrawn. Returning to India, Pelvin accompanied his regiment to various stations until the outbreak at Gwalior in 1842, when the 50th. went into active service. There was some severe fighting, of which Pelvin's regiment had it's share; and so pleased was Lord Ellenborough, the Governor-General, with the gallantry and discipline of the troops, that at the conclusion of the campaign, he recommended the Imperial Government to issue to every man who had taken part in the operations, a bronze star made out of cannon captured from the enemy. The recommendation was favourably received and the star was accordingly issued. Corporal Pelvin was amongst those who received the decoration. Then came an interval of peace and in July, 1844, Corporal Pelvin, having a relation in the 16th. Queens lancers, obtained leave to exchange into that regiment.

With his new troops, Richard Pelvin saw a great deal of stern service. The first Sikh war broke out in 1845, and though the 16th. Lancers did not come up in time to take part in the sanguinary battles of the Moodkee and Forozeshah, they had plenty to do during the remainder of the struggle, including, we believe, the Battle of Sobraon, which was fought in the early part of 1846. Shortly after that event, the 16th. Lancers were ordered Home, but Corporal Pelvin volunteered into the 3rd. King's Own Light Dragoons (now the King's Own Hussars.) His stay in India was thus prolonged for seven more years.

In 1848 and 1849, his regiment took part in the second Sikh War, and was present at the battles of Chillianwallah and Gujerat. In the former section, Corporal Pelvin had a very narrow escape. A cannon ball (9 pounder) struck the centre of his shako, and knocked what was left of it over his eyes, but it did him no injury. The number plate was cut clean out, and the shako was split right round. After the Sikh war, the regiment was quartered in various parts of India, and went home in the beginning of 1853, Corporal Pelvin going with it.

Shortly after arriving in England, he obtained permission to change once more, this time going into the 51st. Foot, the territorial designation of which is the King's Own Yorkshire Light Infantry. The exchange took place in 1853, and 1855 Corporal Pelvin was promoted Sergeant. During the Crimean War, the regiment formed part of the garrison of Malta, and on returning Home at the peace, was quartered at various stations both in England and Ireland. A little later the 51st. went out to India, but Sergeant pelvin remained at the depot. He had seen his last battle, and after some further Home service, he took his discharge, having been in the army 22 years. The deceased soldier had a most excellent record; his name was never in the defaulter's book; he had been in so many engagements; was decorated with several medals; and stood high in the estimation of the officers of the several corps in which he served. But,though he severed his connection with the regulars, his military life was not ended. He was engaged on the staff of the West Kent Militia, and was their pay sergeant. He was also sent by the Military authorities to the school of Musketry at Hythe, with a view to his becoming an instructor to the Volunteers, and for sometime he acted in that capacity to the 17th. Kent Tunbridge Wells Rifle Volunteers.

Sergeant Pelvin took his discharge from the Militia on July 1, 1863, and imrediately afterwards sailed for New Zealand in the Lancashire Witch. He acted as the ship's constable on the voyage out, and on arrival in Timaru, Captain Woolcombe bespoke his services in looking after immigrants as they arrived here. Sergeant Pelvin's subsequent life was altogether private, and is known to most of our readers. This tribute must be paid to his memory. His life was devoted to duty, he gave the best years of it to the service of his Sovereign and his country. It is fitting that his remains should re borne to their last resting place with military honours, and that the soldier's salute should be fired over his grave.


*************

FUNERAL NOTICE:
Friends of the late Richard pelvin ( late Sergeant Major of the 10th. Hussars) are respectively invited to attend his Funeral, which will leave his late residence, Avenue Road, off North Street, THIS DAY, Tuesday, the 6th. inst., at 1.30 p.m. for the Timaru Cemetary.
J.E.Beckingham
Undertaker and Embalmer


*************

HEADSTONE: In loving memory of Richard, beloved husband of Elizabeth Pelvin, Late Colour Sergeant, of H.M. 51st. Regnt. Died May 3rd. 1902. Aged 83 years.