Private Walter Allan (Wattie) Pelvin died on February 28 1943, three days after being injured during a riot at the Featherston POW Camp.
Wattie was born 15/10/1908 at Waimate. He was the 2nd child born to Arthur and Roseanna Pelvin and was baptised at the Waihao Anglican Parish Church on the 12th November. At 5 years of age he contracted tuberculosis and was hospitalised. His condition was serious and resulted in a lung having to be collapsed, a rare operation at that time. Wattie made a full recovery and commenced his schooling as a new entrant at the Redcliff School on 6/3/1914, attending for about 6 years and for 6 months at the Tawai school travelling with his brothers and sisters in a horse and gig.
In 1920 the family moved to Timaru where Wattie attended the Waimataitai school and had two years at Timaru Boys High School. He was a keen sportsman, particularly a long distance swimmer, and his holidays were spent swimming across Caroline Bay and back. He left school in 1925 and became an electrician's apprentice. Unfortunately his employer emigrated to South Africa three years later which meant Wattie could not finish his training.
In 1929 Wattie's parents returned to farming. They purchased 500 acres at Totara Valley and here Wattie worked as a teamster on his father's farm for seven years. An excellent pianist, it was during this period as a ploughman he formed a band called the "Footwarmers" with two friends - Wattie on the piano, Eugene O'Connell on banjo and Norman Fenwick on violin and played at dances all over the district. The 1930's were incredibly social years - children and babies came with their parents to the local dances.
Wattie moved to Wellington in 1936 to work as a casual labourer - "seagulling" on the wharf and here, on the 27th March 1938 he married Ivy Josephine Willoughby, whom he had known at Geraldine. Their daughter Patricia Anne was born a year later.
Wattie's volunteered for service in the Army in 1941 after war broke out . The childhood lung operation made him ineligble for overseas service so Private Walter Pelvin, Army Registration No. 496685 was assigned to serve within New Zealand at the POW camp at Featherston - first as a carpenter to assist in it's construction and afterwards, he was asked to stay on as a guard. He was a popular camp member with his skills as a musician, and played piano whenever the opportunity arose.
The fateful morning, February 25, 1943, Wattie was rostered for guard duty in No 2 Compound. No details of how his death occured were given to his mother - she stated to a son that Wattie in a letter from the camp, told her the Japanese arrived in such poor condition, he did not think they would prove too much trouble. It was only after the war family learnt how he had died three days later.
A popular man at the Featherston camp, his death left his friends in shock. Officers and men of the camp lined the route to Featherston when the funeral cortege of Private Pelvin left the camp and a memorial service was held there on the Sunday evening following .
Walter Pelvin's burial service was led at St Mary's Church, Geraldine on March 2, 1943 with full military honours. He was interred in Geraldine Cemetery, the only New Zealand soldier killed "On active service" at home during WW2.
Three kilometres north of Featherston on the morning of 28 February 1998, 55 years after the tragedy. Defence Minister Max Badford presented the family of Private Walter Pelvin with the New Zealand Memorial Scroll, awarded to next of kin to servicemen who died in World War 2 to his daughter Patricia Prchal who had been only 3 at the time. A plaque erected to his memory is set in a concrete plinth opposite the ruins of the former camp.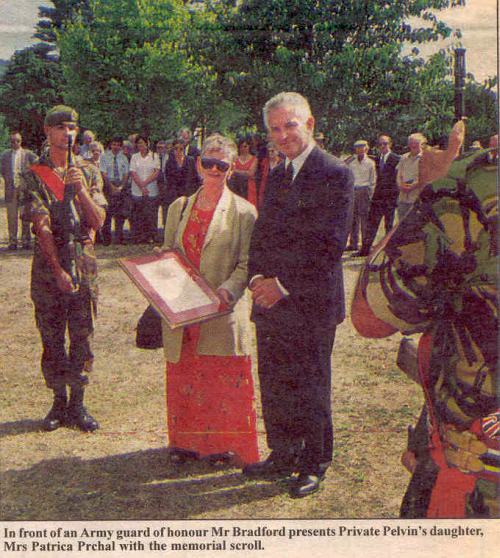 Speech Notes: Hon. Max Bradford, Minister of Defence.
Saturday 28 Feb1998 11.30 am
Memorial Scroll Presentation to the family of Walter Pelvin, New Zealand guard killed during the Japanese riot at Featherston POW Camp 1943
Your Worship, councillors, members of Private Pelvin's family and the Featherston community.
I am honoured to be asked to make a presentation to the family of Private Pelvin.
Although there was no fighting in New Zealand during World War II, there more than 1,300 war graves spread across the country. of men and women who died during training, through accidents, or in hospitals from injuries they received in fighting and memorials like the one here to Private Walter Pelvin, who 55 years ago today, died here at the age of 34 in the service of his country.
The Prime Minister of the time, the Rt Hon Peter Fraser informed the country that
ďA serious disturbance occurred in a Prisoner of War Camp following the refusal of a group of 250 Japanese prisoners to obey the orders of the camp authorities. The prisoners were armed with stones, tools and improvised weapons, and they rushed a small group of guards, ignoring a warning shot by the officer in charge.
The guards were forced to open fire and tragically 48 prisoners were killed and 63 wounded. Two officers and five of the guard were injured, one guard having since died.
That Guard Private Pelvin, passed away at Greytown three days after being inured by the ricocheting gunfire. The story is not well known.
Four compounds housed the 800 or so Japanese POWs. 500 in Number 1 compound were non-fighting labourers, resigned to sitting out the war in the camp. Numbers 3 and 4 compounds held small groups of officers or prisoners.
But on that hot February day Number 2 compound housing 290 combat trained Japanese sailors also contained two officers who had slipped out of their compound un-noticed and were agitating the sailors to riot. At 8:30 in the morning the prisoners, who had taken kitchen knives and tools, refused to parade for working duty. By 9.30, New Zealand NCOs and soldiers were formed in a double line facing the sullen prisoners 15 metres away. Attempts to remove the two Japanese officers by unarmed guards led to removal of just one of them. A second attempt failed, as did a third. The remaining Japanese officer, Lieutenant Adachi, remained hid amongst his sailors. The guards withdrew but the situation remained tense.
Two hours later the camp commandant feared the disobedience would spread and worsen. The Adjutant called for Lieutenant Adachi to surrender. His refusal was answered with a warning shot from the adjutant's revolver over the prisoners heads.
The prisoners responded with a hail of stones. The adjutant shot and wounded Adachi in the shoulder and the 250 prisoners armed with knives and crude weapons yelled with rage and charged the 34 guards. The New Zealand guards had no choice but to open fire. The shooting lasted only 30 seconds, and when the chaos cleared 48 were dead.
It later became clear from the prisoner's preparation of weapons that they fully intended to overpower the guards, seize their rifles and escape. A powerful group of 250 trained and armed Japanese loose in New Zealand would have had even more tragic consequences. The guards took the right action, and held fast to their duty.
I sometimes talk of duty and service to the nation when being interviewed by journalists about Defence. Unfortunately service to one's country, one's community, or even to one's fellow man is a concept that often doesn't receive enough attention in today's modern culture.
The Governmentís recent decision to send our young servicemen and women to the Gulf and into what we thought might become international military action was not easy to make. These decisions are not taken lightly or through any political expediency.
I was humbled to see the sense of fellowship amongst the service personnel and their families when I farewelled them last week. I was impressed by the sense of pride and dedication towards the task they have been asked to carry out on the nation's behalf. I saw the same dedication and sense of duty when I visited our personnel helping to restore peace to Bougainville
This same sense of comradeship, loyalty, and sense of duty are values openly displayed in our military, and these are values which Private Pelvin and his fellow soldiers were called upon to exhibit here 55 years ago.
During his service, Private Pelvin was awarded the War Medal and the New Zealand Medal. Because his death was in New Zealand he was not eligible for the Memorial Cross
This Memorial Scroll is a mark of gratitude from the Government and people of New Zealand to the family of Private Pelvin, recognising his death in the service of the nation.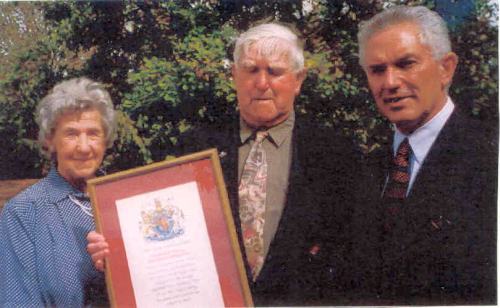 Walter's sister Rose Oakley, brother Les Pelvin with Max Bradford
9.08.2008 The theft of Walter's bronze plaque outraged Featherston people. His It has now been replaced (photo left, still with the temporary wooden cross placed there during it's absence)