We meet our tour guide Robin and Smiley our driver and climb aboard our bus with 50 other passengers for an orientation tour of Hobart city centre with its early sandstone buildings, 19th century waterfront warehouses which once bustled with whalers, soldiers, bureaucrats and businessmen but now house cafes, restaurants and studios and bustle with shoppers and visitors dwarfed by modern architectural high-rise.
Next we ascended Mount Nelson, it's peak rising 1270 metres for panoramic views of Hobart, the Derwent River and Storm Bay from the early 1861 Signal Station on the Truganini Reserve. (The higher Mount Wellington was shrouded in mist) This site was important as one of a chain of signal stations that linked Hobart Town with Port Arthur - Hobart is Australia's second oldest capital city after Sydney.

The Botanical Gardens were a highlight - we took in the atmosphere of peace and beauty.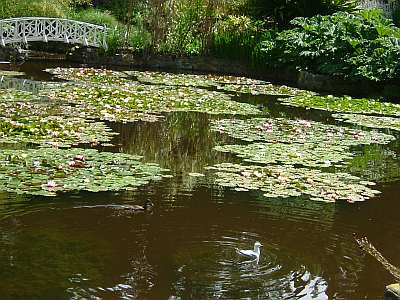 We returned to our Hotel for a drink and at dinner met with our new travelling companions.