The Sydney Tower is said to be first to see the dawn... With Christmas now only days away, the decorated trees were everywhere and shops windows display clothing, sport requirements whatever! to tempt eager shoppers. Back at the Four Points hotel, I admire the Dundee Arms pub built in the 1840's (restored in 1991)which it has incorporated. Breakfast over and Neville & I meet Raymond after a break of nearly 40 years since we were neighbours!
Ray takes us south to his home, an idylic paradise with a secluded community at Oyster Bay where we meet Lynn and their daughter returned from rose purchasing at the Sunday market day across the estuary.
I was fascinated by the power cables strung between the trees - to avoid termite damage? NZ OSH would have a field day! and was in awe of the perfection -Lynn's skill and artistry of her beautiful lead-light, cut-glass mosaic objects that adorn her home eg lovely lamps, even windows etc.
After a welcoming cuppa, the Millers proceeded to show us almost the whole of New South Wales in one single day trip! We saw breathtaking views along the clifftops of the coastline dropping to the vastness of the Tasman Sea, picturesque world-class surf beaches and seaside villages and the Grand Pacific Lawrence Hargrave Drive with it's coastal rainforests. (Not my photo below)
We went along the amazing 665 metre
Seacliff Bridge
opened in 2005 because here, rock falls caused regular road closure
(Map)
(Video)
We were now 60 kms south from central Sydney and 23 kms north of Wollongong! We next diverted and climbed the steep Illawarra Escarpment at Bulli Tops to view stunning 180 degree ocean and escarpment views from the perched Sublime Point Lookout viewing platform - Wollongong and far distant curvature of the earth.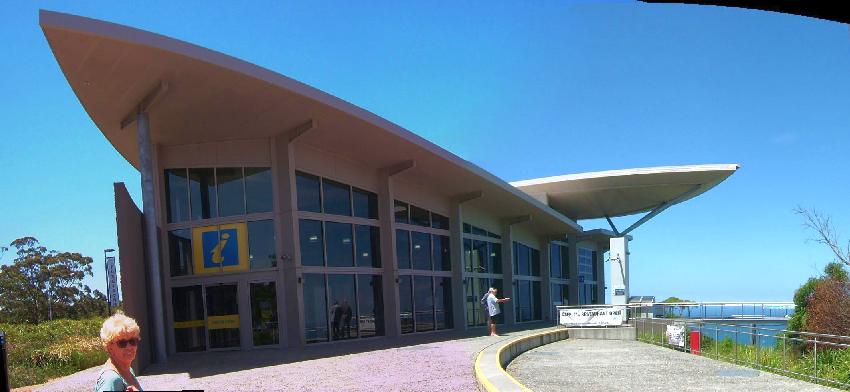 After lunch at the Lookout cafe, we returned to Oyster Bay and then back to Sydney - a day we will remember with pleasure - brilliant scenery and such great company. Our hope is that one day, we can recipricate the kindness we experienced by having these friends stay with us.