Rachel Barnard and Alfred Charles Martis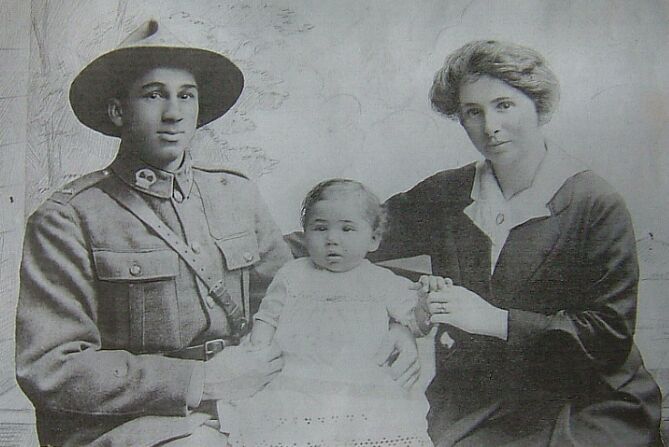 ALFRED CHARLES MARTIS was b: Nov 14 1886 in East Maitland, New South Wales, Occ: tailor; WW1 10734 – Army (his military record available online at Archway

; he died 12 Oct 1918 in Wanganui aged 31Y

Alfred's father was Albert Thomas Theophilus Martis ( b: 9 Sep 1857 West Indies; d: Sep 9 1928 aged 71Y at Wanganui; bur: Aramoho Cemetery, Whanganui) His parent's names are not known but they were slaves on a plantation in Barbados, West Indies. Albert resolved he would have a life of freedom and stowed away on a trading ship owned by a Scottish couple (names is known) He was lucky and got a good education and a law degree from a University in Scotland and could also speak several languages. He was however unable to get a job as a lawyer as in those days for a black person was unheard of so took a job as a cook on a ship to Australia. (Src: Patricia Hughes; Whikipedia)

Albert met his wife Harriet (Letty) Suckling in Sydney - it is said she had been sent to Australia ; name(b: July 9 1862 Ketting Hill, Middlesex - her father Charles Suckling; she d: 15 May 1956 at Titahi Bay, Porirua, Wgtn aged 93Y)


Their Martis children were :
1 Christopher Herbert Martis (b: 12 Dec 1883 Brisbane, Queensland; alias "George Williams" mar: 1924 NZ to Margaret Edith Dobson (nee Macrandall); Residence: 1936 - city, Bourke, Victoria, Australia; d: 10 May 1965 Magill, Norwood, Sth Aus; Bur Dudly Park Cem. Norwood)

Their dau: Dorie Marie Martis (b: 18 Apr 1918; d: 1985 Eastern Creek, Sydney, Aus) mar 1949 to George Vasil Zemancheff (1914-2000)

2 Alfred Charles Martis ( b: 14 Nov 1886 East Maitland, NSW, Aus.; d: 12 Oct 1918 Wanganui, NZ AGED 31y) Mar: (1) Annie Rachell Mackie 1912) Their dau: Felicity Alfreda (b: 1916); div; Alfred mar: 29 Jul 1918 Wanganui (2) Rachel Barnard nee Dey (d: 34Y)

3 Henry (Harry) Thomas Martis (b: 20 Jun 1888; WW1 77809 – Army; he d: 20 Dec 1965 aged 77Y) mar: (1) 1917 Alice Lois Mutrie (she d: 1920 aged 30Y); Harry mar: (2) 1922 to Phoebe Ethel Grant (b: 6 Jul 1895; d: 1982)

Family: i. 1929 SBC; ii. Ronald Henry Martis (b: 15 May 1933; d: 2011)

4 Benjamin (Ben) Lawrence (aka Norris) Martis (b: 11 Feb 1890; mar: 1916 to Janet Priscilla Dick (d:1966 aged 74Y); WW1 83308 – Army; he d: 13 Apr 1974)

Their son Albert Hector Martis (b: 7 Mar 1917; d: 2012 NZ) mar: 1942 to Ruby May Jensen (25 Jul 1921; d: 2009)

5 Hilda Florence Kench (nee Martis) (b: 4 Feb 1894 Sydney; d: 10 Jul 1978 Wgtn) mar: 1913 to Sam Kench (b: 4 Oct 1890 Akaroa; d: 12 Dec 1964 aged 76Y)

Their children: Thelma ( 1914 – 1985) Joan Edith 1921 – 1994); Lola Florence (1930 - 2009; Maxwell (1922 – 2004); Donald Lawrence Henry (1920 - 1991);

6 Ivy Ella Martis (b: 14 Apr 1896; she d: 17 Jul 1982); mar: 1930 to Fitzgerald Martin Clark (d: 1948 aged 59Y)

Their dau Judith Clark (28 Aug 1931 – 2014)

7 Lyla Lenden (nee Martis) (b: 1 Aug 1898 NZ; d: 9 Feb 1964 Ohakune NZ) mar: 1919 to Alfred Reginald Lenden (b: 17 Dec 1891; d: 5 Jun 1957 Auckland)

Their children: Jean Elsie (b: 1920) Dorothea Annie (1921 – 2002) Joy Inez (1922 – 2007) Robert Donald Richie Lenden (1924 - 2010)

8 Ethel (Nancye) Dorothea* Martis (b: 16 Jun 1902 Wanganui, NZ; mar: 1955 to David Geoffrey Bradford; she d: 10 Mar 1976 Palmerston Nth)

9 Norman Hector Martis (b: 31 Jan 1904; mar: 1932 to Theodosia Harriet Moore (b: 9 Aug 1910; d: 1986) div: 1953; he d: 26 Jul 1984) Family: i. 1937 SBC; i.i 1942 SBC; iii. 1935 SBC;
A Mr Wilson paid for Albert and family to go to Wellington NZ and he got a job at the Wanganui Court and was in his 71st year in 1928 when he died. NZ Death Cert no.1928/4860 Albert and Harriet married in Sydney NSW Australia marriage cert no.463/1885 Info given by Sharron Jennings.

27 Mar 1909 - PERSONAL.
Amongst the Wanganui passengers booked by the Athenic, which left Wellington on Thursday last for London, is Mr A. C. Martis, well-known in the tailoring trade in this town. Mr Martis (who has had both New Zealand and Australian experience), has, with commendable ambition, decided to proceed to London, with the purpose of there studying- the cutting business in its entirety. He will be away about twelve months, and his many friends will wish him all the success he deserves.

Alfred mar: 1912 (1) ANNIE MACKIE (b: 1897 dau of Bathia and George Johnson Mackie. Alfred divorced from first wife 30 Jan 1917 (her Parents not yet authenticated..)

4 Jun 1913: A NEW TAILOR. Mr A. C. Martis, who has -commenced business on his own account as the high-class tailor, is no stronger to the public of Wianganui. For some years he has been absent from the town, in which time he was gaining come of the best English and Continental experience in the trade, being cutter to a leading London house of tailors. He was also for some time in Paris, and latterly with the leading finm in Johannesburg. To say that he has not profited by his wide experience would be farcical, as he is considered by those who have placed their orders with, him to be a cutter and tailor that would be difficult to beat, both as regards style and finish of the garments turned out by him. Mr Martis has secured premises in Guyton St., which are next to McGruer and Co.'s new buildings. He has an excellent range of the newest and most fashionable suitings, and other cloths, which are well worthy of inspection. We feel sure that he 'will be successful in his undertaking, and join with his many friends in wishing him a long and prosperous career.

Their daughter, FELICITY ALFREDA MARTIS was born 1916 in Wanganui. After her mother's death was raised in a Catholic orphanage in Wellington. She died 1963. She married 1939 GERALD GREY. Children of FELICITY MARTIS and GERALD GREY are: GERALD GREY and JUDITH GREY
27 Oct 1915 ELEVENTH REINFORCEMENTS. N.C.O's. leave FOR TRENTHAM
Yesterday morning the Non-Commissloned Officers from this district for the Eleventh Reinforcements left Palmerston for Trentham. There was no public farewell, but a large number of relatives and friends of the men assembled on the station to bid them good-bye. Those leaving were Messrs Ken Eglinton, Arthur Winton, W. G. Barker, J. Coull, R. D. Elgar, L. W. Hughes, E. N. James, R. A. Jones, A. C. Martis. J. A. McLeod, J. F. Robert, M. P. Shale.
Advert 17 Nov 1915 CHRISTMAS IS NEAR. YOU MAY NEED A NEW SUIT. NOW IS THE TIME TO PLACE YOUR ORDER. Having purchased from C. A. Martis who has enlisted, a part of his stock, you can get A SMART TAILORED SUIT for £3 15s. FIT and WORKMANSHIP GUARANTEED. Usual Price £5 10s. All work executed on premises. A limited number only. CALL TO-DAY AND SECURE ONE. COOKS LITTLE TAILOR SHOP, Opposite McGruer's. avenue. COOK'S

17 Jan 1917 ROLL OF HONOUR. A letter received in town from France refers to Sergt.-Major A. C. Martis> of Wanganui, having been slightly wounded, and recommended for the military cross for bravery in the front lines.
He mar: (2) RACHEL DEY 29 Jul 1918 in Registrars Office, Wanganui, daughter of PETER DEY and MARGARET SMITH. She was b: 24 Jul 1887 in Mosgiel, Otago, Occ: Music teacher and died 14 Sep 1921 aged 34Y in Wellington Hospital, Wellington. Her first marriage was on 23 1908 at the St George's Church Naseby Otago to Moses Blyton "Tozy" Barnard.

b LORRAINE MARTIS was born 1919 in Wanganui. After her mother's death, she was raised in a Catholic orphanage in Wellington. She married WALTER EDWIN DE RIDDER 1942. He was born 17 Dec 1919, and died 1987. Children of LORRAINE MARTIS and WALTER DE RIDDER are:

i. JOHN DE RIDDER married CAROL ? - Their 2 children are:

HELEN and LOGAN DE RIDDER.

ii. PHILIP DE RIDDER.He married <UNNAMED>- Their 2 children are:

CHRISTINE and PAUL DE RIDDER

iii. WARREN DE RIDDER.

iv. YVONNE DE RIDDER - She married GREGORIO UBIAGA. - Their 3 UBIAGA children are:

MARK(ADPT: MARK GILBERT) GREGORIO, JOSE and JULIA UBIAGA.
14 Oct 1918 . The members of the Queen Alexandra Band will meet at the bandroom to-morrow (Tuesday), at 1.15, for the purpose of taking part in the funeral of their late member, Sergt.-Major A. C. Martis.

16 Oct 1918 It will come as a shock to many to read this morning of the death of Mr. A. C. Martis, tailor, of Wanganui. The circumstances are distressing. On Saturday he had an operation performed, on his throat, and all was well until a while later, when he suddenly expired during a fit. He was a returned soldier, and had suffered from malaria, which, it is thought, was responsible for his untimely decease. Mr Martis went away as a private in an early reinforcement, and that he was a good soldier may be judged from the fact that he returned a few months ago as a Sergt--Major. Much sympathy will be felt for his widow and relatives. The funeral, which will be military, is to take place to-morrow, and all returned soldiers are asked to be present. The Queen Alexandra's Own Military Band, of which deceased was a member, will be in attendance.

THANKS. MRS A. C. MARTIS, of 27 Niblett Street, wishes to thank all kind friends for their tokens of sympathy in her recent sad bereavement.

24th Oct 1918 - WANTED Known.—That Mr Douglas D. Earles, Tailor, Victoria Avenue, has, on behalf of Mrs , Martis. kindly volunteered to complete all unfinished orclers undertaken by the late A. C. Martis. For orders, apply Public Trust Office

12 Oct 1920 In Memorium - MARTIS.—In loving memory of our dear son, Sergt.-Major A. C. Martis, who passed away on 12th October, 1918 Death gave no time to say farewell To those he loved so dear. (Inserted by his loving parents, brothers and sisters.)