Annie Jane & Frank Reynolds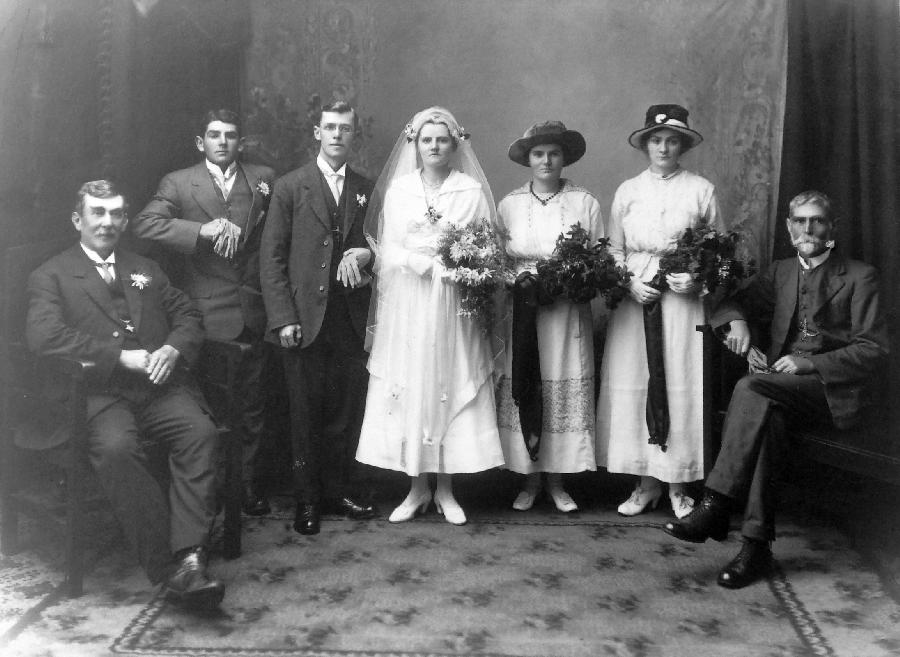 Above; Marriage of Frank Reyolds and Annie Jane Barnard. The attendants are unknown, but William Francis Reynolds (miner) is seated on the left and Frederick Henry Barnard (postmaster) on the right

Annie Jane Barnard was b: 20 Jul 1893 at Hawera, the daughter of Frederick Henry

and Harriet Blyton Barnard - she d: 20 Jul 1961 aged 68Y at Wanganui; crem: 22 Jul 1961 Aramoho Cem., her ashes interred in rose garden).
Schooling: 1900: 26 Sep Annie enrolled at Naseby from Hawera ( her last day 4 Aug 1904. The family left for Eltham where her father took up the position of postmaster.
English born Frank Reynolds met Annie Barnard when he was employed at the Etham Council. He took up a position in 1916 at Pongaroa with the Akitio County Council and they mar: 30 Apr 1918 at Palmerston Nth.
Frank's family: His father, William Francis Reynolds (b: 1856; d: Jun Qtr 1932 Helston, Cornwall - aged 76Y) occ: Iron Ore Miner; he mar: (1) abt Mar 1882 to Mary Kitt Martin (b: abt Dec 1862 at Helston; d: abt Dec. 1882)
William (Snr) remar: abt Dec 1888 at Helston to (2) Mary Jane Uren (b: 1859 in Dalton-in-Furness, Lancashire; ) Their mar: lasted 23 yrs until Mary's death Sep Qtr 1915 Helston, Cornwall, aged 57Y. They had 7 children, 4 of whom died young.
i William Henry (always known as Harry) Reynolds (b: Sep Qtr 1889 Ulverston; bapt: 8 Sep 1889 in Dalton-in-Furness, Lancashire; d: 20 Sep 1974 in New Plymouth; Bur: 23 Sep 1974 Awanui Cem. New Plymouth) mar: 4 Apr 1917 to Annie Amanda Phillips (b: 1889; she d: 16 Apr 1968 in New Plymouth; Bur: 19 Apr 1968 Awanui Cem. New Plymouth) Their 3 children are Alan, Betty and Ian Reynolds
ii Richard (Dick)
Reynolds (b:18 Mar 1891 in Dalton-in-Furness, Bapt: 26 Apr 1891 in Dalton-in-Furness; Lancashire; d: 04 Aug 1982 in Auckland Bur: 10 Feb 1982 Crem. Purewa Cem.)
1st Wife of [ii] Richard (Dick) Reynolds: Mar: Abt. Dec 1914 in Coventry to Edith Maud Squire (b: 1889; d: 1957 in Wanganui; Crem. Aramoho Cemetery. Their daughter:

(1) Joyce Alexander Reynolds (b: 1 Dec 1916 in Coventry; d: 31 Dec 1986 in Auckland; Crem. 16 Jan 1986 Purewa Cem.) Mar: 1939 to Arthur James Duffy (b: 12 Nov 1911; d: 19 Mar 1984 in Auckland; Crem. 21 Mar 1984 Purewa Cem.)

2nd Wife May

3rd wife Janet
iii Frank Reynolds (b: 18 Apr 1892 in Dalton-in-Furness, Lancashire; Occ: County Clerk/Town Clerk An architect in Palmerston North; d: 27 Jan 1976 in Palmerston Nth.; Bur: Taita Old Cem; Lower Hutt) Mar: 30 Apr 1918 in Palmerston North to Annie Jane Barnard (b: 20 Jul 1893 in Hawera to parents Harriett Blyton and Frederick Henry Barnard; d: aged 68Y on 20 Jul 1961 in Wanganui) For their famiy, see below:
iv Emily Mary Reynolds (b: abt Dec 1893; Ulverston; Bapt: 31 Dec 1893 in Dalton-in-Furness, Lancashire; d: abt Sep 1900 in Ulverston 6Y)
v Elizabeth Reynolds (b: abt Dec 1895; bapt: 20 Oct 1895 in Dalton-in-Furness, Lancashire; d: Abt. Jun 1897 in Ulverston)
vi Edwin Barnett Reynolds (bapt: 12 Sep 1897 in Dalton-in-Furness, Lancashire, d: Abt. Sep 1900 in Ulverston)
vii Edith Reynolds (b: Dec Qtr 1901 Ulverston; d: Mar Q 1902 in Ulverston)
Census records (Sent by Louise -Thank you!)
1891 Eng Census - Market St, Dalton in Furness, Ulverston, Lancs

REYNOLDS: William F. 35 1856 Iron Miner Latchley, Cornwall

Mary J. 32 1859 Dalton in Furness, Lancs

William H. 1 1890 Dalton in Furness, Lancs

Richard 1m 1891 Dalton in Furness, Lancs

1901 Eng Census - 16 Ann St, Dalton in Furness, Ulverston, Lancs

REYNOLDS, William F. 44 1857 Iron Ore Miner Saltash, Cornwall

Mary 42 1859 Dalton in Furness, Lancs

Harry 11 1890 Dalton in Furness, Lancs

Richard 10 1891 Dalton in Furness, Lancs

Frank 8 1893 Dalton in Furness, Lancs

1911 Census - 28 Ann Street, Dalton in Furness, Lancashire

REYNOLDS, Mary Jane 52 1859 Mar. Dalton, Lancs

Richard 20 1891 Slotting Machinist Dalton, Lancs

Frank 18 1893 Solicitor's Clerk Dalton, Lancs

Plus 1 servant
Work became scarce at the Vickers shipyard so father William (Snr) and his eldest son moved first to a mine in Porthleven, Cornwall and then to N Z to work at the Martha Goldmine at Waihi, until the big strike came in 1913
Thank you, Peter for documenting your family, for your grandparent's lovely wedding photo and the heritage photo below, which Tina kindly sent!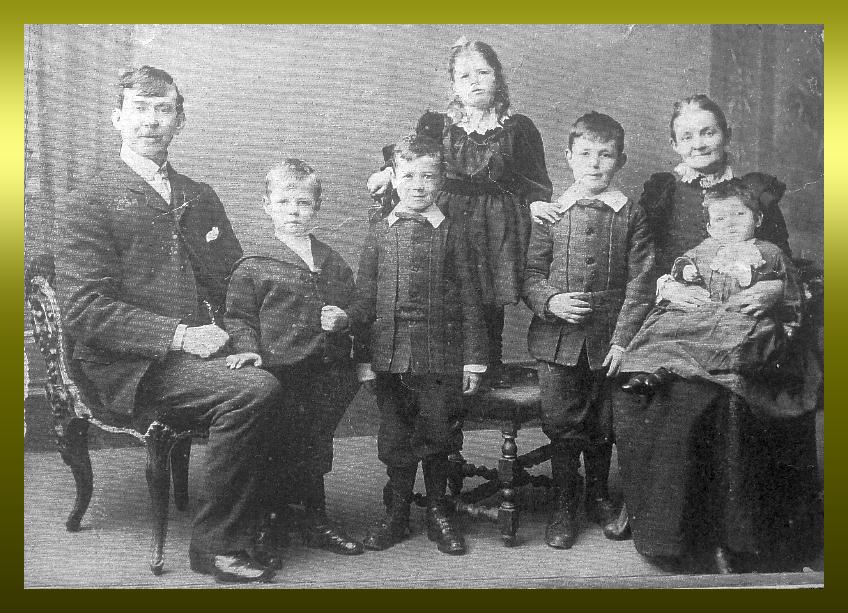 Left to right: William Francis. Frank. Dick, Emily, Harry, Mary Jane and Elizabeth Reynolds. Brilliant!
Wm Reynolds was still in New Zealand and was able to attend Frank and Annie's wedding. He later returned to England, where, in Helston, Cornwall in abt Sep 1925, he mar: (3) Sarah Hannah DEASON (b: abt Sept 1876 at Ulverston; d: abt Dec 1956 aged 80Y) They ran a tobacconists shop together in Breage, Cornwall.
Annie Barnard mar: 30th April, 1918 in the Broad Street (later St Pauls) Methodist Church, Palmerston North.
| | |
| --- | --- |
| Annie Jane Reynolds, sons Jack and Eric with her father Frederick Henry Barnard visiting from Bridge St, Eltham where he was postmaster - photo taken at Central Avenue, Gonville | |
After their marriage, Annie and Frank moved to Napier where their eldest son Jack was born - and then later moved to Wanganui. where second son Eric was born.
Hawera & Normanby Star, 8 Sept 1916: Mr Frank Reynolds, who has been, for some time connected with the Eltham Borough Council, has been appointed clerk of the Akitio County Council out of 26 applications.
Wairarapa Age, 11 Sept 1916: Mr Frank Reynolds, of Eltham, the newly-appointed clerk to the Akitio County Council, arrived in Pahiatua on Thursday, and proceeded the same afternoon by the mail car to his new appointment at Pongaroa.
1917 Frank Reynolds, Returning Officer, Okitio Borough Council elections.
Hastings Standard, 2 Oct 1919, The Xavier Methodist Church appointed representatives to the District Synod to be held at Dannevirke on Nov 2. A. Harding and F. Reynolds were appointed.
Hawera & Normanby Star, 7 May 1924: Mr Frank Reynolds, at present accountant to the Wanganui Education Board, has been appointed clerk to the Inglewood County Council in succession to Mr S. Nielson, who has resigned. There were twenty-six applicants.
DEATH: REYNOLDS, Frank: Suddenly on Jan 27, 1976 at Stratford (formerly of Gonville Wanganui), the beloved husband of the late Annie Reynolds and loved father of Eric and the late Jack, and father-in-law of May and loved granddad of Peter, Keith, Gail and John; aged 83 years. Messages to Eric Reynolds, 24 Guyton St., Wanganui Friends are invited to attend the funeral of the late Frank Reynolds, which will commence with a service at the Gonville Methodist Church, at 2pm Thursday, January 29, 1976, and thereafter at the Crematorium, Aramoho. Fleming and Hird Ltd., FDANZ, 179 Ingestre St., Wanganui
Left: Reynolds family portrait

:

Above: Sons - Jack and Eric Reynolds
The 2 Sons of FRANK REYNOLDS and ANNIE Jane BARNARD are:
(A) Jack Bennett Reynolds (b: 1920; d: 29 Jan 1969 in Ohingaiti; crem 12 Feb 1969 Kelvin Grove Cem. Pelmerston Nth) mar: 29 Aug 1942 to May Marion Cody (b: 30 May 1920; d: 25 Sep 1996 Karina Rest Home, Palmerston Nth; Crem: 30 Sep 1996 Kelvin Grove;) Their 4 children:
(1) Gail Reynolds b: Auckland mar: Margaret Rae Telford-Hawken

(b) John Reynolds b: Palmerston North mar: Felicity Mary Matson at Palmerston North. Their 2 daughters:

Jemma and Eleanor Reynolds

(2) Keith Reynolds (b: 29 Dec 1945 at Auckland; d: 1/4/1992 at Adelaide) He mar: Robyn Rhys Donald at Auckland. Their 2 children"

Jesse Donald and Rowan Miranda Reynolds

(4) Peter Reynolds b: Wellington mar: in Christchurch to Bettina Maria Sobiecki. Their 3 children:

i Carl Phillip Reynolds mar: Rachel Smoker Their 2 sons

Shane Nathaniel and Luke Daniel Reynolds

ii Gwyn Llewellyn Reynolds mar: (1) Carlisle Dick

*2nd Wife: Juliet Midgley Their 2 children

Fritha and Isaac Marcus Reynolds

iii Ana Maria Reynolds mar: Stephen James Collins Family;

Maria Rose Collins (b: 02 Nov 2011; d: 28 Nov 2011ChCh) and Stella Rose Collins
(B) ERIC BLYTON REYNOLDS, (b. 14 Oct 1923; d. 30

Nov 1989 in Wanganui) Eric was dux of his primary school, second to top in his final year at Wanganui Tech, and because of his ability with Maths, he was employed by the Statistics and Census Department in Wellington. In 1942 Eric was granted leave to join the RNZAF, and after training in Canada, he spent the war as a navigator with the RAF operating out of England mainly in Stirling bombers. Flying officer 190 Squadron (N.Z.422209) It was the family belief that his experiences during WW2 left him for the rest of his life battling the ups and downs of what is now called the bi-polar condition.
Annie Reynolds with her two sisters Ida and Daisy and mother Harriet Barnard
Images and data used in this site copyright -
Descendant input to up-date family pages is very welcome - more detailed information available on request.