On 17th Apr 1893 at Wellington ANTHONY JOHN BARNARD years married MARY ELEANOR WRIGHT. Mary was the daughter of ROBERT WRIGHT and LYDIA and was born on 22 Feb 1871 at Arahura Road, Hokitika, Westland.

Anthony was a watchmaker now living at Greytown north and in October he was granted the use of Board's reserve on condition he felled and grassed it.

Their first child STANLEY BARNARD was born 17th Jul 1893 at Greytown. That year, Mary recorded her vote on the first woman's electoral roll as residing Greytown, Wairarapa, occupation domestic duties
Anthony continued his watchmaking business until 1897 when he purchased a dairy farm and with his wife Mary and son moved to live at Konini, Mangamaire. Second son Roy Gladstone Barnard was born at Pahiatua on 2 Aug 1899 and their daughter Murial Iris on 16 Jan 1903.
1897 - ATTEMPTED SUICIDE. Evening Post, 2 November 1897:
Yesterday afternoon Constable Pattou, of the Upper Hutt, received a telephone message from Kaitoke to the effect that a man had cut his throat and was lying at the foot of the Rimutaka. The constable went out and, on the advice of Dr. Cahill, had the man, whose name is Henry Isaac Monkhouse, conveyed to the Hospital. On the way Monkhouse told the constable that "there was an order out for his decapitation." It appears that Monkhouse, who has a wife and family at Petone, went on the 27th to the Brancepeth station, where he got an advance for £5 to send to his wife. He left suddenly on Saturday, crossed the Rimutaka yesterday morning, and about dinnertime called at Mr. Barnard's farm. Monkhouse came back several times, and Mr. Barnard concluded there was something wrong, so with another settler, named Hills, he followed the man along the road. When they drew near Monkhouse flourished a razor, and then drew it across his throat. The two settlers not liking to tackle him, Barnard returned to his farm for his horse, and returned with a roadman named O'Farrell, who was working near by. O'Farrell at once gripped Monkhouse by the left arm, and the latter then threw the razor down the gully. At the Magistrate's Court this morning Monkhouse's name appeared on the charge-sheet for attempted suicide, but opposite the charge was written "In Hospital." Monkhouse is to-day in a critical condition
It is unknown today if that prior suicide experience was the catalyst for what was to follow or the fact that his father died in 1903 but in December 20th. 1904 newspapers reported:
PAHIATUA, Dec. 20. ACCIDENTS AND FATALITIES.
A man named Barnard, a resident near Konini had been missing for two days, and search parties were out scouring the country in search of him. About 4.30 yesterday afternoon a wire was received from Palmerston to the effect that Barnard was there. He returned home last night, and early this morning attempted suicide and cut his throat. He is not expected, to recover.
Wairarapa Daily Times: 3 May 1905 - It was reported some time ago that Anthony Barnard, a watchmaker, over Pahiatua way had tried to commit suicide by cutting his throat. He was nursed back to health, but disappeared mysteriously, and was last seen at Petone on the 20th of last month.
POLICE GAZETTES: April 19th, 1905.
Since the 16th ultimo, Anthony John Barnard, age 39, height 5 ft 8 1/2 in, a farmer, native of Christchurch, New Zealand; fair complexion, light brown hair, scar on throat, melancholy expression; usually dressed in dark clothes and black-silk handkerchief around neck. He suddenly left his home on the above date, and two days later wrote to his wife from Wellington telling her to sell the farm as he was not going to return, His wife fears he is not in his right mind, and may attempt to do away with himself.
Two boys out in the bush located a body in a clearing lying face downwards near to a hut which had been supposedly unoccupied for two years. It was thought the body may have been there two or three months.
WELLINGTON, July 31: The dead body found in the bush at the Upper Hut has been identified as that of Anthony John Barnard, aged 39, who disappeared from his home at Pahiatua on March 16th. Beneath him was a small tin. There was no trace of violence and nothing to suggest suicide. Thirty yards away was a deserted hut thought to have been unoccupied for two years and inside there was a pair of boots. Near the body was a sheet of iron which had in all probability been blown there by wind.
Identification was made by Anthony's wife from the clothing and letters found in the pockets. The enquiry conducted by Mr James Ashcroft at Upper Hutt on August 1st, discovered that Anthony John Barnard had disappeared from Pahiatua on the 16th March. In evidence, wife Mary stated she had last seen her husband on the 14th March and she informed the police on the 18th. She said " He had a small farm and was not in financial difficulty but had attempted to commit suicide at Christmas time near Pahiatua while temporarily insane. He was brought before the Court and released. He was a sober man. I did not think he was his usual self ever after, though Doctor Dawson who attended him for two months in Hospital where he lay, thought him sane when discharged."
She could give no reason for his going away other than he was not right in his mind. He had £2-3, was comfortably off and not pressed for money. He wrote from Wellington on the 17th March telling her to sell the cattle and he had gone to Wellington to find work. She could give no reason for this as there was plenty to do on the farm which was 40 acres and being gradually made freehold by instalments 11 milking cows and 6 others and a horse and trap. They had three children. She did not think there was a will. She stated "He was never unkind but the best of husbands. His father lived to 80. I never heard of insanity in the family. The morning he tried to commit suicide, he got the razor down and injured himself with it." She was frightened and went with the children to her sisters.
The last to see Anthony alive was his brother-in-law, Hercules Richard Wright on March 20th at Petone. In evidence he stated "He was not excitable but strange in his manner. I tried to convince him to come to our place but Anthony said he was going to look for work and he had a few shillings. As I had to go home, I arranged to meet at the station to take him to Wellington but he disappeared. I made every inquiry and informed the police but there was no trace. He clearly intended to avoid me - he was very stubborn and would do nothing suggested though we were the best of friends."
Thomas Quirke, Detective stated - I found the body in an open space about 30 yards from a deserted hut - the body was a mere skeleton lying face downwards We brought it in. I found the letters and watch belonging to him - there was no money - I could find no trace of violence to the body - there was a small tin beneath him - there was nothing to suggest suicide.
WELLINGTON, July 31: The dead body found in the bush at the Upper Hutt has been identified as that of Anthony John Barnard, aged 39, who disappeared from his home at Pahiatua on March 16th.
Anthony Barnard's burial was conducted by the Anglican minister of St. John's Trentham and took place 1st August 1905 at the Akatawera Cemetery where he was the 13th interment. He had been recorded incorrectly as Burnard in the St John's Trentham burial book by the officiating minister, the Rev. Cecil Smith and with no headstone and no plot number in the burial register (we are indebted to the meticulous research done by Michael Pringle, an Emma Barnard descendant, who located the cemetery and established Anthony's plot location). It is between the large tree and row of trees on right of photo.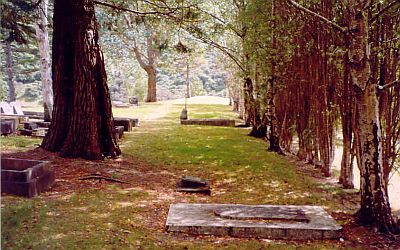 The date or cause of death which occurred several months prior could not be documented. His body, a mere skeleton was found lying face downwards in a clearing in the bush at Whiteman's Valley, Upper Hutt, the Sunday prior.
8th August 1905: The result of the enquiry was conducted by Mr James Ashcroft at the Upper Hutt recently concerning the death of the man found dead in the Bush at Whiteman's Valley on Sunday. The body was identified as that of Anthony John Barnard, the identification being made by. deceased's wife from the clothing and certain letters found in the pockets. Evidence showed that deceased had been last seen alive at Petone on the 20 th March. He was a farmer comfortably off, living near Pahiatua. In December last he attempted to commit suicide, and in consequence was a patient in a hospital for two months. The jury returned a verdict of "found dead" as no evidence had been given to show the cause of death.

Photos of Anthony were taken by brother Edward Barnard.

Children Of Anthony John and Mary Eleanor Barnard:

1. STANLEY BARNARD was born 17 Jul 1893 in Greytown, 1905 The Christmas Tree and Sale of Work conducted in the Northland Schoolroom yesterday in aid of the Anglican Church Furnishing Fund terminated last evening with a highly-successful concert. The children attending Miss Cowie's school contributed to the programme a witch'a song and drill ; songs were sung by Mr. H. Earle and Masters N. Berry and Stanley Barnard, an exhibition of fancy dancing was given by Miss S. Putnam, and a vocal duet by Misses Vera. Bailey and Berry.

1914 Evening Post, 12 June: The system of promoting men from the ranks to commissions in the New Zealand Territorial Forces is now being adopted. In this week's Gazette, for instance, it is notified that the under-mentioned have been appointed 2nd Lieutenants (on probation) to the 5th (Wellington) Regiment, Sergeant Stanley Barnard

1917 - Occupation School teacher at Hastings
Back Row: Stanley Barnard (2nd from left)Held position of Quartermaster with the Samoa Advance party

World War One. The Samoan Advance Party (A) was around 1400 New Zealand men who went to Samoa in 1914, returning to New Zealand in March-April 1915. BARNARD Stanley A Lieutenant 1/153 Categry Nominal Roll Vol 1; Rank Lieut and Quartermaster; Body or Draft - Samoan Adv; Unit or Regiment 5th; Marital Status - Single; Last NZ address - 58 Thompson St, Wgtn; Next of kin - Mrs J W Walker, mother living at Boundary Rd, Hastings

Barnard, Stanley Service Number: 5491; Rank/Calling: Sapper; Unit: 6 FCE [Field Company Engineers] - 1 to 5 Reinforcements (November 1915 - March 1916) Place Of Enlistment: Melbourne, VIC; Ship Name: HMAT Berrima; Date of Embarkation: 17/12/1915; Embarkation: Sydney Wounded at Gallipoli, 29 November 1915

AUCKLAND WEEKLY NEWS: 10 FEBRUARY 1916; AUSTRALIAN CASUALTIES - New Zealanders serving with Australian troops; BARNARD, Sgt S wounded, Malta; Barnard Stanley : SERN 2342 : POB Greytown New Zealand : POE Melbourne VIC : NOK M Walker Mary

Surname BARNARD, S, Rank Sergeant, Service Number 2342A; Date of Death: 26/07/1916

Biographical Notes: Stanley Barnard was the son of Anthony John Barnard and Mary Eleanor Wright. Held position of Quartermaster with the Samoa Advance party
Further References: Australian Imperial Forces, service record is available here:
Regiment/Service Australian Infantry, Nationality AustralianGrave/Memorial Ref. Cemetery/Memorial

BARNARD , S Sergeant 2342A Died 26/07/1916 Australian Infantry, A.I.F. Nationality Australian, Memorial Ref. I. Q. 11. Cemetery BECOURT MILITARY CEMETERY, BECORDEL-BECOURT
--

-------------------------------------------------------------------------------

2 ROY GLADSTONE BARNARD was born 02 Aug 1899 in Pahiatua, and died 04 Feb 1978 in Whangarei Age 78 Years. He was buried 8 Feb 1978 Maunu Cemetery, Whangarei Plot Location FL . Plot 2690 . Roy married ALICE MUDGE PATCHING 05 Nov 1924 in Church Of Christ, Wellington South, daughter of JIM PATCHING and ALICE MUDGE. She was born 13 Dec 1895 in Wellington, and died 26 Jun 1975 in Harris Rd, Glenbervie Age 78 Years. Buried Maunu Cemetery on 30 Jun 1975

Time line: 1905 - 18 Jul 1905 - admitted to Petone Central school; parent Anthony Barnard; last 20 September 1906 leaving for Wellington; 1922 - Wellington South electoral roll; living at 104 Rintoul St; tea merchant; Marriage - 1924 to Alice Mudge Patching; 1930 - Fruiterer 69 Owen St Wellington; 1931 living at Yeronga, Pirinoa, Wairarapa; farmer; 1938 - Wellington South living at 52 Owen St, coal dealer/Storeman; 1943 - living at 1647 Gt Nth Rd, Auckland; storeman; with wife Alice; 1944 - Land Valuation Court Files: Application for consent to sale - Maria Shepherd to Roy Gladstone Barnard and Alice Mudge Barnard. 1647 Great North Rd, Avondale; 1954 - electoral roll; living at 1647 Gt King Rd, Grey Lynn, Auckland ; SW3; storeman then contractor with wife Alice; 1963 - Marsden Electorate; Roy and Alice living at Harris Road, Glenbervie - Occupation: Cartage contractor, Whangarei; Retired; 1965 - living at Harris Rd, Glendervie; retired with wife Alice; 1975 - Roy living at same address as Malcolm Edward Barnard - Main St, Hukerenui; Whangarei

Child of ROY BARNARD and ALICE PATCHING is:

i. NECIA THIRZA BARNARD, b. 1926, Wellington; m. 1949 to BASIL HENRY ALFRED WILD, b. 08 Jul 1923; d. 17 Oct 2000 at Whangarei Base Hospital Whangarei Age: 77 Burial: 20 Oct 2000, Maunu Park, Whangarei . Plot 4851

Death Notice; Basil Henry Alfred Wild died 17th Oct 2000 peacefully at in his 78th year. Much loved longtime companion of Mary and friend of Necia. Loving father of Allan, Tony and Lynne, Andrew, Beverley, Bruce, Glenn and Angela. Grandpa of Jared, Leigh, Bob, Katie and Rory and papa to Chelsea.

-------------------------------------------------------------------------------

3 MURIAL IRIS BARNARD was born 16 Jan 1903 in Pahiatua, and died 14 Jan 1991 in North Shore, Auckland. Cremated North Shore 16 Jan 1991. She married ALBERT GEORGE SANDY 1925. He was born 23 Dec 1897, and died 03 Jul 1972 in Hamilton. Cremated 04-July-1972 Hamilton Park Cemetery Age 73

Time Line: 1929 Laborer living at Bank Street, Birkenhead, Auckland; 1956 Graham J Sandy was a storeman living at 15 Roslyn Tce, Auckland ; Last Address - James St Pukemiro

Child of MURIAL BARNARD and ALBERT SANDY is:

i. GRAHAM JOHN SANDY, b. Avondale; m. (1) NOLA; m. (2) JUNE MARJORIE SPINLEY, 1950; b. 11 Jun 1927; d. 1999.