Arthur George & Louisa Barnard
ARTHUR GEORGE BARNARD was b: 1863, and died 1927 in Mosman, Sydney NSW. Immigration: Wanganui Herald, 14 June 1883: THE S.S. lONIC under charter to the New Zealand Shipping Company,arrived in Wellington Harbor from London in 43 days bringing 400 passengers of all classes. Steerage passengers for Wellington : A. G. Barnard,
1884 Wanganui Herald, 5 July: THE Partnership hitherto subsisting between Arthur Beer and Arthur George Barnard, under the style or firm of "Beer and Barnard," as Horse dealers and Trainers, is this day dissolved. A. G. BARNARD.
1885 He mar: at Wanganui to LOUISA JEFCOTT. She was b: 1867 in Wanganui, the daughter of CHARLES JEFCOTT (1833-1909) and JEMIMA HICKS (1846-1923) and died 1926 in Mosman, Sydney NSW.
1886 - LAND BOARD. Hawera & Normanby Star, 22 Apr 1886; The Land Board met on Monday. The following applications were acceded to : Cash purchase : A. G. Barnard, section 66, block 11, Kaupokonui.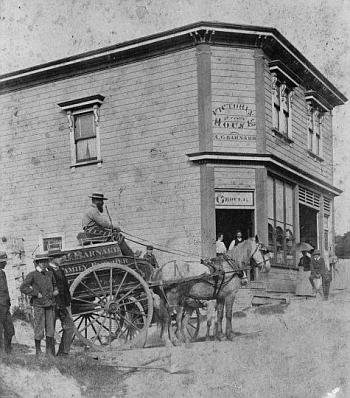 Left- Photograph of A G Barnard's horse and cart, and the grocery store of A G Barnard, at 114 Wadestown Road, Wellington, taken circa 1880s by an unidentified photographer. The cart is labelled 'A G Barnard Family Butcher'. The shop is housed in a two storey wooden building named Victoria House.
1889 - Evening Post, 11 Mar 1889: A two-storied, four-roomed house at Wadestown, owned and occupied by Arthur George Barnard, was burned down about 10 o'clock on Saturday night. The front part of the premises was used as a shop, in which a grocery and butcher's business was carried on. Mr. Barnard states that he closed his shop about 10, being the only occupant of the premises at the time, and went upstairs into a sittingroom, carrying with him a lighted candle. A lamp was also burning in the room, and leaving the candle and lamp there, he went down into the backyard to secure some fowls. He returned a few minutes afterwards and found the room in a blaze. There being neither water nor a brigade available, the building was rapidly destroyed, the neighbours being unable to save any of the furniture or stock. The origin of the fire Mr. Barnard cannot account for. All the stock insured at the same office tor £150. Mr. Barnard estimates his total loss at between 6OO and 7OO Pound.
1896 -Evening Post, 9 June 1896: HUTT COUNTY COUNCIL. A letter from Mr. A. G. Barnard, stating that he would hold the Council responsible for damage done to his property by the Pakurataki river, owing to the erection of groins, and asking that drains should be cleared, was received.
1893 - Wgtn electorate; residential Wadestown; Occupation butcher
1900 - farmer settler, Lake View, Waverley; Res
1908 - Grey Lynn electoral roll; Living at Brentwood Avenue; married
1897 - Otaki Electorate; Pakuratahi, settler with wife Louisa
1927 - Death Mossman NSW occupation Builder 1867-1926
Daughter of ARTHUR BARNARD and LOUISA JEFCOTT is:
i. RENE CHRISTINE MURIEL BARNARD, b. 02 Sep 1913; d. 2008; mar: 1931 to ALAN CAMPBELL MELVILLE, ; b. 1910; d. 1951.