Photograph of Mr G Billman's residence and business on Cuba Street, next to Major Paul's home, also shown. Outside the house is Billman's landau and horses. Photograph taken 1877 by an unidentified photographer. Source Turnbull Library

Val Billman 29 years, batchelor, (George Valentine); Profession huckster (ie seller of small articles) Residence: Lynn Rd, Wisbech St Peter; Father William Billman; late of Rondham, County Norfolk; Profession - labourer; Mar: to Harriet Nicholls 23 years, spinster (born 1823) Profession N/S; Residence: Eastfield, Wisbech St Peter; Father - Joseph Nicholls of Wisbech St Peter - Occupation: Master Mariner; Mar: in the Parish Church, C of E; Witnesses: John Shepherd; Sarah Bates X her mark; Curate - Robert King

George and Harriet decided to immigrate with their three children on the "Alma"

- Ship: 1070 tons; Captain: Hugh Ross and sailed from Liverpool 14th Febuary 1857 arriving at Wellington 15th May 1857.

Wellington Independent May 16, 1857: The ship Alma, one of James Baines & Co's Black Ball line of packets, arrived last night, from Liverpool, after a passage of 90 days bringing English intelligence up to the 13th February. She has brought 410 Cabin, intermediate and steerage passengers. Four deaths, (infants) and 2 births occurred on board, during the voyage.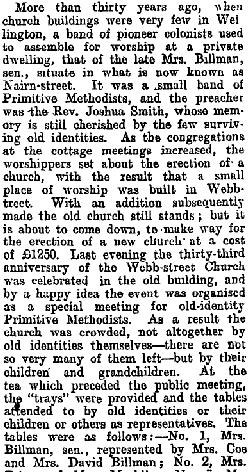 Lloyds Shipping Register for 1857: Alma was built in Quebec, Canada in 1855 and owned by Carroll. Her home port was Cork and she was leased to James Baines & Company.
Wellington, New Zealand, May 1857 - To Captain Hugh Ross: Dear Sir - While we feel most grateful to Almighty God for his manifold mercies to us, we do most sincerely and gratefully thank you for your kindness and consideration for our comfort on all occasions;and we take this opportunity of expressing our admiration of the consumate seamanship you have displayed,which has resulted in your making one of the finest runs ever accomplished,and has bought us in health and safety to our adopted home.
With our best wishes for your happiness and that of Mrs Ross and family, We are, dear Captain Ross, With great affection and respect. Very truly yours (signed by 132 steerage passengers
Passengers listed - Billman George 26 Ploughman, Harriet 33, David 10, Abraham 9, Harriet 2
Exerpt from book "50 years Methodism in New Zealand" (Guy J and Potter W S)
At this time the population of Wellington was under 4000 and it was the day of small things for churches, At the end of the first yearthe congregation filled the Sydney Street Church. Increased accommodation being necessary, the old building was pulled down in 1858 and a new one erected, about 4 times its size. While the church was being built there was no place for worship and the Rev W Kirton of the established Presbyterian Church offered to amalgamate the congrgation with his own and for three months the Presbyterians and the Primitive Methodists worhipped in the same kirk on Lambton Quay, Mr Kirton preaching in the morning and Mr Smith in the evening.
In April 1857, Mr and Mrs Billman arrived from England to take up their residence in Wellington. The advent of these quiet, unobtrusive members has much influenecd our work in the city. For ten years religious services were held in their cottage in Nairn Street, on Sabbath days and week evenings; where a congregation was gathers which was afterwards transferred to Webb Stree. Soon after the construction of the Wenn Street Church, Mr and Mrs Billman left Wellington to reside in the country (Ngahauranga). On the ocassion of their leaving, the congregation presented them with an address, the following extracts from which will be of interest to our readers;- The Church and congregation meeting in this place of worship beg respectfully to express their regret at your removal. They call to mind the holy and happy hours spent in your house in praise and prayer...
It must be with pleasure that you reflect on the day - now ten years ago, when you opened your house at Nairn Street for public worship. Your debtors we are, and so are many beside us. We wish to express our thanks. We could say more, but we know your reward is in heaven, and that your joy will be great when you hear it said on that Great Day that this and that man were born there. The tokens of Divine approval which have been shown to us since the Webb Street Church has been attracted, the increase that has been made to the Church, and in the Sunday School that has been formed, demand our deepest gratitude to Almighty God. In them we see the springing up of a tree from the seed sown in your cottage ten years ago, and from the promising sapling now seen we expect that future years will loot upon the tree well grown, and under its shade numbers of bot old and young will delight to dwell. On behalf of the Webb St Church and congregation - Robert Ward, Minister; Jacob Edge; Edmund Hart; James Mitchell Wellington May 3rd, 1869
1864 - BULL'S WELLINGTON ALMANACK: Wellington Street and Trade Directory - Nairn Street :Billman G; Livery Stable Keeper
1865 - BULL'S WELLINGTON ALMANACK: Wellington Street and Trade Directory - MIDDLE WARD Lambton Quay; East Side; Billman G. Livery stables
1866 - Wellington Alphabetical Directory: 1866; Billman J. Livery Stables Lambton Quay ; Billman G. Settler Nairn St
1866 - WELLINGTON ALMANACK: Wellington Street and Trade Directory; Billman G Settler Nairn St
Date not stated - "Mr and Mrs Billman, since thir return to Wellington, have in various ways assisted the Webb Street Church, of which they are still honoured members."
Evening Post, 4 Feb 1870: GOLD AT LAST. The following letter has been sent to the Provincial Secretary to-day. We offer no comments on it, our readers can form their own opinions ; but we would advise them not to be too extravagant in their hopes, and to remember that they have been "sold" once or twice before :
Sir - I hereby claim the reward for the discovery of a gold field in the Province of Wellington. The situation is the Harbour District range of hills between Ngahauranga and the Hutt. I have had the gold tested by a first-rate Melbourne analyst,- .and I am prepared to show you, at any time, on the ground (section No. 11, Harbour District), from 1 ton to 20 of gold-bearing quartz. I am, &c. , George Billman.
WELLINGTON. Wellington, Feb 11. Daily Southern Cross; The Independent of Saturday states that the claim of a reward for the discoveiy of a goldfield is founded on the fact that Mr. Billman, guided by an old Victorian reefer, dug, some few weeks ago, about 50lb. weight of quartz from a likely-lookmg reef on the section referred to. This was put into a sack and sent to Melbourne to be crushed. The result of the crushing was sent by the 'Gothenburg' and showed a return of 2cwt. of gold to the 50lb of stone, or 4oz. to the ton. Mr. Billman has, of course, yet to prove that the field is of sufficient extent to be considered payable, and, though somewhat sceptical as to his ability to do so, we cannot but think that the evidence are in in his favour,"
1894 - Death of George Billman (copied at Registry Lower Hutt Office) On 9th August 1894, of Cuba St, Wellington, Age 77 years; Bur: 12 Aug 1894 at Wellington; Issue Living: 2 males - ages 47 years (David) 46 years Abram) 1 female - age 40 years (Harriet
DEATHS Evening Post, 9 Aug 1894: BiLLMAN -On the 9th August, at his residence. Cuba-street, Wellington, George Valentine Billman, aged 77 years. Home papers please copy
1894 - Probate 10 Sept; Intestate No 3345; Cab proprieter Wgtn