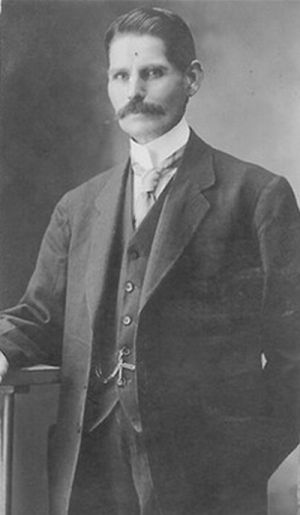 Time Line:
1863 - Name BARNARD Charles Leonard; Date 8 Oct 1863; Event Birth; Place Wellington NZ; youngest surviving son of William Hooper Barnard and mother Sarah Elizabeth nee Kemp.
1878 - may have started apprenticeship with T C Barnard
1884 - Apr 12 - MarriedEllen Banks at Abel Smith Street, Wellington
1887 - Wairarapa electoral roll; living at Carterton, watchmaker
1890 - Masonic Installation. 9 Evening Post, 14 May 1890, Page 2
Carterton, This Day. The Masonic installation in connection with St. Mark's Lodge, N.Z.C., last night, was an interesting and impressive oeremony. About forty members of the craft were present, and orchestral music was introduced under the leadership of Brother Lundquist. Light refreshments were' an adjunct of the proceedings. The following were duly admitted to office: W.M., Bro. Alfred Booth ; S.W., Bro. W. P. Allen ; J.W., Bro. J. Bairstow ; Secretary, Bro. W. Lindop ; Treasurer, Bro. C. L. Barnard; S.D., Bro. T, G. Underhill; JD., Bro. Dr. Johnston; 1.G., Bro. T. A. Woston; Organist, Bro. Moore ; Tyler, Bro. T. Bowles The Pastmaster is Bro. N. Grace. P.M. Bro. Dr. Smith was the installing officer.
1893 - Papers Past - Manaia - Hawera & Normanby Star 22 May 1893 There are signs of progress in our township and buildings are spring up. Mr. Barnard, watchmaker and jeweller, is so satisfied with his prospects that he is having a shop and dwelling house erected adjoining the Bank of Australiasia which will be completed in a few weeks.
1894 - October 16 - Charles Leonard of Carterton started business as a watchmaker at Levin
1897 - Manawatu electorate; resident Levin, watchmaker with wife Ellen
1898 - A BIG FIRE AT LEVIN Evening Post, 10 February 1898, Page 5 A BIG FIRE AT LEVIN - SIX BUSINESS PLACES AND THE COUNTY OFFICES BURNED. DESTRUCTION OF A BUSINESS BLOCK. At 2 o'clock on Wednesday morniug at Levin, Mr. Smithson gave an alarm of fire, he having seen a reflection from the back room of the Town Hall on his bedroom window. This growing township in the Manawatu has not " attained to the dignity of a firebell, and the alarm went round by word of mouth, and consequently, as the Manawatu Farmer tell us, those living close to the fire had to be violently knocked up. Miss Bowen, of the Post Office, seeing the fire, got the key of the English Church and made off to ring the bell. She was met by Mr. C. Nation, jun., and he returned with her to assist. He had not sounded many notes on the bell when it came down with a crash, and no further alarm could be given. However, several persons were aroused. At the Levin Hotel everybody was soon at work removing the furniture, for the fire was now fiercely roaring close by, and the Town Hall was in full flame. Mr. Walter Gardener stood on the fire escape landing, and, by the aid of buckets of water, and assisted by Mr. Laing, saved the building. Messrs. Scales, Leeson, Nordstrom, and Ellis also worked heroically. Mr. B. R. Gardener found that one of the rooms was on fire, and with great exertion he suppressed the flames, and then fell exhausted. Mr. Levy's double shop and the County Council offices were simultaneously found to be alight, Mr. Barnard's jeweller's shop was broken into and the contents saved, and all along the street a clearance of goods from shops was made just in time, the flames devouring the buildings in rapid succession. The residents formed themselves into a salvage corps, and, with or without leave, broke into shops and saved the contents, in several cases for people who were ignorant that their goods were in danger. A jeweller, a hairdresser, a lawyer, and a bootmaker were each served in this way in. succession, briefs, pipes, boots, and clocks all fraternising together on the roadside. A gallant fight between the flames and the corps took place at Mr. Fosella's shop. Blankets were gathered, and seven wells (six of which were dry) tried for water. The fire was checked. The saving of Mr. Fosella's premises was the saving of Mr. Anstice's large smithy, Mrs. Smart's stationery shop, and Bradley Bros.' stables. Everything these places contained was, however, removed to a place of safety. The main road yesterday morning presented a strange scene. In every direction were heaps of merchandise, household furniture, &c, while the site where a row of buildings stood last night is now a blackened mass. Mr. Levy lost everything, and he was not insured. Everything connected with the County Council Oflicti was burned. A large Milner safe, 4ft high and 8ft wide, containing the most valuable papers of the Council, was opened, and the contents were found to be much charred. The Foresters, Knights of Labour, and Druids have lost a great many useful articles, and the Levin band has lost its drum and several brass instruments. All the Town Hall furniture was consumed, together with a piano, 12 dozen pair of skates, and two cases of books. Insurances - Mr. Pink, £100 on stock and £50 on household furniture in New Zealand Insurance Company's office; Mr. Keen, £200 on billiard table, &c, in South British ; Mr. Barnard, £100 on stock in Commercial Union ; Mr. Garland, £200 on Town Hall, and £100 on the shops occupied by County Council, Mr. Barnard, and Mr. James ; Mr. James had an insurance on his stock of boots, but as he had not transferred from one building to another on his removal some days since, he has no claim ; the Druids' furniture in the hall was insured for £30 ; Mr. Fosella's building, which is much damaged, is insured for £250 in the South British ; Mr. B. R. Gardener's premises, occupied by Mr. Pink, were insured for £100 in the South British; Mrs. Smart's i stock, damaged, in removal, is insured in the New Zealand office for £200. The damage to the hotel consists in the scorching of the side walls ; the insurance is £200 in the Commercial Union. Mr. Levy was uninsured, and he had a large and valuable stock. The loss above insurances runs into several hundred pounds. Mr. Keen had just sold his business to Mr. T. A. Howell, and Mr. Keen was in Wellington to receive the money. Unfortunately for some of those burned out, there are no premises to go into. The origin of the fire, is a mystery, says the Farmer. A dance was held in the Town Hall on Tuesday night, but it was over shortly after 11 o'clock, and Messrs. "Worsfold, Middlemiss, and J. Better saw that everything was safe. An enquiry will, no doubt, be held.
1900 - Watchmaker; Levin with Ellen
1902 - Otaki electoral roll; Watchmaker of Levin with wife Ellen
1902 - Evening Post, 14 August 1902, Page 5
Last night a social was tendered to Mrs. Barnard by the Levin Literary and Debating Society on the eve of her leaving the district. The members presented her with & ladies' dressing case. A presentation was also made to her by the choir of the Methodist Church.
1905 - 06 Watchmaker Foxton
1908 - Manawatu electoral roll; Living at Foxton, watchmaker with wife Ellen and son Edward
1908/09 - Grey Lynn supplementary roll; living at Tennyson St, watchmaker with wife Ellen
1910 - Jeweller, Paeroa
1911 - 1916 Jeweller Te Aroha
1914 - Ohinemuri Electoral roll; living at Ruakaka, Te Aroha; jeweller with son William Edward, solicitor
1922 - 1929 Helensville; living at Captain St, Hellensville; watchmaker with wife Ellen and son William Edward, solicitor
1931 - Kaipara Electoral roll; living at Hellensville; settler with wife Ellen and dau-in-law Elfreda
1938 - Remurewa electoral roll; living at 7 Patey St SE2, settler with wife Ellen
1943 - May 23, Occupation Rtd Watchmaker; Death Age 79; Auckland; Undertaker's Records Cremation Waikumete; Name BARNARD Charles Leonard; Undertaker W Sibun & Sons; Place of residence Greenlane
Notes: Wife - ELLEN BANKS

1914 Tauranga Roll; living at Te Aroha; married

1943 Onehinga electorate; living at 233 Campbell Rd, Greenlane; married

1954 Tauranga electoral Road; living at Rita St, Mount Maunganui; widow

Surname : BARNARD Given Names: ELLEN Died Age : 87, Widow; Cremated Waikumete Cemetery; Funeral Director : JONES & CO

Click here for Children's Photos
1 William (Bill) Edward Barnard born 29 Jan 1886 in Carterton d: 12 Mar 1958 in Auckland Burial: 14 Mar 1958 Cremated, Purewa Cemetery. He was a solicitor and MP.
He married Elfreda Helen Eames, the daughter of Frederick Ruttu Eames and Elizabeth nee Page. Elfreda was born 26 Oct 1901 in Waipawa, New Zealand and she married Bill Barnard on 26 Oct 1921 in St Peter's Anglican Church, Takapuna, Auckland. She died 21 Oct 1994 in Auckland - their daughter was Margaret Helen Barnard
2 Frederick (Fred) Henry Barnard was born 25 Sep 1887 in Carterton - Fred was a dentist and died 09 Sep 1972 in Pukekohe, Auckland. He was cremated on 12 Sep 1972 at Purewa Cemetery.
He married Eva Maud Gribble on 22 Nov 1911 in St James Church, Sth. Wellington. Her parents were Malachi Gribble and Anne Letitia Parsons and Eva was born 18 Mar 1892 and died 01 Jun 1929 in Drury, Maurewa, Auckland. They had two children - Joan Ellen and William (Bill) Edward Barnard.
2nd Wife of Frederick (Fred) Henry Barnard was Bertha Anne Burrows who was born in Dunedin on 28 Mar 1893 in Dunedin to father, William Henry Burrows and her mother was Lorna Amelia Smith. Bertha died 11 Aug 1978 in Pukekohe, Auckland where she was cremated at the Purewa Cemetery 14 Aug 1978. Their son - Bruce Frederick Barnard
3 Miriam Zealandia Barnard was born 22 Jan 1890 in Carterton and died at Auckland 16 Jun 1969. She was cremated on 18 Jun 1969 at the Purewa Cemetery. On 11 Feb 1914 at Wellington Mirium married George Taylor Simpson, the son of George Brown Simpson and Isabella Taylor. He was born 10 Apr 1889 and died 04 Feb 1960 at Wellington and was buried at the Karori Cemetery. Their three children are Barnard Taylor, Miriam Taylor and George Taylor Simpson.