Press F11 to limit top toolbar
Press again for toolbar to return
Charles Thomas Barnard

Mar Q 1846 - 23 Oct 1892

Elizabeth Ann (Lizzie) Holland

Abt 1852 - 21 Jan 1906
Marriage - 12th May 1870, Catholic Church, Christchurch
Charles Thomas Barnard eldest child of Thomas and Maria Barnard was born at Bermondsey London and was 9 when the family immigrated to Canterbury. The family lived at first above the watchmaker shop at Cashell street where Thomas his father had his business. After completion of schooling learnt his trade as a carpenter.

In 1866 the Barnard family sold and moved to Rangiora where Thomas Charles Barnard purchased the Rangiora Hotel. At the same time, the run Fernside, had been cut up into cropping farms so he also pruchased a freehold 50 acre farm at Moeraki Downs in close proximity to Rangiora. The Rangiora Electoral Roll for 1868 and 1872/73 notes Charles Thomas Barnard on Section 4090 near Rangiora; 50 acres;.

Another block (Sect 2866) was also owned by ?? Barnard on the North Bank of the Ashley River

Marriage: On May 12 1870 at the Catholic Church, Chas. Holland (25) occupation given as farmer and Elizabeth Holland (18) occupation 'lady", made these Marriage Vows witnessed by Margaret Holland, Cornelius Sexton

I, the undersigned promise before God, never to interfere with the religion of my wife and to let her bring up all our children, if any, in the Catholic Church.
Signed: Chas. Barnard; Cornelius Sexton

I the undersigned, promise before God, never to depart from the Catholic Church and to bring up all our children, if any, in the same church and to do what it is in my power with the help of God's grace, to lead my husband to enter the same church.
Signed: Elizabeth Holland, Margaret Holland

Their first 3 children were baptised at Christchurch in this Catholic Cathedral
The photo on left was taken by Charles's brother Edward Barnard - a carpenter's timber yard with stacks of sawn timber drying for construction. It is not known who the man pictured is, or if it was taken at Rangiora. Time period - before Edward's death in 1875
Charles's father Thomas Barnard got into financial difficulty, became bankrupt - the hotel and watchmaker's shop were sold. Thomas and Maria moved to Greytown in the Wairarapa in 1872.
It is unknown when Charles sold the farm but he moved back to Christchurch with Elizabeth about this time also.
In 1877 the Star on 18 June 1877 reported that Charles Barnard and his wife, Elizabeth Barnard were in court for obstructing the City Council on six separate charges.
The City Inspector stated that he had ordered some men to construct a drain, under Section 22 of the Act, upon sections belonging to the Barnards, for the purpose of carrying off storm water They employed Mr Wynn Williams to defend the charge, and he showed that the Barnard's land had been filled up by order of the City Council, and that it was now higher than the adjoining property which the Council sought to relieve. Mr Williams contended that there was no necessity. for such a drain, and that they could not, in fairness be allowed to out through this land to get to other property; Furthermore, no notice had been given to them as owners of the property. The court was told that as fast as the workmen of the City Council cut the drain, the defendant and his wife filled it up again. Mr Williams said clearly Section 22 applied to a man's own property only; and clause 228 guarded a man's private rights. There could be no doubt that the drain projected by the Council was not for the benefit of the accused and the court was told that the proceedings were most arbitrary, for they had tried to frighten the accused first, and had then laid six informations against him. The Bench held that clause 220 referred to the land upon which the water was lying, and that to go through other land the requirements of clause 219 must be complied with - all the charges were dismissed.
In 1881, Charles moved from north Christchurch (he retained ownership of his freehold section at Aldred Street, Part town reserve 73 with a value of £200) and went to live at Chertsey which is near Ashburton; continuing his carpentry business
1887 - Ashburton Sup. Roll: Charles Thomas Barnard, Freehold Netherby; Carpenter Lot 26 part rural section 5809
On 1888 the Ashburton Guardian reports the court outcome of an Irish scrap when tempers flare. Fiesty Elizabeth is again in court. She charges Mary Ann Kane on 2 counts of using obsene language. A cross-information charged Mrs Barnard with having used insulting language towards Mrs Kane.
Evidence was called from a neighbour Mr White who said on the 21st he heard two boys talking in Mrs Barnard's garden and Mrs Kane went to them and spoke loudly and abusively. Mrs Barnard ordered her boy to come in, he obeyed and Mrs Kane followed him. Mrs Barnard told Mrs Kane that she would not hear her boy called a liar and ordered her off the premises. Mrs Kane then became very abusive, calling Mrs Barnard a lying vagabond, and saying she would smash her b... y nose in. Mrs Kane while there repeated her language and then went away - the affair lasted about half an hour. About half-past five on Sunday morning Mr White was awakened by a noise and went to the window and saw Mrs Kine walking up and down the footpath calling Mrs Barnard disgusting names.
Mrs Barnard said that she lived next door to Mrs Kane in Princes street, Netherby. On Friday the 21st her boy and Mrs Kane's son were speaking together. Mrs Kane came out and abused the boys because the lads mentioned her children's names. Elizabeth waited five mlnutes for her to go so then went out and asked her to stop abusing the boys and leave her premises. Kane returned to her own ground and applied bad words. Mrs Barnard said she would tell Mr Kane and the defendant replied that if she did she wonld break the b... nose on her face and on Sunday she was awoken by Mrs Kane calling out her names and using very bad language towards her.
Frank Barnard, Elizabeth's son, gave corroborative evidence. Mrs Kane denied the Friday evidence and said that she did not apply any bad names to Mrs Barnard but that Mrs Barard called her a "low blackguard." However on the Sunday, when in her own ground, she might have called her a whore. She said she was not out on the street on Sunday morning and was not outside her fence till the evening of that day. She was cautioned by the Bench and reiterated her denial of previous witness's statements that she had been out on the street about six o'clock on Sunday morning. Norah Kane, her daughter said that on the Friday in question she heard Mrs Barnard call witness's mother a low blackguard and that Mrs Barnard said that she would complain to Mr Kane, and Mrs Kane replied that she ought to go and live with him. Norah got up about half past five on Sunday morning. Her mother was out about half-past five but not out on the road. Witness saw her after she went outside; she was standing still and she stopped out about ten minutes. She had not heard her say anything while outside, she came in and never went out till she went to mass about half past ten, and if someone said she was making a great noise it was untrue because she was in the bedroom in front of the house.
Mr W.W. White was recalled and stated that on Sunday the 23rd when Mrs Kane used the words attributed to her she was on the public footpath outside Mrs Barnard's gate - it was about a quarter to six and she remained there till about six. Witness saw her later on, about ten or eleven, coming home to her own house through the back of her section.
The Bench ordered a conviction to be entered up on the first .charge and inflicted a sentence of 14 days' imprisonment on the second. They added that they were distinctly of opinion -that perjury had been committed by the accused. She had sworn that she had not been outside her premises, but the .evidence of two or three witnesses went to show that she had been on the footpath .on the Sunday morning. The Bench looked upon the crime of perjury as very serious one and the police' would be Instructed to take action The cross Information against Mrs Barnard was dismissed closing the matter.
Concerns about Charles's health caused the family to move back to Christchurch and 1892 proved a bad year. Elizabeth's last child Herbert Rowland died at only 6 months at the end of February and then on the 23rd of October 1892, husband Charles went missing.
The paper reported "Mr Barnard, of Andover Street, Carlton Terrace, stated to the police yesterday morning that his father, an elderly man, had gone to bed on Saturday night as usual at about eleven o'clock, but was missing from the house in the morning. The old man has been. suffering acutely of late from cancer in the face. Constables Koster and Llewellyn searched the park and along the river during a good part of yesterday, but failed*. to find any trace of the missing man. (Charles was only 46 years)
The Evening Post, Wellington reported on 27 October 1892 a telegraph had been received and the body of Charles Thomas Barnard, an elderly man, who was suffering from cancer in the face, had been found in the river Avon. He left his home at St. Albans at an early hour on Sunday morning. At the inquest an open verdict "found drowned" was returned. He was buried at Linwood Cemetery Block No 22, Lot 25, 28th Oct.

Elizabeth was left coping alone with 10 children but over the next 12 years was able to see them grow and celebrate the marriages of Charles, Hugh, Leonard and Elizabeth. In 1903 Father-in-law Thomas Barnard died and his wife Maria returned south to Christchurch. January 1906 Elizabeth herself succumbed to cancer after a 6 month illness.Informant at time of Death was Maria Barnard.
Star , Issue 8528, 22 January 1906 -.
BARNARD. - January 21st, at the residence of her son-in-law, Mr Jacobsen, of Heywood Terrace, Richmond, Eliz. Ann, relict of the late Mr Charles T. Barnard, of Andover Street, Merivale; aged fifty-four years. Deeply regretted.
Elizabeth was buried 23rd Jan at Linwood Cemetery Block No: 43, Plot No: 128
For information about Elizabeth's Holland family see Stephen Nichol's site.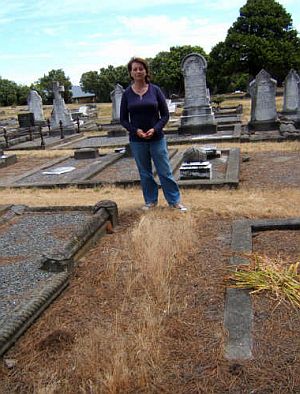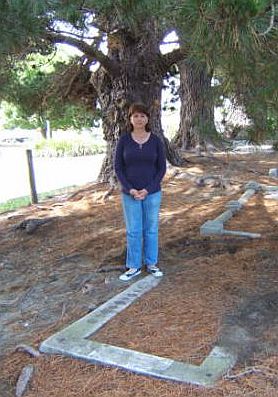 Linwood Cemetery, Nov. 2008: Norma Bennett visits her great-grandparent's graves - on left, Charles Barnard; right, wife Elizabeth's grave. Their son Edward Albert was buried 15 Oct 1907 with his mother.
CHILDREN of CHARLES AND ELIZABETH BARNARD
1 Charles Cooper Barnard - Born: 23 Mar 1871, Christchurch, Canterbury
Died: 18 Mar 1942 at Christchurch, Canterbury
Married: 25 Apr 1901 in: St Mary's, Manchester St, Christchurch : Ellen Flannery
---
2 Francis Holland Barnard - Born: 09 Nov 1872, Christchurch, Canterbury
Died: 24 Jun 1936 at Christchurch, Canterbury
Married: 14 May 1913 in: Holy Trinty, Avonside, Christchurch : Ethel Rosendale
---
3 Hugh Henry Joseph Barnard - Born: 22 Sep 1874, Columbo St., Christchurch
Died: 25 Apr 1940 in: St Georges Private Hospital, Christchurch
Married: 14 Feb 1901 in: House of Thomas Hullett, Armagh Street, Christchurch : Eva Gertrude Hullett
---
4 Edward Albert Barnard - Born: 09 May 1876, Ashburton, Canterbury
Died: 13 Oct 1907 in: Public Hospital, Christchurch, Canterbury
---
5 Leonard Arthur Barnard - Born: 27 Dec 1878, Tinwald, Ashburton
Died: 06 May 1954 in: Christchurch, Canterbury
Married: 06 Jul 1905 in: Christchurch : Jane Constance Dalton
---
6 Elizabeth Barnard - Born: 30 Oct 1880, Ashburton, Canterbury
Died: 01 Dec 1880 in: Rakaia, Canterbury
---
7 Elizabeth Mary Barnard - Born: 10 Sep 1881, Ashburton, Canterbury
Died: 20 Oct 1938, Christchurch, Canterbury
Married: 27 Oct 1903 in: Sea View Rd, New Brighton, Christchurch : Olaf Jacobsen
---
8 Catherine (Kate) Emma Barnard - Born: 11 Sep 1883, Ashburton, Canterbury
Died: 22 May 1956, Christchurch, Canterbury
Married: 27 Dec. 1923 in: Chertsey : Thomas Michael Devane son of Patrick and Elizabeth (nee Butler)Devane, hotel proprieter of Ashburton. Thomas was B. 23/2/1883 Ashburton; D. 20/8/1951 Christchurch
---
9 ; Edmund William (Boss) Barnard - Born: 07 Dec 1884, Ashburton, Canterbury
Died: 19 May 1959, Christchurch, Canterbury
Married: 18 Aug 1915 : Laura Ann Jones
---
10 Clara Alice Barnard - Born: 16 Jun 1887, Ashburton, Canterbury
Died: 13 Jun 1919 - 4 Albany St, Christchurch
Married: 25 Apr 1912 : Albert Charles Beken
---
11 Vincent Gilbert Barnard - Born: 01 Apr 1890, Christchurch, Canterbury
Died: 26 Jun 1976 - Christchurch, Canterbury
Married: 25 Feb 1921 : Florence Harriett Wheeler
---
12 Herbert Rowland Barnard - Born: 26 Aug 1891, Christchurch, Canterbury
Died: 22 Feb 1892 - 99 Salisbury Street, Christchurch