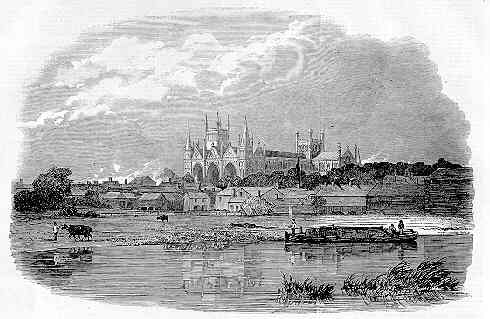 Reference book: "The Great Stink of London"
This is about Joseph Bazelgette who built all the sewers of London. The London cholera outbreak of 1831-2 caused the deaths of 6,536 people and there was a second outbreak in 1848-9 when 14,137 died.
The third outbreak in 1853-4 (map below) killed 10,738 Londoners but despite this, it was not till five years later that work began on the sewerage system which took 20 years to finish.
Another outbreak ravaged the east end of London but this was thought not to be connected to the system of the sewers but it is interesting to note in this outbreak in 1858, the curtains on the House of Commons had to be soaked in chloride of lime to act as a barrier against the foul odours rising from the Thames! The summer was particularly hot and dry and this was when the press described the Thames as the "Great Stink".
Cholera:The first case of 1853 in London was a sailor living at 10, Marine Street in Bermondsey, near the River Thames. The location of his home is shown in red. Jamaica Road at the south has replaced Bermondsey Low Road of 1859. The word "Road" to the northwest refers to Neckinger Road. The red dot indicates where the outbreak of cholera originated in 1854 from a sailor living at Marine Street, Bermondsey.
Ref: Snow era

Images and data used in this site copyright -