Press F11 to limit top toolbar

Press again for toolbar to return

Edith Nellie and James Stewart Vickers

E

DITH NELLIE BARNARD was b: 30 Mar 1883 in Wellington, daughter of George and Emma Jane Barnard; she died 18 Aug 1964 in Public Hospital, Wellington. Bur: 20 Aug 1964 Karori Cem.

She mar: 17 Apr 1907 in Hill Crescent, Oriental Bay JAMES STEWART VICKERS, the son of LESLIE VICKERS and CATHERINE STEWART. He was born 1884 in Wade, Auckland; Occ: Mtr Painter, and died 1965 in Wellington.

1881; THE CITY SCHOOLS. Evening Post, 17 Dec 1881: NEWTOWN SCHOOL. The following are the prize-winners at this School : Primer. Girls: E. Barnard

Edith Nellie Barnard Carterton school started at Carterton School 28.1.1895 (came from Newtown) She left on 16.10.1896 going back to Newtown.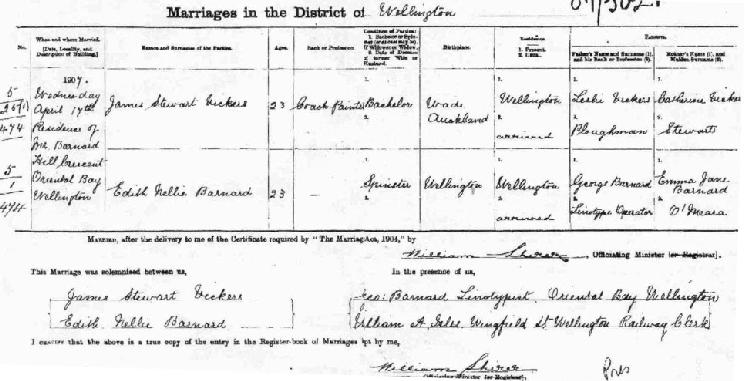 Son of EDITH BARNARD and JAMES VICKERS is:

ERNEST RALPH FREDERICK VICKERS was born 15 Jan 1915, and died 28 Aug 1992 in Hazeldine Nth. He married MOLLY JEAN NICHOLSON in 1939. She was b: 05 May 1923, and d: 03 Mar 1995 in Te Hopia Home for the Aged, Wellington.

1922 School Records: Ernest Ralph VICKERS; School Mapua; Admission Date 14 Feb 1922

1924 School Records: Ernest Ralph VICKERS ; School Upper Hutt; Admission Date 30 Jun 1924

Children of E

RNEST VICKERS and MOLLY NICHOLSON are:
i. G
ORDON VICKERS, m. JACKY.
ii. R
AY VICKERS, m. JOAN.
iii. B
RUCE VICKERS, m. PAT.
iv. M
URRAY VICKERS.
Images and data used in this site copyright -
Descendant input to up-date family pages is very welcome - more detailed information available on request