Press F11 to limit top toolbar
Press again for toolbar to return
Frank Allen & Elizabeth Anne Barnard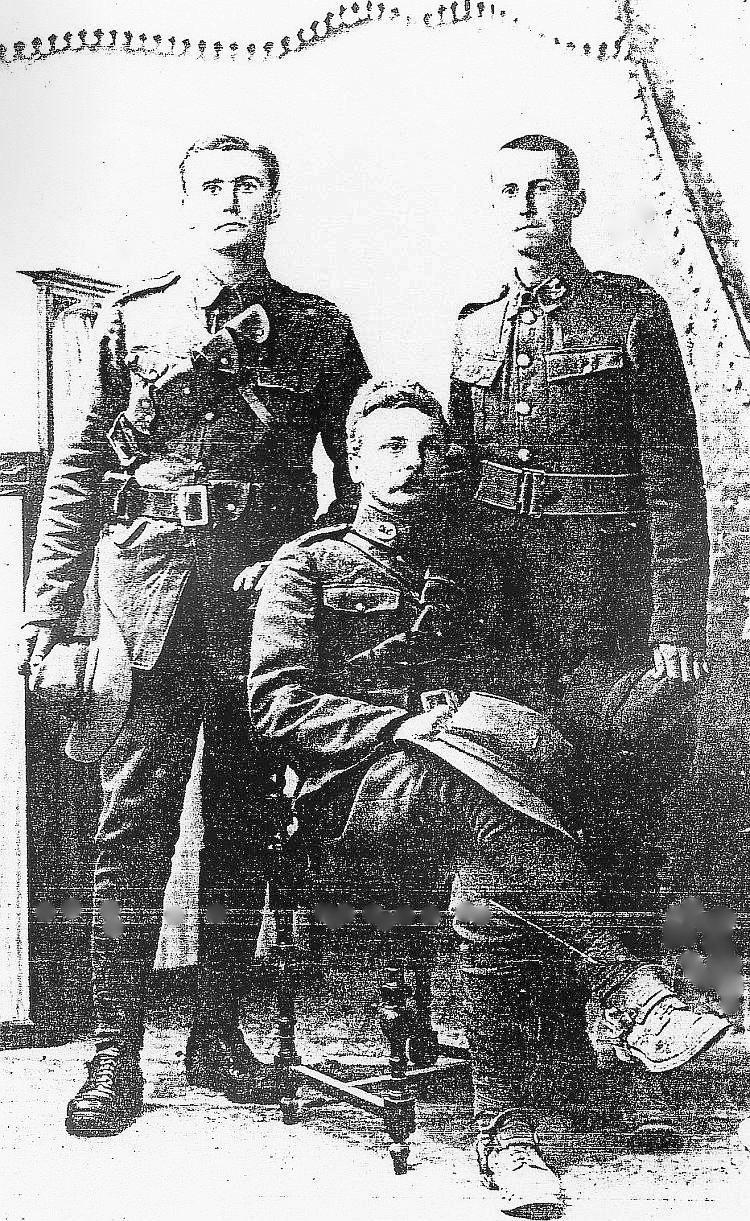 Barnard brothers: James, Frank (seated) and Harry Barnard
FRANK ALLEN BARNARD was b: 18 Mar 1886 in Wellington to parents Henry and Helena Barnard; Occ: Conductor, Farmer - Karamea; He d: 14 Jul 1972 in Wellington Hospital;
Frank married 24 Apr 1917 in Stratford ELIZABETH ANNE* RYAN , daughter of THOMAS RYAN and ELIZABETH FARMER. She was b; 26 May 1891 in Westport, and d: 09 Nov 1944 in 15 Kotinga Street, Wellington, aged 53Y RC section Karori Cemetery Plot 666Z
Time Line"
1886 - Birth: Barnard Frank Allen - parents Helena Marian and Henry James Wellington

1908 - Egmont roll; living at Eltham; Drapers Asst

1910 - Draper Eltham

1914 - Residence Occ. Draper; Eltham, Taranaki, New Zealand

WW1 - FRANK ALLEN BARNARD

TROOPER 11/477 TPR MAIN BODY WGTN MOUNTED RIFLES SINGLE ELTHAM WELLINGTON H J BARNARD Next of Kin's address - ELTHAM

1914 - Eltham: The Auckland Weekly News: BARNARD, Frank Allan Malta ex hosp ship Scotian Sept 10 Field Amb 23rd Sep 1915 F: H J Barnard, Eltham

1921 - farming at Karamea

1928 - Residence Wellington East, Wellington, New Zealand

1929 - Conductor, 15 Kotinga St, Kilbirnie, Wgtn

1931 - Wellington East electoral roll; living at 15 Kotinga St; conductor with wife Elizabeth

1938 - Wellington East electoral roll; living at 15 Kotinga St; Conductor with wife Elizabeth

1943 - Wellington East electoral roll; living at 15 Kotinga St; conductor with wife Elizabeth and daughter Frances

1944 - Wife Elizabeth died

1954 - Karori Electorate; living at 44 Washington Rd, Wgtn West; retired with son Henry, engineer

1957 - Residence Island Bay, Wellington, New Zealand

1963 - Island Bay electorate; living at 201 Derwent St; Retired with mother Helena, widow

Residence 1972 - living at 201 Derwent St, Island Bay, Wellington, his mother's address.
Newspaper Report: Death: 14 Jul 1972 Wellington Hospital, husband of the late Ann and father of Harry (201 Derwent St, Island Bay) Frances (Mrs Jepson, Paraparaumu Beach) Catherine (Mrs Avenell, Manurewa, Ak) Service July 17 1972 Private Cremation
11/47 TPR F A Barnard Wellington Mounted Rifles 1NZEF d 14 Jul 1972 aged 86 years Crem. Karori Cem. Area 11 Block C Row 13 Plot 17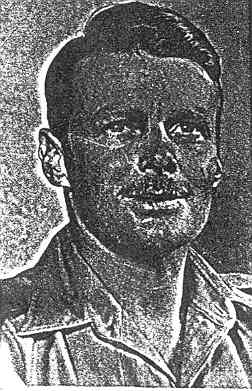 Children of FRANCIS BARNARD and ELIZABETH RYAN are:

i. HENRY(HARRY) THOMAS BARNARD (b. 10 Aug 1919, Buller, Westport; d. 09 Oct 1975, Paekakariki; ) mar. H

EATHER MARGARET, Bet. 1960 - 1975; b. Abt. 1935; d. 02 Dec 2000, Porirua. Burial: 07 Dec 2000, Whenua Tapu Cemetery, Pukerua Bay Row 5 Plot 36

1934 SCHOOL ROLL: BARNARD H. T. Engineering E1 Wellington Technical College

1954 Karori Electorate; living with father at 44 Washington Rd; Wgtn west; engineer

1987 Kapiti electorate living at 7 Tunapo Rd, Paikakakariki; pensioner

Newspaper Report: Henry Thomas (Harry) d Oct 9 1975 at home suddenly 7 Tunapo St, Paekakariki, loved brother to Francis and John Jepson (Paraparaumu Beach) Kitty and Ernest Avenell (Whangamata) loved uncle to Ken and Bill, Roseanne, Julie and Patere, aged 56 years. Funeral at St Johns Anglican Church, Paparaumu Beach Oct 13 1975 and Interment Paraparaumu Beach Cemetery. Communications to 78 Michael Rd, Paraparaumu, Nth Beach.

ii. FRANCES MARION BARNARD was b: 14 Jan 1921 in Karamea, and d: 01 Jul 1996 in Levin. She mar: 1954 in Wellington to JOHN

JOSEPH JEPSON, Occ: Light-house keeper, son of CECIL JEPSON and MARGARET JONES. He was b: 2 Mar 1927 in Fielding, and d: 22 Jun 1989 in Palmerston North. At the time of his death, resided at 40 Karaka Crescent, Levin

Notes: 1934 - SCHOOL ROLL - Frances at Wellington Technical College

1943 Wellington East electoral roll; living at 15 Kotinga St; with parents Frank and Elizabeth

J J Jepson from rugged Stephens Island at the entrance to Cook Strait. It takes 6 hours to reach from Picton and the landing is difficult. The island is the home of the Tuatara and a frog which is only found there. There were three familys, the only children 2 infants. Mr Jepson has had five years lighthouse keeping

Children of FRANCES BARNARD and JOHN JEPSON are:
i. P

ETER DAVID JEPSON, b. Lower Hutt Occ: Diesal Mechanic; mar Lisa Fraser b: Christchurch to parents Douglas Lindsay Fraser and mother: Margaret Monica Carlin. (her Occ: Dental Asst) Their family Joshua Luke; Ashleigh Eden and Harley Dylan Jepson
ii. JULIE MARGARET JEPSON, b. Lower Hutt mar: Norman William Hamilton b: Wellington - his Father: Robert Norman Hamilton, Mother: Catherine Margaret Holloway; Occ: Mechanic; Their sons - Danny James, Cody Paul and Robert John Hamilton
iii. CATHERINE (KITTY) ANN BARNARD, was b: 20 Aug 1922 in Buller, Westport, and d: 2011. She mar: 14 Aug 1943 in Wellington to ERNEST (ERN) JAMES AVENELL, son of WILLIAM AVENELL and ROSE BATES. He was b: 16 Aug 1919 in Auckland, and d: 27 Mar 1991 age 71Y in Hamilton; Crem: 26 Jun 1991 Hamilton Park Cem. Last Address 16 Tranmere Rd Hamilton
Children of CATHERINE BARNARD and ERNEST AVENELL are:
i. J

OHN (SBC) AVENELL, b. 25 May 1944.

ii. K

ENNETH JAMES AVENELL, b. Palmerston North. Occ: Soldier, carpenter, printer. He mar: in Fielding (1) LEONIE MAY ALSOP. He married (2) at Palmerston North INEZ CONSTANCE MURRAY daughter of KEN MURRAY and IRIS QUICKE b: Ekatahuna.

Inez and her first husband Herbert had two children, Lisa and Matthew and after his death in an accident. Ken adopted the children

Children of KENNETH AVENELL and INEZ MURRAY are: Lisa Marie mar to Michael Reed; Mathew Gordon and Kim Naomi Avenell

iii. WILLIAM (BILL) TREVOR AVENELL, b. Wellington; Occ: Constable; mar: Reefton to LYN WILLIAMS Their children Warren and Jane Marie Avenell

iv. C

ATHERINE ROSANNE* AVENELL, mar: GRAHAM BRIAN TAYLOR in Otahuhu, Auckland. Their family: Jolon Brian; Susan Lorraine and Claire Denise Taylor.
iv. A
LLEN JAMES BARNARD
, b. 25 Apr 1924, Karamea; d. 27 Mar 1927, Wellington 2Y Bur 29-03-1927 Bolton St Cem.
DEATHS. BARNARD. On the 37th, March, 1927, Allen James, dearly beloved son of Frank and Annie Barnard, 13 Kotinsa street, Kilbernie, grandson of Nurse E. Ryan, of Westport, and Mrs. H: M. Barnard, of 201, Derwent street, Island Bay; aged 2 years and 11 months.

Images and data used in this site copyright -
Descendant input to up-date family pages is very welcome - more detailed information available on request.