Press F11 to limit top toolbar
Press again for toolbar to return
Helena Marion Barnard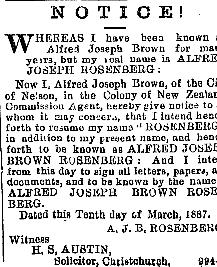 Helena Marion Rosenburg Brown was b: 03 Apr 1865 in Nelson. Her parents were Alfred Joseph Brown (b: 25 Apr 1838; d: 24 Jan 1903; bur: 26/05/1903 Bolton St Cem.) and Sarah Elizabeth nee Berry (b: May 1942; d 28 May 1906; bur: 30/5/1903 Bolton St Cem.)
Colonist, 27 June 1862: MARRIAGE: On June 24, at the Wesleyan Chapel, by the Rev Innes, Alfred Joseph Brown, of Liverpool, and late of Sydney, to Sarah Elizabeth, eldest daughter of Mr. T. R. Berry, Nelson.
Her parents registered Helena's name as Eleanor Mary Ann Brown and she d: 14 Aug 1965 in Silverstream Hospital, Wellington; Bur: 16 Aug 1965 Bolton Street Cemetery, Wellington. During her long life she called herself Helena Marion.
Alfred Joseph Brown on 10 March 1887 in the Nelson Evening Mail, announced that he had made application to change his name by deed poll to Alfred Joseph Brown Rosenberg. Descendants have long been puzzled about the origins of Rosenberg that Helena's father reinstated as his rightful name. Barnard researchers, Louise and Judy have achieved some amazing, truly tenacious research and provide the intriguing answer!

Thomas Richard Berry (the maternal grandfather of Helena Brown) was b: 1815 in Shoreditch, Middlesex, England; he d: 2 Jun 1868 bur: Wakapuaka cem Plot 080 Block 1. He mar: 1841 in Shoreditch to Rebecca Keysley Carstairs (b: 1822 to parents Joseph Carstairs (1783-1844) and mother Elizabeth Richards (1788-1845); d: 1872 Westport)

They travelled to Nelson on the "Fifeshire", the first emigrant vessel, a 557 tons barque commanded by Captain Arnold and left Southampton 26 Sept 1841, arr. first at Wgtn 16 Jan. before proceeding on to the settlement of Nelson 1st Feb 1842. Sarah was born three months after arrival (1842-1906) was the eldest of their family of 10 children and said to be the first white girl born at Nelson. Other children in the family were - Rebecca Eliza Berry (1846-1861), Mary Anne Berry (1847-1915), Eliza Margaret Berry (1850-1930), Emily Esther Berry (1852-1853), Louise Carstairs Berry (1854-1886) Letitia Berry (1856-1938), Emma Keysley Berry (1859-1942), Clara Elizabeth Berry (1861-1906) Margaret Neil Berry (1861-1926) and Thomas Carstairs Berry (1863-1926).
| | | | |
| --- | --- | --- | --- |
| Thomas Richard Berry | Rebecca Keysley Carstairs | Sarah Elizabeth Berry | Alfred Joseph Brown |
Thomas Richard's father was Thomas Berry who was b: abt. 1796 in France. He married 3 times - (1) Sarah PALMER on 9 Oct 1813 at St. Olave, Bermondsey, Southwark; (2) Sarah BARRON on 25 Jun 1817 at St. Leonard Foster Lane, London and (3) to Jane Elizabeth BERRY nee DENNIS on 1 Mar 1840 at St. Mary, Lambeth, Surrey - on the marriage transcript is a notation "Thomas Berry, widower, to Jane Berry, widow - related, being his brother's widow).
Children: From 1st marriage:
Thomas Richard BERRY born 14 May 1815; christened 28th May 1815 Christ Church, Southwark
Children: From 2nd marriage:
Frederick Thomas BERRY b. 6 Dec 1818; chr. 5 Mar 1820 St. Leonards, Shoreditch (date of birth on christening record)

Esther BERRY born 12 Feb 1820; chr. as above

Charlotte Sarah BERRY born 1 Jul 1824; chr. 26 Dec 1824 - St. Leonards, Shoreditch

Rebecca BERRY born 31 Aug 1826; chr. 25 Sep 1826 St. Leonards, Shoreditch

John Thomas BERRY born 1 Jul 1829; chr. 26 Jul 1829 St. Leonards, Shoreditch
Children: From 3rd marriage:
William Thomas BERRY born 19 Jul 1842; chr. 7 Aug 1842 at St. Matthew, Bethnal Green; d:1912

Jane Elizabeth Berry 1844 - 1883

Angelina Charlotte Sarah Berry 1846-1932

Susan Esther Berry 1848-1930

Edwin Cicero Berry 1851 - 1938

Julia Deborah Berry 1854 - 1943

Joseph Henry Berry 1858 - 1931

Benjamin Augustus Berry 1860 - 1901
Thomas Berry emigrated to Nelson, NZ, with his family, to join his son Thomas Richard Berry, who had arrived in 1842.
He travelled on the "Ralph Bernal" 3rd Dec 1847. (Ships list) Thomas 51, Brushmaker with Jane Elizabeth, wife, 27, William Thomas 5, Jane Elizabeth 3, Angelina Charlotte Sarah 1 and John Thomas 18 (youngest son from 2nd marriage to Sarah Barron.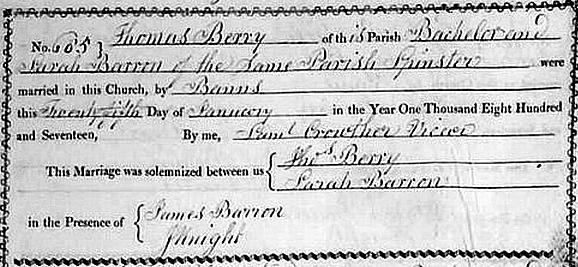 Colonist, 16 July 1872: Death Berry, 1872 July 13, at his residence, Washington Valley, Mr. Thomas Berry, aged 96 years.
Death of a Very Old Freemason. Thomas Berry: d: July 13, 1872, at his residence, Washington Valley, Nelson at the very advanced age of ninety-six years. Mr. Thomas Berry, or, more properly, de Berri was made a Freemason in the Grand Lodge of England in the year 1821, the Duke of Sussex being then Grand Master. The father of deceased was son of the Duke de Berri, who, escaping from France in 1793, in the Reign of Terror, ultimately settled in Colchester, England, and obtained the freedom of that city, under the name of Berry. The son passed much of his time in America and France, mixing largely in the political intrigues of those days, and ultimately died in Colchester, at the very old age of one hundred years and four days. His son, the subject of the present notice, appears to have continued in trade more steadily than his progenitor, and to have acquired some means. He was subsequently induced to emigrate to these shores through the representations of sons who had settled here previously, at the ripe age of seventy years. He will be remembered as having been in the employ of the Nelson Government for many years and the craft will recollect him as having been for a similar period an office-bearer of the Nelson Lodge. A Masonic funeral was given to the deceased. Although this was repeated in newspapers throughout the country, it is belived Thomas's age was 70 yrs at death)
New Zealand Herald, 8 Aug 1872: A Masonic funeral took place on Thursday last, the hearse being preceded by the members of the order in full regalia, with jewels encased in crape, and proceeded to the new cemetery, where the Rev. G. H. Johnstone read the service of the Church of England, after which, the beautiful prayer used by the Masons on such occasions was offered up by Past-Master Robert Burn, who officiated in the absence of Mr. Joseph Shephard, the W. M. The circuit of the grave was then made, and the branches of evergreens cast upon the coffin by the brethren present, and the solemn ceremony was brought to a close by the singing of a hymn.
Colonial gullibility distorted the facts but for years added a touch of glamour to descendants personal family history records! (eg Report: 13 Dec 1930: Obituary of Thomas's grand-daughter Susan Esther Berry who mar: 1866 Frank Claude John Noakes)
Berry family historian, David Lamb completed a great deal of research on his family and give his reasons he is so sceptical:
"Thomas BERRY (1796-1872) was my 1st cousin 5 times removed. Although he was actually descended from a weaver from Colchester, Essex, England, his over-fertile imagination seems to have got the better of him once he arrived in New Zealand. He told people that he had been born in 1776, and that he was a direct descendant of the French Duc de Berri. He had escaped (he said) with his father to England during the so-called "Reign of Terror", which was part of the French Revolution, and took place in 1793. These stories must have sounded so plausible, for even his death certificate states that his age at death was 96, and his obituary says he was descended from French nobility!
However, one of his sons, Frederick Thomas BERRY, wrote in a letter: "...at the age of 17 (Thomas) contracted a misalliance by marriage with Thomas's [that is, Thomas's son Thomas] mother, that gave offence to his father, that is, our grandfather. I think that may have been the cause of our grandfather not giving our father the full particulars of his pedigree; he no doubt wished to guard the honour of his house from stain."
If Thomas senior had been born as he claimed in 1776, he would have been 17 in 1793, and Thomas junior was not born until 1815. 22 years seems a long time between marriage and the birth of the first child. A birth year of 1796 seems to fit far better, especially as Frederick in his letter states that his mother (Sarah BARRON, Thomas senior's second wife) was 42 when she died in 1839, and that she was 2 years younger than Thomas.........
Evening Post, 31 May 1906, Mrs. Sarah E. Rosenberg, one of New Zealand's early settlers, is dead. Deceased was sixty-three years of age, and is said to have been the 1st white person born in Nelson. She was relict of the late Alfred Rosenberg, and for a number of years had been a resident of Wellington, where she was greatly respected by all who knew her. She leaves a family of three sons and three daughters, the sons being A. Rosenberg, of Woodville, and M. and E. Rosenberg, of Wellington, and the daughters Mrs. A. Gyles, of Wellington, and Mrs. H. J Barnard, of Eltham.
Children of Sarah Elizabeth and Alfred Joseph Brown Rosenberg:
i Sarah Rebecca Brown (1863 - 1928) mar: 1882 Arthur Gyles (1858 - 1935)

ii Eleanor Mary Ann Brown (AKA Helena Marion Brown) (3 Apr 1865 - 14 Aug 1965) mar: 1884 Henry James Barnard (1859 - 1922)

iii Rosina Eliza Brown Rosenberg (1867 - 24 Aug 1890 aged 23 yrs)

iv Alfred Henry Joseph Brown (1868 - 1948) mar: 1895 Margaret Peebles (1877 - 1950)

v Herbert Montegue* Brown Rosenberg (1871 - 1949) mar: 1906 Ada Oliver (Div May 1911)

vi Hannah Amelia Emma Brown Rosenberg (1874 - 1903) mar: 1902 Alfred Claude Taylor (1868 - 1954) He remarried 1909 Gertrude Hulmar Stanton Beck

vii Isadore McLean Brown (1878 - 1893 aged 16 yrs)

viii Edward Leraux Brown Rosenberg (1880 - 1953) mar: 1906 Ann Philpott (1885 - 1962)

ix Alice Maranda Brown Rosenburg (1881 - 1908 aged 28 yrs)
Helena Marion Brown, 2nd daughter of Sarah and Alfred Brown/Rosenberg Mar: 20 May 1884 Henry James Barnard and became the mother of eight boys and one girl. WW1 saw her 6 sons enlist and the loss of two of her boys must have given her deep grief. Helena threw her full weight behind the war effort. She turned her home into a workshop, baking gingernuts and make balaclavas, scarves and socks and other soldier comfort necessities - she became called the Gingernut Lady and her biscuits were packed into tins and sent for distribution to various regiments and to refugees. She then went out and collected £700 which enabled an ambulance to be purchased by the Patriotic Society of Eltham and presented to the Government for the Army. Another was bought and these were later used in Taranaki.
Illustrated address presented by the people of Eltham to Mr and Mrs H J Barnard of Eltham at the time of their departure to take up residence at Wellington - the two youngest sons were not featured - Leonard Thomas and Wm Hooper being too young to serve.
Clockwise from top right - Henry; Joseph William; Alfred Montague; Charles Valentine; James; Frank Allan. Helena purchased a commerative bell in the Wgtn Carillon and named it "Suvla Bay"
Dedicated Anzac Day, 25th April 1932, to the glory of God and to the memory of the New Zealanders that died in the Great War, 1914 to 1918.

The deaths of Charles and Henry Barnard are commemorated on one of the bells donated by their mother to the Wellington War Memorial Carillon. On the occasion of the dedication of the bells:

'The main ideas governing the gift and installation of the Wellington War Memorial carillon are that it shall be regarded essentially as a memorial to the New Zealanders who gave their lives in the Great War that it shall commemorate their deeds by the giving of special recitals on the anniversaries of the principal engagements in which they fell, and, the carillon being the greatest instrument in existence for the cultivation of the folksong and national and religious airs, it shall help to rekindle among New Zealanders the love of old England, Scotland, Ireland and Wales and of their own land, and the ideals for which so many New Zealanders died - the triumph of right over wrong, and the establishment of peace and goodwill amongst men.' National War Memorial and Carillon, Wellington, New Zealand"

Below:The dedication of the National

War Memorial Carillon, on Anzac Day, 25th April 1932 (

Source)
WW2 saw Helena bake more than 4 1/2 tons of for the troops and to support family in war service - son William, 4 grandsons and a grand daughter. She was awarded the British Empire Medal.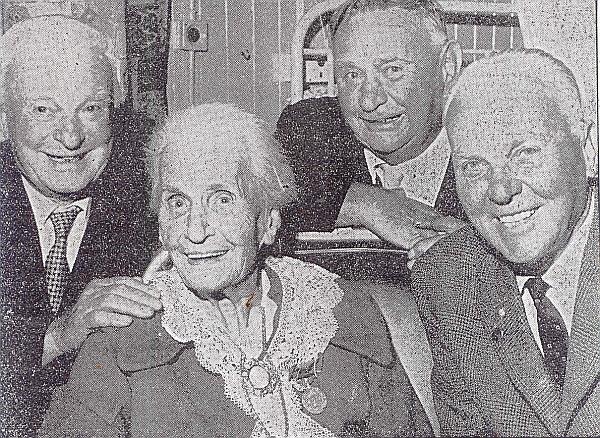 Helena's last years were spent at Ward 6 at Silverstream Hospital - her contributions and effort warmly remembered by all who were the recipients of her efforts. She celebrated her 100th birthday with sons Frank, Jim and Joe, and surrounded by relations and friends. 4 months later, her funeral service was held 16th Aug in the Taranaki St Methodist Church followed by her burial at the Sydney St Cem:
Images and data used in this site copyright -
Descendant input to up-date family pages is very welcome - more detailed information available on request.