James ran away from school aged 12 1/2 yrs and from home aged 14 1/2.He was a penniless teenager but he survived until
1914:
James Barnard
along with his two older brothers, Frank and Harry, enlisted for war servive and enbarked overseas 16 Oct 1914 to Egypt and from there were next landed at Gallipoli on 25 Apr 1915. May 30, he was one of 90 soldiers when No 3 Post was surrounded by Turkish troops and received bullet wounds to leg and shoulder. James was returned to Egypt on the hospital ship "Gasgoigne" and hospitalised at Pont de Khabua and returned to NZ with a useless left arm and a bullet that stayed in his shoulder for 4 1/2 yrs.
1916 James mar: 6th Jun 1916 in Stratford to Rhoda Wishaw (b: 1893; d: 12 Apr 1967 in New Plymouth: Crem: 13 Apr 1967 New Plymouth; ashes scattered)
1922 Wairarapa electoral roll; living at Ngapuhi, Longbush; farmer with wife Rhoda
1931 Manukau electoral roll; living at 47 Pah Rd; agent with wife Rhoda
1931 Tauranga electoral roll; living at Devonport Rd; farmer (do not know if this is him)
1938 New Plymouth supplementary roll; living at 98 Buller St; manufacturer
1943 Manawau electoral roll; living at 14 Fitzroy St, Fielding, stock agent
1954 Tamaki Electorate; living at Onetangi; stock agent
1960 Auckland Central; Onetangi, salesman
1963 Auckland Central electoral roll; living at Strand, Onetangi; retired
1981 - Auckland Central electorate; living at 9 The Strand, Waiheki; retired
Virtually one armed, James Barnard settled on 600 acres of farmland at Taranaki, lived in a tent, and slaved, and in 10 years turned it into a prosperous farm. He lost most of his money in the slump, he had sold his farm and invested most of his money in mortgages in Auckland. So he started again, joined Murray Roberts near Fielding and became probably the country's most successful cattle and sheep buyer, with names like Riddiford and Oram as his permanent customers. After many years with the firm, he resigned and travelled through the King Country, selling general goods from a van.
Rhoda died in 1967 and James finally retired when he was 70 and lived at his beach front property at Onetangi, Waiheke. He had a plan to halt the waste of more and more first class farmland in the flanks of Auckland and to develop Waiheke as a residential area. He said Auckland must do something to use our harbour and its immediate islands for residence and as a playground. Gulf islands, he said were being swallowed in Maritime Gulf Park and were now useless to most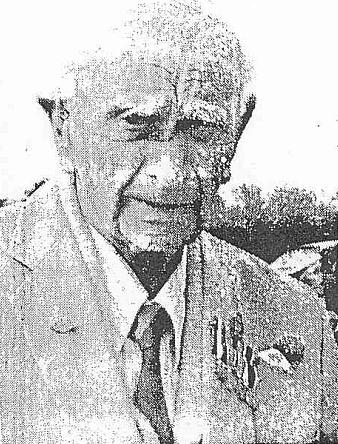 Aucklanders because of the difficulty of access. He felt it nonsence to go on spending millions of dollars on roads and bridges and their maintenance when there was a waterway that cost nothing. A fleet of hovercraft could serve the harbour area from Hobsonville to Orere Point and the harbour islands and people could get to the city quicker by sea than road. He thought that Motutapu could be developed as a proper playground with golf courses, tennis courts and bowling rinks.
Fiercely independent although nearly blind in later years, he continued to live alone. A loyalist and patriot, he gained a reputation for his dislike of organised politics and non-conformist views.
A difference of opinion saw war veterans father and son separated for 20 years but reconciliation came Anzac Day Apr 1985 as they walked together at the Auckland Domain
James and Rhoda's children:
1 Helen Rewa Barnard (b: 7 Sep 1916 in Masterton d: 1980 in Tauranga) She mar: 1938 to Reginald Gamlin Topless d: 05 Jul 1991 in Tauranga Their family:
i Bruce Topless mar: Ann - family are Susan, Kate, James
ii James Whatman Barnard (b: 02 Feb 1920 in Christchurch; WW2 Veteran - enlisted in 1st Eschalon and served with distinction in Africa and Italy. He was awarded the Military Medal on the battlefield (London Gazette 3 Aug 1944: No. 1180.Lance-Corporal. James Whatman Barnard) and promotion at Casino. He and his grandmother Helena together received recognition for their war service from Sir Bernard Fryberg. Jame's Occ: sheep farmer at Kairanga; he d: 13 Aug 2007 in Palmerston North Bur: Palmerston Nth Cemetery) Mar: 1949 to Margaret Isobel Blackford
Their sons; i. Roger James Barnard mar Maria Elizabeth; ii. Graeme Whatman Barnard mar Claire Theresa Woodward - their son Frazer Graeme; iii Timothy James Barnard mar Dianne with children Andrea and Cameron Barnard
Srce: Alexandra Libaray: "The Barnard Illuminated Address" by James Barnard (9 May 1985)
Gulf News: Obituary "Waiheke's Oldest Soldier was a Battler for the Underdog" (Jul 22, 1988
Images and data used in this site copyright -
Descendant input to up-date family pages is very welcome - more detailed information available on request.