Leonard Chambers & Laura Barnard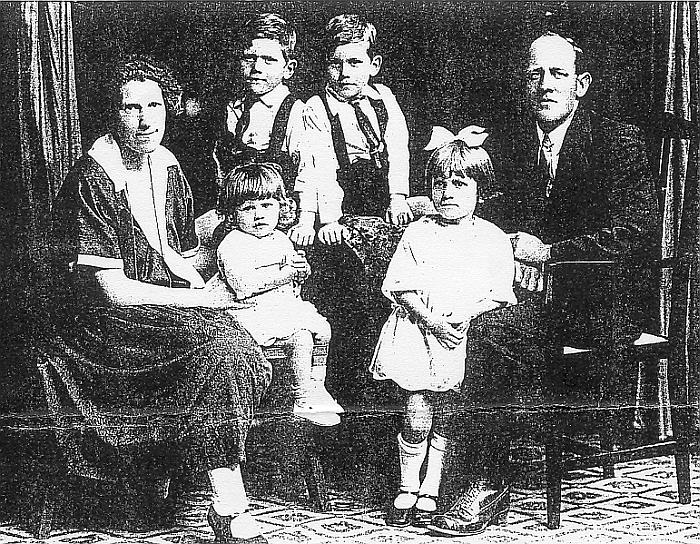 LEONARD CHAMBERS BARNARD, youngest son of Frederick Henry and Harriet Barnard was b: 02 Nov 1894 in Hawera where his father was Postmaster, and d: 4 Sep 1964 in Eltham aged 70 years. Taranaki Crem: 7 Sep 1964 - ashes scatterd in the Garden Of Remembrance
Notes for LEONARD CHAMBERS BARNARD:
1900 Attended Naseby School 26 September 1900
WW1 - Category First Rserves; living at Mangamingi, Eltham; Occ: Sheep farmer; recruiting district Taranaki
1918 He mar: 24 Dec LAURA MARY BATES in Eltham, the daughter of JOHN BATES and EMMELINE LOWICK. Laura b: 7 Apr 1895, and d: 16 Nov 1974 in New Plymouth.
Taranaki Daily News, 30 December 1918: A wedding of local interest took place at the Eltham Methodist Church by the -Rev. A. 0. Harris on Dec. 24, when Mr L Barnard, youngest son, of Mr F H. Barnard, for many years postmaster of Eltham, married to Miss Lorna Bates, daughter of Mr and Mrs. Bates, of Rawhitiroa Road, Eltham. The bride, who was attired in a cream serge dress, was given away by her father. Miss Bates, of Hawera, cousin of the bride, was bridesmaid, and Mr. Douglas Clement acted as best man. Afternoon tea was partaken of at the residence of the bride's sister, Mrs. A Rosley, after which the happy couple motored to Wanganui for their honeymoon.
1922 Egmont electoral roll; Living with Parents at Mangamingi, farmer
1931 Patea electorate; living at Mangamingi, Farmer along with wife Laura and retired father Frederick Henry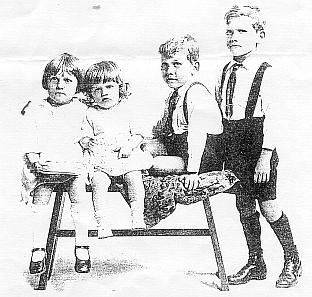 1938 Patea electoral Roll; living at Mangamingi; farmer with wife Laura
1943 Patea electorate; living at Mangamingi, farmer with wife Laura
1954 Egmont electoral roll; living at Stanners St, Eltham; farmer with wife Laura
1960 Egmont electoral roll; living at 70 Stanners St; Eltham; farmer with wife Laura
1963 Egmont electoral roll; living at 70 George St, Eltham; Retired with wife Laura
1964 Last address 70 George St, Eltham
Leonard Chambers Barnard was a well known Eltham farmer. He took up farming after leaving school and after marrying, moved to the Mangamingi district where he was a sheep farmer.
As a young man, he played rugby football and took a keen interest in cricket playing for the Eltham club and was a keen supporter and former vice president and later took up golf. He was a member of the Eltham - Taukou Sheepdog club both as a competitor and a committee member.
Of a quiet and kindly personality, he made a host of friends in the Mangamingi districts and these associations were enlarged and continued when, eleven years before his death in 1964, he retired with his wife to 70 George Street, Eltham. Survived by 2 sons Ian (Mangamingi), Russell (Opotiki) and 2 daughters, June (Mrs D Bell, Ratapiko); Dorothy (Mrs P Horgan, Midhurst); His son Gordon predeceased him.
Notes for LAURA MARY BATES: Last Address: 12 George Street, Eltham, she d: 16 Nov 1974 aged 79Y Crem: 18 Nov 1974
Children of LEONARD BARNARD and LAURA BATES are:
1. DOROTHY MAY BARNARD was b: 10 Oct 1919 in Eltham She mar: 12 Jun 1940 at the Methodist Church Eltham, to PATRICK ARTHUR HORGAN (b: 12 Jun 1918 to parents Patrick Joseph (1892-1963) and Ellen Julia Horgan (1900-1952); residence 27 Wanaka Terrace, Bell Block; d: 7 Nov 1998 aged 80 years: Crem. 9 Nov 1998 - ashes in Garden of Remembrance)
Patrick enlisted WW2, Farmhand, Wingrove Rd, Pukengahu, Stratford, Reg. No 70946, Rank PTE Unit H Q 35 BN;
Children of DOROTHY BARNARD and PATRICK HORGAN are:  
i BRUCE PATRICK mar: BETTY TOMASON - family are: KIM MAREE and GINA HORGAN.

ii SHARON JUNE HORGAN mar: MURRAY JOHN NEWSOME - Children are GARY JOHN; BRETT STEVEN; PAUL MURRAY and SCOTT NEWSOME.
2. GORDON LEONARD BARNARD, b. 1923, Eltham; d. (Age 21) 2 Jun 1944. Sgt Gordon Leonard, NZ4215777, RNZAF was a Kittyhawk Pilot 2 OTU, RNZAF; Rank - Sergeant (Serial No. NZ4215777) Last Unit Served: 2 Operational Training Unit; d: on active service Bur: Eltham Cemetery, Anderson Road, Grave 6/6/1944 Plot 29, Block 5, Sub 2
AIRMAN KILLED TWO PLANES COLLIDE: Two fighter aircraft collided near a North Island air station on Friday afternoon during acrobatic training, Sergeant Gordon Leonard Barnard lost his life. His father is Mr. L. C. Barnard, Eltham. The pilot of the other machine, Pilot Officer John Barry Riley, Masterton, made a descent by parachute, escaping with a dislocated shoulder. Barnard's parachute was not used.

Biographical Notes: Accidental death after crashing on his plane - Circumstances of death: Taken off in a P- 40E Kittyhawk NZ3030 from 2 Operational Unit at Ohakea on flying practice. While practising at 5000 feet collided with another of the units P- 40E's piloted by Pilot Officer B.J. Riley, which had just completed a steep turn and was in a slight climb. Riley bailed out sustaining a dislocated shoulder, as both machines crashed near Rongotea at 1440hrs. Barnard is buried at Eltham. At the time of his death he had completed 200 hrs flying time ( 4 on P-40's)

THE ELTHAM ARGUS - SAT, JUNE 3, 1944: SERGEANT G. L. BARNARD

Word was received last evening of the death of Sergeant Gordon Leonard Barnard, eldest son of Mr. and Mrs. L. Barnard of Mangamingi, at an air station in the North Island, through a collision of two machines in the air. There were no eye-witnesses of the accident and no explanation can be given as to how the tragedy occurred. Sergeant Barnard, who was one of the most popular young men in the district, received his education at the Mangamingi school and the Stratford Technical High School, and worked on his father's farm before he joined the air force about a year ago. He went to Canada for six months and had returned to New Zealand recently for additional training. He was particularly interested in dog trial work and was a member of the Eltham-Takou Sheep Dog Trials Club, being a successful competitor at some of its meetings. He was only 21 years of age at the time of his tragic death. His parents and relatives have the sympathy of the whole district in their sad and sudden bereavement. The funeral will take place at Eltham on Tuesday next, leaving from the Methodist Church.
3. JUNE HELEN BARNARD was b: 14 Jun 1926 in Eltham, and d: 1 Oct 1992 in Bell Block, New Plymouth. She mar: 17 Jan 1948 DOUGLAS HENRY BELL in the Methodist Church, Eltham, son of FREDERICK BELL and GRACE SKEDGEWELL; b: in Stratford and living at Midhurst.
Children of JUNE BARNARD and DOUGLAS BELL are:
i JOCELYN mar: (1) RONALD WHEELER. Their family TANIA, JASON and RACHEL WHEELER. She married (2) IVAN PRETTY.

ii SANDRA mar: GARY PAYNE. Sons are AARON and JOEL PAYNE

iii GARY BELL mar: SHERYL - their children MATTHEW and SHERREE BELL.
4. IAN LOWICK BARNARD was born 05 Jan 1928 in Eltham, Occ: sheepfarmer Okato; d: 4 Jun 2012 in Te Awamutu. He mar: AVIS PAULINE ORR daughter of ERIC ORR and MARY HUGHES.
Children of IAN BARNARD and AVIS ORR are:
i. FIONA MARY teacher, mar: MURRAY RICHARD KENDRICK - sons are SAMUEL RICHARD and ANDREW PETER KENDRICK 

ii CHRISTOPHER IAN mar: LYNETTE MARY KURIGER. Children are: HANNAH LYNETTE; DAMIEN ERIC and MATTHEW CHRISTOPHER BARNARD

iii GAVIN ROSS BARNARD mar: MARY MAY KAY JILL ARMOR - their family are COREY and JONATHAN BARNARD
5. RUSSELL JOHN BARNARD b: Eltham. Occ. Electrician Pio Pio; mar: 1961 (1) JUNE ELLEN FRYER-WEST b: 28 May 1930, and d: 29 Jun 1990 60Y at Gisborne Bur: Taruheru Cem. He mar: (2) BARBARA ROSE BISHOP
Children of RUSSELL BARNARD and JUNE FRYER-WEST are:.
i STEPHEN LEONARD JOHN mar SUSAN. She died 1990. Their children - SVENN and GRACE BARNARD.

ii JULIE KRISTEENA LOUISE mar: ROGER YOUNG. Family are: BEVAN, GRACE and HAIDYN YOUNG

iii ROBERT MICHAEL BARNARD mar BRENDA ANN HASTIE - son is HAMISH BARNARD