Press F11 to limit top toolbar
Press again for toolbar to return
Sailing Ship - Mystery
Mystery, a fine, powerful ship of 1069 tons, was sent out by the White Star Company. It left London in December 29, 1858, on it's maiden voyage that occupied five months and owing to lack of proper food, 18 children died on board. The ship encountered storms and calms and at times her progress was so slow that a biscuit, tossed overboard at night was still alongside the ship the next morning.She finally sailed into Lyttelton Harbour, Canterbury on March 20, 1859, with the yellow flag flying and was quarrentined until on April 2, 1859. On board were a party of 12 with their families Deal boatmen whose suffering and destitution who had previously created a stir in England. The men were presented with a good boat and complete fishing gear to enable them to faih off Lyttelton after arrival. Captain Matthews reported that soon after clearing the land, smallpox and scarlet fever broke out, and before reaching Lyttelton fifteen of the 300 immigrants on board had died and been buried at sea. On arrival the ship was placed under quarantine.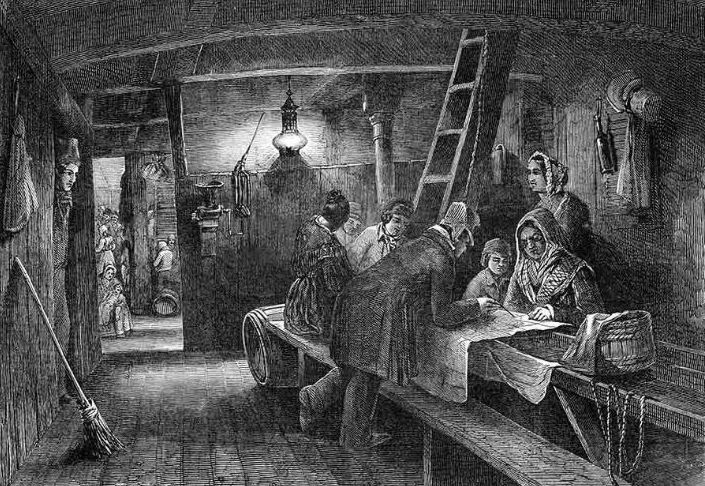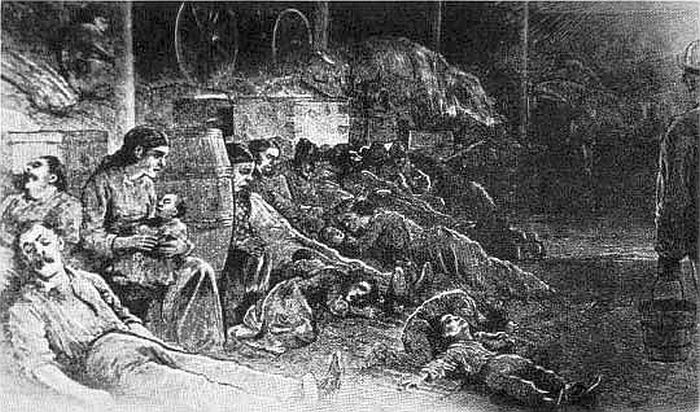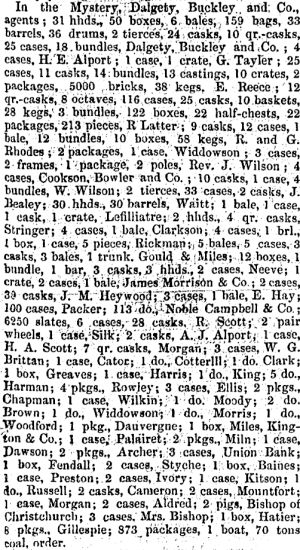 The Mystery made three successful voyages to New Zealand with passengers and general cargo, src: Brett's "White Wings." 1859 was her first voyage, she sailed into Lyttelton Harbour on March 20, 1859, with the yellow flag flying. Captain Matthews reported having sailed from London on December 29, 1858 but soon after clearing the land, smallpox and scarlet fever broke out, and before reaching Lyttelton fifteen of the 300 immigrants on board had: died and been buried at sea.
Each passenger had to be equipped with enough clothing to last for some time - they were told, there was no means of procuring goods in a place which boasted "only a church and three hotels". The passengers landed and at Heathcote, they received their first sample of milk for five months. During the voyage all the drinking water, had to be strained through a muslin bag in order to keep the insects out of the cups.
Between May and in June, 1859, the Lyttelton Times advertised "Able Seamen wanted for the ship "Mystery', to proceed to China. Apply to the Master on board. June 15th: The Mystery 1100 tons Capt E Matthews, sailed for Shanhai
The Mystery made a second voyage to Lyttelton in 1862 under the command of Captain Stapp. On this occasion she sailed from London with 208 Government immigrants on October 18, 1861, and arrived at Lyttelton on January 3, 1862, having completed another smart passage of 80 days, port to port.
The Mystery, still under the command of Captain Stapp, sailed from London with 85 passengers on December 12, 1863, and arrived at Port Chalmers on April 17, 1864. She was detained in the English Channel for 18 days by furious gales and did not take her final departure until December 30
OLD SEA TRAGEDY - LOSS OF SHIP MYSTERY. FIVE MONTHS ON VOYAGE.
Haul in the bow line To keep the ship from rolling, Haul in the bow line. The bow line, Ho!This good old sea chanty, heard over the wireless one night last week, brought vivid memories to at least one Auckland listener, Mr. Alfred Clark, of Pine Street, Mount Eden, who, 72 years ago, heard the sailors of tho old ship Mystery chant tho same air as they hauled at the lanyards during the five months' voyage from England. Such chanties are heard no longer on shipboard and to a man like Mr. Clark, who is now 80 years of age, a fleeting revival of their salty flavour is a rare experience to be treasured with all reverence came to the Dominion on the vessel's first voyage to the Antipodes and yesterday related the story of her eventful passage from Tilbury Docks to Lyttelton. Deaths ol 18 Children. The ship had a tragic history from the start. As she carried no fresh meat or milk, and did not call at a single port' in the whole five months she was on the voyage, illness broke out among the passengers and 18 children died. -"I can still hear the bell that was tolled on beard when another body was about to be consigned to the waves," said Mr. Clark. " The food was bad and the biscuits were so hard you could not break them with the teeth. We came round the Cape of Good Hope, and a good many hundreds of miles to the south of it to get the benefit of the trade winds, but we were becalmed for weeks in the tropics, the ship being almost stationary in the water.When we reached Lyttelton we tasted fresh beef for the first time for five months. It was delicious. But the poor old ship only made two other voyages to New Zealand. then on the return journey to England, bore out its sinister name by vanishing . She was a 'Mystery ship' to the end." Swamp at Cathedral Square. On reaching Christchurch" there was a rush to the barracks to secure work. Employment was to be obtained in abundance/harvesting absorbing the majority of the men. Mr. Clark remembers Cathedral Square when it was a swamp, covered with flax and gorse, and he saw the foundation stone of Christchurch Cathedral being laid.



Images and data used in this site copyright - ©
Descendant input to up-date family pages is very welcome - more detailed information available on request