Press F11 to limit top toolbar
Press again for toolbar to return
Diary - The Voyage of the "Surge"
The ship
"Surge"
, 543 tons. Captain Jarvis, sailed August 31st from London, arrived at Wellington December 16th 1855, with 89 passengers.
28th August 1855 - We join the ship "The Surge" at Gravesend, (Captain Jarvis) bound for Wellington, New Zealand. We remained here on 29th and 30th and started between 1 and 2 on the morning of the 31 st. but a thick fog coming on, we were compelled to caste anchor a little below Gravesend for the remainder of the night, but the fog clearing away, we again weighed anchor and started at 9 am being towed by a steamer. Halfpast two o'clock, off Sheerness.
1st Sept: Saturday - After a stinking breeze all night, at 7 in the morning were off Beechy Head. The pilot left us last night after having conducted us in safety off Deal which we reached at 10 o'clock at night. This is a beautiful morning and we are sailing before a fine wind with all sails set for the Lands End off the Isle of Wight. At 3 o'clock reached the Scilly Isles in the morning. Fair winds but blowing hard, the ship pitching and rolling very much, not affecting me yet. Glorious setting sun.
2nd Sept: Sunday - 9 0' clock in the morning, a fine morning - and in the Bay of Biscay, all well.
3rd Sept: Monday - In the Bay of Biscay - fine day and fine breeze. Wind fair. Some rain at 10 o'clock. Dinner at 12 - fresh meat -last time. In the Bay all night. Blowing a gale. Ship all safe but rolling.
4th Sept: Tuesday - Fine morning. Still in the Bay. Fresh but fair wind. Descried a brig to leeward at 8 0' clock. While in the Bay saw several porpoises, petrels, swallows etc. Rainbow in the Bay at 8 o'clock - morning.
5th Sept: Wednesday - A fair wind and beautiful sun towards the Western Islands.
6th Sept: Thursday - Wind fair and smooth sea. Going on towards Madeira. Fair wind and weather.
7th September. Friday - Still a fair wind and all well, heading on we reach Madeira.
8th Sept: Saturday - Off Porto Santo at 7 o'clock in the morning then - a run of 7 days from the Isle of Wight. So quick a passage is rarely made. Most beautiful morning and very mild. Off Madeira at 12 o'clock. Hazy. Passed it about 6 o'clock evening. Sea quite calm. Splendid starry night.
9th Sept: Sunday - A beautiful day, almost becalmed. The Reverend Mr Bradley performed the service and appointed me as his clerk.
10th Sept: Monday - As calm as yesterday, the sea quite smooth and the sun very hot. We are only going at the rate of 4 miles an hour.
11th Sept: Tuesday - A lovely day in the Trades. The sun very hot. Ship making very little progress.
12th September. Wednesday - Still very fine weather and a stinking fair wind.
13th Sept: Thursday - Continues fair weather and fair wind in the tropics in Lat. 23degrees 11 minutes, 314 miles from the island of San St. Antonio one of the Cape-de-Verde.
14th Sept: Friday - Continues beautiful weather with a delightful breeze and getting on nicely towards the Equator. Very well and have not, up to this time, felt the least of seasickness and everything that's fair for a quick passage. Heading Cape Verde Islands.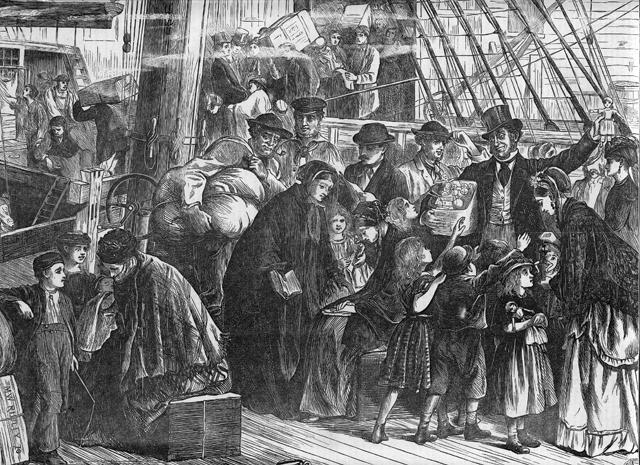 15th Sept: Saturday - Wind fair and beautiful weather. Saw the land of Saint Antonio nearly all day. Plenty of porpoises and flying fish.
16th Sept: Sunday - A lovely day. Prayers again and your humble servant clerk saw three ships. Heading becalmed.
17th Sept: Monday - Still going before the wind and between 600 and 700 miles from the equator. This day we saw five ships homeward bound and exchanged civilities with them with flages. One was Dutch and one a French. Plenty of porpoises and flying fish and one shark.