It is thought that Thomas Barnard came to New Zealand with friend Tom Tucker on possibly the
"Rimutaka"
about 1907. He was 21 when he married OLIVE CONSTANCE JOINES on 12th Dec 1908 in Hastings. She was the daughter of THOMAS JOINES, a workman on the West Coast Road and SARAH TEW. She was born 11 Aug 1884 at Porters Pass, West Coast, the sixth child in a family of nine. Olive and her sister Helen wrote about their early life in letters written to the Children's Page in the Otago Witness:
LETTERS FROM LITTLE FOLKS.Otago Witness , 25 March 1897
Dear Dot, ? I am going to tell you about Porter's Pass. It is a very mountainous place, and is situated on the West Coast road. There are mountains all round, the highest being Mounts Torlesse and Benmore, from the tops of which fine views are obtained. The pass itself is a mile and a half long, and is very steep in some places. It is a hard pull for ,the coach horses on their journey to the West Coast. From the top of the pass you can see the Southern Alps stretching for miles and miles in all directions. I will tell you about some other places on the West Coast road in future letters. ? Yours truly, Olive Joines. Porter's Pass, March 15. [The scenery must be very wild. Olive, and I suppose you are never tired of looking out for grand views. I shall be glad to hear of other places on the West Coast road. ? Dot.]
Otago Witness, 19 July 1897: Dear Dot, ? I have not written to you for a long time, but I have not forgotten you. Since I last wrote to you I have been for a holiday to Oxford, and I enjoyed myself very much.We have had a good fall of snow. It is keeping the mail coaches from getting from the West Coast to Springfield. There is a lot of snow on Arthur's Pass. Arthur's Pass is a pass near the Bealey; it is sometimes called the Saddle. I can't say any more as it is time to go to bed, so I will close with my kindest regards? Yours truly, Porter's Pass, July 19. Olive C. Joines. [How cold it must be in your mountain home, Olive, but I suppose you keep yourself warm by skipping and running about. Still, I should think you will be glad that spring is so near now. ? Dot.]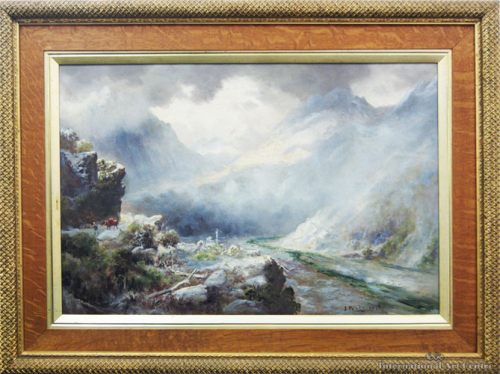 28 July 2010 - Auckland Auction Sale of Paintings - Porters Pass by James Peele, Painted 1898 (Price $10,700)
Otago Witness , 4 August 1898: Dear Dot,? At the present time we do not get the sun till 10 o'clock, and I shall be glad when the winter is over. I am pleased the Americans are winning in Hip contest with Spain, and hope that the war will soon be ended. I must tell you that we have a mistress at our school, and she is a very kind teacher. We have sewing and singing.-- Yours truly, Nellie Joines. Porter's Pass, July 20. [You must be very much in the shade in Porter's Pass, Nellie, and I don't wonder at your being anxious to get the winter over. ? Dot.]
NZ electoral rolls trace the Thomas's movements over his 32 years in New Zealand working where he worked for the railway until his death aged 51 years, on 16th Dec 1939 in Waitotara, Wanganui - the result of a railway accident His last address - 107b Seaview Rd, New Plymouth. Thomas Barnard was buried at Aramoho Cemetery, Wanganui. He left a grieving widow and 2 daughter aged 29 15 and his son aged 20 years.
WW1 - Category 2nd Reserves; C% Mr T Joines, Springfield Tawera County; Occupation trucker; Classification B
1914 - Buller electoral roll; living at Cronadun, surfaceman with wife Olive
1922 - Kaiapoi electoral roll; living at Hawkins, surfaceman with wife Olive
1929 - PO Directory; Railway Ganger, Dunollie
1931 - Waimarino Electoral roll; living at Hihitahi; railway ganger with wife Olive
1938 - Patea Electoral roll; living at Waitotara; surfaceman
1939 Evening Post, 18 Dec: RAILWAYMAN KILLED (By Telegraph—Press Association.) WANGANUI, Struck by the engine of a southbound, mixed train at Waitotara on Saturday afternoon, Thomas Barnard, aged 51. railway ganger, of Waitotara, was killed instantaneously. Mr. Barnard was married, with three children. He was engaged in clearing weeds from a loop in the station yard when the accident occurred.
Thomas and Olive Barnard had four children:
1. VIOLET PATIENCE BARNARD who was born 1910 in Christchurch. She married WILLIAM PAUL O'NEIL in 1928. He was born 1906, and died 14 Jul 1983 in Auckland, aged 77 Years . He was buried on 16 Jul 1983, Purewa Cemetery Block M, Row 37, Plot 103.
Children of V
IOLET BARNARD and WILLIAM O'NEIL are: Audrey, Terry and ?
2. SBC BARNARD BDM - Birth - 1915/5067 Barnard Mother Olive Constance, Father Thomas
3. O
WEN (BARNEY) THOMAS BARNARD
was born 11 Oct 1919 in Malvern, Canterbury, and was from Okahukura retired from the railways to 36 Heath St, Hamilton when he died 04 May 1983 aged 63 Years. He was cremated at Hamilton Park Cemetery. Owen married ROMA LILLIAN MCDONALD in 1943 - she was born 30 Aug 1919 and died 26 Aug 1988 in Hamilton 30 Aug 1988, aged 68 years and was cremated on 30 Aug 1988, ashes to Hamilton Park Cemetery
1943 - Wellington Suburbs electoral roll; living at 14 Omar Sr, Khandallah; soldier
1954 - Hutt electoral roll; living at 15 Clelland Cresc; soldier
1954 - Waitoma electoral roll; living at Raurimu, railway employee with wife Roma
1963 -Waipa electorate; living at 10 Makokako St, Frankton; railway employee with wife Roma
1975 - Hamilton West electorate; living at 36 Heath St; vulcanizer with wife Roma, clerk
1981 - Waikato electorate; 36 Heath Rd, St Andrews; clerk with wife Roma Lillian, Hsewfe
Their children are - HELEN ELSIE BARNARD, BRONWYN JOY BARNARD and JANICE OLIVE BARNARD
4. ELIZABETH ELLEN BARNARD
was born 02 Apr 1924 in Hawkins, South Canterbury, and died 10 Apr 2008 in New Plymouth. Betty Started school at about 6 years old at Otoko (between Gisborne and Opotiki) Then went to a school at Hihitahi 15 to 18 months between Taihape and Waiouru (was one station from Waiouru) about age 7. The Napier earthquake in the February - they moved April 1931 and 1932 was admitted 3 Aug 1932 to the Halcombe School then Waitotara. She sat proficiency in Standard 5 and went straight to Girls High in Wanganui by train
Derek Andrew Thorburn gained this Award by the Royal Humane Society: On the evening of 25 December 1935, Elizabeth Barnard, 11, was seen floating underwater in the river at Waitotara, South Taranaki. Derek Thorburn, 15, dived in with his clothes on into 10 feet of water, grabbed the girl and brought her ashore. After some minutes of first aid she came round. The river was a dangerous one, full of snags and holes and very discoloured, making the rescue a very risky one.
Betty went to Greymouth / Runanga to her Aunty Pat after her father killed before returning to Wanganui before her Mum did. Her grandmother (Olive) bought a section from and) in Mahoney St. abt 1943 and in 1963 at the time of her death, was living at 107B Seaview Rd New Plymouth where she died aged 79 years on 18 Sep 1963
Elizabeth started work in McGruars in May 1940 and she married JACKSON (JOCK) BAIRD GILBERT on 29 Mar 1947 at St Paul's Church, Guyton St Wanganui. Jock was the son of CHARLES GILBERT and HARRIETTE PUFLETT and was born 23 Aug 1924 at Gonville, Wanganui - his family was living at 46 Kings Avenue at the time. He attended the Tawhero School and left for work at McGruers in Aug/Sept 1939 as parcel boy - delivering parcels on his bike- got knocked over in Avenue by a chemist when driver opened door and hit him. Moved to New Plymouth 1961 and worked at Smith and Browns (furniture shop) then at Pursers as manager, also furniture shop. until he retired.
Betty went back to work in 1963 part time at the Farmers Co-op - full time in 1972 - where she worked in different departments including haberdashery and shoes and was a buyer in at least one of them until she retired. Betty Gilbert died 10 Apr 2008 and her service of commemoration was on 12 Apr 2008, at the Taranaki Crematorium
Their children are JENNIFER ROBYN GILBERT, KAREN ANN GILBERT, JEFFERY BARNARD GILBERT and LYNDSEY DIANNE GILBERT
Please contact l.gilbert@paradise.net.nz if you can support her family research with extra information.