Thomas and Sarah Burt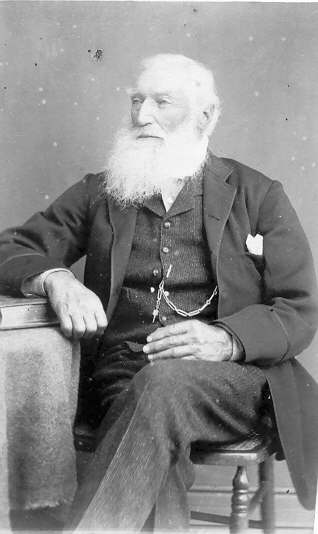 THOMAS BURT was born 8th Apr 1814 in Ninfield, Sussex, the son of Thomas Burt (1774 -1846) and Sarah Quaife (1776 - 1824). He immigrated 1859 to New Zealand where he died 01 Jul 1900 in Rangiora aged 86 years. He married SARAH NORRIS on 17th Feb 1840 in Cheltenham, Gloucester, England, daughter of JOHN and SARAH NORRIS. She was born 07 May 1807 in Ealing, Middlesex, her christening: July 12 1807 St. Dunstan, Stepney, Middlesex, England and died 4th Oct 1870 at Rangiora, New Zealand where she is buried.
1841 Hasting Census: Thomas occ: gardener and wife Sarah (their age est. 25Y) have a 1 mth son Thomas are living at St Mary Cottage Stone Fields, Hastings, Sussex - In the 1851 census the Burt family are living at 24 Old London Road
The decision was made to immigrate to New Zealand and Thomas, wife Sarah with their children William, Ellen, George and John (Thomas in the navy, remained) went aboard the 424 ton barque "Mystery" and 10th Dec 1858 left Gravesend. After a voyage of 83 days, they arrived at Lyttelton on 29th Mar 1859 with the yellow flag at the mast. Captain Matthews reported that soon after clearing the land smallpox and scarlet fever broke out, and before reaching Lyttelton, fifteen of the 300 immigrants on board had died and been buried at sea. On arrival the ship was placed in quarantine.
see ship's list) The ship
1865 - Thomas Burt, Kaiapoi
Electoral Roll - Thomas Burt, Rangiora Leasehold; Part Rural Section 1179 and 2673; House and land Ashley South Bank at Rangiora
Burt Children:
1 Thomas Woodard Burt b: 30 Apr 1841 in Falmer, The City of Brighton and Hove, Hastings; d: 05 Feb 1919 in Mosman, NSW) Mar: 1873 in Balmain, New South Wales to Emily Castle (b: 1847 in Walhamstow, London; d: 10 Mar 1916 in Mosman, NSW, Aus)
2 William Alfred Burt (b: 03 Jul 1843 in Hastings d: 01 Sep 1911 in Rangiora Bur: Rangiora Baptist Cem) m: 1868 to Elizabeth (Bessie) Sarah Ivory (b: Abt. 1848 to parents William Emms Ivory & motherElizabeth Kemp; d: 27 Jun 1906)
3 Ellen Burt (b: 02 Mar 1845 in Hastings, Sussex d: 06 Nov 1924 in Rangiora Burial: 1924 C of E St Johns, Cemetery, Ashley St., Rangiora Q06.05) mar: 16 Dec 1863 in St Johns, Parish Church of England, Rangiora to George Cone (b: 07 Jul 1842 in Aldham, Suffolk - his father: William Bullock Cone, mother: Sarah Ann Strand d: 30 Jun 1898 in Rangiora, Bur: C of E St Johns Cemetery, Ashley St., Rangiora)
4 John Burt (b: 24 Mar 1849 in Hastings, England Bapt: 07 Jul 1918; d: 17 Aug 1921 in 60 Redruth Ave, ChCh) mar: 12 May 1875 in St Lukes Church, Rangiora to Emma Barnard (b: 10 Dec 1853 in Bermondsey, London - her father: Thomas Charles Barnard mother: Maria Cooper; d: 26 Jun 1933 in 60 Redruth Ave, ChCh)
5 George Burt (b: 28 Feb 1847 in Hastings d: 28 Mar 1914 Bur: Swannanoa Cem) mar: 1872 to Jane Shepherd (b: 1855 Father: James Shepherd Mother: Jean Doig d: 02 Jan 1928 Bur: Swannanoa Cem) Children are:
i Thomas Burt (b: 17 Jul 1873 in Rangiora d: 17 Oct 1948 in Rangiora Bur: Ashley Street, Rangiora, Methodist Cem) Mar: 1908 to Clara Edith Cooper (b: 1884 Father: Thomas Cooper Mother: Jane Hightd: 1958 in Rangiora Bur: Ashley Street, Rangiora, Methodist Cemetery with husband Thomas)

ii James Burt (b: 07 Sep 1874 in Rangiora d: 25 Sep 1961 in Christchurch) mar Margaret Eliza Prouse (b: Abt. 1877 in Rangiora Father: Thomas Prouse Mother: Margaret; d: 13 Dec 1964 in Christchurch Bur: Ruru Lawn Cem, Block 44 Plot 242)

iii Emily Jane Burt (b: 18 Apr 1876 in Rangiora Father: Frederick Weston Mother: Maria Clara; d: 25 Jun 1956 in Nazareth House, Brougham St, ChCh) Mar: 1919 to William Frederick Weston (b: 1878 d: 1955 in Greymouth)

iv Ellen Burt 9b: 25 Aug 1878 in Rangiora d: 22 Sep 1929 in Swannanoa Bur: Swannanoa Cem)

v George Norris Burt (b: 15 Jun 1879 in Rangiora d: 10 Mar 1880)

vi Grace Elizabeth Burt (b: 24 Sep 1880 in Rangiora d: 09 Jan 1947 in 34 Wordsworth Street, Chch)

vii Jane Christina* Burt (b: 28 Jun 1883 in Rangiora d: 15 Apr 1962) mar: 1904 Lawrence David King (b: 1878 in NZ d: 08 Jan 1958)

viii Edith Burt (b: 05 May 1885 in Rangiora d: 15 Jul 1964) Mar: 1911 Robert Ryan

ix Arthur George Burt (b: 05 Nov 1886 in Rangiora d: 02 Sep 1956 in Chch) Mar: 1942 to Eliza Jane Frazer b: 1908

x Mabel Georgina Burt (b: 28 Nov 1888 in Rangiora d: 07 May 1965 in East Eyreton, Canty Bur: St Thomas Anglican Church, West Eyreton) Mar: 06 Jul 1911 to Augustus Arthur Piper (b: 29 Nov 1886 in Sydney, Australia bd: 1976 in NSW )

xi Alfred Ernest* Burt (b: 14 Nov 1890 in Rangiora d: 13 Apr 1973 in Chch) mar: Hilda Annie (b: Abt. 1899 in Stafford, England d: 11 Dec 1986 in Chch Bu: Memorial Park Cem, Chch)

xii Alice Rose (Ada) Burt (b: 18 May 1894 in Rangiora d: 18 Apr 1971 in Chch Burl: Ruru Lawn Cem with husband Phillip) Mar: 1918 to Phillip Augustus Banks (b: Abt. 1885 in Dublin, Ireland d: 29 Mar 1956 in Chch Bur: Ruru Lawn Cem with Alice)

xiii Wilfred Burt (b: 1909)