Press F11 to limit top toolbar
Press again for toolbar to return
The Voyage of the "Surge" (4)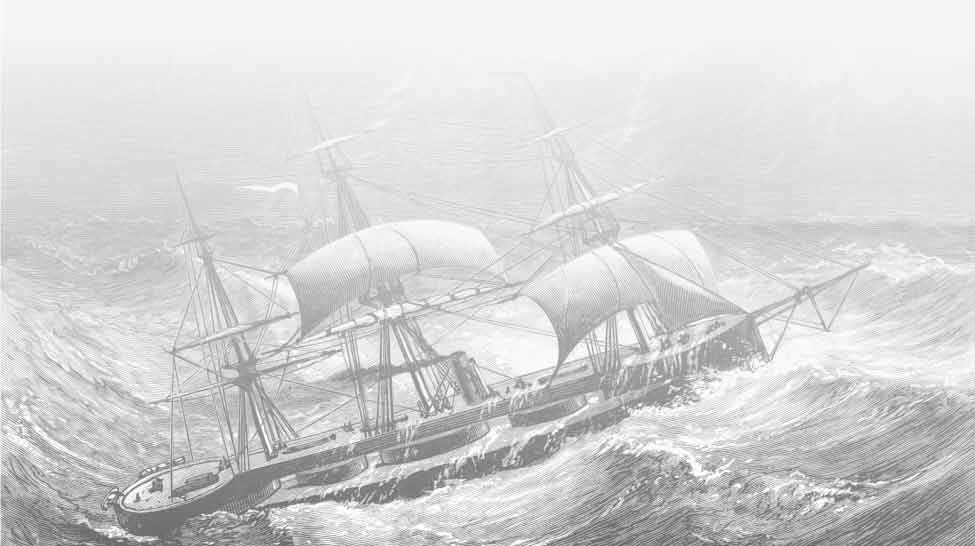 22nd October, Monday - Trouble Aloft. Carried away the main topsail, Stun-sail and split the mainsail, which was old and worn, after bent on a new one. At 7 am saw Cape pigeons this morning for first time. Very beautiful birds, about the size of a common one. Colours marked white and slate. Bent new sails for rough weather. Day cold and wet.
23rd October, Tuesday - Cloudy but not so cold as yesterday. Course S by E, 3 knots. Cape hens, albatrosses etc. with us. Lat 32.7 Long. 31.44
24th October, Wednesday - Fine morning and wind fresh. 5 knots Lat. 34.25 Long. 30. Course SE. Foretop sail today.
25th October, Thursday - Fine breeze and favourable; main and foretop stun sails set. Came on a thick rain at 10 morning. No sights today. Sea calm and temperature agreeable. Some rain and cold.
26th October, Friday - Fine morning and frosty. Sun bright. Cape pigeons, albatrosses etc. Gale improving and able to come on deck. Lat. 36.34 Long. 24.17. Caught a Mollimawk this day. Pale sooty colours like a carion crow. In shape like the great gull in Northern latitudes. For a large bird, the foot is small. Length from tip to tip 6 feet 8 inches. Weight about 7lbs.
27th October, Saturday- Lat. 37.27, Long. 21.25. Fine and light winds. Memorial to Captain about attending service.
28th October, Sunday - Lat. 38.37 Long 19.9. Service in cuddy. Fine day but evenings are very cold.
29th October, Monday - Lat. 39.48, Long. 116.30. Lovely day but cloudy towards evening and cold. Steering SE half South with fair breeze. Stun sails set, rolling very much all day.
30th October, Tuesday - Cloudy morning. Fresh bracing air. Lat. 41.6, Long. 13.50. Course SE. Day fine. Number of birds are with us.
31 October, Wednesday - Commenced to rain at 2 in the morning and continued till 8 o'clock. Much fog. Lat . 42.41 Long. 10.14. Sun came out for a little before 10 and 12 but afterwards cloudy and cold. Fine breeze from WNW and as it is in our favour, we're making at least 7 1/2 knots an hour. Sea rough but going on steady. 9 am sea running high. Washing main deck.
1st November, Thursday - Lat. 44.16, Long. 5.58. Day dry and bracing. Rough Weather
2nd November, Friday - Fine bright day and fresh breeze from NNW. Strong current E by S. Lat. 45, Long. 2 Halo round the sun for more wind. Blowing half a gale. Glass fell and wind coming on, and making snug. Half past eight, more sails taken in. Sea running high, squalls with hail and lightening; sea washing over main deck every 10 minutes.
3rd November, Saturday - At 1 am still blowing hard with snow and hail. 8 am. Snow balls on deck. Wind and sea high. Albatross in numbers. Lat. 45.21, Long 2 East 12 o'clock. Wind moderate. Additional sail. High sea. Fine and frosty.
4th November, Sunday - Squally all day with hail and snow. Split foretop stunsail and shipped seas. Cold but dry. Prayers as usual. Lat. 45.46, Long. 6.45.
5th November, Monday - Guy Fawkes. Snow balls in every direction. Day break at half past three o'clock Lat. 45.58, Long. 1042. New ice. A jollification in the Intermediate. Some got mellow and some on their beam ends.
6th November, Tuesday - Wild morning. Very cold. Ship rolling very much. No observation this day. Weather wild all day.