Press F11 to limit top toolbar
Press again for toolbar to return
Walter Samuel Barnard & Eliza Gibbs
W
ALTER SAMUEL BARNARD was the son of Samuel Barnard, a hairdresser and his mother, Ann Begrie (she was the daughter of parents John Begrie an upholsterer and Ann Cass Mayo). Walter Samuel Barnard was
born Sep Q, 1854 in Chelmsford, Essex, England. He mar: ELIZA
GERTRUDE GIBBS in Christchurch, Hampshire Mar Q. 1879. (Eliza was born Mar Q 1859 at Wimborne, Dorset, England and died 1912.
1881 British Census; Walter BARNARD is a Grocery Manager employing 3 Men & 1 Boy. He is aged 36 years living at Hazel Villa, Finchley in Middlesex with wife Eliza 32, Alfred their son of 11 months, and in household are Eliza's sisters Maude aged 14 and Amelia 19 years, Fred W. COX and William SCRIVENER Grocers Assistants and their servant Rose G. WALLS.
In 1882 the Barnard family immigrated from London to the New Zealand on the ship "Waimate" 1125 tons, under the command of Captain Mosey, and officers Messrs Hardy, Milward, Campbell and Pickett, the chief steward. NZ Steamship Company were the agents and arrived on November 5 at Lyttelton. The Waimate dropped anchor off Diamond Harbour, 5 minutes to midnight, having been towed in by the p.s. Lyttelton. She had on board 16 saloon passengers, 7 second class and 36 in steerage and suffered no illness during her voyage. Captain Mosey. Steerage passengers - Barnard Walter; Barnard Gertrude; Barnard Alfred; Barnard Ethel B
Stone's Otago and Southland Directory in 1885 reports Walter Samuel Barnard is employed by Nelson, Moate and Co., Tea Blenders and Dealers,and each year up to 1892 is listed as their Tea salesman residing Andersons Bay Dunedin from 1886 to 1892 when he is promoted to Manager. He sells (Otago Witness, 9 March 1893) "Messrs De Leon, Grawshaw and Co., High street, report having sold Mr Barnard's property at Anderson's Bay, at a satisfactory figure" and moves first to Queen Street, Dunedin and then from 1895 to 1899, he lived at Dunfermline Place Northeast Valley, Dunedin; 1900 he resided at Queen Street and 1902, lived 9 Dundas Street.
In 1893 Walter is a director of the share-holders of the Ferry Company, is a member of the Otago 844 E C Lodge and develops an interest is importing, breeding and sale of dogs with his son Alfred.
1894 - VALUABLE DOGS. North Otago Times, 12 March 1894. The Tekoa, which is expected at Port Chalmers on the 20th inst., has on board an interesting trio of canine passengers. They comprise a black curly retriever dog, a black curly retriever bitch, and a clumber spaniel, consigned to the importer, Mr W. S. Barnard, of this city. The retriever dog is by Murrayfield Leo ex Herriot Gip (breeder, Lord Melville), by C. B Major ex Murrayfield Nell, by Tiger III. ex Champion Gloom. The retriever bitch 0. B. Noll is by Black Pearl, of Kinnone, ex Heriot Gip, by King Coflco ex Poarl of Dovon, by Nigger III ox Champion Gloom. King Coffee is said to be the best dog in England, and Dunedin may be congratulated on the prospect of having a bitch with his blood coursing in her veins owned by a resident fancier. C. B. Nell has been shown five times in Great Britain, and has on each occasion secured honors. She was shown at Glasgow in 1890, taking second in her class, and second in the sporting puppy class ; she took second at Jodburgh in 1891 ; first afc Ayr in 1892 and tho following year ; and third at the Kennel Club's show in London in 1892. Her owner claims for her that who is tho best bitch over imported. The dog is only 12 months old. Tho clumber spaniel is spokon of by good judges as a first-class animal. The retriever bitch is described as one of the finest in the north of England and Scotland, and a noted authority speaks of her as "a perfect gem." Mr Barnard is very sanguine of the value of all three animals, and has no doubt that that the three animals will be a proffitable speculation, They will, of course, require to undergo the usual quarantine at Lyttelton before being taken possession of by their owner.
1896 Otago Witness, 8 October 1896: Rewi Kennels OF BLACK CURLY RETRIEVERS. A FEW Good PUPPIES for SALE, by the imported dogs Rewi and O. B. Nell. At Stud REWI REWI DRAKE (at present in quarantine). C. B. Nell in the best company has never been unplaced in England. Terms apply. A. BARNARD, 30a North-east Valley, Dunedin.
1896 Otago Witness, 8 October NOTES BY TERROR.I hear that Mr W. S. Barnard is inclined to withdraw from the fancy, and is offering the whole of his dogs for sale. C. B. Nell, the now celebrated retriever bitch, is to go with the rest, and as she is without question the champion of New Zealand and Australia she would be an acquisition to anyone desirous of strengthening or starting a kennel. C. B. Nell is by Black Pearl of Kiumore. She won several firsts at Home from well-known dogs and bitches, and has never been beaten in New Zealand. Rewi, by Mervell ? Leo, a grand big dog, is of the true retriever type, and bis progeny are sufficient guarantee of his quality. Rewi Drake, by Heather Drake, is a really good typical dog just from quarantine, and judges who have seen him speak in high praise of him. Rewi Lad, by Good Lad out of Tiverton Gem 11, is still in quarantine, and outside of G. B. Nell is undoubtedly the best of the kennel. The sire and dam of C. B. Nell and Rewi have been great winners in the norih part of England. Heather Drake, from late files, proves to be one of the best dogs in England. Good Lad has put down such notable dogs as ? Gomersall Beauty and other well-known dogs and bitches. Rewi Most, the first in the retriever bitch class at the late Wellington show, and reserved for the best dog in the show, is evidently no mean retriever. Seeing that the whole lot are from the winning retriever families of Great Britain, Mr Barnard should have no difficulty in finding purchasers. Mr Barnard has already sold Bruin, the clumber spaniel, to Mr P. G. Farmilo, of Hobart.
By February 1897 Walter Barnard has sold his kennel of curlycoated retrievers to Mr Jowitt, of collie fame. Report - "I am very sorry indeed to hear that Mr Barnard is lost to the fancy. He has been a really enthusiastic fancier. On the other hand, nothing could please me better than the knowledge that these fine dogs have got into such good hands. No one can be better qualified to turn them to the best account in the interest of the fancy and the colony than their new owner.Mr Jowitt's kennels of collies were already far-famed, and deservedly so, for certainly they contain the finest specimens of their kind that money and judgment can procure. Enriched by the powerful addition that has just been made to them, the Renfrew kennels are now, I believe, the A1 dog establishment of the colony. I think it would be impossible to pick five such perfect dogs in the whole of Australasia as those Mr Jowitt has just purchased. I shall not trouble to go into details of all the dogs as they are already so well known ; suffice it to say that C. B Nell's quality and that of her progeny ? such as Rewi Moa are well known throughout the colonies The two last imported dogs, Rewi Drake and Rewi Lad, are undoubtedly the fines; specimens of retriever dogs that have ever been imported here, and the splendid litter from Moa by Rewi Drake and also Mr R Watson's Rewi Nell's litter by the same sire are quite sufficient to stamp Drake as the sire of the future.One thing that strikes me painfully in regard to the sale, however, is the fact that her late owner could have the heart to part with C. B. Nell ( or ' Jess," her fireside name). She is really a noble animal, and I thought Mr Barnard would have kept her, whatever he did with his other dogs."
In 1897 - City of Dunedin Electoral roll; living with wife Eliza Gertrude residence Queen St; tea merchant, George St; and in August 1901 received back the deposit he had lodged on his application for 150 shares in the Mystery Flat Dredging Company after a court appearance over voting rights. 1902 Walter was chairman of directors in the TARATU -KAITANGATA RAILWAY AND COAL COMPANY
1903 and 1904 Directories, he was listed at Main Road, North East Valley and was still there 1905 but his occupation was of Barnard and Sons, Tea Merchants, 43 Crawford Street. In 1906, he was described as a commercial traveller living at 5 Ferguson Street, St Kilda, Dunedin and about 1910 they went to Melbourne and about 1922 returned living at Rutland Hotel where Walter;ter is described as an agent. He retired and in 1935 is with son William and wife Annie at Weston, Oamaru.
Walter's occupation in 1935 was Commercial Traveller living at 74 Herriot Row, Dunedin and he died 4th March 1935 at Dunedin aged 82 years of age having been in the Otago province 53 years and was buried 04 Mar 1935 at the Anderson Bay Cemetery, Dunedin in Barnard plot with Annie Bell Barnard, Reginald Walter Barnard who died aged 24 Years and was buried 30 Dec 1936; Ethel Gertrude Beatrice Hill aged 95 Years (ashes) 16 Sep 1977;
E
LIZA GERTRUDE BARNARD Samuel's wife voted 1893 On first Woman's electoral roll 1893 living Queen St, Dunedin, domestic duties, in 1908 Dunedin North supplementary roll, is living with Daughter-in-law Alice at 5 Fergusson St, Musselburgh
Children of W
ALTER BARNARD and ELIZA GIBBS are:
i. A
LFRED WALTER ALEXANDER (ALEX) BARNARD, b. 27 Apr 1880, N Finchley, Middlesex, England; d. 10 May 1960, 10 Stonehaven Crescent, Palmerston North; married ALICE LLOYD, 1906; b. 1881 daughter of William and Elizabeth Martha Lloyd; d. 16 Aug 1953, Palmerston North.
Otago Witness, 22 December 1891, Page 29 ANDERSON'S BAY. The Anderson's Bay School broke up on Thursday evening in the Volunteer Hall, when between 300 and 400 people were present. In the absence of the chairman of the school committee, the Rev. Mr Cameron, who was prevented from being in attendance owing to illness, Mr J. White presided. The school children gave an excellent rendering of the Christmas cantata " Santa Claus," under the conductorship of Mr Jeffrey. Gifts from a Christmas tree were also distributed to the younger children, and certificates were presented by the chairman. It should be mentioned in connection with the breaking up of the school, that Mr Wallace, the pupil teacher, who has just passed his matriculation examination with credit, a year before his time, was presented by the children with a valuable set of books, as a mark of their esteem. The prize list is as follows : Standard lll. Boys - Alex. Barnard 1,
The eldest son of Walter Samuel Barnard, Alex from Anderson Bay School was admitted to George St Normal School on 10 Oct 1894 (home address North East Valley) then again attended the Andersons Bay school leaving on 27 Jan 1896 (home address Moray Place); last day schooling 1 Aug 1899
1903 - NEW ZEALAND GUN CLUB. Evening Post, 11 August 1903: CHRISTCHURCH, 10th August. The New Zealand Gun Club Association Championship was decided to-day in fine weather, but a string wind which was blowing across the ground spoilt the shooting, which was very poor. Twenty-eight competed, and "Starlight" (E. P. Graham) alone killed his twenty -one birds. H. Price and A. W. A. Barnard tied for second place, with nineteen kills each ; E. H. Eccles and F. Redwood, equal fourth, with eighteen kills.
1903 Tuapeka Times, 26 August 1903: Pigeon shooting march, was shot off at Heathcote. Christchurch, on August 10. There were 28 competitors and a fair attendance of spectators, but this wind made good shooting difficult. Mr E. P. Graham (Starlight), who won the championship medal and 60 per cent, of the stakes, killed 21 birds straight oat without a miss. H. Price and A. W. Barnard tied for second place with 19 kills each, and E. H. Eccles and F. Redwood were equal for fourth with 18 kills.
1903 Wanganui Herald, 28 July 1903: PATENTS. Messrs Baldwin and Hayward, patent agents, through their local representative. Sir J. L. Stevenson, report the gazetting of the following patents for the fortnight ending July 23: A. W. A. Barnard, device for recording shot patterns. Applied for trademark registration.
1908 Alfred Walter Alexander Barnard, Clerk of Dunedin, is living at Manders Rd, North East Valley; clerk
1909 AN AUCKLAND INVENTION. AUCKLAND, May 18. AN AUCKLAND INVENTION. AUCKLAND. A locally-invented airship is to be exhibited at the Auckland A. and P. Association's exhibition next week, provided that a trial, which is to be made next. Friday, is attended with satisfactory results. The inventor is a Mr Barnard, and it is stated that a trial made some time ago was sufficiently gratifying to warrant a patent being taken out.
May 22. A model of an aeroplane invented by Messrs A. W. A. and Claude Barnard, of Auckland, was inspected by a reporter in Auckland. The elder of the brothers explained that they were working under disabilities in so far as financial matters were concerned, but he felt confident .that once they could secure the installation of certain parts, success will be assured. Like most aeroplanes, the model of the Auckland invention has a long narrow body formed by top and bottom planes. It is a double-decked machine. Rudders and guiding gear extend from the back, and special advantages are claimed for these over similar fittings of other aeroplanes. Elevators are attached to the front. The full-sized machine will be 40ft by 6ft, giving about 500 square feet of lifting surface, and a motor will be used for propelling purposes. (E. Denton, photo) BARNARD BROS.' AEROPLANE AT THE PALMERSTON NORTH SHOW. This is a model of one type of machine, without a motor, with which the inventors have had several successful flights. The model was on view at the National Winter Show at Palmerston North, and attracted considerable attention. Photo from Papers Past Otago Witness, 30 June 1909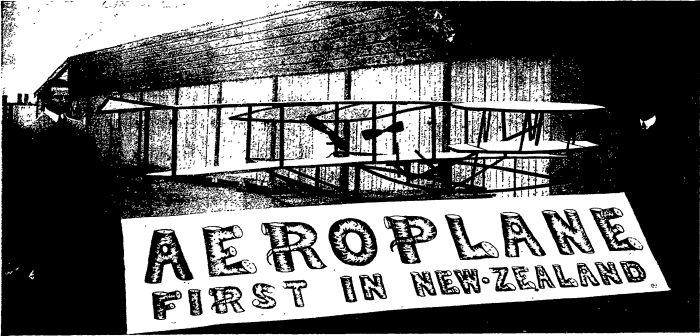 1909 TRIAL OF THE AUCKLAND MACHINE. AUCKLAND, June 7. A trial of the aeroplane constructed by- Messrs A. W. and A. Claude Barnard was made at Brown's island on Saturday. The weather conditions were unfavourable, but a short flight was nevertheless obtained from a hill on the southern side of the island. A sharp gust of wind then caught the machine, and as the steering gear could not be manipulated to full advantage in the absence of a motor, the aeroplane was brought into rather sharp contact with mother earth, and further trials will be out of the question until some broken parts have been repaired. The builders hope to secure more satisfactory results during the week. They are at a certain disadvantage in that the whole of the construction work has had to be done on the island for reasons of privacy. The machine consists of a double-decked body with top and bottom plates about 6ft in width. Extending from either side are long, wing-like projections, which give the aeroplane something of a butterfly appearance. Elevators are attached to the front rudders and guiding-gear to the back. The dimensions of the full-sized ship are 40ft by 6ft. Care has been taken to secure a minimum of weight, the framework being lightly constructed of wood, while canvas is used as a covering for the planes. The method adopted for procuring a glide on Saturday was to haul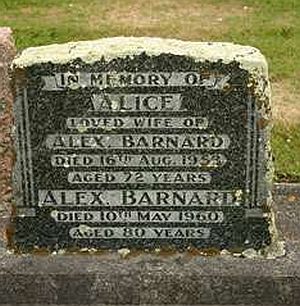 the machine on specially constructed wheels to the top of a hill about 70ft in height, and from there to set it in motion, with Mr A. Barnard on the deck. The aeroplane showed a satisfactory tendency towards aerial flight, and but for the windy weather might have fared better. The Messrs Barnard state their intention of persevering with their experiments until they are able to install a motor for propelling purposes, and so test the machine in its finished form.
This endeavour caused financial difficulty and from 1914 to 1931, Alex is living at Maya Mill; Foxton as a flax cutter with wife Alice and from there in 1931 is living with wife Alice at 21 Bourke St, Palmerston Nth working as a mechanic and in 1938 lived at 135 Fitzherbert Av. He retired in 1954 and was living at 10 Stonehaven Avenue when his death occurred 10/05/1960 at the age of 80 years and was buried 12/05/1960 at Kelvin Grove Cemetery, Palmerston North, Block 006 Plot Number 043 with wife Alice who died 16 Aug 1953 aged 72 years. Children of Alex and Alice :
(a) Clodagh Gertrude Lillian Barnard (1907 - 1991) mar: 1929 James Lindsay Christie (b: 24 May 1903 son of David and Jessie Christie; d: 1984, Bur: Whenua Tapu Cem)
(b) Reginald Walter Barnard (1912 - 1936 Wanaka) Bur: Barnard plot Andersons Bay Cem.
ii. E

THEL BEATRICE GERTRUDE BARNARD (b. 13 Dec 1881, London, Middlesex, England) Ethel mar: 5th Aug 1903 at Dunedin to STANLEY ROBERT HILL (b. 11 May 1884, St Bathans, Otago, the son of Albert Frederick William Hill and Susan nee Stokes, he d: 22 Mar 1975 Dunedin) Div. 1930, he remarried 1938 Elsie Winifred Ings) Ethel moved to Snells Beach where she died 16 Sep 1977 at 344 Mahonga East Road, Snells Beach, Auckland aged 98 years - her ashes are in the Dunedin Barnard plot Andersons Bay Cem. Ethel and Stanley's three children were:
(a) Stanley Gordon Barnard Hill (b. 1904 - d. 1997) mar: in 1927 to Ivy Lily Blanche Wood, the daughter of Violet Bessie and Stanley Wood (b. 1909 - d. 1991)
(b) Eunice Roberta Florence Hill (b. 1906 - d. 2006) mar: 1940 Albert Shaw (b. 1905 - d. 1988)
(c) Violet Victoria Hill (1905 - 2003) mar: 1927 to James Lawrie Benfell (b. 1904 - d. 1990, the son of Ebenezer John and Alice Robson Benfell)
iii. WILLIAM FREDERICK BEGRIE BARNARD, b. 21 Nov 1883, Andersons Bay, Dunedin; At age 30 he married 26yr old ANNIE BELL MORTON, 28 Jan 1914 at the Nightcaps - Waiono Parish Presbyterian Church; She was born 17 Aug 1887 Loudoun, Ayr, Scotland, the daughter of Gavin Morton and his wife Mary nee Bell; Annie died 30 Dec 1979, Ross Home, Dunedin.

1908 Clutha electoral roll; living at Willowburn, Clinton; ploughman; 1914 Wallace electoral roll; living at Birchwood; groom with wife Annie[ WW1 - Category 2nd reserves; living at Birchwood, Wallace; Occupation Farm manager; 1922 Oamaru supplementary electoral roll; living at Weston, dairyman with wife Annie; 1931 Oamaru electoral roll; living at Weston, dairyman with wife Annie and retired father, Walter; 1938 onwards is on the Central Otago electoral roll; living at Precilla St., Allanton, coal merchant/contractor, with wife Annie and is retired in 1954 William died on 30 Dec 1970, Ross Home Dunedin aged 87 years and was cremated at the Andersons Bay Cemetery 2 Jan 1971. wife Annie died 30 Dec 1979 a the Ross Home, North East Valley aged 92 years after 67 years in NZ; Burial 3 Jan 1980, Barnard plot Andersons Bay Cemetery, Dunedin.
They had two children
(a) Mary Bell Barnard born 1915 and
(b) Walter Samuel Barnard (1919 - 2006) who married Mavis Doreen Miller
iv. CECIL HERBERT GEORGE BARNARD, b. 04 Nov 1888, Dunferniline Place, North East Valley; d. 18 Jul 1976, Horowhenua Hospital, Levin. Cremated 21 Jul 1976 and ashes to Kalvin Grove Cemetery, Palmerston North.
Cecil was admitted to George Street Normal School 12 Nov 1895; home address Dunfermline Place, North East Valley. Last day 21 May 1900 because of sickness and re-admitted 30 July 1900 to George St School
Tuapeka Times, 8 July 1908, O'NEILL'S BUCKJUMPERS AND HIPPODROME. O'Neill's troupe of outlaws and buckjumpers will show in Lawrence this and tomorrow evenings. The troupe has something quite new and up-to-date to exhibit, and it is claimed that such a combination of talent has not been seen since the days of Buffalo Bill's Wild West Show.
Barnard and Barnard, the Dunedin lads who have developed into champion rifle shots, have, during their tour with the troupe, earned a great reputation. A feature of their performance will be their " William Tell" act, in which one brother faces the bullets of the other.
WW1 Category - First reserves; Last address Foxton in the recruiting district of Manawatu. Cecil in 1931 is on the Manuwatu electoral Roll; living at Moutoa working as a flax cutter. (War news -Extract from Poverty Bay Herald, 9 Nov 1915)

v. C
LAUDE EDWARD CHARLES BARNARD, b. 18 Aug 1890, Dunferniline Place, North East Valley, Dunedin. He attended the George St School 12 Nov 1895; left for work 4 Aug 1904
WW1 Service: Claude Barnard, aged 24 years enlisted on 12 September 1914: Number: 1026; Rank/Calling: Private; Unit: 8 Infantry Battalion, B Company ; Ship Name: HMAT Benalla, Date of Embarkation: 19/10/1914 from Melbourne; Regimental number 1026l Religion Church of England. He was employed as a Grocers assistant and had been living with his parents Walter Samuel and Eliza Barnard at 740 Malvern Road, Armadale, Victoria Medals: 1914-15 Star, British War Medal, Victory Medal
Unit: 1 to 5 Divisional Signal Companies and Signallers General Reinforcements, Special Draft (Egypt), also November 1917, February, April, August 1918 and Special Reinforcements. 1 to 4 Signal Troops - March 1917 to February 1918 Reinforcements. 1 Signal Squadron Engineers - December 1917 to February 1918 Reinforcements. 1 Field Squadron Engineers - December 1917 and January 1918 Reinforcements. Sapper Claude Charles BARNARD, 4th Divisional Signal Company. He returned to Australia, 12 July 1919.
vi. CLEMENT AUBREY JOHN* BARNARD, b. 13 Nov 1892, Wellington; Killed in action on 25 Apr 1915, Turkey. Commerorated - Lone Pine Memorial, Gallipoli but no known grave.
He was admitted to George St Normal School 1 Feb 1898; home address Dunfernline Place; North East Valley and went with parents to Melbourne He was employed as a clerk aged 21 when he enlisted 21 August 1914 and had been living with his parents at 740 Malvern Road, Armadale, Victoria
WW1 - Service Number: 292; Place Of Enlistment Armadale, VIC Rank/Calling: Private; Unit: 5 Infantry Battalion (October 1914) embarked from Melbourne, Victoria, on board Transport A3 Orvieto on 21 October 1914 ; transferred to Unit 8th Bn Service Army. War Grave Register, Pte. Clement Aubrey John, 1213. 8th Bn. Killed in action 25th April, 1915.
World War 1:Name: BARNARD, CLEMENT AUBREY JOHN; Nationality: Australian; Rank: Private; Regiment: Australian Infantry, A.I.F; Unit Text: 8th Bn.Date of Death: 25/04/1915; Service No: 1213; Casualty Type: Commonwealth War Dead; Grave/Memorial Reference: 30.Cemetery: LONE PINE MEMORIAL Digital copy: http://naa12.naa.gov.au/scripts/imagine.asp?B=3049819&I=1
Commemoration details The Lone Pine Memorial (Panel 30), Gallipoli, Turkey. The Lone Pine Memorial, situated in the Lone Pine Cemetery at Anzac, is the main Australian Memorial on Gallipoli, and one of four memorials to men of the New Zealand Expeditionary Force. Designed by Sir John Burnet, the principal architect of the Gallipoli cemeteries, it is a thick tapering pylon 14.3 metres high on a square base 12.98 metres wide. It is constructed from limestone mined at Ilgardere in Turkey.


The Memorial commemorates the 3268 Australians and 456 New Zealanders who have no known grave and the 960 Australians and 252 New Zealanders who were buried at sea after evacuation through wounds or disease. The names of New Zealanders commemorated are inscribed on stone panels mounted on the south and north sides of the pylon, while those of the Australians are listed on a long wall of panels in front of the pylon and to either side. Names are arranged by unit and rank.


The Memorial stands over the centre of the Turkish trenches and tunnels which were the scene of heavy fighting during the August offensive. Most cemeteries on Gallipoli contain relatively few marked graves, and the majority of Australians killed on Gallipoli are commemorated here.

Panel number 52, Roll of Honour, Australian War Memorial - Medals: 1914-15 Star, British War Medal, Victory Medal

vii. REWI ORA BARNARD, b. 12 Jan 1894, Opoho Road, Dunedin.

Admitted George St Normal School 1 Feb 1899 by father W S Barnard North East Valley - last day there 12 Nov 1906 to go to Andersons Bay Ref Dunedin NZSG

WW1 - Category Nominal Roll Vol 1; Regimental No 8/545; Rank - Private; Enlistment Address - Warwick House, Moray Place, Dunedin, New Zealand ; Body or draft - Main Body; Unit or regiment- Otago Infantry Batln; Marital staus - single; Last NZ address - Warwick House, Moray Place, Dunedin; Next of kin W S Barnard living at National Cash Register Company, Bourke St, Melbourne; Embarkation UnitOtago Infantry Battalion Date16 October 1914 from Port Chalmers. Otago, Destination Suez, Egypt

Auckland Weekly News;BARNARD, Rewi Ora Pte Wounded Otago Inf.Batt May 13, 1915 W S Barnard, National Cash Register Co., Melbourne

1922 Dunedin South electoral roll; living at 10 Albert St, St Kilda; tram conductor, same address, Isaacs, Rita Caroline, Spinster

viii. H

UIA CLIVE BARNARD, b. 14 Jan 1898, Manders Road, Dunedin.Military personnel files WW1 N/N - Army 1914 - 1918
1953 - Was the proprieter of the Melbourne Motor School, Gloucester St, Ashburton (a driving school