Press F11 to limit top toolbar
Press again for toolbar to return
Wilfred Barnard & Agnes Clark
Wilfred Barnard Clark 9b: 23 Apr 1885 in Awhitu, Auckland - his father: Alfred (Alf) Clark and mother Sarah Elizabeth Barnard; he d: 04 Feb 1953 in 90 Kingston Avenue, Haberfield, Sydney Crem: 6 Feb 1953, Northern Suburbs Crematorium, Sydney) mar Agnes Henderson Elder
Their sons went to school in the States and Australia.:
i Geoffrey Clark (b: Abt. 1920 in Mukden, China d: 29 Nov 1999 in 7 Lincoln Av, Castlecrag; Bur: 01 Dec 1999) mar: 1 Jul 1944 in St Marks Church, Northbridge, Willoughby Municipality, NSW to Jillian Mary Agnes Burrough (b: Abt. 1923 in Surrey Hills, Victoria her father: George William Burrough and mother was Agnes Emslie Smith)

ii Hugh Miller Elder Clark (b: 21 Jul 1921 in Mukden, China d: 01 Jun 2008 Crem: Macquarie Park Cem.) Mar: 1943 in Chatswood District, Sydney, NSW to Margaret Ruth Pearce (she d: 28 Jul 2013 Crem: Macquarie Park Cem.)
Time Line:Crem: 6 Feb 1953, Northern Suburbs Crematorium, Sydney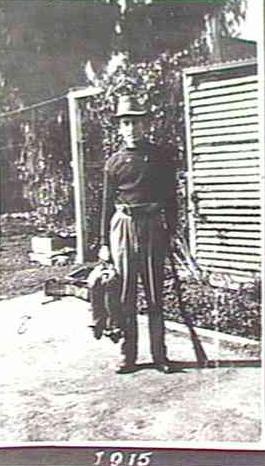 Entered Otaki School 23 May 1894 (his last school Rakaia) and left for Wellington 21 May 1897 - at Mt Cook Boys 1898
1911 Src NZ Gazette 1911: Wilfred Barnard Clark - Hikurangi - included in a list of people appointed to be the Deputies of the Registrars of Marriages and of Births and Deaths for the districts set respectively opposite their names, viz: Wilfred Burnard Clark ..... Hikurangi
1912 Clerk Railway
1918 NZ Gazette - Military Callup - Clerk Epsom
Transcribed from tape by James Barnard (Waiheke Is): Wilfred was an adventurous sort of a chap. We used to play around together - he was a bit older than I and we were two naughty boys. He cleared off to Australia - he was working on the railways in NZ and could see no future in it so went to Australia and up to the Northern Territory. A man named Gilruth was the Commissioner up there in those days. The only job he could get was pick and shovel work and that wasn't in Wilfred's line at all - he wanted something better than that. When the Boxer Rebellion broke out in China and the Manchurian War commenced, he headed up there. He got a job on the Mukden Railways in Manchuria, initially as a guard but ended up being the Manager.
Chang So-Lin, one of the three most influential people in China at that time, appointed him as Manager of the railways. However, Wilfred needed an Engineer so he advertised world-wide and appointed a man named ELDER. This man came out to China with his wife, a son and a daughter. The son became Assistant Engineer and Wilfred ultimately married the daughter.
I think he must have still been in China when the Japanese invaded - there was an important battle in Mukden in the closing stages of this war. The Japanese also invaded Manchuria in 1931.
He supposedly retired to Peking and was appointed by the young Chinese Marshall (Chang So-Lin's son) to invest 10 million gold crowns in America. James Barnard (Waiheke) saw him in NZ on his way to the States - he came to NZ to see his parents. He took them for a tour around NZ in the biggest Cadillac he could find - it was many years since he'd seen his parents.
He then went off to America, presumably to invest the Chinese money. He also apparently had a big interest in the silk business in China and had practically the control of the importation into Australia where he established a company to handle all the Chinese silk. The last James Barnard heard of Wilfred and his brother (Leonard) who joined him in the business was that they were working in Australia.
1936 Electoral Roll -Parramata Subdivision of Turramurra - Wilfred Barnard Clark - 1558 Pacific Highway, Wahroonga, Retired; Agnes Henderson same address, domestic duties;
1944 - Retired Railway Administrator Hugh was the informant for his father's death. At that time, he was living at 545 Great North Road, Abbotsford. Wilfred was 67 years old when he died.
1953 Occ: Railway Employee
IS the Will of WILFRED BARNARD CLARK late of Dobroyd Point In the State of New South Wiles Gentleman deceased Application will be made after 14 days from the tublli-atlon hereof that Probate of the last Will and Testament dated 12th ulv 1151 of the above named deceased may be granted to Agnes Henderson Clark the sole Executrix named In the will and all notices may be served at the undermentioned address All creditors In the Fstate of the deceased are hereby required to send in particulars of th«lr claims to the undersigned AITKEN &. PLUCK

Images and data used in this site copyright - ©
Descendant input to up-date family pages is very welcome - more detailed information available on request