William David Barnard
William David Barnard became by 1868 one of eight licensed auctioneers operating in and started business as an auctioneer, valuer and general agent in July 1858.
T C Barnard, Watchmaker and W D Barnard had premises next to each other in Cashell St. between Columbo and High Street. This makes it appear that they may have been brothers... but events later proved this not to be the case.

His office was later at the corner of Cashel and High Street. In March 1859 he sold by auction the horse Shales the principal stake winner of the C J C meeting just over. It had won a race on each day of the meeting and was offered "on account of Mr Barnard of Wellington". It had been raced by W D Barnard.
23rd May 1861, a fire broke out in Mr. George Wilmer's brewery in Cashell St. With inadequate fire protection, the brewery was quickly a seething mass of flames and spread westward wiping out Cashel House, Mills grocery shop and a store occupied by W D Barnard adjoining the A1Hotel. The damage was estimated at £10,000. Barnard's building was pulled down to stop the fire spreading and his loss was £350.
1861 William stood unsuccessfully for Provincial Council, Christchurch seat however the Press He was appointed treasurer of the Garrick Club January 1862. He continued to be interested in theatre and was a good amateur actor
In March 1862 the Press reported the names of those elected to the first Borough Council – John Hall, 154 votes; John Andersreported on, 123; Grosvenor Miles, 112; W. Wilson, 109; W.D. Barnard, 98; Edward Reece, 89; John Barrett, 88; H.E. Alport, 80; G. Gould, 78 (This was the forerunner of the Christchurch City Council. It was endowed with a grant of 10,000 acres of the Waste Lands but in the first year had no rating powers. The Provincial Council made grants of money from time to time and Barnard was to give five years as a councilor before his resignation from office in December 1866 and he was one of the most active of its members during those years.)
In that same paper in it's commercial section it announced Barnard had on sale "superior draught colts, blood stock, working bullocks, cows etc at the White Hart sale Yards." He and Charles Newton together owned the White Hart Hotel and William held weekly sales and reports of prices reached were telegraphed to newspapers round the country - an example "At the weekly sale held on Saturday last at the White Hart Sale Yards, eleven hacks, a mixed mob in low condition, broken and unbroken, from Nelson, were disposed of at an average of £29 15s. per head ; also, seven useful saddle horses, at prices from £25 to £46 per head, averaging £84."
1862 November 11: William David Barnard and Mary Jane Cameron both aged 29 years were married at the Registrar's Office, Christchurch
1862 CHRISTCHURCH Dec. 9. Mr. W. D. Barnard reports no change in the horse market since last week. At his weekly sale, last Saturday, the attendance was pretty numerous, but very few buyers. Two draught mares, imported from Nelson, broken to all kinds of farm work, realised £152 10s, four two year old colts and fillies brought each £15, £16, £19. and £20; eight ordinary saddle and light harness mares and geldings, from £35 to £45 per head, at an average of £36. The prices for light harness and saddle horses are on the decline; for heavy draught stock there is still a good demand.
1863 CHRISTCHURCH.—February 4. Daily Southern Cross, 19 February 1863, Page 3 - Mr. W. D. Barnard reports, at his weekly sale, held last Saturday, the sale of the following stock : Horses — Twenty-five saddle and light harness mares and geldings were disposed of, at prices varying from £22 to £46, averaging £31 10s. ; two draught horses, at £55 and £60 ; one yearling colt brought £9. Cattle, — Forty-five head, a mixed mob, realised £10 per head.
1863 CHRISTCHURCH, HORSE AND CATTLE MARKET. Daily Southern Cross, 3 March. Page 3; Mr. W. D. Barnard's report of sale held last Saturday at his yards - Horses —Twenty five saddle and light harness mares and geldings were disposed of at prices varying from £25 to £44, Averaging £30 eacb. Five draught horses were sold at an average of £50. The entire horse St. Giles realised £84. Cattle. — Four two-years old steers were sold for £11 11s. eaoh. Five cows at an Average of £9 eaoh. — Lyttelton Times, February 11.
1863 LYTTLETON—August 8 Daily Southern Cross, 18 August 1863, Page 2
Mr. W D Barnard reports the sale at his Repository on Saturday last, of 23 saddle and light harness horses, Claud Hamilton, from Dunedin, prices varying from £31 10s. to £55 at an average of £40 5s. per head Also, nine active draught males and geldings, .at prices varying from £36 to £70, averaging £53 10s. Four odinary hacks £38, £18, £15, and £14. One American waggon, £60, One horse and harness, £55, The supply of superior draught mares and geldings is still unequal to the demand,
Barnard's business grew and prospered and he had hardly served a year as councilor before his newly built "Repository" was finished - it could accommodate 90 horses, rose into view like some architectural leviathan, dwarfing into significance the puny, non-descript buildings that surrounded it. It was one of the wonders of Christchurch at that time .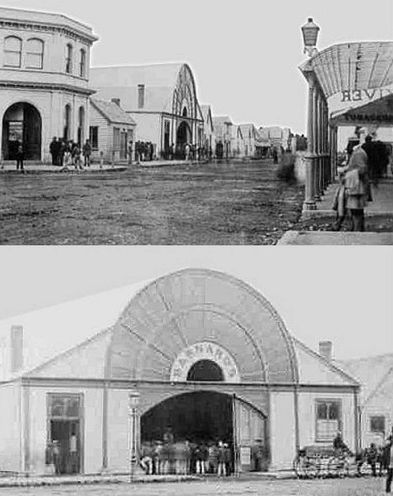 More than once did it serve as a place of public entertainment and shortly after its erection, Barnard lent it to the Musical Society for a grand promenade concert They wanted a big audience to pay off debts and he provided 500 kerosene lamps for lighting. He was to give five years as a councilor before his resignation from office in December 1866 and was one of the most active of its members during those years.
June 1st 1863 - The Canterbury Musical Society assisted by Madam Carandini and her talented daughters, organised a concert and participating were artists of the visiting English Opera Company. Barnard gave his Repository free and also supplied 500 "fairy" lamps. 1600 people paid for admittance but the expenses exceeded the taking by 9 Pounds. Three days later the repository was used for its first horse sale and the racehorses Golden Cloud and Market Gardener realised £280 and £70 respectively.
9th July 1863: Gala day for the people of Christchurch - the day had been proclaimed a public holiday by the Provincial Superintendent with festivities in honour of the Prince of Wales and Princess Alexandra of Denmark whose wedding had been celebrated 4 months earlier. This was the first Civic celebration. At Barnard's Horse Repository there had been arranged a grand treat for the children and long lines of stalls had been set up from which there were dealt out to the children pies, buns, apples, cakes and lemonade. While feasting on this palatable fare, the children received presents in the shape of toys and dolls and penny trumpets.
Charles Newton and William Barnard dissolved their partnership in November 1863 and gave a farewell dinner to mark the occasion of their selling out of the White Hart.
William Barnard was re-elected to the Christchurch City Council January '64 and he put down his name for the Canterbury Jockey Club in that year. He won the Kaiapoi Steeplechase with Tim Whiffler Oct 64 but lost the race to an objection. He was very indignant and so was the crowd who backed the horse. He appealed to the C J C Committee who reheard the objection and awarded him the race. This is believed to be the first appeal to the C J C. Tim Whiffler won the first prize in the hack class in the Christchurch show of 1864 and won the same prize the next year.
"The record of 1864 again shows steady progress, undisturbed by any startling events. The Christchurch new Town Hall was opened in September; in the same month the Bank of Australasia opened a branch in Hereford-street, and the Victoria bridge over the Avon, which cost nearly £11,000—the first of its kind in Canterbury—was opened by Mr. Olivier (as chairman), and the members of the City Council, in Barnard's well-known yellow van, in which they drank some champagne, looked happy over it, and declared the bridge opened." Below
Victoria
Bridge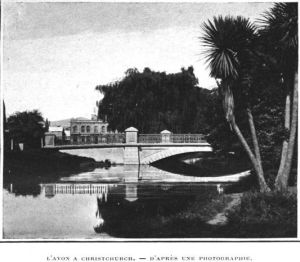 Ref: Guide to Christchurch and Neighbourhood;

Author: M Mosley 1885

1865 - Avon District electoral roll; William David Barnard; Freehold; Part of Northcote estate.

1865 - In 1865 Double Hill runs 435, 436, 437, belonged to W. D. Barnard.Double Hill lay on the south bank of the Rakaia, and took in the country from Terrible Gully, where it joined Blackford, up to the Lake Stream, where it joined Upper Lake Heron. In 1866 Joseph Palmer bought these from him.

In January 1866 when the question of rate collection was being discussed by council, Councilor Barnard suggested that the ratepayers should come in and pay their rates at the Council Office rather than being called upon by the "collector". His suggestion however was not carried out. Only a few months later, the worst came to the worst - the Town Clerk himself had to go and call on people whose rates were overdue.

1866 May: William Barnard applied for and was granted a Publican's License -

Kind of License General; Situated in Cashel Street. There was strenuous opposition to this from corner seed merchant Cabbage Wilson and his objections were over-ruled and after, for a year or two the Hotel was known as the "Blighted Cabbage".
In June 1866, he opened a room for subscribers only in which could be seen all the sporting papers and also books of reference concerning the Turf. He called this club the Christchurch Tattersalls - it previously was known as Barnard's Horse repository.This name now appied to the repository, stables and sale ring and the hotel.

William Barnard was President of the Christchurch Victuallers Association in 1866. They bought 17½ acres out at Riccarton and intended to build a school there. They put on an amateur theatrical show to raise funds for the school and got £120 All the leading parts were taken by publicans. Barnard took a part.

In December 1866 - the horse repository changed hands. William Barnard let it to Messrs Jones, M'Glashans, and Co., of Dunedin and Hokitika, but he still carried on his hotel.

At the time he lost Tattersalls, he retired from Christchurch City Council and they passed a resolution praising his services. He auctioned his right as publican for next C J C meeting. This was the normal method of dealing with catering for the bars and the various side shows such as Doodleam (?) Bucks, wrestling and prize fighting.

1867 March 1867—William Barnard was one of the founders of the Canterbury Brewing, Malting and Distilling Co. and in the first meeting of the company was appointed a director and chairman. The meeting was addressed by Mr. Wilkin, Mr. Bishop, Mr. Reeves, and others expressing an opinion that Otago beer would be likely to supersede that of Canterbury unless steps were taken to prevent such an undesirable occurrence. The resolution of the meeting "That it is highly expedient to form a Joint Stock Company (limited) for the purpose of brewing, distilling, and kiln-drying grain." and a provisional committee be appointed, of J. Bailey, R. Wilkin, W. D. Barnard, G. Oram, W. White, J. G Ruddenklau, and F. J. Crawford." Below: a horse repostory in the Illustrated London News.
1868 - Daily Southern Cross, 28 January 1868, Page 3
CANTERBURY RACES. Third Day. Canterbury Jockey Club Handicap. — Mr. Barnard's Flying Jib, 1 ; Mr. H. Redwood's Blackboy, 2 ; Mr. Delamain's Atalanta, 3.
18 May 1868: S
TOCK YARDS: Mr Barnard opened new sale yards at the Carlton on Wednesday, and there was a good attendance of both buyers and sellers.
The public had opposed any part of Hagley Park being used for a public market so the Carlton Stock Yards were popular both with owners of stock, auctioneers, and purchasors. There was invariably a good attendance, and It was very rare not to find the yards flooded with animals for sale. The business was previously confined to yards adjoining the hotel but these proved insufficient to accommodate all the auctioneers so Mr W. D. Barnard constructed larger yards on the other side of the road where there was more open land, so it is likely in the course of tlme it will be expanded and other than cattle sales conducted there. Mr Barnard's stockyards are immediately opposite the Carlton, and fronting upon the North Road and cover an area of 100 ft. by 80ft., have nine large yards, and are securely enclosed and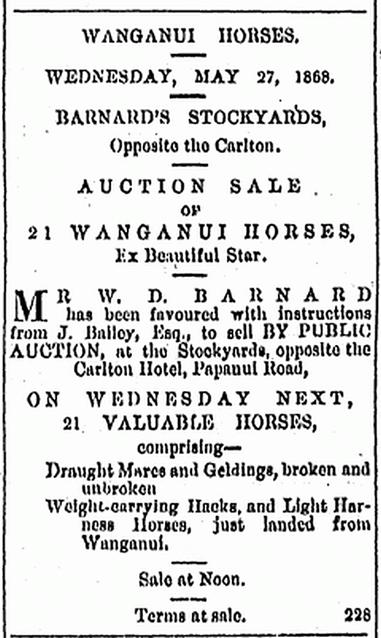 protected.

22 May 1868 - AUCTION SALES-TO-MORROW.
W. D. Barnard, at his repository, at Noon : Horses, Wagons, Harness

1868 HOKITIKA RACES.June We learn by telegram that the Hurdle Race was taken by Mr. Barnard's Don Pedro, Mr. Walter's Harkaway coming in fourth.

1868-69 Christchurch Electoral Roll; Wm Barnard; Cashell Street; leasehold (1) Town Section 887, Freehold (2) Town Section 557.

13 June 1868, LICENCED VICTUALERS ASSOCIATION - A meeting of members held at the City Hotel Thursday evening, for the purpose of arranging preliminaries for the annusl entertainment. After some discussion Mr Barnard, West, and Oram, were appointed to enquire as to the most favourable day of which the theatre could be engaged, and |to conduct other matters connected with the undertaking. .

22 July 1868 -

Public Notices - Mr Barnard has thrown open both sides to the entrance to his repository for the posting of public notices, the same system adapted as that in practice at most of the railway stations In England. The walls are divided into squares of equal dimensions, and let at so much each per annum. The notices are enclosed in frames with glass fronts, and placed under the responsible charge of one of the employees. The advantage offered to buslness men is fully appreciated, and already numerous applications for space have been made.

30 July 1868: La

nd, Building and investment Society — The newly formed society met at Mr Barnard's office, on Tuesday evening, for the purposes of making the necessary arrangements for completing tho establishment of the society, Mr W. D. Barnard, the president, occupied the chair, and tho other members present were:— Messrs .T. Atkinson, J. 0. Atkinson, J, Carlman, 0. F. Money, Hale, and C. Allison, Hon, secretary. It was resolved that the first general annual of the shareholders should be held on the last Tuesday in September, and subsequent meetings on the name day In each successive month. A tender was read from Mr Bamford, offering to execute all mortgages required by the society at 30s each and it was resolved that the committee should recommend its acceptance at the general meeting, It was decided, after some discussion, that the entrance fee should be increased from 2s 6d to 5s per share, and the number of shares should be limited to 5OO. The Secretary was ordered to advertise the meetings and procure the necessary receipt and other books required to carry on the business of the society. Messrs J. C. Atkinson and J. Cartman were appointed stewards to officiate at the first general meeting; Secretary said the number of shares applied for to the present time is 368.

20 Aug. 1868 - F

IRE POLICE. His Worship the Mayor of Christchuroh swore in members of the Fire Polloe according to the Act. About twenty assembled at the Brigade office, and marched to the Council Chambers. Among them W D Barnard

2 Nov. 1868,

Mr W. D. Barnard imported two valuable short-horn Durham shorthorn bulls and one heifer by the Hydaspei. They were purchased for him by Mr J. Beart, one of the best judges in England from the celebrated herd of J. Gamble, Esq. Shouldham Thorp, near Lynn, Norfolk. They have been inspected by several of the best Canterbury judges, and are respectively named Cornet and President, and the heifer, Charmer. Also on his farm on Lincoln Road at stood the trotting stallion Shales at 5 guineas

1869 SECOND DAY. Hurdle Race. Mr. Barnard's Don Pedro 1

Star , Issue 278, 5 April 1869, Page 2

At Barnard's sale yards, on Saturday, at the sale of refreshment booths, &c, for the Foresters' and Oddfellows' gala demonstration, the following prices were obtained : — Refreshment booth, £34, J. B. Thompkins ; Confectionery booths, £4 10s.

April 1869: The Duke of Edinburgh visits Christchurch and 500 celebrate at Barnard Repository

23 July 1869: Auctioneers' Licenses. — Term ending 30th June, 1870 : William David Barnard, Christchurch;

September 1869, the licensed victuallers put on their usual amateur theatrical show and Barnard played Tamidod the Tremendous, King of Changchutuce.

1870 Barnard William David Abode Cashel St. Section 557

The annual sale of race horses was held at Mr W. D. Barnard's Repository, Christchurch, on Saturday, the 22nd January. The attendance was good, but the bidding was anything but spirited. William sold his 4 race horses Flying Jib, Foxtrot, Lyndon and Don Pedro — Flying Jib, bought by Mr Walker, Wanganui, for £150; Foretop, bought by Mr J. Steelefor £130; Lyndon, bought by Mr D. Melville for £61 ; Don Pedro, bought by Mr J. Steele for £50;

1870 July 5 -

Barnards Repository: This establishment yesterday passed into the hand of Mr Joseph Bennett, an auctioneer of Christchurch and Mr C E Bird (formally of the Provincial Hotel in Dunedin) will carry on the business as Bird and Bennett, auctioneers and stock and station agents. The hotel department in future will be known as Tattersalls

1870 - 2 Dec. THE LATE FIRE IN CHRISTCHURCH.

The fire in Hereford-street, Christchurch, is to be the subject of an official enquiry. The property was entirely uninsured, and no one had been in that part of the building where the fire originated after 8 the previous night. The stable contained eight stalls with a small two-roomed dwelling-house at the west end, and a harness and store room at the opposite end. The buildings were erected by Mr Barnard in 1867 for the express accommodation of Mr Hill, Veterinary Surgeon, and cost over £400. Mr Barnard, the owner, appears to have been singularly unfortunate as up to about fourteen days ago the buildings were covered by an insurance policy in the Liverpool, London, and Globe office, but a re-engagement of the terms of insurance was then made, and Mr Barnard, had been prevented from coming to town on Tuesday to sign the new policy with Mr Bird, the agent that day. Mr Barnard is thus placed in a doubly painful position. The stables were used by Messrs M'Kercher and Co. for the horses employed by them in running their northern line of coaches, and one of the city cabmen. On the night all the stalls were occupied, and one of the grooms who was in the building at says that all then was perfectly safe. Mr Osborn, who resides in a house immediately in front of the stable— nearer to Hereford-street — says that he was about at , and there was then no sign of fire. Half-an-hour later the cabman who used a portion of the stable, put his horse up for the night He was not near where the fire was first seen to be alight, and retired without noticing anything wrong. About an hour afterwards, the conflagration was first discovered in the two centre stalls of the stable. The horses on each side were got out in safety, but two horses, valued at £50, belonging to Messrs M'Kercher and Co., in the two stalls referred to, were unfortunately burnt to death. The carcases were visible after the place was gutted and presented a most unpleasant spectacle. Messrs M'Kercher and Co., who had recently entered into possession of the stables and one of the horses burned having indeed only been purchased for £24 the day previous, a loss upwards of £50 in harness and oats.

Mr W. D. Barnard, owner of the premises destroyed, loses £400, and Messrs M'Kercher and Co. over £100. There is no evidence as to the cause of the fire.

At the 1970 show he was very successful - his two won 3 first prizes at Christchurch show of 1869 for shorthorns and also a first with Shales and with a pony stallion under 14 hands called Bright Silver. He was elected to the Committee of the A and P Association in February 1871.

29 March 1871, Mr. W. D. Barnard has disposed of his celebrated bull Comet to Mr. John Martin, of Wellington, for the handsome sum of 300 guineas. The bull will be shipped at purchasers risk on the return trip of the Phoebe. There is surprise that the large stockowners of Canterbury Province should have allowed a prize animal of such high reputation as Comet to go to another Province, as it will be very long ere they again have a bull there combining so many strains of pure blood. Mr. Martin intends placing Comet on his station at the Wairarapa.

His valuable farm stock on the Lincoln Rd. was sold and the farm let. His imported heifer Chavver (brought 110 guineas and his bull President was withdrawn at 150 guineas, reserve 250 guineas.

Barnard was obviously in financial difficulties. He vanished in 1871

MacDonald's Index – Canterbury Museum
Burke Manuscript: Page 098 http://christchurchcitylibraries.com/Heritage/Digitised/Burke/Burke98.asp

William David Barnard, who built Tattersalls', was a Birmingham Jew, who, starting as a hawker, developed into an auctioneer, first odds and ends of goods in a little place on now Beath's, then as a horse seller, and a rare good one, that was acknowledged, and at starting he was supposed not to know a horse from a mule. He did a large trade. Then took the White Hart &c. Got married, and all ended in financial smash. He was away to Samoa. It was said by some that the lady he married about '62 was none other than Madeline Smith of Water of Leith celebrity. But that was not so. Madeline was in West Australia for very many years, married to a professional man.




Images and data used in this site copyright - ©
Descendant input to up-date family pages is very welcome - more detailed information available on request.