Press F11 to limit top toolbar
Press again for toolbar to return
William Barnard & Mary Pick
W
ILLIAM BARNARD who came to New Zealand was the son of William BARNARD who worked as a Frame Work Knitter and his mother was Jane nee Whittering. Other children were Alfred b. 1853, Sarah b. 1855 and Florence b. 1872.
APRIL 1, 1850, after Banns; WILLIAM BARNARD, 22, Bachelor. Frame Work Knitter, of Navigation St, Leicester, Son. of ROBERT BARNARD, Frame Work Knitter marriage to JANE WITTERING, 19, Spinster. of Caroline St, Leicester, Daughter of JOHN WITTERING, Frame Work Knitter; Wits: John Cann, Emma Jarvis
WILLIAM BARNARD'S grandparents were Robert BARNARD b 1798 of St Nicholas, Leicester, a frame work knitter and wife Hannah nee WILLIAMSON who married 14 Sep 1823, St Margaret's Parish Church.
WILLIAM BARNARD was born about 1860 in Leicester, England, and married 1880 MARY PICK, daughter of THOMAS PICK, and ELLEN - she was born 16 Aug 1859 and was christened 13 Nov. 1864 at Belgrave, Leicester.
Factory production brought about a radical change in the nature of the work force employed in the hosiery industry in Leicestershire. Power-driven machines no longer needed the application of human muscle and so could be looked after by women rather than men and the number of men employed in hosiery was halved in the final decades of the nineteenth century. Fortunately the problem of unemployment was not as great as it might have been because new industries provided alternative work. Some men went into the boot and shoe industry which expanded rapidly in the years around 1900. This change is seen in the Barnard family in the 1881 census - Mary's father is unemployed and William's parents now have a hotel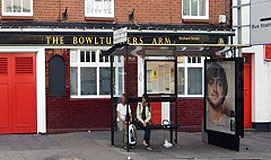 1881 Census: William's father, William BARNARD; Head of family, Married; 52 yrs; Born Leicester, England; Publican (Licensee 156 Belgrave Gate, Leicester; Bowl Turner Arms); Jane BARNARD Wife, Mar; 49 yrs; Born Leicester, Publican Wife; Alfred BARNARD, Son, Unmarried, 28 yrs; Born Leicester, Frame Work Knitter; Sarah BARNARD, Dau; Unmarried, 26 yrs; Born Leicester, Fancy Tailoress; Florence BARNARD; Dau; 9 yrs; Born Leicester, Scholar The family lived at 14 Lower Garden St Leicester, England
In the 1881 Census: Newlyweds William and Mary are living with Mary's parents at 5 Durham Street, Leicester - Thomas PICK; Head of family; Married; 43 yrs; Born Belgrave; Occupation Frame Work Knitter is Unemployed; Ellen PICK; Wife; Married; 43 yrs, Born Belgrave, Occupation Hosiery Seamer; Wm. BARNARD, Son In Law; Married, 20 yrs Born Leicester, England, Occupation Shoe Riveter ; Mary BARNARD, daughter, Mar; 21 yrs Born Leicester, England; Occupation Hosiery Machine Stitcher
William became a cobbler and he and Mary decided to immigrate and make a new life with their five surviving children - Alfred, Henry (Harry), Ellen Elizabeth , William and Albert Edward and left England before 1907 for New Zealand. They first
lived at Gisborne then Auckland.
In 1914 they are living at Mary St, Mt Eden; William is a shoehand, and in 1922 they make their home at Hill St, Onehunga; bootmaker with wife Mary and sons William is a carter and Albert employed as a tailor - a trade by 1932 is changed to a shoehand.
Mary died in 1930 aged 71 years and is buried at Mangere Cemetery B04.22. William, retired, dies aged 77 years in 1938 and his burial is on 12 Mar 1938 at the Mangere Public Cemetery At time of death 1 dau (age 47) and 3 sons ( 55, 44, 41) surviving
Children of WILLIAM and Mary BARNARD are:
i. WILLIAM HENRY BARNARD, Sep Q 1879, Leistershire; d: Dec Q 1880
ii. ALFRED
BARNARD, b. Jun Q 1881 in Leicestershire; in 1909 living at Prospect Terrace, Mt Eden, Auckland; WW1 - Alfred Barnard category Nominal roll 2; Regimental No 3/1899; rank Private; occupation packer; next of kin W Barnard, father living at Mary St, Mount Eden; Rank: Rifleman ; Regiment: N.Z. Rifle Brigade ; Unit Text: 4th Bn. 3rd; Date of Death: 22/08/1918; Son of Mr. and Mrs. William Barnard, of Hill St., Onehunga, Auckland, New Zealand. Commonwealth War Dead ; Cemetery: GOMMECOURT BRITISH CEMETERY No. 2, HEBUTERNE; Body on Embarkation New Zealand Expeditionary Force; Embarkation Unit 11th Reinforcements, New Zealand Medical Corps, No. 1 Stationary Hospital; Embarkation Date - 1 April 1916 from Wellington; Vessel Maunganui or Tahiti for Suez, Egypt; Place of Death Bapaume, France; Killed in action 22 August 1918
iii. FLORENCE ANNIE BARNARD, b: Jun Q 1881 in Leicestershire; d: Abt. Sep 1881 in Leicestershire
iv. H
ENRY (HARRY) BARNARD, b. abt 1883, was a Shoemaker from Leicestershire, England; d. 24 Mar 1955, Auckland 72Y; m. KATE PITTS, 02 Nov 1907 at St. Albans Church, Auckland; Kate was born 1881 at Nosely, Leicestershire, England and her parents were John Pitts and Sarah Ann nee Coleman; Kate died 23 Nov 1954, Auckland from 2 Park Road, Campbells Bay Auckland.
1908 Harry and Kate lived at Prospect Terrace, Dominion Rd; tramway employee, Army WW1 No. 85449 (Military service: No. 85449; left home 18 Jul 1918; entered camp 19/7/1918) In 1922 living at Kitchener Rd, Milford where he is a bootmaker. From 1929 Henry with Kate live at Kitchener Rd, Takapuna, Ak N2 and in 1944 sells and moves to 2 Park Rd, Campbells Bay; bootmaker. A retired Bootmaker at time of death on 24-Mar-1955 he was cremated Waikumete Cemetery. Kate died 23-Sep-1954 aged 73 and was Cremated at Waikumete on 27 Sep 1954. Their son William George Barnard was born 23 August 1908 and sadly died aged 5 months and buried at Waikumete Cemetery.
v. ALBERT WILLIAM BARNARD, b: Dec Q 1887, Leicestershire; d: Dec Q 1888, Leicestershire
vi. ELLEN ELIZABETH BARNARD, b. Jun Q 1890, Leicestershire; d. 03 Apr 1963, Auckland age 72y; mar 1913 to ALFRED HENRY MARKHAM; b. 1877; d. 11 Sep 1946, Auckland, age 75 yrs.
vii. W
ILLIAM BARNARD was b; 13 Sep 1892, Leicestershire; WW1 - Category Nominal Roll Vol 1; regimental No 12/21; Rank Private; Body or Draft; Main Body; Unit - Auckland Infantry Batln; Marital status - single; last NZ address - corner of MarySt and Dominion Rd, Auckland; next of Kin - father Wm Barnard, living at 54 Second Avenue, Kingsland, Ak; Embarkation fromAuckland, New Zealand on vessel Star of India or Waimana for Suez, Egypt
Auckland Weekly News reports May 20, 1915 - BARNARD, W, Wounded Ak Inf.Batt; 19th Aug 1915: BARNARD, W, Baviere Hosp, Malta, prog. Satisfactory. AIB; 15th Jul 1915: BARNARD, W, Convalescent, Alexandria Ak Batt; 16th Aug 1915: BARNARD, W, Recovered, returned to Front Ak Batt
WILLIAM married HENRIETTA HEATHERINGTON in 1918; she was born 22 Jun 1899, the daughter of John Heatherington and Annie nee Kilduf; d. 17 Jun 1957, 387 Mt Eden Rd, Mt Eden, Auckland.
1922 Manakau electoral roll; living at Hill St Onehunga with parents and bro Albert, carter; 1938 Grey Lynn electoral roll; living at 21 New Bond St, C3; war pensioner with wife Henrietta; 1954 Mt Albert electoral roll, living at 14 Freeland Rd; Roskill; pensioner. William volunteered for service in 1914 and departed from New Zealand with the main body to serve on Gallipoli and later in France. He was severely wounded and returned home to suffer for over twenty years from his injuries (Source - son Barry Barnard) William died 08 Dec 1979 at Auckland and he is buried at Waikumete Cemetery.
Children of William and Henrietta Barnard:
1. Raymond William Barnard b: 1918 in Auckland
2. Eric Alfred* Barnard b: 02 Jun 1920 in Onehunga d: 12 Aug 1987 in Rotorua Burial: 17 Aug 1987 RSA mar Leola Ivy Lea b: 17 Jan 1918 m: 1953 in Rotorua d: 30 Apr 2002 in Rotorua Burial: 04 May 2002 Cremated Rotorua
3. Sydney Rex Barnard b: 20 Jan 1922 in Onehunga d: 29 Feb 1992 in Auckland mar Doreen Missie Morgan b: 03 Nov 1921 m: 1944 d: 05 Jul 1995 in Auckland; Their family Jim Sydney, Janice Fay and Verena Frances
4. Dorothy Barnard mar Ivan Thompson ; children Louis David and Barbara
5. Leslie William Barnard b: 19 Jul 1927 in Auckland d: 02 Aug 1998 in Auckland mar Norma Vera Irvine
6. John Patrick (Paddy) Barnard mar Joan Elizabeth Morgan; their family Julie May; Gail Ann; Keith John; Richard Frederick; Patrick James and Patricia Jane
7. Joan Beryl Barnard mar Arthur James Patterson Their son Graham Patterson
8. Desmond Barry* Barnard mar Ellis Marie Lang - their children are Bruce Richard, Heather Anne and Kevin John
9. Elsie Lois Barnard mar Bill Tipa - they have 5 sons
10. Wallace Frederick Barnard b: 01 Oct 1932 in Napier d: Jul 1987 in Auckland
viii. FLORENCE GERTRUDE HANNAH BARNARD, b: Mar Q 1895, Leicestershire; d. Sep Q 1895
ix. ALBERT EDWARD BARNARD, b. Jun Q 1896, Leicestershire; d. 23 Sep 1947, Auckland 53Yrs; Burial Waikaraka Cemetery B03.12; m. MURIEL THELMA WILSON, 04 Mar 1922, St Peters Onehunga; b. 17 Mar 1902, Mahurangi; d. 13 Nov 1981, Auckland.
MILITARY: Barnard Albert Edward;WW1 Service Personnel and Reserves Index; Category - Nominal Roll Vol. 2, Regimental Number - 30736, Rank - Private, Next of Kin - W BARNARD, Next of Kin Relationship - Father, Next of Kin Address - 52 Second Avenue Kingsland Auckland, Roll 47 Page 2, Occupation before Enlistment - Tailor; Next of Kin - W. Barnard (father), 52 Second Avenue, Kingsland, Auckland, New Zealand; Body on Embarkation New Zealand Expeditionary Force Embarkation Unit 20th Reinforcements Auckland Infantry Battalion, A Company; Embarkation Date 7 December 1916 ; Place of Embarkation Wellington; Transport HMNZT 71 Vessel Port Lyttelton; Destination Plymouth, England

1938 - Manakau Electoral Roll; Living at Hill St, Onehunga, Labourer 1943 Auckland Suburbs supplementary roll; living at 20 Fairlands Av, SW3; soldier
Death - M
URIEL THELMA WILSON: Auckland Star 16 November 1981
On November 13, 1981 at the Everall Orr Homes Mt Albert (late of Fairlands Avenue Waterview) dearly loved wife of the late Albert and loved mother of Albert and Audrey (Mrs BEAVER) mother-in-law of Phyllis and the late Bill and loved nan of Kevin, Leslie, Bronwynn, Paul and Michael and great grandmother of four in her 80th year. A service will be held in the chapel of Fletcher Brown , 28 Totara Avenue New Lynn today (Monday) at 1pm the funeral then leaving for the Waikumete Cemetery in lieu of flowers donations to Cancer Research
Auckland Star 14 November 1981 - On November 13, 1981 dearly loved mother and mother-in-law of Albert and Phyllis and nana of Leslie and Brian, Bronwyn and Cecil, Paul, Michael, great nana of Anne, David and Christopher
x. BERT BARNARD b: Mar Q 1902, Leicestershire; d. Dec Q 1902, Leicestershire