Press F11 to limit top toolbar
Press again for toolbar to return
Press again for toolbar to return
William Barnard son of T C Barnard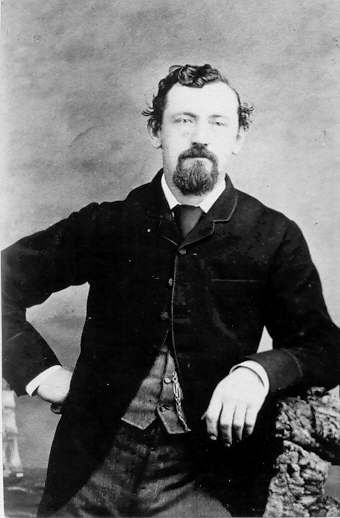 William Barnard Born: Abt. Mar 1847 in Bermondsey London Baptism: 12 Jan 1851 St Mary Magdaline, Bermondsey, London Died: Abt. 1911 in Granville
1860 Christchurch Militia List: BARNARD, William: Sewell street, Kaiapoi Carpenter
1867, - William was charged with having an illicit still in his possession, on which occasion he was fined £IOO, with the alternative of six months imprisonment.
Wgtn Archives - This is recorded in "Intentions to Marry" Wellington:
William Barnard, Batchelor, aged 23, storekeeper of Christchurch and Fay Norah Hannah of Rolleston to be married at the house of Rev J Aldred, ChCh dated May 1869 So, did he change his mind or was this application a transcription error???
William Barnard mar Emma Charlotte Hill (b: Abt. Sep 1851 in Edmonton to parents Francis Charles Hill and mother: Emma; d: 1936 in Mental Hospital, Redfern, Goulburn) Mar: 13 May 1869 in House of Rev J Aldred, at the house of Rev John Aldred, St Albans; William Barnard of full age, occupation Settler, married Emma Hill, full age, spinster. Their witnesses were Gardiner Levet, a tinsmith of Market Square Christchurch and ? Pye wife of C Pye
. Emma's Family
1870 Star, 13 January 1: Bankruptcy — William used to hawke goods around the country which Blackett of Rangiora supplied to him on credit. He had to file for banckruptcy when Blackett pursued him for £100. Blackett accused him of removing £80 of goods from his store just before he filed
1870 Star, 4 Mar. 1870:(Abbrev.)
Criminal Calendar - Regina v. William and Emma Barnard — Fraudulent destruction of a valuable security.
Husband and wife, William Barnard and Emma Barnard, were charged that on October 27th they wilfully destroyed a bill of sale made by William Barnard to John Wheeler for a horse and cart for payment of £15, and incurring £3 interest, which belonged to John Wheeler. They pleaded "Not Guilty." Mr. Duncan prosecuted for of the Crown, and Mr. Joynt for the defendants.

Sergeant O'Grady of Rangiora said on 15th Dec he arrested the male prisoner William Barnard and charged him with obtaining certain documents from T. C. Barnard (his father) with intent to defraud. He was cautioned and the prisoner said "How can it be proved they were valuable documents - they were not signed nor stamped. I destroyed them by instructions from Mr. Joynt." The female prisoner was arrested on December 17 on the same charge. Whe cautioned, she said nothing with reference to the document in question.

John Wheeler: I am a butcher in Rangiora. Last August I lent the male prisoner £15. I was to get £3 interest the following morning after he had the money, and a bill of sale on the horse and cart as security for the principal and interest. I got it about three weeks later. It was prepared in his father's Parlor bar by William Barnard and I asked his father to read it, which he did before it was signed by William Barnard and myself. His father witnessed the signatures.The contents stated I was to have the horse and cart as security and the bill of sale was written to secure the principal and interest. The possession of the horse and cart was to remain with Barnard. His father took the bill of sale after it was signed - he said he was going to Christchurch in a week's time, however whoever went first could take it and get it stamped and we agreed. I did not know William Barnard had become bankrupt until I saw it in the paper later. I asked him if he was going to Christchurch, he said "Yes." I said "I will go with you, and have bill of sale stamped". He said "I am going to town for some goods, and I'll give you £10 from it, because I do not want to go to any more expense at present, if that will do." He did not pay me £10.

Defence lawyer Mr. Joynt cross-examined: Wheeler stated " I got a receipt for the £15 first. In his father's presence, I stated the money would not be given until I had one. His father witnessed the receipt which Mr. Graham has now. Nothing was said about the bill of sale in the receipt and I did not know it's importance. I lent the money for 12 months. I could not read the bill of sale. I can write, but not like the prisoner. I asked his father to read the bill of sale and William Barnard also read it. I swear it was signed by him - I do not know whether the copy was signed by him. Nothing was said by the father about the bill of sale requiring to be stamped before it was signed. I saw Mr. Barnard put the documents on the shelf in the bar. I do not know how long they remained there as I never saw them afterwards. It was some time in September I signed the bill of sale, but I do not know exactly when or when I saw the prisoner's notice of bankruptcy in the Gazette.

Thomas Charles Barnard: I was a Publican in Rangiora in September and October. I am aware my son borrowed £15 from John Wheeler and that £3 pounds was to be paid as interest. The understanding was that he was to have the horse and cart belonging to William Barnard as security by a bill of sale. They met at my house at the time the money was handed over. The bill of sale was to be given in a few days or so after but it was about three weeks after. Wheeler, my son, and myself drew out in the bill of sale and my son made a duplicate. I was called into the room. One of the bills of sale was read over by my son and myself in the presence of Wheeler. Before anything more was done, I took the documents and put them in the bar. They were not signed - I am quite sure of that. I said it would be of no use signing unless it was stamped before it was signed. They agreed to leave them with me for the purpose of bringing them to Christchurch to get stamped, and to ascertain the cost of registering.

Crown Lawyer Mr. Duncan cross-examining Mr. Barnard "I am quite sure they were not signed because of my objection to their being signed before being stamped. After the documents had been in my possession about three weeks, between two decanters on the shelf, one afternoon when in the bar I took them off the shelf and unrolled them. I read through one and am sure it was unsigned - I did not open the other. I gave the documents to Emma Barnard after they had been in my possession about eight weeks and she took them away. I heard they were since burned. I had no conversation with either of the prisoners about the bill of sale and the first I saw about it was in the newspapers. I mentioned to my son that it was foolish to destroy the paper. He said he had spoken to his solicitor about them, was told they were of no use, and he might destroy them. He admitted that they had been destroyed - I do not know by whom, or if he was present. I did not speak to Emma about the Barnard documents after I gave them to her, or after they were destroyed.

His Honor inquired if the Crown had any independent evidence to support the indictment - if not, there was no case to go to the jury. Mr. Duncan admitted that the case had broken down. His Honor, addressed Mr. Joynt, saying that if he advised the spoliation of the documents in question, it was bad and dangerous advice, whether signed or not.
In response Mr. Joynt told him that Barnard came to me with the declared intention of becoming bankrupt. During the usual inquiry respecting his assets and liabilities, it transpired that these papers had been filled up some months before. I asked him if the documents had been signed, and he said they had not. I also put the same question to his wife, and she said that they had certainly not been signed. Barnard said that they were lying in the bar of his father's public house at Rangiora. I said to Barnard "Do not on any account sign the documents. If you do, you will get into trouble by giving a fraudulent preference". The suggestion of destroying them, to the best of my recollection, was never made, but I distinctly and repeatedly cautioned him not to sign the documents or to give any other security or recognition of the debt to Wheeler. I did not advise him to destroy them but my exceeding caution in impressing upon him not to sign them might possibly have induced Barnard to destroy them because by doing so he would give a fraudulent preference to Wheeler over the other creditors. I told him that the documents, unsigned, were of no good to Wheeler, and could do no injury to himself.
His Honor expressed himself satisfied with the learned counsel's explanation. The jury, returned a verdict of "Not Guilty," and the prisoners were immediately discharged.

18 January 1872 "Lyttelton Times" - A shocking occurrence has taken place in Christchurch. The wearing apparel of Mrs. Barnard, in Taylor's Lane, off Madras-street North, caught fire. Before the flames could be extinguished very severe injuries were sustained by Mrs Barnard, and it is possible they will prove fatal. She was intoxicated when discovered, and when taken to the hospital, by the police, was quite insensible. The unfortunate woman, is progressing much more favorably towards recovery than was anticipated. Mr W. Barnard, her husband, was up-country harvesting at the time of the occurrence, but came to town yesterday

1872 Star, 1 August 1872: Sons of Temperance. — A meeting to establish a sub-division of the Sons of Temperance was held Tuesday evening, in the Wesleyan Schoolroom, Kaiapoi.The general objects of the Order are the practice of total abstinence principles by means of public meetings, the circulation of temperance publications, and by the force of example. Members are to succor and aid sick or distressed brothers, visit widows and fatherless in their affliction; and to keep themselves unspotted from the world.The following officers were then elected and duly installed : Worthy Patriarch, Mr George Henry Blackwell; Worthy Associate, Mr Elijah Hornby ; Recording Scribe, Mr William Henry Wake; Assistant Recording Scribe, Mr William Barnard ; Financial Scribe, Mr Thomas Knight Treasurer, Mr James Robertson ; Conductor, Mr Francis Charles Hill ; Assistant Conductor, Mr Charles Brighting ; Inside Sentinel, Mr Benjamin Smith ; Outside Sentinel, Mr Thomas Barnard Knight. It was resolved that the meetings of the Division to be held fortnightly, in the Wesleyan Schoolroom. The Progress Division opened with seventeen names on the charter.

1873 14 May - Birth of Mary Ann at Kaiapoi to William Barnard occupation watchmaker Kaiapoi, mother Emma Charlotte Barnard formerly Hill,

Registrar C Dudley
1874 - Evening Post, 30 June 1874 Drunkenness - William Barnard for being drunk and incapable, were each, fined 5/-, or 24 hours imprisonment.
1875 Star, 22 January 1875, SUPREME COURT. IN BANKRUPTCY. Jan. 21. William Barnard This case was adjourned until March 18, the accounts not having been filed in time. Mr Bamford appeared for the bankrupt.
1875 Star, 19 March - BARNARD: Mr Bamford applied for a final order of discharge In reply to his Honor, the bankrupt said he had gone through the court before. He attributed his bankruptcy to loss on furniture which he had sold at Kaiapoi, Leithfield, and Christchurch. His Honor made the order.
1875 - 23 November, Wellington - RESIDENT MAGISTRATE'S COURT. R.N. Toop charged W. Barnard with assault after quarrelling about a boring machine They had been partners in a building contract and Richard Toop was accused of stealing a boring-machine from William Barnard . The assault was not a violent one, and the complainant, in describing it, said, "He hurt my hat more than he did me." William denied having struck the complainant, and said his hat had been blown off. Fined 10s and costs. Plaintiff sought to recover £3 10, the value of a boring machine, about which there have been numerous disputes, one charge of theft, and one of assault however it appeared that the affair was simply a case of disputed ownership, and the charge was dismissed.
1877 Evening Post, 20 June - The adjourned meeting of the creditors of William Barnard, of Wellington, storeman, was to have been held, but no creditors attended, and the meeting lapsed.
1877 - 19 February FIRE IN OLD CUSTOM HOUSE STREET. At 9.30 at night, people saw a dense volume of smoke and flames shoot up over the buildings at the bottom of the lane which runs from the Bank Hotel in Manners-street to the sea. The Te Aro bell was rung immediately and then in a few minutes all the bells in the city were ringing. The Wellington Fire Brigade were quickly on the spot, and it was found that flames were issuing from a wooden building which had been used for some time past as a skating rink and cabinetmaker's shop by Mr. Barnard. The Brigade soon had its apparatus at work and was joined by the Central Brigade arrived. They quickly succeeded in pouring such a quantity of water into the burning building that the danger to the adjacent buildings was over. Some of the furniture in the shop was removed, but the speed meant that a quantity of unfinished furniture, tools, roller-skates, etc. could not be removed and the building and its contents were totally destroyed.
1878 22 April: A HARD CASE. Robert Dick was charged with stealing a key, value 1s, the property of Bishop and Co. William Barnard, salesman to Mr. N. .1. Isaacs, auctioneer, said about 4 o'clock on Saturday afternoon the prisoner entered the Arcade, in Manners-street where he was attending an clock-work railway train. He had just wound it up when Dick offered to buy the train for 7s, but price asked was 9s; it was agreed and he was told to "Tie it up". Barnard did so, laying the key on the counter; prisoner put the key in his pocket, and said " I've paid you for it; hand the thing here" Witness told him he had not paid, and if he did not give up the key he would be given into custody ; prisoner then walked away, and witness followed and gave him in charge. Prisoner said he paid for the toy before Barnard wrapped it up, and the latter handed the key to him.The article taken had no intrinsic value - worthless to the prisoner without the toy which it was intended to wind up. The case was dismissed and Barnard advised to take civil proceedings for the recovery of the key.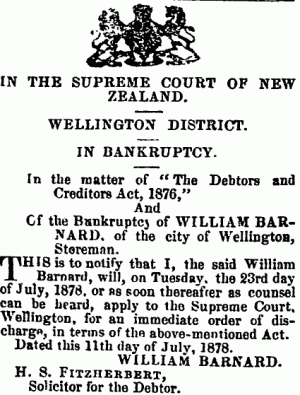 1878 Evening Post, 23 July - at the Bankruptcy Court sitting held before Mr. Justice Richmond William Barnard obtained his discharge, there being no opposition.
1879 RESIDENT MAGISTRATE'S COURT. Evening Post, 5 February
CIVIL CASES.Judgment for the plaintiffs, with costs, was given :— Curio and others v. W. Barnard, claim for £8 15s judgment for £8 5s and costs.
1879 - DEATH. Barnard.— On the 10th March, 1879, Edward Barnard, youngest son of William and Emma Barnard, Adelaide Road, aged 3 years
1879 – 7 October: William Barnard charged with breach of Public House ordinance. He was bankrupt and selling liquor under his old license which had expired, Rangiora Hotel. The Hotel was ordered closed and the license granted to J Carter (LT 7/10/1879)
HANNAH BROOMFIELD 134 tons, commanded by Captain F W Highfield: On 4th October 1880 while entering Wellington harbour at Pencarrow Head in heavy weather whilst on her way from Hobart to Wellington with a cargo of timber, she hit the reef in the heavy gale. Cabins filled fast with water.
1880 - Police Gazette 1880 - Stolen between 9th and 11th ultimo from the wreck of the brigantine "Hannah Broomfield" off Inconstant Point, Wellington, 2 tomahawks, a gap in the face of one, a new American axe, 2 chisels and American ash oar 13 foot long, 2 pair of dark -check trouser size 6 and a white coarse oilcloth coat and a pair of leggings, the property of William Barnard. Value £6 Trousers, tomahawke with gap, oil-coat and leggings identifiable.

Evening Post, Volume XXII, Issue 46, 24 August 1881 In connection with the seizure of supposed smuggled tobacco, on premises near Mr. C. Plimmer'a hotel, Adelaide Road, on tho 10th met., information has now been laid against Mr. Plimmer's father-in-law, Mr. John August Sorwell, who ia charged with being "kn>wingly concerned in dealing with one package of manufactured tobacco," which had not been stamped or .marked, as required by tho Tobacco Act of 1879. Together with William Barnard, Walter Lee, aud Charles Plimmer, Sorwell will be required to attend tho Resident Magistrates's Court at 10 o'clock to-morrow morning to answer the eka-ges preferred against him. Lee is still in custody, but Barnard managed to obtain bail yesterday afternoon, Mr. F. S.dey and Mr. W. M'Lean becoming the necessary sureties.
1881 Evening Post: 23 August - THE SEIZURE OF SMUGGLED TOBACCO. (Acct Abbrev)
The seizure of a large "plant" of smuggled tobacco by the detectives - Seven boxes, each 501bs. in weight, were found underneath a house in Frederick-street. The tobacco was taken to the police-station, and the occupant of the house, Walter Lee, was taken into custody on a suspicion of being concerned in concealing the goods. At the Magistrate's Court Lee was charged with
(1) Knowingly concerned in concealing uncustomed goods on which no duty had not been paid, with intent to defraud the Customs, and (2) with knowingly concealing seven packages of manufactured tobacco which had not been stamped or marked, contrary to the 23rd section of the Tobacco Act, 1879.
William Barnard, was arrested and charged under the Tobacco Act with being knowingly concerned in carrying, removing, and concealing ten packages of manufactured tobacco, that had not having been stamped or marked, with intent to defraud the Customs.
The prisoner Barnard was represented by Mr. Cutten. The other prisoner, who was undefended, pleaded guilty to each of the charges and it appeared Barnard had been apprehended in consequence of a voluntary statement made by Lee to Detective Benjamin. It was decided to adjourn the case against Barnard till the following Thursday - bail allowed in his own recognizance of £2OO and two sureties of £100 each.
The only evidence against Lee was tendered by Detective Benjamin - Lee made a voluntary statement "Last Monday week he became aware that a man named Joe Denley had seven cases of smuggled tobacco in his possession, he helped by Denley, took the boxes to his house. At first the boxes were secreted under his bed, and afterwards deposited underneath the house, where they were found. They had written a letter to Charles Plimmer, landlord of the Tramway Hotel, telling him that if he (Plimmer), Bould, (of the Foresters' Arms Hotel), Barnard and another, whose name I forget at present, did not pay him £50 he would "split" on them. Lee was allowed bail in the same amounts as the other prisoner.

1881 Evening Post 25 August 1881:
William Barnard, general dealer, appeared at Court on the charge that he had been concerned in carrying, removing, and concealing ten packages of manufactured tobacco which had not been stamped or marked as required by the provisions of the Tobacco Act whereby he had forfeited the sum of £1OO, for which sum the Commissioner of Customs elected to sue.
Mr. Izard appeared for the Customs Department, and Mr. Edwards for the defendant.
The first witness, Joseph Denley, an expressman, said that Barnard accosted him in Ghuznee Street, asking him "if he would, like another smoked-fish racket." Witness answered "Yes."
Thereupon Barnard enquired if he would mind carting "the genuine stuff," which was explained to consist of a number of packages of tobacco. It was then arranged that he should meet Barnard in Ghuznee-Street with his express at 5.30 that afternoon. He met, and was instructed by Barnard to drive to the yard door of the Foresters' Arms Hotel in Little Taranaki-Street. Here ten packages of tobacco were placed in the express by Barnard, Bould (landlord of the Foresters' Arms Hotel), and another man. Acting upon Barnard's instructions, he conveyed eight out of the ten packages to his (Denley's) residence in Frederick-street, the remaining two being taken to the Tramway Hotel on Adelaide Road. Barnard told him he would pay him liberally - that, in fact, " it would run to £10 or £12 per month" for him. For this remuneration, Barnard said he would require witness to "shift his house " whenever this became necessary, to keep tobacco in his house, and to deliver the boxes as he might be ordered to do.
Mr. Izard— Had you known Barnard before this occasion ?
Witness: Yes; I carted some smoked fish and apples to the Kaiwarra toll-gate for him. (Loud laughter.) On the 9th, witness removed the eight packages from his bedroom, and buried them underneath the house.
Cross-examined by Mr. Edwards, Denley admitted that he know he was engaged in an unlawful occupation. He had given different accounts of this affair to various persons; while not upon his oath he had said what he chose. He had signed the letter produced with a view of extorting money from Barnard, Plimmer, and another. The letter contained a threat that, unless the writer received £5O by 10 o'clock the following morning, there would be others only to eager to come to terms with him. He remembered telling Barnard an untruth, viz , that Detective Benjamin had promised to pay him £l5O if he could produce evidence to convict Barnard
Because he failed to get money from the defendant, he informed the police of the "plant." He believed Barnard purchased the cargo of the Hannah Bromfield wreck come time ago - he did not steal any of the cargo, but may have told Barnard he did "in order to gain his confidence"(Laughter)
Harry Edmonds, painter, was the next witness examined. He passed the Foresters' Arms Hotel when Barnard and others were in the act of placing the tobacco in the express, and Denley let him in to the secret the same night.
Emily Denley, the expressman's wife, also gave evidence. In the course of cross-examination, she admitted that she and her husband meant to sell the tobacco if they could and pocket the money. They meant to make something out of it somehow or other; it didn't matter how. (Laughter )
Walter Lee, a blacksmith (now a prisoner), said he lived next door to Denley in Frederick-street, and some of the tobacco had been placed underneath the corner of his house. On last Thursday he met Barnard in the Arcade, and accosting him, said he " knew where the tobacco was."
He afterwards entered into a compact with Barnard to remove the tobacco to another hiding place unknown to Denley, and witness received half-a-sovereign "on account " Subsequently, witness arranged to "stand in" with Denley, while professing at the same time to be also " standing in" with Barnard. He knew Denley was going to inform the police, but did not care to interfere. He did not try to sell the tobacco, but he did try to "sell" the man who had it. (Roars of laughter.)

Mr. Edwards, Barnard's defence lawyer, apprehended if this was the case for the prosecution, that Barnard should not be called upon to answer something which consisted almost entirely of statements made by persons who admitted they had consorted together for the purpose of extorting money. The witness Denley he characterised as a liar and scoundrel of the most pestilent type, who had condemned himself out of his own month. His Worship's decision was not stop the case here.
Barnard, gave a point blank denial to the evidence against him, and protested he knew nothing whatever about the tobacco. He gave a few interesting particulars of his career while under examination for the defence. He is a resident of Drummond street, off Adelaide Road, and has dwelt in this city for the past seven years. In 1867, while in Canterbury, he waa charged with having an illicit still in his possession, on which occasion he was fined £IOO, with the alternative of six months' imprisonment. During the first three years of his sojourn in Wellington he followed the calling of a cabinet-maker. Afterwards he acted as a salesman in a store (Sidey's) and latterly had been a general dealer. He complained he was now the victim of a plot. He said this was the third attempt to entrap him. The first was made at Otaki, and the second only a fortnight ago, when a stranger, whom he suspected had been sent by the police, asked him to purchase l cwt. of tobacco. He refused. He said he had no objection to accept a cheap "line" of tobacco whenever he saw it " sticking out" if the duty had been paid. The case was adjourned and Barnard was allowed reduced bail in his own recognizance of £IOO, and two (sureties of £50 each.

30 August 1881 THE TOBACCO SMUGGLING CASES.Evening Post,
Mr. Izard appeared as before in support of the information, and Mr. Edwards defended.
Thomas Bould, licensee of the Foresters' Arms Hotel, at the corner of Ingestre and Little Taranaki streets, said he did not know Barnard by name but might by sight. Henley did not assist in the removal of any cases out of his hotel. Denley's statement that he (Bould) assisted Barnard to put any cases of tobacco in an express was false. Cross-examined he said he never had tobacco stored on his promises, and he knew nothing more than what he had read in the papers with regard to the boxes of tobacco being in his yard. He had told Detective Benjamin he did not know Barnard and that he had heard that smuggled tobacco had been put into his yard.
Edwin Davy, carter, said he was not at the Foresters' Arms Hotel on the evening of the 2nd inst. He knew of negotiations between Barnard and Lee with regard to the purchase of the latter's furniture. Robert A. Page, engineer, deposed that he was in the Tramway Hotel the other Sunday. There he met Barnard and Lee, who were talking about the purchase of certain furniture. Witness remarked to Barnard that he was surprised to find him furniture-dealing on a Sunday.
His Worship - lf Barnard was there on Sunday morning for the purpose of buying furniture, what were you there for, may I ask? (laugher)
Witness - I was there for the ostensible purpose of borrowing a book from landlord, Mr. Plimmer
(Laughter.) I don't know whether I should be in order in saying what I was doing otherwise. (Renewed laughter )
Charles Plimmer, licensee of the Tramway Hotel, said he knew nothing of any cases of tobacco having been taken to his premises. Cross-examined said some unstamped tobacco was found in an open passage near the hotel premises on his land. It must have been taken there while he was in bed. He could now sell tobacco at 4/- per lb and make a profit out of it - he had never sold it at 3s 6d per lb. He bought a quantity of tobacco from a stranger about six months ago for 3s 9d per pound that the man said he had purchased cheap at auction. Witness did not recollect the name of the man or anything about him. Since then he had bought some Barrett's twist from Mr. Kruil at 3s 6d per lb. He was aware that the duty alone now amounted to 3s 6d per lb. The tobacco he obtained from Mr. Krull was slightly damaged, and had been taken out of bond when the duty was only 2s 6d per lb. 'This closed the case for the defence.
Mr. Izard produced witnesses by way of rebuttal. Detective Benjamin was recalled, and gave evidence with a view to impeaching' the credibility of the witness Bould. Cross-examined by Mr. Edwards— Witness said he never told H. C Cato that if he would help him to get a conviction against Barnard for tobacco Smuggling, he would give him £5O.
Thomas Hill, Collector of Customs, also rebutted the evidence given by Bould. Mr. Edwards then asked for leave to call a witness to impeach the credibility of Detective Benjamin. (Laughter.)
This was granted and Henry Cox Cato, fruiterer, stated that Detective Benjamin had tried to "pump" him with regard to the " plant" of tobacco. Benjamin offered him £5O if he would "split," and said it would be a good thing for him.
Cross-examined — Witness knew through Deney that the Benjamin had "planted" some tobacco. Mr Edwards then addressed the Court on behalf of the defendant. He directed attention to the character of the witnesses called by prosecution - Each had admitted that they meant to make something out of this affair, and it was evident they had intended to concoct a trap for Barnard, a man whom, above all others the detectives, after the "smoked fish" fiasco were anxious to convict. The prosecution's contradictory evidence must be received with very great caution - it disregarded the testimony of persons who, like Mr. Bould, had previously borne an unimpeached character in Wellington for 40 years. It was unreasonable to convict the defendant of smuggling and perjury on the statements of the off-scourings of the town. He said the defendant should be given the benefit of the doubt, and discharged.
Mr. Izard contended the character of the witnesses for the defence was no better than that of the witnesses on the other side and in respect of Bould, he was practically a defendant in connection with this affair. Court was adjourned till Thursday.

1881 Evening Post, 1 September (Abbrev)
William Barnard dealer, appeared at the Resident Magistrate's Court to receive judgment. His Worship addressed him and said : "The Crown have produced evidence to show that you knowingly were concerned in concealing certain goods. The resulting great deal of evidence has created a very large amount of suspicion against you and others in regard to this matter and it's consideration has given me a good deal of anxiety, because if the evidence of the Crown can be believed, there is no doubt whatever that you were implicated in this matter. My anxiety arises from the fact that the only material evidence against you is that of men who say they were your accomplices - something always fraught with a very great deal of suspicion. The evidence of one accomplice is not sufficient in any case to ensure a conviction. Starting upon that hypothesis, the evidence of two accomplices is worth very little, the evidence of three accomplices is worth very little more, and so on ad-infinitum. However, a good deal of suspicion is raised in my mind as regards your conduct in this matter but not enough to dis-entitle you to the benefit to which a doubt is given. l am entirely satisfied that the evidence of Lee and Denley is absolutely true and can be believed. Having that doubt in my mind, I therefore hesitate to convict you, and you, William Barnard, are now discharged."
John August Sorwell, for whom Mr. FitzGerald appeared, was charged with being knowingly concerned in dealing with certain unstamped tobacco, but Mr. Izard declined to proceed with the case, seeing that the main witness for the prosecution was a man in whom his Worship did not place sufficient confidence.
Walter Lee, who had pleaded guilty to two charges of a similar nature, was put forward for judgment. In reply to the magistrate, Mr. Izard said he elected to sue for a penalty of £IOO instead of treble the value of the seized tobacco. Lee was thereupon fined .£IOO, in default six months imprisonment, the prisoner to be liberated prior to the expiration of that period should the fine be sooner paid.
SMUGGLING. Wellington City, September 1. At the Police Court to-day, charges of smuggling tobacco against J. A. Sorwell and William Barnard were dismissed, the Magistrate saying he gave them the benefit of a slight doubt, as the evidence was that of an alleged accomplice, Walter Lee, who had pleaded guilty to the same charge was fined £100 or 6 months.
Evening Post, 21 September 1880: MEETING OF MR. FRANCIS SIDEY'S CREDITORS.
A meeting of the creditors of Mr. Francis Sidey, auctioneer, was held in the Grand Jury Room of the Supreme Court House, at 11 o'clock this morning, about a dozen creditors being present. Mr. Gordon Allan represented the debtor. The liabilities were set down at .£10,587 5s 9d, including the following large debts— £8805, £666, £497, and £99. The assets were stated at £12,795 9s 2d, made up as follows :— Arcade building, £9000 ; 2 1/2 acres land, in Thomson-street, £3000; land in Hopper-street, £300 ; stock and furniture in Arcade, £124 19s ; book debts, £127 14s ; furniture in dwelling house, £60 ; bills in Bank of New Zealand for collection, £165 16s 2d ; pony and saddle, £5; interest in land, in Woodville, £2; shares in New Zealand Accident Co., £10. A large number of proofs of debt were put in.Mr. Cary moved as an amendment, and Mr. Barnard seconded, that Messrs. T. J Ladd and W. R. Waters be joint trustees. The amendment was carried. Mr. Sidey made a statement as to the cause of his failing. There had been, he said, a general impression throughout the town that he had filed owing to the recent action of Mr. Cary against him in the Resident Magistrate's Court. That was not the immediate cause, but it precipitated matters. He had been carrying on during the last two or three years under very heavy expenses, and although he had been doing a large business, he found himself going gradually to the bad. His expenses and charges were something over £2000 a year, although he had struggled to raise economy in every shape and form. Business, however, had been so bad that no commission would pay his heavy expenses. There were other cases similar to Mr. Cary's likely to be brought against him. Divested of the property secured to creditors, his estate was a very small one. His liabilities amounted to something like £650 — that was his trade liabilities — and there was very little to meet them. There was his stock-in-trade, amounting to about £100 ; good debts, about £60; and his furniture about £60 ; and that was the lot. He did not think there would be enough to realise more than 5s in the £, and it was possible law expenses, &etc , would reduce that to 4s. He felt himself in a most unenviable position, because he was left penniless. Court adjourned.
NB William Barnard had worked for Sidey and had lived in a house provided by him - this was now sold as it's owner was insolvent.

Evening Post, 29 March 1881
KEEPING UNREGISTERED DOGS: Phoenix Briggs, William Barnard, Michael Billows, Nicholas English, and William Gardner were proceeded against for keeping unregistered dogs. Messrs. Briggs and Billows were fined 3s each and costs; the informations against Messrs. Gardner and Barnard were withdrawn, the latter showing he had called twice at the Registrar's office for the purpose of registering his dog, but, owing to there being no collars in stock, was unable to obtain a license.

1881 Evening Post, 21 June : LOST, a bay Mare; 8 years' old; with part of clothes line round neck. Any person returning the same to W. Barnard, Adelaide Road, will be rewarded.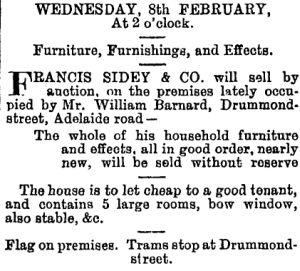 Evening Post, 12 December 1881: The following judgment summonses were disposed of at the Resident Magistrate's Court this morning :— W. Moriarty v. Wm. Barnard, 9s 6d.
1881 South Wellington Electoral Roll; Qualification Freehold; Place of residence - Drummond St; Occupation Storekeeper; Property qualification - house and land Drummond St.
The family moved to Sydney - eldest son remained in Wellington, a building apprentice employed at Ballinger's however in 1887 he also moved to Sydney and was employed as salesman in a shop on William Street.
Sydney Morning Herald: Sept 4, 1884 - Redfern Police Court; William Barnard was ordered to pay 15s. per week for 12 months for the support of his wife, Emma Barnard,with 6s. l0d. costs of Court.
Sydney Morning Herald: Sep 5 1885 - William Barnard, charged, on warrant, with disobeying; a summons for having neglected to comply with an order of Court for the support of his wife, was 'discharged on paying the amount due under the order, with 9s. 5d. costs.
Sydney Morning Herald: 19 Mar 1886 - Emma Barnard obtained an order against her husband, William Barnard, for tho payment ot 10s. a week for 12 months towards her maintenance.
Sydney Morning Herald: 12 Jan 1886 William Barnard, 34 labourer, was fined £5, in default two months' im prisonment, for having assaulted Constable Darlington he was also fined for having been drunk on the pier at Manly
Sydney Morning Herald: 17 Apr 1894 -: Licensing Act New Colonial Wine Licenses were issed to Barnard, of Campbell and Macquarie streets,
Sydney Morning Herald: Saturday 18 August 1894 BARNARD V BARNARD
Mr. F. S. Moore appeared for the petitioner, William Barnard, who sued for the dissolution of his marriage with Emma Charlotte Barnard on the grounds of her adultery with some person unknown. A decree absolute was granted.
State records Divorce Index 1488 1894 BARNARD William BARNARD V Emma Charlotte Barnard Co-respondent FRAZER Charles
William Barnard (b: Abt. Mar 1847 in Bermondsey London Bapt: 12 Jan 1851, St Mary Magdaline, Bermondsey, London; d: Abt. 1911 in Granville, Australia) mar: 13 May 1869 in House of Rev J Aldred, ChCh to Emma Charlotte Hill (b: Abt. Sep 1851 in Edmonton to father: Francis Charles Hill & mother: Emma; she d: 1936 in Mental Hospital, Redfern, Goulburn
Their children:
i Frederick (Willie) William* Barnard (b: 07 Jul 1870 in Rangiora d: 1944 in Ryde) Mar: (1) 1892 in Sydney to Catherine Agnes Kinnane (b: 1875 in Camden, her father: Michael Kinnane, mother: Katherine; d: 1923 in Sydney
*2nd Wife of Frederick (Willie) William* Barnard:Mar: 1913 in St Leonards to Marie Gertrude Carr b: 1888 Died: 17 May 1917 in Coast Hospital, Redfern
ii Emma Barnard (b: 04 Apr 1872 in Rangiora) Mar: 1907 in Picton to William H. Shields
iii Mary Ann Barnard (b: 14 May 1873 in Kaiapoi) Mar: 1895 in St Leonards, to Arthur J. Robertson
iv Edward Barnard (b: 28 Jul 1876 in Wellington d: 10 Mar 1879 in Wellington Bur: 10 Mar 1879 Bolton Street Cemetery, Wellington
v Rosa Barnard (b: 07 Feb 1881 in Melbourne d: 1906 in St Peters) Mar: 1906 to Robert K Parsons (b: 1864 his father: John K Parsons and mother: Isabella Paterson)