Press F11 to limit top toolbar
Press again for toolbar to return
Winifred Alice & Harold Faulkner McKenzie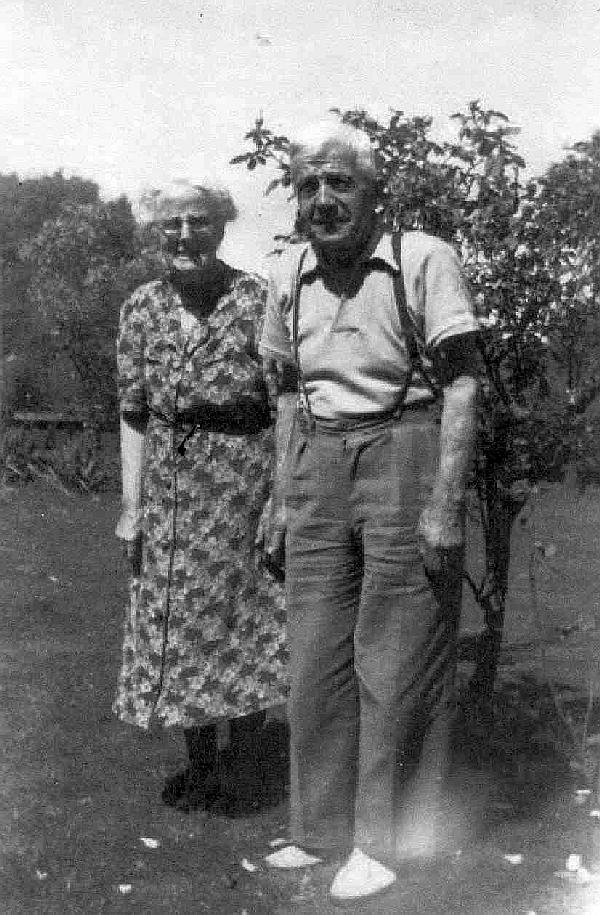 Winifred Alice Barnard (b: 09 Dec 1881 in Wellington to parents George and Emma Jane Barnard; she d: 20 Nov 1947 at 20 Nth Avenue, Devonport and was bur: 22 Nov 1947 Hillsborough Cem. Area 14 Blk B L 324)
She mar: 21 Oct 1906 in Salvation Army Citadell, Vivian St, Wellington to Harold Falconer (Faulkner) McKenzie (b: 15 Jun 1877 in Devonport, North Shore to parents William McKenzie (1831-1909)and mother Catherine McKenzie (1843-1926); Occ: Carpenter; Shipwright; Salvation Army Officer; he d: 01 Jun 1948 in Auckland; Bur: 02 Jun 1948 Hillsborough)
Timeline:
1905 Harold moves from Eden Auckland to live at Newtown, Wellington
1906 - Evening Post, 20 Oct: The week of self-denial in connection with the Salvation Army throughout Australasia finished yesterday, and it is stated that there is every evidence that the amounts obtained will be equal to anything yet obtained in the history of the appeal. As the returns will not be known until the 29inst. there is yet time for friends who wish to contribute to the fund - to do so, donations may be sent to Major Twyford. Tomorrow evening a unique service will be held. It is known as the altar service, a prominent feature of which will be the bringing of the gifts to the alter, which is to be erected in front of the platform. At 3 p.m. a wedding ceremony will take place, the parties being Mr. Harold McKenzie, of Brooklyn, builder, and Miss Winnie Barnard, of Oriental Bay. Major Twyford will perform the ceremony. A silver collection to the gallery and to the floor of tho building will be taken up, the proceeds being devoted to the juniors' self-denial total, to which department of the Salvation Army work Mr. McKenzie and Miss Barnard have been for some time attached. The platform will be suitably decorated for the occasion by Staff-Captain Shackleton
1906 Social Gossip: NZ Free Lance, 27 Oct: At the Salvation Army Citadel, Vivian-street, a very pretty wedding was celebrated in true "Army" fashion last Sunday afternoon. The contracting parties were Mr. Harold F. McKenzie, youngest son of Mr. W. McKenzie, Devonport, Auckland, and Miss Winifred Alice Barnard, eldest daughter of Mr. George Barnard, of the "Evening Post" staff, Wellington. The ceremony was performed by Major Twyford, in the presence of a full congregation
The bride was attired in the regular Army uniform, the dark blue costume being relieved by a white silk sash, thrown over the right and under the left shoulder, and tied with a bow in the front. She carried a bouquet of white flowers and wore a wreath of orange blossoms in her hair. She was attended by Miss Olive McKenzie (sister of the bridegroom), who was attired in a navy blue dress, with a similar sash, and she also carried a bouquet of white flowers.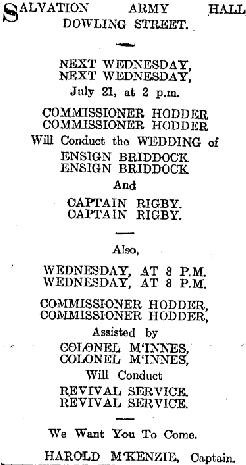 Mr. Fred. Drew attended the bridlegroom as best man and the bride was given away by her father (Mr. Barnard). A pleasing feature of tlhe ceremony was a hymn written for the occasion, sung by fourteen little dots dressed in cream and white dresses, at the conclusion of which the smallest one of the party handed the bride a pretty basket of flowers.
1909 Occupation at time of Olivia's birth Carpenter living at Devonport, Auckland
1911 move from Wellington East to Live in south Wellington
1913 Press, 28 Nov 1913: The following appointments of Salvation Army officers are officially announced: Captain Harold McKenzie to Lyttelton
NZ Herald, 5 Dec 1914: General elections and Bible in Schools - Ministers of religion signed a declaration that they would not vote for any Parliamentary Candidate who would deny people the right to decide on the issue of the Religious Instruction Referendum Bill. Signed by both Winifred A. McKenzie, Harold F. McKenzie for the Salvation Army along with other religious bodies through the Bible in Schools League Birth
1917 Residence Invercargill, New Zealand
1919 Residence Dunedin West
1926 Harold was at Timaru when his mother died.
Auckland Star 5 Oct 1926: OBITUARY. MRS. W. McKENZIE. 78 Years COLONIST. An old Auckland resident, Mrs. W. McKenzie, wlio died at her home in Devonport, wae born in Glasgow, Scotland, on the 21st Oct, 1842, and when six years old arrived in New Zealand with her friends. Her father, Donald (Don) McKenzie, who had fought at Waterloo with the 67th Highlanders, (Seaforthe), was the oldest Freemason south of the line when he died in 1878, having been 59 years "on the square." The late Mr. McKenzie married, in the early sixties, a Nova Scotian of Scottish parentage, and they settled in Devonport 55 years ago; Mr. McKenzie predeceased his wife by many years. Mrs. McKenzie was a regular attendant while health lasted at the Gospel Hall, Devonport, and was buried in the cemetery by the brethren. She leaves six children, Mr. Dan McKenzie, at Wellington; Captain Harold McKenzie, of Timaru; Mrs. F. Gedye, of Penrose; Mrs. G. Boneon, of Te Papapa; Mrs. W. Howie, of Devonport; and Captain M. McKenzie, of Hamilton. Mrs. W. McKenzie, of Mt. Eden, (daughter-inlaw). There are also 17 grand-children, and two great grandchildren
1928 Residence Eden, Auckland
1935 Residence Waitemata, Auckland
Residence1946 North Shore, Auckland
Their children:
1 Harold Stuart McKenzie (b: 10 Sep 1907 Brooklyn, Wellington; occ. Dairy farmer, Air Force fireman; d: 09 Dec 1984 in Taranaki Bur: 12 Dec 1984 Waikumete Crem Lawn Section B3 Plot 197) Mar: 18 Nov 1931 in Beresford Street Congregational Church, Auckland to Alice Louisa Handcock (b: 10 May 1911 28 Pearl Street, Guelph Ontario, Canada to parents William Henry Handcock (1883-1958) and mother Louisa Smith (1889-1935); she d: 6 Jan 1979 in Auckland; Crem: 21 Feb 1979 Waikumete. Their family are:
i Beverley Alice McKenzie mar: 12 Jun 1954 in Henderson, Auckland to Kenneth Berthal Hansen (b: 12 Sep 1929 in Auckland to parents Axel Juel Waldemard Hansen and mother Florence Amelia Enwright; Occ. Mechanic; he d: 17 Jun 2006 in Auckland) Family are:

a Karen Beverley Hansen mar: Colin Robert Turner in Henderson, Auckland

Their family: Alicia Karen Turner mar:Cameron D'Arth with dau. Chelsea Alice D'Arth; Michelle Louise Turner and Veronica Ann Turner

b Leonie Glennis Hansen mar: (1) Raymond John Wea;

*2nd Husband of Leonie Glennis Hansen: Don Skellon; Their family are Kim Beverley Skellon; Vanya Tui Skellon ; Matthew Kenneth Skellon

*3rd Husband of Leonie Glennis Hansen: Micheal Cleanhan

c Vincent Kenneth Hansen mar: (1) Linda Ann Bolam Children are Carrie-Anne Hansen and Anna Richelle Hansen

*2nd Wife of Vincent Kenneth Hansen: Carolyn Victoria Jones - their dau. Devon Victoria Hansen

d Gaylene Carol Hansen mar: Brett Lionel Dale at Alberton House, Auckland Their family are Tobia Courtney Dale; Austen Brett Charles Dale; ? Dale;

ii

Donald William McKenzie mar: Margaret Evans (Div) Their family

a Donna McKenzie

b Roseanne Joy McKenzie - her dau. Saphron McKenzie

c Stuart James McKenzie

d Donald Scott* McKenzie

iii Rodney Harold McKenzie (Airforce Singapore) Mar: Marie Lynette* Smith (Div) Family are:

a Cally-Lynn Louise McKenzie mar: Shane Lepper

Their children are: Joseph Henry Lepper and Jefferson Rodney Lepper

*2nd Husband of Cally-Lynn Louise McKenzie: Brian Bright Their children:

i Shane Rodney McKenzie mar Vanessa Bruce with son Angus Falconer Bruce-McKenzie;

ii Quenton Joseph McKenzie (b: 22 May 1967 d: 26 Jul 1979 in Bulls)

iv Glennis Vera McKenzie mar Phillip Leslie Given (Occ. Printer, Compositor) Family are:

1 Linda Kay Given mar: Christopher Litson Their family; Kristopher Phillip James Litson; Jessica Alice Marie Litson mar Brenton Robson Moffit - their children are Anthony Joseph Robson Moffitt; Shanah Josephine Robyn Moffitt

*2nd Husband of Linda Kay Given: Mar: 03 Mar 1997 in Albury Botanic Gardens to Robert Waverly Dunn (b: 02 Aug 1943 in South Melbourne Victoria to parents Edward Thomas Dunn and mother Louise Violet Johnson; ; d: 16 Mar 2008)

2 Kathryn Jodie Given;

3 James Andrew and Pakeezah Akbar;

4 Anthony Michael Given (b: 15 Nov 1968 d: 31 Mar 1985 Bur: 2 Apr 1985 Waikaraka Lot 12 Public Ashes)
iv Olivia Campbell McKenzie (b: 28 Dec 1909 in 62 Thompson St., Wellington d: 6 Jan 2004 in Auckland Crem: 9 Jan 2004 Purewa ) mar: 22 Mar 1933 in Salvation Army Congress Hall, Auckland to George Pilkington Salthouse (b: 9 July 1906 in Southport, England to parents John Riley Salthouse and mother Edith Pilkington; Occ. Furnishing business in Hamilton called "Curtain Textiles"; d: 27 Jan 1990 in Auckland) Their children;
1 Colleen Winifred Salthouse (b: 16 Sep 1946 in Hamilton; d: 14 Aug 1999 in Tauranga)

2 Douglas George Salthouse Occ. Baptist Minister; Chartered Accountant; mar: 14 Nov 1959 Laura Margaret Warhill (b: 31 Oct 1933; d: 03 Feb 1989 in Auckland Crem: Purewa 8 Feb 1989)

Family are Stephen Kingsley Salthouse and Eleanor Jeanne Salthouse

3 Graeme Dexter Salthouse Mar: Jan ?
4 Wilbur Chapman McKenzie (b: 04 Mar 1914 in Lyttleton d: 07 Oct 1987 in Glamis Private Hospital, Mt Albert; Crem Waikumete 10 Oct 1987) *1st Wife of Wilbur Chapman McKenzie: Mar: 1936 in Auckland to Melva Coral (Toddy) Deighton (b: 29 May 1916 in Auckland; d: 2005 )Their son:
a Rowan Harold McKenzie (b: Greylynn; Occ; Building Engineer) mar Irene Their family:

i Brett McKenzie

ii Kim McKenzie mar John Rodynski; Children are Janna Rodynski and brother ?
*2nd Wife of Wilbur Chapman McKenzie: Mar: Abt. 1969 in Auckland to Bernice Petford b: 12 March 1927; d 2001)
Images and data used in this site copyright - ©
Descendant input to up-date family pages is very welcome - more detailed information available on request