Victor Benbow McInnes and Ethel Gladys Davie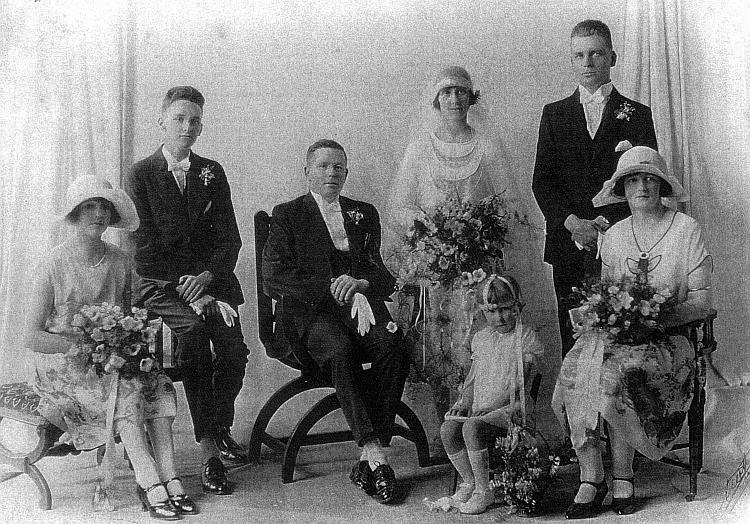 VICTOR BENBOW (WALLY) MCINNES was the third of Daniel and Lucy McInnes's four children, b; 26 Feb 1902 in Temuka, and he d: 1 Jun 1959 in Sydney, Australia.
Notes for VICTOR BENBOW (WALLY) MCINNES:
1907: School Records - Name Victor McINNES; School Temuka; Register Number 1131; Admission Date 18 Mar 1907; Parent/Guardian Daniel McInnes; Address Temuka; Birthdate 26 Feb 1902; Last School None
1915: School Records - Name Victor Benbow McINNES; School Temuka; Register Number 176; Former Reg. No 1131; Admission Date 18 Mar 1907; Parent/Guardian D McInnes; Address Denmark St, Temuka; Birthdate 26 Feb 1902; Last Day * 3 Dec 1915; Destination High School Comment * Passed Std 6

Victor was a keen Salvationist and as a young man, attended the Salvation Army at the Temuka Corps with his family. Records held in the Salvation rmy's Archives at Wellington show that Victor was converted to a personal faith in Jesus Christ at the age of 12 on Feb 18, 1914 and went to the Salvation Army Training College in Wellington on 21 Jul 1921. He was commisioned as a Salvation Army officer and appointed to the Wellington City Corps on 21 Jul 1921. On 3 Nov he received a 2nd appointment at Sydenham and two months later was appointed to Calvalry Fortress in Christchurch (this was a "Flying Brigade" which traveled around conducting campaign meetings etc). This appointment was to last for 12 months and on 18 January 1923 he was appointed to Oamaru - Georgetown. His resignation was accepted on 28 June 1923 and it would seem from The Salvation Army's termination document that Victor never actually arrived in Oamaru! (Copy of Career Card Issued from S A Archives Wellington is held)

1923: On leaving officership, he began selling shares in the original Perpetual Forests - afterwards becoming a sharebroker.

1926: Victor aged 24, mar: on the 25 Oct at the Trinity Presbyterian Church, Timaru to ETHEL GLADYS DAVIE daughter of FANNY DAVIE nee FREEMAN. Victor (known as Wally) was a company manager from Temuka. It was a gala event with all the trimmings. First cousin to Ethel, Edward (Ted) Davie gave away the bride who was dressed in an attractive wedding gown with a long veil and carried a large bouquet of flowers. They arrived at the church in a black car complete with white ribbons.
Ethel was Fanny Catherine Emily Davie last child - she was aged 32 at time of her birth in Timaru on 17 Dec 1898 (five years after the death of her husband William John Davie who had died in Temuka on 5 Nov) Ethel's father is not known but baby Ethel was accepted with welcoming arms by the Davie families despite the stigma attached to illegitimate children in those days.
Fanny was living in Heaton Street Timaru with children Barbara 12, Arthur 10, Fanny Ellen 8 and Frederick 6, and grandparents John and Fanny Freeman helped in raising Barbara and Fanny at their Oxford Street home - Ethel commenced her education at the Timaru South school.
1927: For the next few years after their marriage, Ethel and Victor lived at 3 Butler Street Timaru with Victor maintaining his Temuka position as a company manager. From all accounts, Victor was a real fun-loving character who was a big tease. He was not the only one however to earn a sobriquet. Ethel, who was tiny in stature being barely five feet tall was so dynamic and active - she was given the name "Aunty Buzzie" by many relatives and friends.
1927 NZ Truth, April: "WHO SAID TREES? about trees. . . . ." What that, who said trees?" With the light of enthusiasm in his eye, Victor Benbow Mclnnes, district manager for the firm of Smith Wylie, at Timaru, hops in on the conversation, and, for as long as you have minute to listen to him, he will expound on the subject of afforestation. Mac's business is almost a religion with him, and it must be conceded that he knows the creed and ritual of the trees backwards. Victor is a small, rotund little man, but what he lacks in stature he gains in enthusiasm for his job. Periodically he drives his car into the waybacks of Canterbury and preaches the gospel of the need for trees and still more trees. He, tackles his share prospects from a psychological angle. Not only is it the solemn duty of loyal New Zealanders to preserve their forest heritage he argues, but it is darned good business, and good for the pocket. And ,being a good talker, Mac's eloquence, combined with his cheery personality, is doing much to make our forest heritage, safe for posterity.
Early 1930's Ethel and Victor moved north to Auckland and lived at 34 Wynyard Street, now a part of the campus of the University of Auckland and a few months later sailed to Sydney Australia. Victor was still a company manager and the move was possibly the result of his business ventures.
1932 Registered as a sharebroker.

1934: 10 Aug 1: ROYAL COMMISSION EXAMINATION OF DIRECTORS: Victor Benbow McInnes, a New Zealand shárebroker, said that he sold shares in both the Investment Executive Trust (N.Z.) Ltd and the Southern British, National Trust Ltd, and was floating a fresh company in Canberra now. He asked was asked if was this before the liquidation of thè other Company - he said yes. "That the business has grown to such propórtions that it was impossible to control it by myself, so I placed it under a public company to take over both the New Zealand and Australian interests, and also to obtain the benefit of the income, tax variations. The Comissioner instructed his officers to take possession of all papers, due to what he observed was "manipulation of funds" leaving the Companies access only to papers necessary for the carrying on of business during the conduct of the inquiry.

It seemed that money paid for debentures in companies was used to take up debentures in other companies as an investment of the money.... a money-go-round.

Victor Benbow McInnes, director of V. B. McInnes and Company, said that he was a broker for the Investment Executive Trust. They received £40,000 for the sale of £400,000 worth of debentures and also received a gift of £1000 debentures. They had sold nearly £200,000 worth of debentures in the South British and had received up to 12 .5 per cent, commission

Mr. Monahan read an account of what he said was the witness's "method of approach." "Pick out my client; find out whether the husband or wife is boss; we would go to the house and tell them that we wanted to see them in the matter. We don't want to sell them anything. I hunted for the husband and found him under the house feeding white rabbits. I might tell you that I know nothing about white rabbits but I talked about white rabbits for threequarters of an hour. The wife eventually wondered what had happened to her husband and come down. I could see immediately that the wife was the boss. We went inside and I had their shares simply, because I had been all this time talking about white rabbits." (Laughter). The witness admitted that for shares costing £27 he had received £1,000.
24 Aug 1934: Inquiry into purchase of Radio Station

1935 22 Apr: Arrival San Francisco, California

Ethel's mother Fanny Davie, sister Fanny Ellen and her husband James Richards moved across the Tasman to Sydney to assist them with their business enterprise and arriving late 1936 or early 1937.

Mar. 1937: The Judge said "The purchase of shares in the New Zealand company of V. B. McInnes and Co. Ltd. by the Canberra company of McInnes Co. Ltd. was "an impudent victimisation of the unfortunate shareholders" The case was one in which Victor Benbow McInnes

sought an order that the public trustee, as liquidator of McInnes and Co. Ltd., should vary the list of contributories to the company.

To the family, Victor and Ethel appeared to be quite prosperous, travelling between Australia and New Zealand across the Tasman by ship on a regular basis they would visit relatives, when the majority of people rarely were able to afford this. Ethel would take gifts for her nieces and nephews, especially dolls for the girls, comic books for the boys and she was always beautifully and expensively dressed with a corsage on her lapel. To the New Zealand family they always seemed like the very rich relatives. Ethel remembered going on one of the very first wing aircraft flights and she and Victor lived life in the relatively fast lane for the times. He and Ethel played a lot of golf. Later they owned a beautiful home in Vaucluse and had a butler and chauffeur to go with it.

25 Apr 1939: Victor Benbow McInnes former company director of Potts Point whose estate was sequestrated on Jan. 27 The Public Trustee as liquidator of McInnes and Co Ltd (in liquidation) for £10,297/14/7d

1939: 15 Sept: Banruptcy: EXAMINATION UNDER SECTION 80. Re Victor Benbow McInnes. Adjourned to Oct 5. Mr. S. T. Jaques appeared for the Official Receiver.

6 Nov 1940: DARLINGHURST Court; Harold Hudson and Victor Benbow McInnes obtaining money by false pretences

1942: World War 2 affected Australia considerably, especially during 1942, when the Japanese bombed Darwin (62 times) and their submarines shelled waterside suburbs of Newcastle and Sydney. During this time three midget submarines actually penetrated Sydney Harbour, torpedoeing one ship and narrowly missing another.

On Oct 4, 1942 Ethel's mother died at the age of 77 yrs after being taken to St Vincent's hospital after a motor vehicle accident.

1943 Age: 41 Residence Bondi, Wentworth, New South Wales, Australia

1948 23 Oct: Court: British Consolidated Investment Ltd (In liquidation) and Companys Act; V B McInnes and Co (Aust ) Ltd (In liquidation)

Victor became ill, and while his stockbroking business appeared to be doing well, and he and Ethel lived comfortably, after his death, she lived in dignified but somewhat meagre circumstances in a Council flat in Jersey Road Woollahra.

1959 1 Jun Age: 57; Death Sydney, Australia: Victor died of pneumonia in the Royal North Shore hospital at St Leonards. His death certificate states he was a salesman and address at this time was 20 Watson Street Bondi, which was also the address of the Richards family. Bur: 3rd June 1959 Presbyterian Cemetery, Waverley, Sydney

On his death certificate, Ethel's name is shown as Davey. Apparently in later years she had begun to use this spelling of her maiden name. Victor and Ethel had no children.

Ethel later took charge of a Church of England hostel for women in Glebe. By the 1970's she had retired to a small flat in the very affluent suburb of Vaucluse and later still to one in the basement of a house in the adjacent Rose Bay. It was here Bev and Herb visited her on numerous occasions with their three children, after arriving in Sydney to live.

Ethel remained a vibrant personality and in Jan 1980 travelled to New Zealand again to visit relatives. Not long after her return to Sydney on 10 May, while crossing Old South Head Road, Bellevue Hill, not far from where she was living, Ethel was struck by a motor vehicle. She suffered multiple injuries and died in St Vincents hospital Darlinghurst on May 18. It was a strangely similar accident and death to that of her mother Fanny. Ethel's funeral service was held on 23 May 1980 at the Chapel of the Eastern Suburbs crematorium. She was a regular attender of the St Stephens Uniting Church in Macquarie Street Sydney.

Ethel Gladys McInnes age 81, widow died 10th May 1980 at St Vincents Hospital, Darlinghurst, Sydney from effects of multiple injuries sustained on 12th May 1980 in Old South Head Road, Bellevue Hill when, whilst crossing that road she was struck by a motor vehicle. Inquest held at Glebe. N. F. Walsh Coroner. Crem. 23rd May 1980 Eastern Suburbs Crematorium, Sydney.

This research and photos courtesy of McInnes Family historian Bev McInnes)

Images and data used in this site copyright - ©


Please