JAMES GUILFORD & KATE LYNCH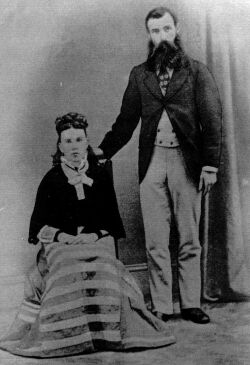 JAMES GUILFORD was b; 1 May 1841 in Llanvair, Abergavenny, Wales to parents JOHN and ANN GUILFORD. He d: 02 Jan 1898 in Halcombe and was bur: at Halcombe Cem. Row 11, Plot 10.
James mar: 17 Aug 1874 in St Anne's Church, Pleasant Valley, Geraldine to CATHERINE (Kate) LYNCH (b: Abt. 1856 in Cork, Ireland - her parents were Humphrey and E Lucy Lynch: she d: 19 Oct 1889 in Eastown, Wanganui, Bur: Old Town Cemetery, Heads Rd, Wanganui.
Their 12 children were:
i. HENRY TRACEY (MICK) GUILFORD b. 22 Aug, 1875, Waihi Bush, and bapt: Oct 19, 1876 at St. Marys, Geraldine; He d; May 22, 1954, Napier where he bur: at the Park Island Cemetery. Mick married MARGARET (MAGGIE) MARY MOONEY on January 26, 1905, Auckland; She was born October 28, 1883 at Rangiriri and died July 07, 1944, Napier. They had one son
ii. JOHN (JACK) STANTON PLANK GUILFORD was b: Oct 26, 1876 and bapt: at St Marys, Geraldine on Oct 19, 1876; he d: Sept 23, 1944, Wanganui;s bur: at the Aramoho Cem. Jack mar: HARRIET LILY PILCHER on Sept 30, 1905 at Halcombe. She was b: March 29, 1884 at Halcombe and d: Nov 05, 1918 at Gisborne where she is bur: They had five children.

iii. ERNEST ALBERT GUILFORD b; July 23, 1877 at Geraldine; bapt: at St. Marys, Geraldine on Jan 24, 1879. He d: Dec 24, 1966, Wellington and was bur: Dec: 27, 1966 at the Aramoho Cem., Wanganui. Ernie mar: his cousin

GERTRUDE MARY GUILFORD Dec 21, 1907 at the Registrar's Office, Marton. Gert was b: Aug 07, 1879, Pleasant Valley and d; April 28, 1939, Wanganui; bur: May 1, 1939 at the Aramoho Cem. They had twelve children.

iv. GERALD EDGAR (JOSEPH) GUILFORD b: Sept 22, 1879, Geraldine; bapt: St Marys, Geraldine April 5, 1881; d. Aug 29, 1937; mar: MARGARET (MAGGIE) GRACE THOMPSON on June 14, 1913, Presbyterian Church, Te Kuiti; b. Abt. 1883 at Kihikihi; d. Oct 15, 1967, Te Awamutu. Bur: Kihikihi Cem. They had one daughter.

vi. JAMES LESLIE (BOB) GUILFORD b: Feb 01, 1881, Geraldine and bapt: at St Marys, Geraldine on April 5, 1881; Bob d: July 25, 1943, Wanganui; bur; at the Aramoho Cem. July 27, 1943. He mar: June 08, 1905 to MABEL MEREDITH at the Presbyterian Maori Mission House, Taumarunui. Mabel was b: June 1888, Paterangi and d: April 17, 1928, Wanganui; bur: April 4, 1928 at the Aramoho Cem. They had ten children.

vii. BEATRICE ANN PLANK GUILFORD b: Mar 1882 at Geraldine; and d: June 16, 1882, Geraldine and bur: June 19, 1882 at the Geraldine Cem.

viii. ETHEL MAY GUILFORD b: June 28, 1883, Wanganui; d: Sep 19, 1961 at Otahuhu; mar; Oct 18, 1910 to HERBERT WILLIAM ROBINSON He was b; Sept 24, 1884 and d: Nov 17, 1969. They had four children.

ix. KATHLEEN MAUDE GUILFORD b: Dec 26, 1885, Wanganui; d; Aug 20, 1973 and bur; at Thames; She mar: GEORGE KEMP on Mar 02, 1914 at Taumarunui; he was b: May 14, 1887, London and d; Feb 01, 1975 at Thames - they had a daughter.

x. LEONARD SEYMOUR (TOM) GUILFORD b: June 02, 1886 at Wanganui; d; Aug 03, 1965 and August 5, 1965 was bur; Aramoho Cemetery, Wanganui. He mar: his cousin ALICE MABEL GUILFORD Jan 06, 1920, Wanganui; Alice was b: Jan 01, 1886 at Pleasant Valley; and d; Oct 10, 1980 at New Plymouth where she was bur: Oct 13, 1980 at the Awanui Cem. They had four children

xi. HERBERT WILLIAM GUILFORD b: Jan 04, 1888, Eastown, Wanganui; d April 05, 1889, Eastown, Wanganui and was bur: at the Old Town Cem., Heads Rd, Wanganui on April 7, 1889

xii. EMMA MAY GUILFORD b: October 19, 1889, Eastown.Her mother died in childbirth and Emma's birth registered by Marion Lynch of Aromoho - no adoption found.
Images and data used in this site copyright - ©

Descendant input to up-date family pages is very welcome - more detailed information available on request