Ivy Marion Cone
Ivy Marion CONE (b: 17 Sep 1905 in Timaru; d: July 17, 1994 in Christchurch; Bur: Sydenham Cem.); mar: 10 April 1929 in St Saviour's Church, Sydenham, Christchurch to Ernest George* FREEMAN Witness to their marriage were: William Edmond Freeman (George's older brother) of 116 Springs Road, Hornby, slaughterman and Marjorie Beryl Cone (Ivy's youngest sister) of 50 Sandymount St, Sydenham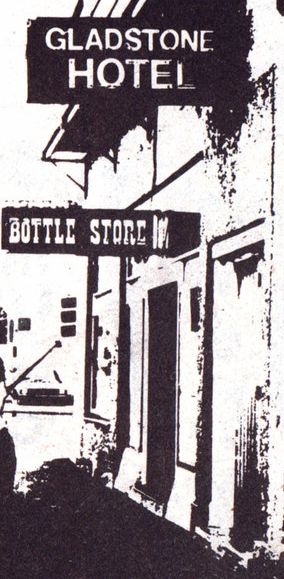 George was b: 16 Aug 1900 in Hornby, Christchurch; Occ: Butcher, Publican; d: 3 Dec 1950 in Christchurch aged 50Y; Bur: Sydenham Cem., Block 35a, Plot 30)

George's father was WILLIAM EDMOND

FREEMAN was a butcher, the son of Charles Freeman. Wm was b; 22 Jun 1870 in Christchurch, Bapt: 01 Jul 1870, Woolston, Christchurch; and d: 22 Jan 1934 in Hornby, Christchurch aged 63Y bur: 24 Jan 1934, Sydenham, Christchurch. Wm married 06 Sep 1893 to MARIA PODMORE SIMMONS .(b: 1872, and d: 05 Nov 1937 in 120 Springs Road, Hornby, Christchurch.) Their children
i. W

ILLIAM EDMOND FREEMAN, b. 1895.

ii. E

RNEST GEORGE* FREEMAN, b. 16 Aug 1900, Hornby, Christchurch; d. 03 Dec 1950, Christchurch; m. IVY MARION CONE, .

iii. GERTRUDE IVY FREEMAN b. 1904.

iv. A

LBERT RICHARD FREEMAN, b. 1906.

v. L

ILY FREEMAN, b. 1908; d. 14 Feb 1937; m. ROBERT WILSON STILL.

Time line:

MAGISTRATE'S COURT (Press, 1936-10-16) For being found on the licensed premises of the Racecourse Hotel, Upper Riccarton, after hours, Ernest George Freeman who claimed appointment with a local jockey was fined 20s and ordered to pay costs.

MAGISTRATE'S COURT (Press, 31 Jan 1939) GAMING CHARGE Ernest George Freeman, a barman, aged 39, pleaded guilty to a charge of keeping a common gaming house, he was fined £2O and ordered to pay costs, in default three months' imprisonment.

(Press, 10 Jun 1944) HOTEL LICENSES HOTEL LICENSES - TRANSFERS GRANTED at the quarterly meeting of the Christchurch Licensing Committee: Gladstone Hotel, Durham St., Christchurch from Peggie Winifred Duns to Ernest George Freeman: (later called Durham Arms, it was destroyed in Christchurch's earthquake)


28 Nov 1944 REMANDED Ernest George Freeman, aged 45, licensee and barman of the Gladstone Hotel, was charged with using the Gladstone Hotel as a common gaming house on Nov 24. He was remanded until December 7, bail being renewed. 9 Jun 1945 Transfer of Gladstone Hotel Licence to John Gregory Burgoyne

1951- At time of death, George was a milkbar proprietor


Their two daughters:
| | |
| --- | --- |
| (a) Beverley FREEMAN (b: 16 May 1932, at Christchurch; she d: May 2008) She mar: William (Bill) WALSH (b: Arklow County, Wicklow, Ireland to parents Owen and Mary Ann Walsh; d:08 Feb 2011 at Christchurch aged 84Y) they mar: at St Lukes Church, Christchurch. | |
Ivy and Bill's family:
(i) Michael WALSH Born:Christchurch mar. Jackie LLOYD (b: Dunedin where they married) Their Family:

(a)Sarah Anne WALSH b: Wellington;

(b) Zoe Kate WALSH b: Wellington


(ii) Nigel WALSH b: Christchurch married in Christchurch to Sara BOSWORTH. Their Family:

(a) Emma Alice WALSH b: Christchurch;

(b) Kate Olivier WALSH b: Christchurch
b) Diane FREEMAN b: Christchurch mar. Jan (John) Francois VAN GEYLSWIJK (b: Oct 21, 1927 in Niewamstal, Holland; d: Feb 19, 1987).

Jan arrived in NZ in May 1951 after serving four years away with the Dutch army during the Indenesian war od Independence. He met Diane in 1954 and they mar: Feb 08, 1958 at St Lukes Church, Manchester St, Christchurch. He was employed by the Christchurch Transport Board and drove buses for 32 yrs until his death in 1987 aged 59Y

Diane worked for a time with the Play Centre Assoc. and was supervisor for the Wainoni Play Center for 6 yrs. She was interested in designing costumes for amatuer theatre groups in Christchurch and until the death of her husband, was proprietress of a fashion boutique.
Diane and Jan's children:
i. Christopher John VAN GEYLSWIJK (b: Christchurch) + Paulette Maria LANYON (b: Christchurch).

Chris worked 15 yrs as a qualified leather technician at Bowron & Co. He then worked closely with people in the recovery and steps programme run by the Salvation Army, Christopher is also interested in athletics and trains and runs in road races and half marathons while studying for a Diploma in Recreation Sport. Chris believes that Christchurch is missing an opportunity to be a showpiece in terms of recycling the materials from demolition and since the earthquakes he has been involved in a number of projects.

Their son is Travis Jan VAN GEYLSWIJK; Born: Christchurch

(ii) Georgina Deanna VAN GEYLSWIJK b: Christchurch she later moved to Perth, Australia where she became interested in car rallying and allied motor trades.

An accident broke both legs and she took up breeding Shih-tzu dogs and alpaca while working as a rep for a motor firm. She also adjudicates for motor bike trialing events in the district
Images and data used in this site copyright - ©
Descendant input to up-date family pages is very welcome - more detailed information available on request.