Janet & James Ferguson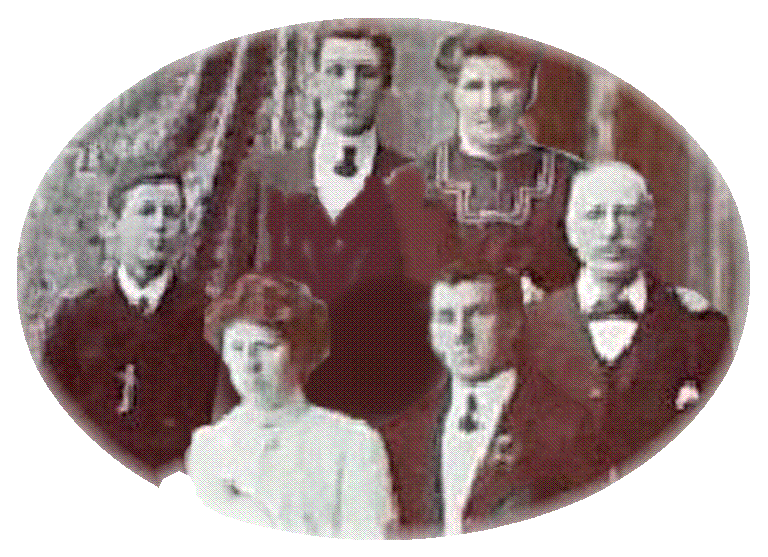 Ferguson family: Back: James jnr; Robert; Janet and James (snr) Front: Jeanie and William
JANET CUNNINGHAM (dau of WILLIAM DUNCAN and Jane Munro Cunningham) was b; 26 Jul 1864 in Green Island, and d: 26 Dec 1932. She mar: 1888 to JAMES FERGUSON
Photo is taken from images in Golden Wedding portrait - Janet with husband James and in front their son William who d: 1918 of influenza in 1918.
Children of JANET CUNNINGHAM are:
i. ROBERT FERGUSON was born 1889, and died 1957 aged 67Y. He mar: 1919 to EMILY BOOTH. She was b: 1884, and d: 1966.
Son of ROBERT FERGUSON and EMILY BOOTH is:

i. LYELL JAMES FERGUSON (b. 19 Jun 1920; d. 1978); mar. SHIRLEY MOIRA FANTHAM (b. 04 Aug 1923; d. 2008).
ii. WILLIAM CAMERON FERGUSON, (b. 1891; d. 1918.Died in the 1918 influenza epidemic)
iii. JEANIE MUNRO FERGUSON (b. 1893; d. 1950)
iv. JAMES STANLEY FERGUSON was born 1896, and died 1959. He mar: 1934 to LILY EMILY WALTERS (b: 24 Mar 1908, d: 2002)
Children of JAMES FERGUSON and LILY WALTERS are:
i. J

EAN PAMELA FERGUSON.

ii. I

AN CAMERON FERGUSON