William Duncan & Jane Cunningham
WILLIAM CUNNINGHAM was b: 08 Aug 1869 in Green Island son of William Duncan and Jane Cunningham; admitted to Green Island school 4 Oct 1875 , home address Green Island Bush, leaving 21 Apr 1876; admitted to the Caversham school 21 Jan 1878; Occ: Butcher; he d: 20 Feb 1935 in Dunedin, Otago.
He mar: 29 Dec 1899 to CECILIA HALLUM, daughter of JOHN HALLUM (b. 06 MAY 1827 Kincardine, Perthshire, Scotland, occ: farmer of Hawkesbury, Waikouaiti, d. 02 JUL 1906 Waikouaiti) and mother CATHERINE MCGREGOR b. ABT 1834 Kincardine, Perthshire, Scotland d. 12 OCT 1922 Waikouaiti, Otago) Cecilia was b: 31 Mar 1873 in Waikouaiti, Otago, admitted to the Waikouaiti School 19 Sep 1881 - she d: 26 Jul 1960 in Dunedin, Otago. Her siblings were Jane Ann Hallum b: 1859; Margaret Hallum b: 1861; John Hallum b: 06 Apr 1863 in Hawksbury, Otago; Elizabeth Hallum b: 13 Nov 1864; Edith Catherine Hallum b: 1866; James Hallum b: 1868 d: 1869; Jessie Hallum b: 1869; Isabella Hallum b: 1870; Thomas McGregor Hallum b: 1872 d: 1873; Charles Walter Hallum b: 1875; Arthur Robert Hallum b: 29 Aug 1877 in Waikouaiti, Otago; John Hallum b: 04 Nov 1883 in Waikouaiti, Otago; Agnes McLeod Hallum b: 14 Nov 1884; Edith Hallum b: 19 Nov 1895 in Hawksbury, Otago.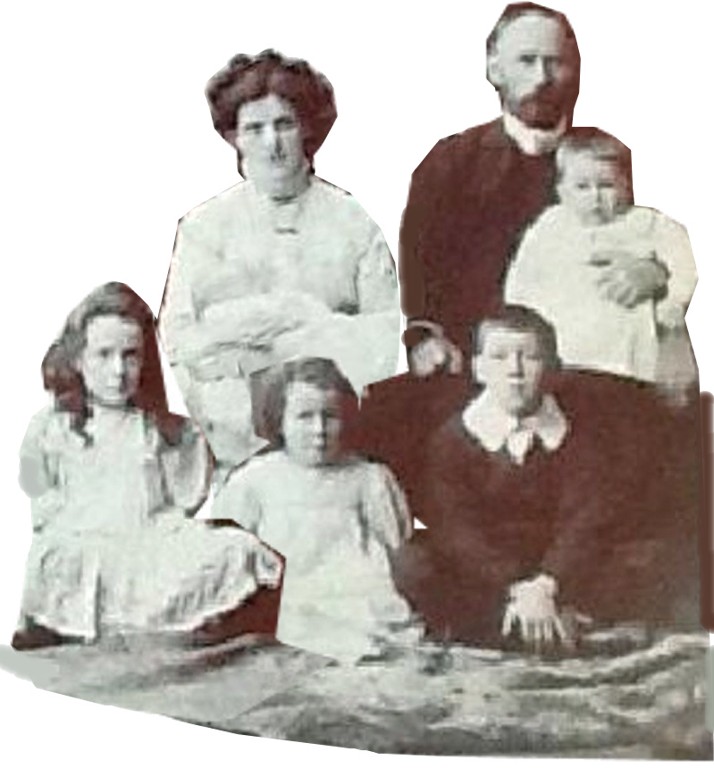 Children of WILLIAM CUNNINGHAM and CECILIA HALLUM are:
i. H

ECTOR MUNRO CUNNINGHAM ( b. 20 Sep 1900; last residence 63 Ronaldsey St, Palmerston; d. 30 May 1988 aged 83Y at Public Hospital, Dunedin, a retired butcher; Crem. 2 Jun Andersons Bay Cem. );

Mar. (1) 16 Apr 1927 at St Peters Church, Cargill Rd, Dunedin to DORIS AGNE SOUNESS b. 1901 dau. of Robert Dickson and Eliza Sourness; d. 5 Sep 1951 aged 50Y - she was living at Kirkwell St, Palmerston; bur: Andersons Bay Cem 6 Sep 1951)

Mar: (2) 1954 to FRANCES JANE ALLEN (b. 26 Dec 1909 dau: of Jame and Margaret Flett Allen;

ii. I

VY IRENE CUNNINGHAM (b. 17 Oct 1901 at Waikouiti; occ: clerk, spinster; retired residence 106 Blacks Rd, Dunedin; d. 13 Aug 1979 aged 77Y, Marter Hospital, Maori Hill; crem: 16 Aug Andersons Bay Cemetery.)

iii. RUBY CECILIA CUNNINGHAM (b. 09 May 1904; attended George St. School, Dunedin; d. 1998).

iv. WILLIAM McGREGOR CUNNINGHAM (b. 09 Aug 1908; d. 30 Sep 2004 Dunedin) mar: Winifred Ewen Howell

Major William McGregor Cunningham - Royal New Zealand Dental Corps (Regular Force).

Emeritus Professor William McGregor Cunningham - a major early figure in the research and teaching of periodontology at the School of Dentistry (1948-1972). Their children are:

i. J

OAN CUNNINGHAM mar: RAYMOND GEORGE ROSS MOON.

ii. B

ARBARA CUNNINGHAM mar: THOMAS GLENDWR GARDNER EVANS. (b: 22 April 1936; d: 2016)

iii. WI

LLIAM ALISTER CUNNINGHAM mar: ELEANOR MARION PARSONS.
v. GORDON HALLUM CUNNINGHAM (b. 05 May 1910; d. 1984 aged 74Y; Crem. 29 Sep 1984; Last Residence 14 Ingram Road, Remuera, Auckland). He mar: 1943 to MARGARET DEVENISH LOUGHNAN (b: 09 Mar 1914, and d: 2003) Their children:
i. S

ANDRA DEVENISH CUNNINGHAM.

ii. G

ERALD GARRICK CUNNINGHAM.

iii. P

RUDENCE MARGARET CUNNINGHAM.

iv. P

HILLIP HALLUM CUNNINGHAM.