Press F11 to limit top toolbar - Press again for toolbar to return
Alfred George Griffin (1901 - 2003)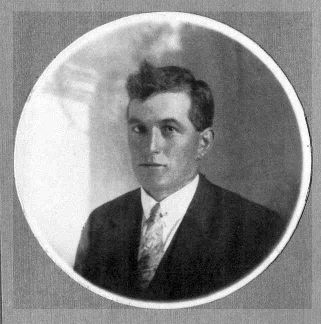 Alfred George Griffin was born on 6th Jan 1901 at the Kaponga Nursing Home, the 4th child in a family of 11 born to Arthur and Helena Griffin. His parents farmed at the top of the Mangawhero Road.

Alfred started schooling at Riverlea school and went to stay with his grandparents George and Elizabeth Adlam where he was admitted to the Oakura School on 12 Mar 1907. His last day was 18th June 1908 and he returned home his family at Riverlea.

Alf remembers the accident when one day 6 or 7 children were racing our horses to the Riverlea school. "My horse was an ex-racer and my brother and I were both on it when we tumbled off and I hurt my head badly. The doctor said had the cut been a fraction deeper I would have been dead" a scar he was to carry on his forehead all his life. Father Arthur Griffin was on the Parents Association when the School's name was changed from Makaka to Riverlea. Alf attended Riverlea for about 6 years and said there were about 40 pupils on the roll with two teachers - Mrs Benton and Mrs Hewett. A curtain was used to partition the room to separate the two ages - the older and younger children. Alf remembers it as a good school with good teachers.
He did not remember wearing shoes to school and the children's Chrismas holidays were spent weeding and harvesting turnips and carrots.
As a young lad, he had to get up about 4 am to hand milk 10 cows and scrub out the buckets before he could go to school. In one year aged 11, he attended four different schools. From Riverlea, he and his brother were sent to work for a farmer Charlie West, near Kaponga. The day's work began at 3 am hand milking 17 cows and washing the shed with buckets of water from the nearby creek, and catching the stage coach to school. He milked again in the afternoons after school. So in one year he attended Riverlea, Kaponga, then stayed with an uncle ??? at Auroa and then because Arthur bought another farm between Inaha and Tokaora, he went to Tokaora School .

Alf was in the local cadet unit during WW1 but was too young for overseas service- when WW2 came round, he was found to be too old. In 1918 His brother Ernest was killed in France and his 16 year old sister Eva died a month later in the influenza epidemic.
His break came in 1923 when he was 22. There was a respite in the boom of land prices following WW1 and he and his brother Harold were able to buy a farm property on the Lower Normandy Road, Kaupokanui, for £30 an acre. They later split the farm, retaining 75 acres (30 hectares) each.

On July 6th, 1927 Alf married Matilda May Clarke at the Okaiawa Anglican Church - a marriage which was to last 68 years. She was the daughter of William Bland Clarke

and Florence May Julian born on 4th August 1904. Alf and Tilly had four children - daughters Ava, Gloria and Maida and their son Milton.

In those early days, dairy farming meant getting up at 3 in the morning to hand milk the cows to get the milk to the factory by seven - long days. Many dairy farmers resisted buyng milking plants for some years but he invested in one and revolutionised dairy farming practices. Life became easier but the downside was that they replaced people who needed work in the 30's in what were depression years.
In his youth he played rugby for Okaiawa then was for some years with Waimate Seniors(later called Manaia Seniors). He took up bowling in 1936 and became a member of the Manaia Club for 55 years during which time he helped to establish the clubrooms and greens at the Riemenschnieder Street site in 1948. He was made a life member and Patron and he also enjoyed indoor bowls. Alf was also a member of the Manchester Unity Lodge for over 80 years - he was the oldest Taranaki member in it's history. Water divining is a special skill which Alf discovered when encouraged to pick up a forked stick during well-digging on his farm in the 1940's.

In 1939, Alf bought a 1938 British Bedford truck and used it extensively for many years on the farm, including the daily ritual of taking milk to the Kaupokonui Dairy factory and bringing whey home for the pigs. Daughter Ava sat her driving licence test in the truck. Eventually it was retired and quietly rotted away in a farm paddock until 1991 when grandson engineer Ross McCall undertook the long job of restoration with some help with upholstery and wiring. After much research as some parts were found to be rotten and needed to be completely rebuilt, a new bonnet had to be made as the original was long gone, the petrol tank had holes and the truck after much hard work, was eventually brought back to it's former glory given a paint coat as close to the original blue as possible and was reunited with it's owner making a wonderful 90th birthday surprise present for a delighted Alf.
Alf continued to take a keen interest in farming politics having been a member and branch president of the former Farmer's Union and a member of the Federated Farmers.
In 1992 Alf and Tilly celebrated their 65th (Sapphire) wedding anniversary.
Alf stayed on the home farm then after Tilly's death on 31 July 1995, he lived with his daughter Ava for several years before moving to Ngahuru Rest Home. His failing eyesight meant in his last few years he could no longer read and his hearing was poor, however he continued to keep up with the news and current affairs, retaining his keen interest in dairy farming matters, enjoyed watching Rugby on the TV and a game of cards and table bowls at the Ngahuru Rest Home. He celebrated his 100th birthday with a special gathering of family and friends at a luncheon in the Southern Rugby Clubrooms driven there in style in his vintage Bedford truck and his 101st and 102nd birthday were held at the rest home.

Alf died on 13th July 2003 and he and Tilly are buried at the Manaia Lawn Cemetery.