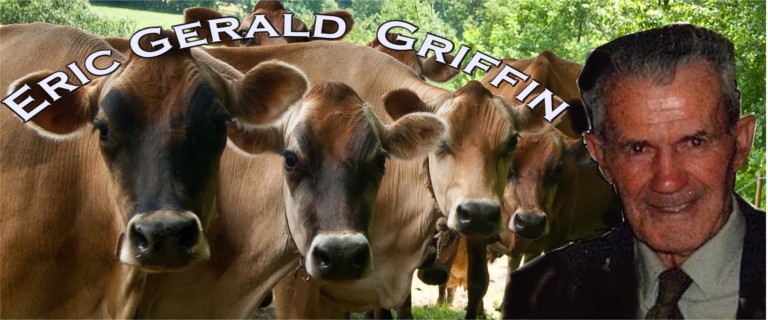 ERIC GERALD GRIFFIN, son of Arthur and Helena Griffin, was born 19 Dec 1903 in Kaponga, Taranaki.
6 Sep 1916: Hawera and Normanby Star: St Marys Spring Show:Children Section Under 14Y: Writing: Eric Griffin 2nd Map Drawing (Nth Island) 1st
Patea Mail 6 Feb 1922: Master Eric Griffin, a pupil of the Hawera Technical School has been successful in passing the City and Guilds of London Examination in first grade electrical engineering.
| | | |
| --- | --- | --- |
| | A competant all-round sportsman, Eric retained a life-long interest in the sport of boxing. | |
Eric and brother Clarrie had a dairy farm on the Inaha Road together about 1925 and were looked after by sister Vera. About 19... they separated the farm in half.

He mar: 28th Feb 1934 to GERTRUDE MABEL ROTHERY in Manaia. Gertie was b: 29 Apr 1910 in New Plymouth, the daughter of DANIEL ROTHERY and MABEL BOWERS.
Back: Alys, parents Gert and Eric

Seated: Gavin and Janice
Erics interest in the sport of boxing continued as a participant in the 1930's and tournament referee in the 1940's and served WW2 from ... at.... and was overseas at .... . After Eric retired from dairy farming he moved to Govette Avenue, New Plymouth where he died 31 Jan 2000. He was interred at Manaia Cemetery, (RSA Section) Plot 64. Gertie died 25 May 2006.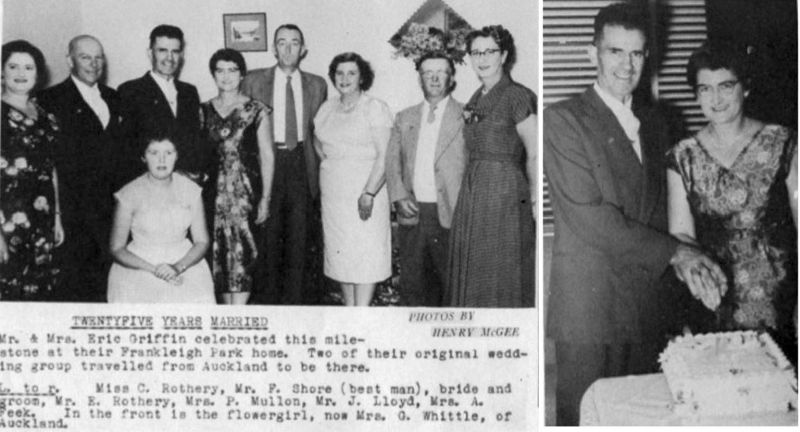 Children of ERIC and GERTRUDE GRIFFIN born at Hawera are:
1. ALYS MABEL GRIFFIN was a Hairdressing shop owner at Waitara and New Plymouth and 19 Jan 1963 she mar: GEORGE EDWARD BEATTY (b: 29 Mar 1925; lived at Govett Avenue, New Plymouth; he d: 25 Jul 2004 aged 79Y; Crem: 29 Jul 2004 Christchurch). Their daughter is Janine Erica Beatty

George Beatty was educated at Fitzroy School and New Plymouth Boys'High (1st XV 1942) He proved to be a useful cricketer who represented Taranaki, and gave his rugby club, New Plymouth HSOB, and Taranaki solid service between 1947 and 1950. He played for the North Island in 1949 when the country's top players were away in South Africa, and was an All Black trialist in 1948 and 1950. George was selected to play for the NZ All Blacks at Dunedin against the 1950 Lions - this proved to be Beatty's only test as later in 1950 he accepted an offer to play Rugby League in Britain. He stayed in the north of England playing for Leigh and then Bellvue Rangers until 1955.

Forty years of All Blacks rugby involving 17 past players and a combined total of 111 test matches was celebrated in New Plymouth 2010 - Alys accepts George's cap on his behalf.

Alys Mabel BEATTY ( nee Griffin): passed away peacefully on Monday 16 September 2019 at Chalmers Home, in her 85th year

Dearly loved wife of the late George, and loved mother of Janine (Sydney). Loved eldest daughter of Eric and Gertie Griffin (both deceased), sister of Janice Griffin (deceased) and Frances, Gavin (Griff) and Gwen. Will be sadly missed, loving memories last forever. Sincere thanks to the doctors and staff of Ward 4A Taranaki Base Hospital with special thanks to all staff of Chalmers Home for your dedicated and caring care given to Alys. A celebration of Alys's life held at Vospers Chapel, 257 Devon Street East, New Plymouth, on Tuesday 24 September 2019, at 1.30pm, was followed by private cremation.
2. JANICE HAZEL GRIFFIN (b: 07 Oct 1940 in Hawera, Taranaki; d: 25 Mar 2015 in Waikanae)
Janice was an Chartered Accountant who lived at Seatoun, Wellington before moving to live at Waikanae. She was a valued trustee and treasurer for the Armstrong and Arthur Trust for 14 years and was ill for her last year.
Known for her warmth and humour along with her competance and conscientiousness, Janice was accorded tributes to her hard work. Her efforts made a significant contribution to the Lesbian Charital Trust and sympathy was paid to her long-time partner and fellow trustee Fran Kell.
| | |
| --- | --- |
| 3. GAVIN ERIC GRIFFIN and Gwen | |
Click here for Eric's Family Photo Page