ERNEST ARTHUR GRIFFIN, eldest son of Arthur and Helena Maria Griffin
, of Inaha, South Taranaki was born 23 Feb 1898 in New Plymouth. Ernest was a cheesemaker at Riverdale Cheese factory, Inaha, employer W Crawford. He had been a cadet with the Manaia Senior Cadets and first attempted to enlist at Wanganui in August 1916 but was found to be under age. In Hawera in November 1917 he again enlisted and was accepted as a Rifleman with the New Zealand Rifle Brigade, 1st Bn. 3rd, Regimental No. 74911. He was promoted to Lance Corporal and was killed in action aged just 20 years on 08/10/1918 and buried at the Naves Communal Cemetery Ext. Nord, France 111 B.16
| | | |
| --- | --- | --- |
| | | |

On 5th November 1917 Ernest attested at Hawera

6th March 1918 Ernest Griffin marched into
Featherston Camp

- his Rank: Private, Unit: B Company 29 Reinforcements
23 March 1918 - Ernest is promoted to Lance Corporal and on 27 April 1918 he is transferred to B Company 38 Reinforcements
Following training at the Featherston Military Camp, the troops marched over the Rimutaka Hill to Wellington Harbour (Photo: Wairarapa Archive)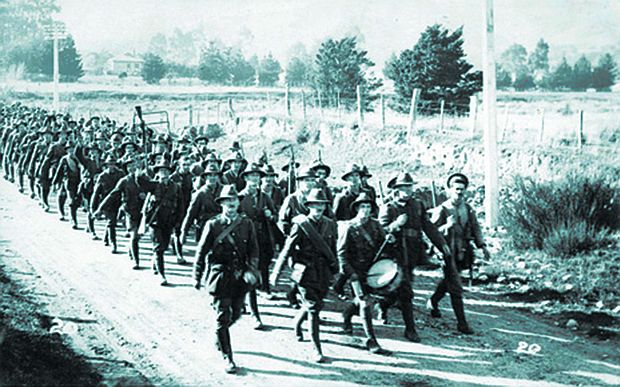 They boarded His Majesty's New Zealand Troop Ship No 105 SS Remuera
and sailed on 5th June 1918, and disembarked at Liverpool on 31 July 1918 and marched into Rifle Brigade Reserve, Brocton
- here Ernest reverted to rank of Rifleman
Left for France 25 September 1918 and arriving there, marched to New Zealand's Infantry and General Base Depot at
Etaples
27 September 1918

Ernest joins the B Company 3 New Zealand Rifle Brigade, and is within the combat Field 30th September 1918
Ernest is killed on the 8th October 1918 and is buried at Naves Communal Cemetery Extension, France. Plot 3, Row B, Grave 16.
He travelled halfway round the world where he experienced horrific conditions under cannon fire and survived just 13 days of war.
We can only reflect what this war meant to our nation - About 100,000 were sent overseas to fight in France, Belgium, Egypt, the Middle East, and Gallipoli. Of these, 16,697 New Zealanders were killed and 41,317 were wounded during the war. Approximately a further thousand men died within five years of the war's end, as a result of injuries sustained, and 507 died while training in New Zealand between 1914 and 1918 ? a 58 percent casualty rate. (
Statistics
)
Medals Awarded: British War Medal, the Victory Medal and Memorial Plaque
| | | |
| --- | --- | --- |
| BRITISH WAR MEDAL | VICTORY MEDAL | MEMORIAL PLAQUE |
The BRITISH WAR MEDAL was instituted in 1919 to recognise the successful conclusion of the First World War (1914-1918). Its coverage was later extended to recognise service until 1920, recognising mine clearing operations at sea, and participation in operations in North and South Russia, the eastern Baltic, Siberia, the Black Sea and the Caspian.The obverse of this medal shows the uncrowned left-facing profile of King George V by Sir Bertram Mackennal. The reverse of the medal depicts St George on horseback trampling underfoot the eagle shield of the Central Powers, and a skull and cross-bones (the emblems of death). Above, the sun has risen in victory. The figure is mounted on horseback to symbolise man's mind controlling a force of greater strength than his own, and thus alludes to the scientific and mechanical developments and machines which helped to win the war. The ribbon consists of an orange watered centre, with thin stripes of white and black at each side, and borders of royal blue.
BRONZE PLAQUE - This measures approximately 12 cm in diameter and was first produced at Acton, West London. The plaques were given to the family of every soldier and sailor who died, or was killed, between 4th August 1914 and 10th January 1920 (the date of ratification of the Treaty Of Peace with Germany) while serving in HM Forces.
Commonly called a DEAD MAN'S PENNY bears the inscription 'HE DIED FOR FREEDOM AND HONOUR'
DESCRIPTION: Brittania standing holding a laurel wreath above cartouche to contain the soldier's name. At her feet, the Brittish lion and laurel branch. In the fiield, dolphins. In the exerge, British lion killing a Prussion Eagle, The design was chosen out of 800 entries, and the prize of £250 went to E. Carter of Preston and they were manufactured under Manning Pike, Acton, London.
Hawera and Normandy Star -

26 Oct 1918

Hawera and Normandy Star -

29 Oct 1918

Hawera and Normandy Star -

8 Oct 1919

Hawera and Normandy Star -

7 Oct 1920

Hawera and Normandy Star -

26 Nov 1924
Click here Ernest Arthur Griffin - WW1
Dominion Post &Taranaki Daily News 8/10/2018

Jackie Chrystal in Christchurch saw Ernest's Roll of Honour notice in the paper. Her relative WW1 soldier, 2nd Lieutenant Charles Arnold Spriggs DCM was killed in France on that same day 8/10/1918. His family members gathered to commemorate the 100th anniversary at Naves where their relative rests very close to the grave of Ernest.

Others attended at the Wellington Cenotaph and Ernest's notice was read to the people at the cemetery immediately prior to the Last Post being played.

Their family were motived by the poem and the words "He sleeps beside his comrades" and kindly made a tribute and placed poppies from NZ at Ernest's headstone. Charles Spriggs was shot dead by a German sniper as he approached a German gun position after the Germans had surrendered. It happened in the morning about 8am - a day when many NZ soldiers were killed when they stormed a town held by German forces