Henry Victor Rowe (1891 - 1962)
HENRY VICTOR ROWE b: 28 Apr 1891 at Opunake was the first child of Henry and Ada Mary Rowe; a fitter at Petone - he d: 10 Mar 1962, in Christchurch, Canterbury aged 70Y.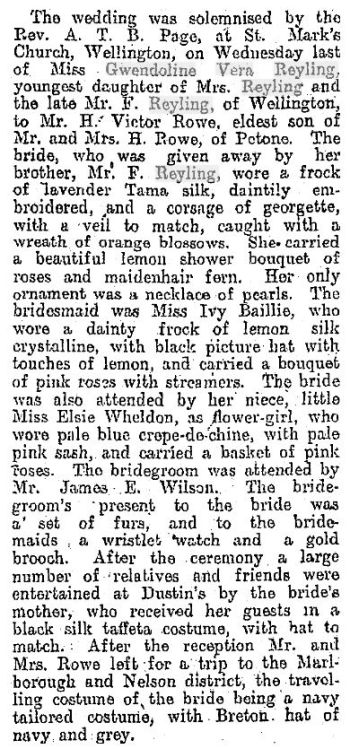 In 1919 Henry met GWENDOLINE VERA REYLING who lived in Wellington daughter of FREDERICK REYLING and ELLEN VAUGHAN, she was b: 21 Dec 1895. The couple mar: 07 Apr 1920. at Wellington.
Time Line:
NZ Gazette: Date 1917: Name - ROWE Henry Victor; Place 12 Queen St Petone; First Reserves; Occ:
Evening Post 4 Jul 1911: EXCITING FINISHES. THE NEW ZEALAND COMPETITIONS. Interest in the competitions' festival is more than maintained : it is increasing. Splendid audiences obtained all day, and at night there was a repetition. This was no more than the splendid programme deserved. TENOR SOLO. Tenor Solo (for competitors who have never received a fee) Test piece, "Serenade" (Raff). Among the Competitors — H. V. Rowe (Petone),
NZ Gazette Entries Name ROWE Henry Victor; Date 1917 Place 12 Queen St Petone; First Reserves; Occ: Hardware Assistant; Record Type - Military Call Up
37th REINFORCEMENTS: EVENING POST, 28 SEPT. 1917; 37th REINFORCEMENTS - APPOINTMENT OF N.C.O.'S. Appointed probationary corporals for the 37th Infantry Reinforcements: Ptes. H. V. Rowe
EVENING POST, 16 JULY 1918: CAMP NOTES - TRANSFERS APPROVED: The following temporary appointments have been approved by the Camp Commandant at Trentham (Col. H. R. Potter):—D Company 41st to D Company 42nd: H. V. Rowe,
EVENING POST, 22 JULY 1920: There was an insurance for £500 in the Eagle, Star, and British Dominions Company on the stock in Mr. H. V. Rowe's shop in Petone, which was damaged through the fire in the building on Tuesday. The stock and effects in the adjoining shops, occupied by Messrs. Walters, were insured also.
1960 , they were living at Christchurch, Canterbury, New Zealand, where Henry was a hairdresser. Wife Gwendoline d: 1987 in Christchurch aged 92Y
Probate: Henry Rowe - 25 May 1962, Will; No 595/62; Christchurch
Death: Gwendoline Vera Reyling died in 1987, at age 92, in Christchurch, Canterbury,
Daughter of HENRY ROWE and GWENDOLINE REYLING is:
CYNTHIA MAUD VAUGHAN ROWE was b. 11 Sep 1930; Education: 24 Feb 1936, Queens Park School, Wanganui; d. 08 Jun 2010, Papakura, Auckland 79Y