William (Bill) & Sarah Rowe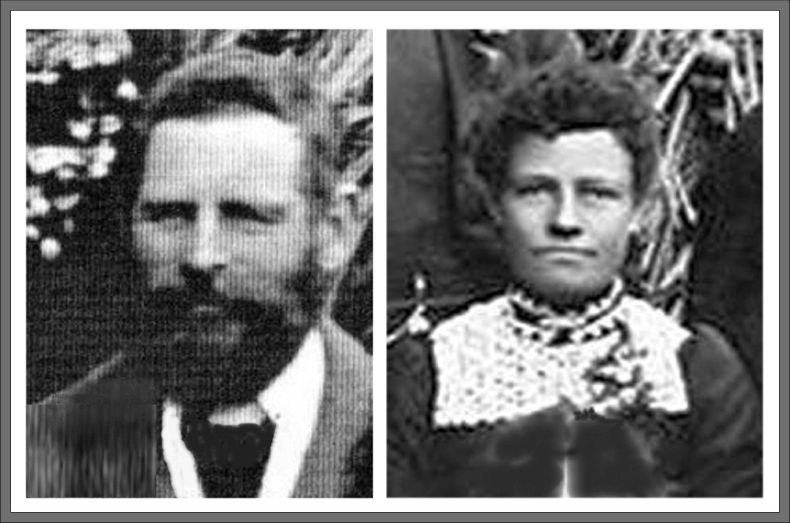 WILLIAM ROWE was b: 03 Jul 1857 in Taranaki, the 2nd son of WILLIAM and HONOR ROWE - he d: 11 Aug 1923 in Huirangi, Taranaki age 66Y.
William mar; 26 Oct 1894 in New Plymouth to SARAH SANGER CONNETT (b: 6 Jun 1872 in Sydney, NSW, Australia, and d: 15 Nov 1954 in New Plymouth; bur: Te Henui Cem). (Below - Sarah (indicated) with her parents George (1841-1910) and mother Charlotte Anne nee Payne (1833-1979) and family)
... *2nd Husband of Sarah Sanger Connett: mar: 4 Aug 1925 in Norman St, New Plymouth to Walter Bailey Kivell (b: 28 Nov 1872 in New Plymouth; d: 22 Mar 1945 in 117 Carrington St, New Plymouth) Their son: Darcey Louis Kivell (b: 23 Apr 1929 - 1998)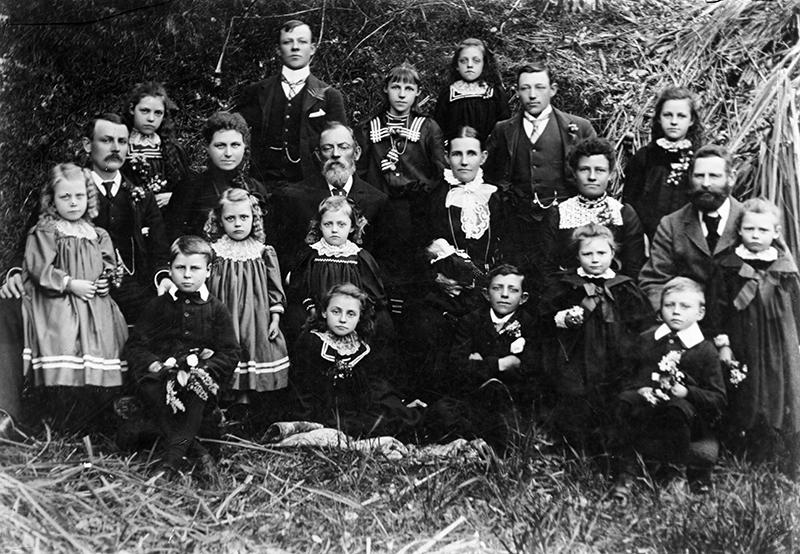 Children of WILLIAM ROWE and SARAH CONNETT are:
1. GEORGE WILLIAM ROWE, b. 09 Oct 1894, Huirangi, New Plymouth; d. 1970, Tauranga.He married DAISY FORGET-ME-NOT SIMONS 1919, daughter of WILLIAM SIMMONS and ANNIE THOMPSON. She was b: 26 Mar 1898 in Inglewood, Taranaki, and d: 11 Jun 1976 in Tauranga

Children of GEORGE ROWE and DAISY SIMONS are:

i. WILLIAM RONALD CONNETT ROWE (b. 21 Dec 1920; d. 04 Dec 1997, Mount Maunganui)

ii. INEZ MAVIS ROWE (b. 15 Jul 1927 at Hawera; d: 2009 mar. MCCREADY;

INEZ MAVIS ROWE 2nd Husband mar. ANDREW
2 CLARICE HONOR ROWE, (b. 06 Nov 1896, Huirangi, nr Waitara Taranaki; d. 04 Mar 1926, Hosp. at Fitzroy , New Plymouth). She mar: 01 Feb 1916 to (1) WILLIAM FREDERICK TERRILL . He was b: 16 Oct 1888 in Waitara, and d; 05 Dec 1917 in WW1 Bur: Zonnebeke, Arrondissement Ieper, West Flanders, Belgium
Their son: Eric William Terrill (b: 03 Feb 1917 in New Plymouth; d: 24 May 2005 in Hawera)
Clarice mar: (2) FRANK YATES LETHBRIDGE in 1919, son of FREDERICK LETHBRIDGE and JANE FARR

. He was b: 26 Jun 1895 in Wanganui, and d: 29 Aug 1970 in New Plymouth. Children are:
i. FRANCES CLARICE LETHBRIDGE (b. 18 Jan 1920, New Plymouth; d. Abt. 1996)

ii. IRENE MALVINA LETHBRIDGE (b. 01 May 1922, New Plymouth; d. 30 Sep 2011, Henderson, Auckland)

iii. FRANK YATES LETHBRIDGE (b. 15 Jul 1923, New Plymouth)
3 IRENE ELLEN ROWE (b. 06 Mar 1898, Kelly Rd Farm, Huirangi, nr Waitara Taranaki; d. 06 Jun 1974, New Plymouth; Bur: Te Henui, New Plymouth) Mar: 05 Dec 1922 in St Mary's Church, New Plymouth to GEORGE WILLIAM BENNETT (b: 01 Apr 1885 in Huirangi; d: 14 May 1958 in Fitzroy, New Plymouth)

i Ivy Meryl Bennett b: 03 Jul 1920 in New Plymouth; d: 30 Oct 2001 in Monte Vista Rest Home, Taupo)

ii Neta Georgina Bennett (b: 07 Oct 1923 in New Plymouth; d: 2006 mar: Waters

iii Ronald George Bennett (b: 03 Jan 1926 in New Plymouth; d: 22 Aug 1998 in New Plymouth)

iv Phyllis Irene Bennett (b: 18 Jul 1928 in New Plymouth; d: 2017 ) mar: Putt

GORDON JURY

MALVINIA ROWE

4 MALVINIA (TOT) SARAH ROWE, (b. 26 Aug 1910, Kelly Rd Farm, Huirangi, nr Waitara Taranaki; d. 14 Oct 1997, Auckland)

She mar.09 Aug 1934 GORDON CLIFFORD JURY (b. 1899, New Plymouth, Taranaki son of Fredrick Charles Jury and Elizabeth Ann (Hawker); d. 1948.)

Their children:

i Vivien Jury

ii Marian Jury mar: Morris

2nd Husband of Malvinia (Tot) Sarah Rowe: VICTOR ROY HODSON (b. 25 Nov 1904, Rahotu, Taranaki; d. 10 Jun 1979)

Taranaki Herald 6 May 1911:
At 2.50 a.m. yesterday morning a fire occurred in a six-roomed house owned and occupied by Mr. Wm. Rowe, of Glenavon, near Waiwakaiho. The house was burned to the ground, nothing being saved. Mr. Rowe just escaped out of a back window in scanty attire as the flames broke into the room. Amongst the things burned were eleven £1 notes, 80s in gold, and a new bicycle. The insurance on the house was £250 in the Ocean Fire Insurance and £75 on the furniture in the same office.
<