Wed: Sept 25, 1850 - The Castle Eden is being fitted out for her voyage and there is bustle and excitement. Provisions are brought and luggage is ready, piled in heaps and waiting for the sailors who work with a will. The largest amount of the cargo that can be conveniently stowed, is put between the deck and keel of the vessel. Some passengers are now boarding the Castle Eden at Woolwich Dock on the River Thames - she is a fine ship of 930 tons laden and well fitted up for the voyage.
Thur: Sept 26, 1850 - We are heaved by steam tug out of dock at 4 o'clock. The men at the arsenal gave us three cheers as we pass and we arrive at Gravesend at 7 o'clock.
Fri: Sept 27, 1850 - Some passengers take the opportunity to go ashore and post last letters. The Captain signed the Memorandum of Agreement for the ship hire.
Sat: Sept 28, 1850 - We leave Gravesend at 6 o'clock in the evening and drop anchor at 9 p.m. to await favourable winds.
Sun: Sept 29, 1850 - Weighed anchor at 4 p.m. and drop anchor at 9 p.m.. We again weighed anchor at 12.30 p.m. and later dropped anchor off North Foreland at 4 p.m.
Mon: Sept 30, 1850 - Off Margate all day.
Tue: Oct 1, 1850 - All in the downs.
Wed: Oct 2, 1850 - Off for Plymouth - a shocking night aboard the ship Castle Eden - we reach Plymouth at 4 p.m.
Thur: Oct 3, 1850 - Pilgrims have been daily arriving in Plymouth from all parts of Great Britain, just as eager and enthusiastic as our predecessors who left on the first four ships and are by this time, well out on their voyage. Many immigrants have long been ready to go and are anxious to start. They have been forced to wait for our ship. Others have lingered behind until the very last moment in their old homes or have been paying farewell visits to relatives and friends. The toilsome shopping and packing is finished and the boxes, well stocked, corded and labelled, are now lying stowed away securely in the hold. It has not been without many a tear and sigh that homes have been broken up. Loving friends utter last farewells and to wish us well as we leave our native land, perhaps for ever, and go to seek new fortunes in a strange and comparatively unknown country. A crowd has assembled to see our vessel with her precious freight set forth on her voyage and to wave a cheering adieu as we sail from the harbour. The anchor is weighed at 10.30am and loud cheers break from the multitude. Men frantically wave their hats, and women with streaming eyes, their handkerchiefs fluttering, as the Castle Eden with a gentle gliding motion slowly and gracefully moves, her white sails swelling in the breeze. The air is vibrating with a hearty British cheer which with one accord has broken from over a hundred throats. "Hurrah! We are off! Farewell to old England," is the cry echoed back from the ship. "Farewell to old England." The bright morning sun shone down upon a scene both painful and affecting - that wrench of home parting. On board many women are sobbing convulsively, and even strong men feel a lump rise in their throats which seemed about to choke them and their eyes grew suspiciously dim and moist as we stand and watch the receding coast.
Fri: Oct 4, 1850 - We have on board 27 cabin passengers, 32 fore-cabin and 145 passengers in the steerage.
Sat: Oct 5, 1850 - Heavy weather.
Mon: Oct 7, 1850 - Instead of being on the western edge of the Bay of Biscay as the dancing motion of our huge vessel would have led us to believe, the gale has driven us back up the Channel and we are within sight of Plymouth. We have been long using our storm sails and the wind has shown no sign of abatement. We observed the pilot who had guided the vessel out of the harbour, hovering about us in his strong built boat which contained amidships, another - a mere cockleshell, in which, if required, he was ready to come on board. On receiving a signal from the Captain, the intrepid fellow lowered his little craft into the quivering waters and having been rowed by two assistants, in a few minutes mounted our side and was safe on deck. Now, instead of struggling with a head wind, while we seemed ready about to sight the Needles, the ship was soon put about, and dashed along the billows like some gallant courser to whom his rider has given the rein. So, back we came to Plymouth, the ship agents looking at us with grim dissatisfaction, having indulged in the fallacious hope that they had finally got rid of us, and all the multifarious and unprofitable trouble and bustle that belonged to an immigrant ship outward bound.
The gales having drove the Castle Eden back, passengers were forced to stay below in the cramped space below the decks - their home ahead for many months -the dark, damp and seasickness for many, left them wretchedly groaning in their bunks.
Imagine how these normally land-faring people felt to be on a ship now out on the ocean for the first time. The ship rocking backwards and forwards in a most uncomfortable and unfamiliar motion the cause of sickness on board - people complained of sore bones due to continual strain to keep themselves upright. Overcome with sea sickness some would need to be carried up the ladder from their beds and then down again. Even men of the strongest constitution would have succumbed to it, women the same and children sick in all directions would have been a pitiful sight to see with their parents unable to help them.
Tues: Oct 8, 1850 - The wind has moderated and veered to a favourable quarter again, and we again set sail from Plymouth. Our vessel then is anchored in the "roads" until the bishop (who had spent the night ashore) at last came on board after noon and we set sail on sparkling waters which dance in the sunlight and leap and foam as they dash against the sides of the ship as she lightly skips along at the rate of ten knots an hour in the fine breeze. Eddystone Lighthouse is passed at two o'clock in the afternoon and all admire the wonderful building, and think it was the finest one in the world. Dinner is served at half-past three and at the conclusion of the meal, we return to the deck to have another look at the familiar cliffs and headlands between Plymouth and Lizard Point, gazing with wistful and longing eyes at the land we have finally left and to form new acquaintances. Because of the hurry in starting and then the delay in waiting for the Bishop to come on board, the meals on this day are irregular - breakfast at 8, dinner at 3 and tea at 6, but this did not worry our pilgrims much as our thoughts are otherwise occupied. At 8 o'clock, this evening, the bishop took service of family worship and all on board devoutly kneel in prayer. The Bishop feelingly referred to "Those dear ones at home, who were praying for those at sea" and all our hearts were touched. After singing a hymn, the benediction was pronounced and our assembly disperse - ladies and children to their cabins and below deck and many of the men stay in the cool fresh air on deck to enjoy the last sight of England as the coast disappears in the mist about 1 a.m. For some of them, it was for a whiff of the fragrant weed which was so necessary for happiness.
Conditions at mealtime for pasengers travelling steerage
Wed: Oct 9, 1850 - Soft fresh air and bright sunshine greet the day. The wind is still fair. Family worship is held twice daily - short services at 11 in the morning and at eight in the evening.
Thur: Oct 10, 1850 - We've had a stormy night but it was followed by a beautiful morning. The wind still fair. A large shoal of porpoises swimming rapidly past the ship attracts the attention of everyone on board. Our latitude is the Nantes, longitude 10 W of Greenwich. At 4 o'clock, several passengers were caught by the sailors up the masts and in the rigging. This caused great amusement as the sailors insisted upon their "paying for their footing." Each was kept prisoner in his position until a fine was paid which took the shape of a bottle of rum. Protests were in vain and no one could interfere, as this was one of the sailor's privileges. At last, the laughing captives agreed and obtained their freedom to go over any part of the ship all through the voyage. One young fellow - a middy, escaped from the sailors, and he evaded the fine by sliding down one of the ropes. At night, the chief cabin passengers are treated to an exhibition of a magic lantern by the Bishop which is very much appreciated, the views being very fine.

The steerage immigrants settled down to a community life more close and intimate than they had ever before experienced even in those days of overcrowded houses and large families. The deck ceiling height was just over 7 feet. The bunks in a series of high board partitions against the sides of the ship divided the groups into four berths (beds) which were fitted into an area 6 ft by 6 ft. with cloth curtaining in the married quarters entirely shut in from the gaze of others and open in the single. Beds were set up along both sides of the ship and positioned so the passengers lay in the direction of the ship, from fore to aft (if as in a few ships, the bunks were placed transversely or thwartships it caused passengers greater discomfort in rough seas) and there was only a small corridor between the bunks. Each bunk was intended to hold from three to six persons, and these were often called family bunks. The bunks were usually double-deck beds, i.e., there was one bunk on top of the other. If there was enough headroom between the bunks that an adult could sit up in bed but the best place to have a bunk was amidships, because the rocking of the boat was felt less there. The bunks had straw mattresses or mattresses stuffed with straw. The emigrants had to bring their own pillows, blankets, and other necessary bedclothes however lice, cockroaches and fleas thrived in this environment.

Everyone had a chest of food, stored in the mid of the deck, held in place by ropes and here, a long table was set up with forms on either side. There were two forward gangways on either side which gave space for the young children to play and the young lads to sling their sleeping hammocks near their parent's berths, and for groups to lounge and gossip before meals when the weather made it impossible to go on deck.

Fri: Oct 11, 1850 - We are now in the Bay of Biscay and have had a tremendously stormy night. So much water was shipped, that it threatened to drown the passengers. All the hatches had to be battened down and our stock of sea bread was destroyed along with a quantity of clothes. A number of migratory birds were seen. Passengers captured a poor, tired and exhausted starling when it settled on the deck, three hundred miles from land. It was tenderly cared for by those on the ship. The ship was tossing about and the famous song with its rousing chorus, was sung- "Till next day, there she lay In the Bay of Biscay, oh." By teatime the ship was rolling tremendously, and all are knocked from one side to the other. Chairs and anything unattached is rolling about and everyone has received some very hard knocks, making it very trying one's good humour. Then the situation grew worse and the wind howled in the rigging. We retired early that evening and were kept awake by the sound of sea breaking over the ship and rushing down the hatchways. Passengers were drenched in their beds and were left baling water out of their quarters. The noise of the gale was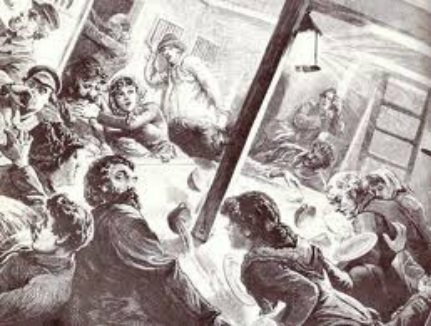 deafening - it was an awful night. On deck, the sea seemed a fiery liquid and we feared our ship would be overwhelmed.

Sat: Oct 12, 1850 - Latitude of Vi go, longitude 15 W between the Western Isles and Lisbon. A tremendously stormy day and we are still battened down. The doctor's mustard jar broke and between the decks, the water washed it about and we nearly suffocated. Passengers were employed all night bailing water and mustard from between decks. Towards 10 o'clock, the storm moderates a little as our ship is opposite Oporto, in Portugal. But now, the ship's motion has changed to pitching violently and few of us were spared an attack of mal-de-mer and go to bed, too ill to be up.

Sun: Oct 13, 1850 -A beautiful morning, but still there is a nasty ground swell. The Bishop's subject for Divine service in the morning is on "Quarrelling".

Mon: Oct 14, 1850 - Dead calm. The weather now becomes much warmer. The thermometer showed an increase of 12 degrees since leaving Plymouth - much too warm to remain below deck or in one's cabin. On deck a large number of swallows were flying about - some were captured but liberated again and the fresh air and sunshine works wonders for our sufferers and lost appetites return.
Tue: Oct 15, 1850 - Calm. Passengers prefer the deck to going to bed - but the excessively hot weather foretells of a change at hand.

Wed: Oct 16, 1850 - Calm.

Oct 17, 1850 - Thur: Calm. Days are scorching hot, the wind has gone down and the heat is severely oppressive. Winter clothing is too warm for comfort

Fri: Oct 18, 1850 - Calm. The ship is in great confusion as our boxes are taken out of the hold. Cockroaches in great numbers fly about the deck. These pests get executed by the male passengers and startled ladies utter exclamations of dismay when "the horrid things" slily gave a bite or settle on their dresses. The upset on the deck is on account of our wish to obtain articles stowed in the hold. As our journey is to last for months, it is thought that as we possess 3 things that would add to our comfort or amusement, it would avail us much to have these handy. So, trunks are brought up, and owners, after extracting clothing, books etc. carefully repack them, and the boxes then are returned to their original resting-places.
Sat: Oct 19, 1850 - Calm. In the latitude of Madeira, longitude 19 W. The Bishop started a series of extremely interesting lectures in his cabin, He lectured on the "Liturgy of the Church" among others and passenger opinion was agreed that they helped to fill in the time and that he did his best to interest his listeners in the subject. He was thought "very High Church" and an "earnest and good-meaning man."
Sun; Oct 20, 1850 - Calm. Our captain is very good to his men, a thorough gentleman and faithful in his attention to duty. In appearance he is a very fine-looking, broad and strongly built man, and it is needless to say that he is a general favourite with all the passengers in the ship. Today, about 10 o'clock, one of the seamen began to show signs of mutiny and caused a slight disturbance. The Captain promptly checked it in time to prevent a serious row and those who observed the incident, admired the way he quelled the disturbance and wondered how it was that the sailor could refuse duty to such a man. It was a pleasure to see the sailor submissively return to his work after hearing what the Captain had to say.
Mon: Oct 21, 1850 - Today is bitterly cold, with heavy rain falling. The ship is rapidly sailing along at the rate of ten knots an hour - good fast sailing. The sea occasionally breaks over the ship, and at dinner in the cuddy, the apple pie was completely spoilt by sea water. The Castle Eden is passing the Canary Islands but we can see no land.
Tues: Oct 22, 1850 - This morning, at six, a party of young men from the first class cabins went for their matutional bath - and a novel douche-bath it was. They kept their nether garments on, and stood while sailors threw buckets of clean sea water over them before jumping into a large tub of sea water, which is continually running in and out for washing the decks. After this at 8, they were ready to eat a hearty breakfast in the cuddy, and was followed by family worship. Then, at ten we all repaired to the Bishop's cabin where he delivered his historical lectures. Today's extremely interesting subject which was cleverly handled, was on the "Reformation", and proved to his hearers, to be infinitely more interesting than the Liturgy of the Church. The lecturer was listened to by all with unabating interest - the ladies sat with flushed cheeks and sparkling eyes, while each stirring event of the Reformation was laid before them - and the men, moved by strong feeling which was shown in their earnest mien, drank in every word in rapt attention. One could imagine that if the time of action was before them now, how they would plunge into the vortex of strife, and fight for "Faith and freedom" and we, who were now sailing as pilgrims to a far-off land would not have been found wanting at the call to arms. We would have stood foremost and firm in our ranks, and marched triumphant and victorious, with the banner of liberty at our head. At the conclusion of the lecture, our interest became centred on a number of flying fish and some expressed the desire to catch some of these curious fish. Then it was dinner.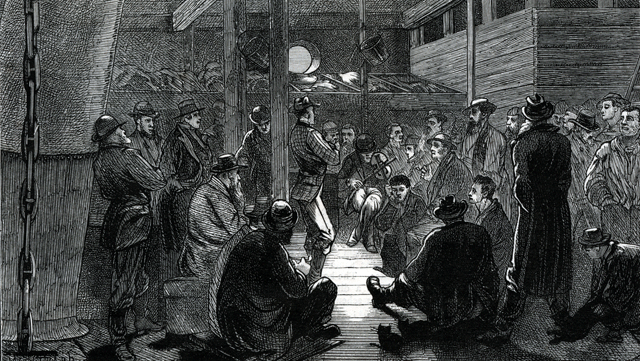 Thur: Oct 24, 1850 - The Castle Eden is now opposite Cape Verde Island and sailing merrily along in heavy tropical showers. Then a sudden gust of wind met her, and the ship taken aback, is knocked completely round out of her course and her fore stem-sail ( the studding sail) was carried away.
Fri: Oct 25, 1850 - A beautiful day. The morning dawns with clear skies and throughout the day, the heat becomes intense. Numbers of flying fish come on board and the wings of one captured, is preserved as a momento of the voyage. 2 sails were in sight. During the morning some lively young men captured the bishop's two sons and tied the boys with great glee, to the masts as "spread-eagles." This was considered great fun by all the parties concerned, but their tutor coming unexpectedly on the scene, was shocked at the sight that met his astonished gaze, and without a moment's consideration said what he thought, and carried off his youthful charges in triumph.
Sat: Oct 26, 1850 - Cape Verde is passed and at 10.15 am we can see, at a distance of about 30 miles, the bold outline of St. Antonia, the north-western-part of the islands rising 7400 ft above the surface of the sea. Most passengers assemble on deck to see the first sight of land since leaving England. After dinner, Neptune's donkey caused some good sport. This wonderful animal, of boundless sagacity, belongs to the sailors. They generally made one on their "pay-day", or more strictly speaking, in commemoration of having earned a month's pay. Two of the men are sewn up in a donkey's skin, and this remarkable animal is led all over the deck, where it's antics called forth merry peals of laughter from all quarters.

The heat in the Tropics was very great, symptoms of whooping cough appeared amongst the steerage passengers - the number of sick increasing.it was thought it might have com aboard with one of the visitors while the ship was lying in the docka and he was immediately turned out when his disorder was discovered by the Surgeon-Superintendent.

Sun: Oct 27, 1850 - Fine weather and a steady breeze. We saw flying fish and some porpoises.

Research Source: There was no medicine for sea sickness so a number of home remedies were tried eg. the passengers were treated with gruel. It helped if passengers were kept above deck as much as possible, especially when seasick. The Castle Eden had a physician on board to treat the most common illnesses - cholera, typhoid fever, measles, chicken pox and dysentery but when hatches were closed for bad weather, dysentery could spread from bunk to bunk.

Those who died at sea were buried either wrapped in canvas or placed in a coffin constructed by the ship's carpenter. The Bishop read the funeral service before the body was sunk into the ocean.
Mon: Oct 28, 1850 - Steady breeze, the weather close and warm between showers. Ship going 8 knots. Lots of flying fish. A most unwelcome visitant was now on board as one poor woman, Mrs Scarrott, a steerage passenger, lies very ill with typhus. The ship sailing very fast with the favourable wind. We are so thankful when refreshing rain begins to fall. The heavy rain is a god-send to all on board. Everyone is jubilant when they were able to catch a few pailfuls of water on the awning. Water is scarce and our supply has been restricted. Thirst under any condition is terrible to contemplate - but still more painful is the torture of being surrounded by water, yet not a drop fit to drink. As one of England's poets sung - "Day after day, day after day, We are stuck, no breath, nor motion, As idle as a painted ship upon a painted ocean. Water, water everywhere, And all the boards did shrink ~ Water, water everywhere, And not a drop to drink"

Tue: Oct 29, 1850 - Calm. At noon, skies are again clear and the sun's blazing rays beat down relentlessly on our ship, which lies motionless upon the placid waters. We are only about 10 degrees from the line and feel as though almost "fried to death". Most people are bathing.

Wed: Oct 30, 1850: Calm and hot. Had a bath under the pump.

Thur: Oct 31, 1850 - Calm and fine, we have been stationary for four days. The sailors spend a great deal of their time sea-bathing. A shark, doubtless thinking that a good meal was within reach - made his appearance close to the bathers, and was soon captured by the sailors. The jaws were preserved for the prospective museum of Canterbury, New Zealand.

Fri: Nov 1, 1850: Mrs. Scarrott, who had been ill for a fortnight from typhus fever became unconscious and died at 8.30 this morning. She was aged 24 years and had only been married two months. There is a gloom over the whole ship. The weather is now cool and showery, but our ship still becalmed.

Sat: Nov 2, 1850 - The rain fell heavily. At half-past nine am, the mortal remains of Mrs. Scarrott were launched into the stormy waves. Her family name was Bassett. Nothing is more sad and affecting than a funeral at sea. The solemn words of the Burial Service seem doubly impressive on such an occasion. In the afternoon the weather became squally, and the rain increased. Three ships in sight, but far too distant to hail. In the cuddy, a party was held that evening and rain coming down the hatchway left water at a depth of six inches opposite the cabin occupied by the merry company.

Sun: Nov 3, 1850: Cold, squally and wet. Our noble Castle Eden is making steady progress of seven miles an hour towards her destination. Three other ships pass - homeward bound - but, again disappointingly, too far away to send letters home by. Holy Communion and a splendid sermon took attention from mundane affairs, and the day passed even more quietly than usual.

Mon: Nov 4, 1850 - Squally and wet. The first class passengers were awakened by the noise of a sailor actively engaged in bailing water out of the cabins - it had come down the hatchways during the night, and lay eighteen inches deep on the floor. Some had fortunately on the preceding evening, removed their belongings from the floor that might have spoiled. As a result of this, a "watch" was appointed amongst the chief cabin passengers with the following duties :- 1st. To keep order on board. 2nd. To see that all lights were put out after 10 p.m.. 3rd. To cover up the hatchways when it rained. The most difficult duty to perform was to enforce that lights were extinguished after 10 p.m. as some were very fond of reading in bed and lamps were often burning till an early hour in the morn. Now, all was to be altered and everyone addicted to night studies must keep respectable hours.

Tue: Nov 5, 1850 - Squally - the sailors keep up Guy Fawkes. The doctor remarked on the jolly fun he used to have in his schooldays. He remembered many a huge bonfire lit to burn the effigy of that arch-rebel Guy Fawkes. We Castle Eden passengers had to dispense with the bonfire but not the veritable Guy - as sailors appeared with Guy Fawkes riding a donkey. They went round for contributions and in the first class, each masculine passenger was in turn importuned for rum or money. Many proved generous. The weather is now fine and cool and our ship is going on steadily and we are more comfortable. The evening, for the greater part, is spent on deck. Only one other vessel was in sight and many conjectures are made concerning her. Singing entertained and we concluded by listening reverently to words of comfort and peace which are read from the Book of Books by the bishop. With night fallen and brought with her peaceful repose, and while the wind softly sings a gentle lullaby, and lapping waves murmur in response, we retire to their bed and sleep descends to stay till the bright morn again appears.
Wed: Nov 6, 1850 - Fine cool weather and a calm sea tempted Lord Montegue and a few others to set out on a boating expedition. They intended to visit a brig which lay near - only about a mile and a half off. Two barques and another brig were still further away, and, like our Castle Eden are waiting for a breeze to spring up and start them on their voyage. The breeze came sooner than was expected, and suddenly those in the boats were in great danger of being left behind. It was with great trouble that they managed to get back on board. We are now within 7 degrees of north latitude and 20 degrees of west longitude, running in a south-east course and the weather is very showery. A pilot fish caught, is found to resemble a mackerel - the bishop is keeping it for his museum.

Thur: Nov 7, 1850 - Steady breeze - going 6 knots. Warm weather and the ship steering westward. Four other ships in sight, scudding along with fair white sails outspread, like the wings of some huge sea birds. We amuse ourselves fishing and the sailors caught two albercores about 4 feet long and weighing about 50 lbs. These were cooked for dinner and the taste resembled veal and was voted excellent by all who partook of it.

On most nights the passengers were in bed as early as eight as by then it was well dark, but it did make for very long nights. Many slept with no clothes on as it was often very hot below decks because of the low ceiling height and it's double tier of bunks had to be neatly contrived to leave as much room over for personal movement - for men, six feet by 20 inches; women 5ft 9ins by 18 inches and married couples 6 ft by 3 ft. A series of hooks held lamps, bags, pots, mugs and provisions.

For the purpose of sleeping accommodation and meals, "one person" counted as two children between the ages of 7 and 14 and three below the age of 7 years. The immigrants brought their own mattresses and bedding aboard and the regulations for airing these daily were strictly carried out unless there was bad weather. The boards of the berths were taken out once a week and scrubbed and the floors under the berths and the whole deck area was religiously scraped and holy-stoned at regular intervals and chloride of lime sprinkled.

Those travelling steerage were divided into three sections - one for single women who were berthed in the aft-most section directly below the first and second class cabins under the poop deck; married couples and children occupied the mid-section and single men and boys, l2 and over, were a in the forward section. There were partitions between each section and each had its own hatchway to the deck. The cabin passengers had far better accommodation, but the second cabin people were little better then the steerage, but seasickness and storms fell equally on cabin and steerage passengers alike.

Fri: Nov 8, 1850 - Steady breeze and going 6 knots. Half point out of course. Two ships in sight, homeward bound but again too far off to prove useful in the matter of mail carrying.

Sat: Nov 9, 1850: Steady breeze and going 5 knots. It is the birthday of the heir of the British throne. For excited passengers, both young and old, the sole topic of conversation was the expected arrival of a most distinguished visitor - but the ocean monarch did not put in an appearance after all.

Sun: Nov 10, 1850 - Steady breeze and a nice fine day. As usual, Divine service is held twice and the captain has given the sailors leave to invite Neptune's barber on board when the Castle Eden crosses the line which is expected to be tomorrow. All the gentlemen are "in a funk" in consequence.

Mon: Nov 11, 1850 - A fine morning but a squally breeze and heavy showers of rain and hail fell in the afternoon. Neptune's ship appeared in sight at 6 p.m. and hailed the Castle Eden at 7.30. Then followed a string of questions - "What is your Captain's name? came in an stentorian voice from the regal boat. "Captain Thornhill." "What is the name of your ship?" "The Castle Eden." "Where from?" "Plymouth, in the British Islands, reigned over by her Majesty Queen Victoria." "Where to?' "Port Cooper, New Zealand." "What is your cargo?" was the next question, to which a satisfactory answer is given. Neptune announces his intention of coming on board at half past nine on the following morning. The announcement causes a flutter of excitement and all see Neptune's fiery chariot going away. To the initiated, the chariot is nothing more than a blazing tar-barrel, which lighted up the dusky waters for a great distance.

Tue: Nov 12, 1850 - At half-past nine, punctual to time, we cross the line - 26 degrees west longitude, and Neptune and his train came on board - quite a large party, consisting of Neptune, with his beard of oakum, his wife Amthitrite, dressed in an old bonnet and faded pellisse and daughter, aide-de-camp, secretary, doctor and assistant, barber and assistant, savages, chief constable, twelve constables and policemen. They shave until 12 noon, with much ceremony. The chief cabin and intermediate passengers escape by paying a fine of ten shilling each, all that is, except Fitzgerald who was along with all the steerage passengers excepting the feminine portion, shaved and ducked. One of them imagined he was safely hidden from Neptune's observation in the depths of the coal-hole but a search was made, and the would-be "escapee" was hauled and pulled from his hiding-place by the policemen, who carried their prisoner off in triumph. His wife, however, flew to the rescue, and she was promptly arrested and cautioned. Neptune decreed too, that she should be shaved, on account of her fighting proclivities, unless she promptly surrendered to his Majesty. This terrible sentence completely extinguished the amazon's warlike ardour, and the latter alternative was accepted. The scene caused great amusement to the onlookers and upon the whole, the shaving was great sport. The razors were made of rusty hoop-iron, with teeth like a saw. Each victim was seized, and lathered with some horrible composition. If he cried out or struggled very much, a brush covered with this mixture was at once thrust into his open mouth. Then followed an ignominious bath - or rather, ducking - in a sail full of dirty water. The doctor and his assistant, previous to the bath, had administered the necessary pill, the composition of which I cannot mention. The shaving ended at noon; then the sailors began to sing and dance, some of their number playing on a violin. As our ship is now in the tropics, darkness falls over the ocean at seven o'clock after a most brilliant sunset. All are loud in praise of the wonderfully clear blue day skies and the darker hue and starry firmament of night. Shortly after entering the south-east trades, the Surgeon-Superintendent came to the conclusion that in consequence of the general state of the health of the passengers, and the condition of the provisions, it would be advisable to touch at the Cape of Good Hope or at some port in South America. The whooping cough became prevalent, several cases of fever occurred, and the medicine cabinet required replenishing.
| | |
| --- | --- |
| | |
Wed: Nov 13, 1850 - Fine weather - a steady breeze, the ship is going 10 knots. We are three points out of our course.

Thur: Nov 14, 1850 - Steady, south-east trade winds - going 8 knots. Latitude 4 degrees 21 ", or 261 miles south of the line. The breakfasts, dinners and teas are abominably bad - rotten salt meat to eat and bad water to drink. Words of complaint are of little consequence and we've little appetite for the food and little chance of improvement for some time. A Dutch ship only a mile and a half off, had us wishing that food could be got from her but we realised she could also be in the same plight.

Fri: Nov 15, 1850 - Steady breeze. We have made three hundred knots since Wednesday. The Captain is talking about putting in to some port in South America to get a fresh supply of provisions which we need badly.

Sat: Nov 16, 1850 - Castle Eden reached 10 degrees south latitude and 26 degrees west longitude. A steady breeze and we alter our course for Rio de Janeiro at 7.30 p.m. and steer until about midnight. Fresh food is not the only reason for our deviation - another is on account of the rebellious conduct of some of the sailors. Then it is discovered that the Association has no account open at Rio so at midnight the course is again altered back to her old course and we make for the Cape.

There was sometimes even collective action against privilege and pretensions of the cabin passengers. Water was inclined to become extremely foul and even to run low. On the Castle Eden there was a concerted, but unsuccessful, attempt to force the captain to make for port at the Cape of Good Hope when it became clear that the water was running out however rationing was to be confined to the steerage. The arrival of rain resolved the crisis, but not before the captain had been obliged to cancel his rationing order.

Sun: Nov 17, 1850 - Steady breeze with stud sails set. November 18, 1850: Monday Fine weather and favourable steady south-east winds prevail and the Castle Eden is scudding along. We are now more than 1.000 miles from the line. One of the sheep has died. In the evenings, dancing, singing and music are our chief amusements and one of the sailors usually supplied the dance music for chief cabin passengers on the violin. All the portholes have been able to remain open for a fortnight and with the air coming in fresh and cool, sighing winds and waves soon lulled tired ones to sleep.

Tue: Nov 19, 1850 - A steady breeze. The news of the birth of a son to Mrs Eliza Bowley is circulated around the ship - the lady belonged to Bishop Jackson's train. Of course such news has caused a flutter of delightful excitement amongst the ladies, who gladly welcome the little ocean stranger. A cow has suddenly fallen dead and upon investigation, it is found that the cause of death is mortification of the heart. It's suggested that the flesh be cooked and eaten and those who dared, ate the steaks with great relish from the defunct animal and declared it "much preferred" to the vile salt meat we had on the table for some time past. Other passengers are more squeamish and express their disgust with the idea. Evening come and we are almost in sight of the rocky and barren island of Trinidad which lies in latitude 20 degrees, 29 minutes, 30 seconds south and in longitude 20 degrees 10 minutes west. Our course now becomes easterly.

The steerage immigrants divided themselves up into messes of about 6 people - the average size of the family travelling, and each mess took it in turn to collect the issues of food from the purser and take them at stated times to the galley for cooking. It was a long and weary pilgrimage between the storeroom to the meal laid out on the long table bewteen the decks. Flour, currants, oatmeal and other dry goods were carefully weighed and doled to each mess once a week (usually Monday) and a small barrel of water. Before the others were up, the breakfast mess cook had to take his pot of porridge along to a galley that accommodated only three of four people and the ship's cook, and as there might be more than a dozen messes of porridge to cook in a great chaldron, it would be quite possible to spend more than an hour waiting in turn at the galley stove. Food might suffer from under or over cooking and in rough weather a wave might swamp the galley and put out the fire. Baking took up considerable time and part of the flour ration was often used for cakes and scones and bread instead of the pudding it was originally intended which in spite of the likelihood of their not rising properly, all disappeared rapidly. Two days the single men baked, afterwards the married people and the young women had two days each, taking their efforts to the galley to be cooked.
Hot water was issued to each mess before making coffee. Delay with the item did not matter as it had only to be taken in tin mugs that could be put to the lips when cold, accompanied by ship's biscuits, the hard tack, that often figured in wry jokes.

Wed: Nov 20, 1850 - Steady breeze - about 10 degrees from the Cape. Steady breeze and fine weather. Dancing from 6 till 9 and one of the steerage passengers is taken very ill.

Fri: Nov 22, 1850 - Steady breeze. Again there is dancing in the evening. We are now out of the tropics and the weather is colder. The temperature fell during the week from 120 degrees to 80 degrees. The wind remains favourable, though variable and our ship has made but slow progress, at times rolling considerably, making several seasick and thinning the ranks for meals.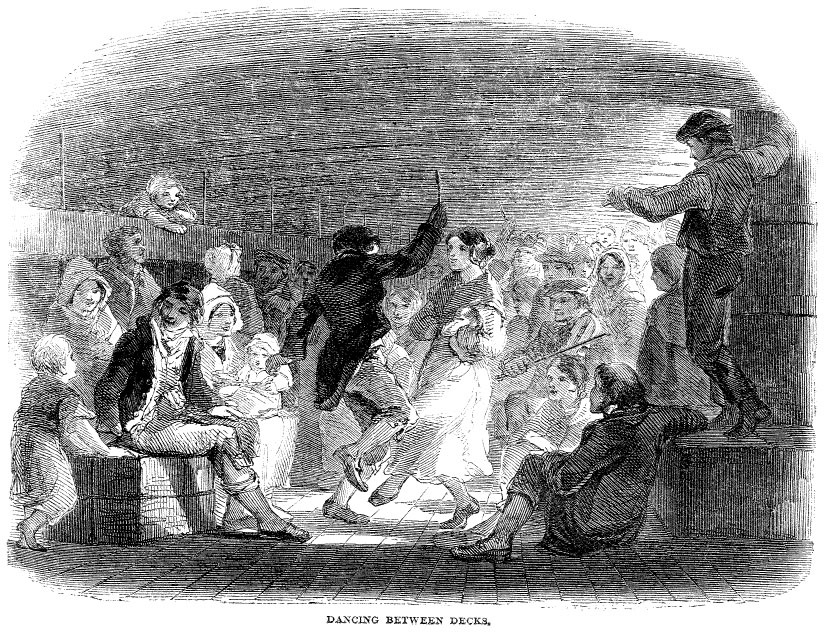 Sat: Nov 23, 1850 - Steady breeze - we are going very fast. We find amusement in watching the beautiful little flying fish and their efforts to escape their enemies, the dolphins, which are in hot pursuit. The blue bodies and silvery fins of the terrified little fishes glitter and flash in the sunlight as they leap and skim along the surface of the ocean with the lightness of swallows. The dolphins, with surprising swiftness and agility, leap half out of the water after them, and seldom fail to seize and devour a helpless victim. One of the seamen, named Mailley was late for muster and was ordered off. He refused and a scuffle ensued on the main deck - it almost caused a riot. A passenger who was with others, congregated near the scene of the disturbance stated - "The men are in a state of mutiny. The fellow refused to do something that the captain ordered, so he just took hold of him and brought him here. Then those other fellows rushed to the rescue and took him away from the Captain by force, and went so far as to strike the Captain, which is a serious offence, and it means imprisonment for the offender when we reach the Cape. The tense situation was not helped by Montegue arriving with a drawn sword and announcing " I'll stand by you, Captain". He was abruptly told to put it away, to stand back and not interfere and then the Captain ordered that the man who had struck him be put in irons. This order was obeyed with alacrity by the unaffected sailors, who proceeded to handcuff the mutineer and led him away. Discussing it afterwards, we noted that the troublesome sailors used to be great favourites with Montegue but he now seemed to have changed his mind and his action with a sword were like "a red rag to a bull" and the sailors would have been delighted to have the chance to pay-off old scores. It is felt that there could have been bloodshed but for the Captain's coolness and determination if he had not put a stop to Mont's nonsense. It was stated in a letter by the Captain that the surgeon's sons had given spirits from the medical stores to the crew, which left some of them intoxicated and the outbreak ensued. Also said that the Rev Jackson intervened and quietened down the mutinour crew.

Sun: Nov 24, 1850: Steady breeze. The stud sails are set at 8 am. The sailors have resumed duty. The great "row" is peaceably settled this morning.

Lord Frederick Montegue - did not make a favourable impressession when at Lyttelton with the wife of the Association's chief agent. mrs godley commented "He was quite a nuisance here, drinking, swearing, cheating at cards, and so on, and among the lowest public-house set, for no-one else now would notice him. His name and title; out here, make him far too conspicious and I think some of the very young gentlemen here would be far better off if they had never seen him. Mrs Jackson told me he was unbearable in the ship, and used such language the first day she was at dinner that she and Dr Jackson and their boys, always afterwards dined in their own cabin."