Click Slide menu on left
Edwin Clarence & Louisa Guildford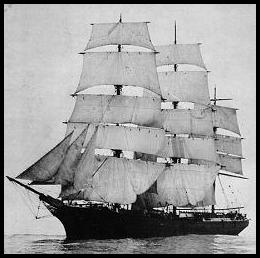 The full rigged ship "Torrens" photographed in the late 19th century.
Dunloe was similar to this in rig and general appearance SRC
Edwin Clarence Guildford b: 1860 in London; d: 22 Sep 1895 in Auckland Hospital; Bur: 22 Sep 1895 Purewa Cemetery; Block D; Row 11; Plot 68
1871 Census: Mary Guildford 32Y widow aged 32Y and Edwin 11Y from Middlesex

9 Dec 1880, ARRIVAL: Messrs Shaw, Saville, and Co.'s barque Dunloe left London on 29 Aug for Auckland and on anchored off the Queen street wharf at 5 o'clock last evening. Steerage passengers: Mary Guildford and her son Edwin Clarence Guilford.
Edwin Clarence Guildford of London, England, mar: 28 Feb 1884 in St Mathews Church, Auckland to Louisa Ann Longstaff, dau. of the late Charles Longstaff, of Dalton, England (b: 1856; d: 1937)
Time Line:
Auckland Star, 23 Feb 1888: WANTED, 2 Furnished Rooms, bed and sitting, in or near Grey-street —Send particulars and rent to E. C. Guildford, Napier-street. (Rooms for mother Mary, a seamtress were found at Unon St)
Auckland Star, 18 Mar 1890: ROBBERY IN PITT-STREET. The police have been engaged in the Investigation of the circumstances surrounding a robbery which occurred in Pitt-Street about a fortnight back, but so far their efforts have been quite fruitless. The robbery took place at night on the premises of Mr Edwin Guildford, fancy goods dealer and tobacconist, of Pitt-street. On the following morning Mrs Guildford came down to open the shop, and noticed that one corner of the side window looked very bare, 'On making a closer examination she found that some one had been around during the night and had carried off a miscellaneous collection of articles to the value of about £5 8s 9d, after having first carefully removed a portion of the plate glass window. The goods taken comprised pipes, colonial tobacco and various other articles. The matter was immediately reported to the police, but so far they seem to have been unable to obtain any trace of the thief or of the stolen property.
Auckland Star, 9 Apr 1891: WANTED Known.—£l0 will buy a small General Business, complete; in main thoroughfare. Owner leaving Auckland. —Apply E. C. Guildford, Windsor Store, Pitt-Street, Auckland.
Auckland Star, 15 Jan 1895 THE WEEKLY HALF-HOLIDAY - A VEXED QUESTION: The Wednesday Movement, 4 MEETING OF TRADESMEN. That tradesmen are alive to the necessity of definitely deciding the vexed question of on which half-day in the week the shops shall be closed, was shown by the large number who attended in the lecture ball of the V.M.C.A.
Auckland Star, 29 Mar 1895 - Larceny. Four boys named ........... pleaded guilty to having stolen seven books of the value of 14s, of the property of Edwin Guildford. It was stated that the accused stole the books from Mr Guildford's toy shop in Pitt-street, and sold them to other dealers. After being severely reprimanded by the Bench they were discharged with a caution..
Auckland Star, 13 April 1895: In Auckland at the present time we have guilds and associations of all kinds, and no doubt a Philatelist Guild will ultimately be formed. In fact it may be said to exist now, for one night in each week grave-faced men assemble with albums under their arms and discuss the progress of the disease. Guild would be a more suitable name for the gathering than society, as the gentleman at whose establishment the philatelists meet is "Mr Guildford", of Pitt-street, who is himself an enthusiastic collector. A visit to his back room will open the eyes of collectors. There may be seen men with magnifying glasses, perforation gauges and all sorts of means for testing the genuineness of an old stamp. The thing has become almost a science now, and if Mr Noah had sent a message with a stamp on it, I believe it would be figured in the comprehensive catalogues now.
Auckland Star, 18 May 1895 - A meeting of Stamp Collectors was held last evening at Mr Guildford's, Pitt-Street, when it was decided to form the Auckland Philatelic Society. Twelve members joined and Mr J. A. Woodward was elected President, Mr E. C. Guildford Vice-President and Treasurer, and Mr U. H. Cato, Hon. Secretary.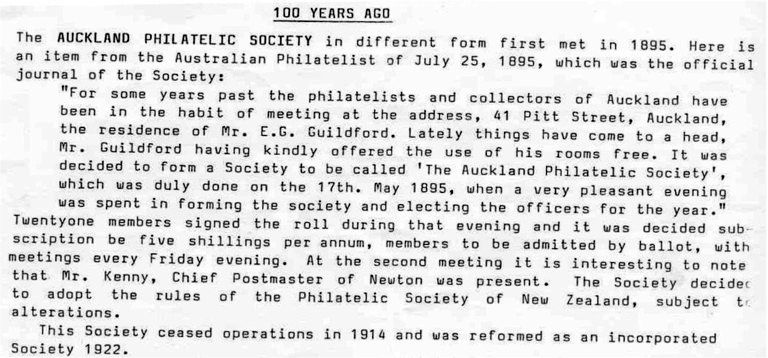 Auckland Star, 27 Aug 1896 - SINGER'S Sewing Machine, in good condition, for Sale cheap. Apply Mrs Guildford, Fancy Goods Emporium. Pitt-street, City.
Auckland Star, 3 Sept 1898: WANTED by good Dressmaker, Engagements by the day, during the months of September and October. Apply Mrs Guildford's Fancy Shop, Pitt-street, after 6 o'clock.

26 May 1884: APARTMENTS, Furnished or Unfurnished. Mrs Guildford, Kent-street, Surrey Hills Estate.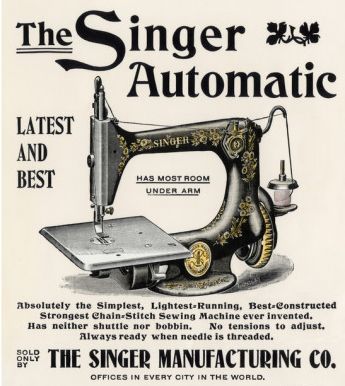 11 Dec 1885: WANTED TO LET, Large Bedroom, suitable for two friends; also. Single Bedroom. Mrs Guildford, lower Union-street, near Giles, Butcher. Freeman's Bay.
MACHINES: For Sale, 2 first class Sewing Machines hand and treadle, they must be sold - owner leaving colony. Apply E. C. Guildford, top of Union-street, opposite Kennard's.

Auckland Star, 8 February 1886: To Let - Front Bedroom (Furnished). Rent, 5/- per week. Board if required.— Mrs E. C. Guildford. top of Union-street, second house from Dunn's Hotel.

Auckland Star, 23 Sep 1895 - The remains of the late Mr E. C. Guildford, of Pitt-street, were interred yesterday afternoon in the Purewa Cemetery, by the Rev. P. Smallfield. The funeral was attended by many friends of the deceased, including the members of the Philatelic Club, which was mainly formed by the exertions of the deceased. The brethren of Court Nil Desperandum, A.0.F. preceded the hearse, and turned out in large numbers to do honour to their deceased brother.

DEATH: GUILDFORD: On Sep 20, 1895. at the District Hospital, after a brief illness, Edwin C. Guildford, beloved husband of Louisa Ann Guildford, a fond father, and loving son of Mary Guildford; aged 35 years.

Auckland Star, 8 Oct 1895: RE EDWIN C. GUILDFORD, DECEASED. It is requested that all Claims against the Estate of the above named deceased be for warded to the undersigned forthwith. GEO. A. GRIBBIN, Solicitor. Colonial Bank Buildings, Queen-street

Auckland Star, 16 Oct 1895: TO W. H. CHURTON, Esq., Manager, PROVIDENT AND INDUSTRIAL INSURANCE CO. OF N.Z Shortland-street. Dear Sir, I have to thank you for prompt payment of the sum of £30, amount of Provident and Industrial Insurance Co. of N.Z. Policy No. 2,057 on the life of my late husband, LOUISA ANN GUILDFORD.
Auckland Star, 10 Jan 1899: WESTERN - GUILDFORD: On Wed. Jan 4, 1899, at the Registrar's Office, Auckland, John Western, of Port Albert and Tairua, to Louisa Ann Guildford, of Auckland

New Zealand Herald, 4 Sept 1909: One of the pioneers of the Port Albert Nonconformist settlement, in the person of John Western, died of heart disease at Oratia, near Waikumete. last week. The deceased, who was 69 years of age, came out in the ship "Matilda Wattenbach" in 1862, and resided at Port Albert for many years, afterwards living at Tairua and for 10 tears worked at the northern Wairoa Sawmill and ultimately settled at Oratia. He served a term with the military forces during the Maori wars, and was present at a number of engagements. He leaves a widow, three daughters, and one son.

WESTERN. On Jan 21, 1937 at her son's residence, 32 Warnock street, Grey Lynn, Louisa Ann, beloved wife of the late John Western and loving mother of Frank and Charles Guilford; aged 81 years. At rest. Interred Jan 20 at Waikumete.
Mary Guildford, Edwin's mother supported herself as a dressmaker, living at Union St and then 1905 lived at Inkerman St;
1907: On Auckland Hospital Register of Patients: Mary Guilford, Widow, age 68, Native of England, in NZ 26 years, Late residence Freeman's Bay; occ: domestic duties; Ch of England; admitted 27 Mar. 1907 and discharged May 1907; Next admitted: Res. Governors Bay, Ulcer of leg and debility; discharged to Costley Home

Death : 1 Dec 1907 Costley Home; Age 68y; Waikumete Cem. Bur: 4 Dec 1907, Plot : ANGLICAN DIVISION F Row 12, Plot 66
Edwin and Louisa had 6 Children:

i Charles Edwin Guildford (b: 07 Jan 1885 in Auckland, Bapt Feb 1 1885; Attended Beresford School 1895, Napier St School 1897; d: 1965 in Auckland)
Charles Mar: 04 Mar 1908 in St Peters Great North Road, Auckland to Margaret Brown Ness (b: 1887 dau: David Ness and Sarah Shaw; d: 04 Aug 1937 in Auckland. Death Clipping:
Guildford Margaret Brown: 4th August 1937, aged 50 years. Died at Auckland Hospital nee Maggie Ness, wife of Charles Edwin Guildford and mother of Naomi, Olive and Roy. Funeral Mangere Cemetery. "A good daughter, a good wife and a wonderful mother")

In 1911 Charles Edwin was a timber worker in Onehunga living at Selwyn St, and during WW1 was in Upper Hutt with the Military police then returned to Auckland where he was a conductor and motorman on the trams

1913 - Wises P O Directory; C Guilford; Waikumete; Cabinet Maker
1914 - Waimarino Electoral roll; Charles Edwin Guildford; Manunui; Timber worker and his wife Margaret Brown
WW1 - Category Second Reserves; living Asquith Avenue, Mt Albert; occupation timber worker Classification D Name: Charles Edwin Guildford
Residence : MT Albert Year: 1917, Reserve Roll: 2nd Division, in Upper Hutt with the Military police before returning to Auckland 1921 1918- Mrs Charles Edwin Guildford; Asquith Av, Mt Albert, Auckland - the family moved 1918 and the children first attended the Taitai school, Lower Hutt and in 1919, went to school Upper Hutt
1919 - Charles Edwin Guildford, Main Rd, Upper Hutt; Military Police and his wife Margaret Brown Guildford
1921 - Wises Directory: Charles E Guildford; conductor; 27 Wilson St, Glen Lyon, Ak. 1922 - 25: Auckland West Electoral Roll; Charles Edwin Guildford; 19 Islington St; Conductor with wife Margaret Brown, married
1928 - Auckland West Electoral Roll; Charles Edwin Guildford; 19 Islington St; Tramway employee and wife Margaret Brown Guildford, married
1941 - 43: Roskill Electoral roll; Charles Edwin; 39 Waireki Rd, S1; Motorman
1947 - Auckland provincial Roll; Edwin, 10 London St, Auckland
Family are:

i Naomi Margaret Viviene Guildford (b: 29 Dec 1908 at Nurse Caston's Home, Khyber Pass, Auckland; attended Taitai School 1918; d: 1991 Mar: 26 Dec 1929 to Wesley Vivian Goddard (b: 19 Oct 1902 to Thomas Elijah and Alice Goddard, Gloucestershire, England; d: 1996)

GODDARD—GUILDFORD. At St. John's Methodist Church, Ponsonby, on Boxing Day morning Miss Naomi Margaret Guildford, eldest daughter of Mr. and Mrs. C. E. Guildford, of Herne Bay, was married to Mr Wesley Vivian Goddard second son of Mr. and Mrs. T. E. Goddard, of Gloucester, England. The Rev. W. Walker officiated and tho church had been decorated by members of the Sunday School. The bride, who entered the church with her father, wore a frock of silk georgette and silver lace with skirt cut, on uneven lines. The embroidered tulle veil hung from a coronet of orange blossom, and she carried a shower bouquet of Christmas lilies and white carnations. The two bridesmaids in attendance were Miss Olive Guildford, who wore a frock of salmon crepe de chine and Miss Mavis Wilson, in turquoise crepe de chine with uneven lines. Both wore fan-shaped tulle head-dresses with rosebud trimming and carried shower bouquets to tone. The best man was Mr. Arthur Mitchel and the groomsman, Mr. Rodger Errington. Mr. E. W. Graham played the wedding music. An interesting feature of the wedding was tho presence of the bride's great-grandmother, Mrs. Ness, aged 97, who took a great interest in all the proceedings"-
ii Olive Elsie Guildford (b: 02 Dec 1911 in Auckland d: 2005 Mar: 1938 to Edward Richard (Eddie) Jeffers (b: 16 Apr 1908; farmer Kumeu; d: 1991 Orewa) They have a son

iii Royal Charles* David Frank Guildford (b: Oct 1913 in Auckland) Mar: 1936 to Eileen Maude Jeffers - son John Royal Guilford
1941 - Grey Lynn Electoral roll; Royal David Charles Frank Guildford; 24 Arnold St; tram conductor with wife Eileen Maud
1943 - Auckland Suburbs electorate; Living at 58 Wingate St, S W 3; Motorman with wife Eileen Maud, married
1947 - Auckland provincial directory; Royal D; 58 Wingate St, Auckland
1960 - Otahuhu Electoral roll; 34 Howe St, Howick; Storeman
1977 - city, Moore, Western Australia, Australia
1977 - city, Stirling, Western Australia, Australia
1980 - city, Petrie, Queensland, Australia
ii Louisa Elizabeth May Guildford b: May 1886 in Auckland; d: 01 Apr 1887 in Auckland
DEATH: GUILDFORD.—On April 1, at her parent's residence. Union-street, the beloved daughter of E. C and L. A. Guildford: aged 1 month. Interment at Waikumete, on Monday next, April 4th.
iii Walter Oscar Guildford b: 27 Oct 1888 in at Pitt-street, Auckland; d: 11 Dec 1900 in Auckland
Auckland Star, 24 Dec 1900: GUILDFORD.—On December 11, at his parents' residence, Walter Oscar, the dearly beloved second eldest son of L. A. and the late Edwin C. Guildford, of Pittstreet; aged 12 years. Not lost, but gone
iv Nathaniel Alexander Guildford b: 15 Jan 1892 in Auckland; d: 1892 in Auckland

v Francis (Frank) Otto Guildford (b: 26 May 1893 in at his parents residence, Pitt-street, Auckland; WW1 Service No 64498; occup: before enlistment Grocery assistant; d: 17 Oct 1947 in Auckland aged 54Y; Auckland Ceremony and Grave Waikumete; SOLDIERS BURIAL 18 Oct 1947; Block G Section 12a Plot 5 - Next of Kin - M Guildford; 62 West St, Auckland)
Mar: 16 Jun 1923 in St Stephens Presbyterian Church, Herne Bay to Mary Malyon Tapper (b: 1901 eldest dau of father: Joseph Andrew Tapper and her mother, Mary Malyon Robinson of ;. Rocky Nook. Mary widow, d: 18 Jul 1956 in Auckland aged 55Y, Crem. Waikumete, Auckland)

WW1 - Category First Reserves; living at 10 Third Avenue, Kingsland, Mt Albert; occ: grocer recruiting district Auckland; WW1 - Regmental No 64498; Rank Private; Next of kin Mrs Louisa Ann Western, mother living at Third Avenue, Kingsland Ak; Embarkation Unit Date 21 November 1917 Wellington,- 32nd Reinforcements Otago Infantry Regiment, D Company; Transport HMNZT 96; Vessel Maunganui; Destination Liverpool, England

1923 After his marriage Frank joined his brother on the trams in Auckland

1925 - Grey Lynn Electoral roll; Francis Otto Guildford; Cnr Warnock and Dorset St; Conductor with wife Mary Malyon; married
1928 - Grey Lynn Electoral Roll; 82 Warnock street, Grey Lynn

1941 - Frances Otto Guildford; 82 Warnock St, W2; Tram Conductor with wife Mary Malyon;

1943 - Grey Lynn Electoral Roll; 82 Wanock St, W2; Tram conductor and wife Mary Malyon
1947 - Auckland Povincial directory; Frank Otto; conductor; 82 Wanock St, Auckland
1947 - Lived at 62 West St, Auckland

Children are:

1 June Malyon Guildford b: 1925 in Auckland Mar: 1949 to Desmond Sullivan Their children:

a Paul Francis Sullivan mar: C Angow - their 2 children Nicole and James Sullivan

b Glenda Malyon Sullivan mar: M A Coote - their 2 children Malyon Serena and Regan Coote

ii Gloria Aroha Guildford (b: 18 Jul 1936 at Nurse Hooker's, Tutanekai Street, Grey Lynn in Auckland) Mar: 10 Jun 1961 to Vivian Milton Shepherd (his parents - Henry Vivian Shepherd and mother: Mavis Christian nee Wright b: 28 Feb. 1915, in Waipu (his parents div. in 1945 at Ak) In Feb. 1941 he attended Brighams Creek School; d: 2007 aged 71Y) Their children:

a Mark Vivian Shepherd mar; S Meads

b Susan Malyon Shepherd - her children are Taryn Malyon Shepherd and Liam Matthew Shepherd
vi Kathleen Mary Guildford (b: Jan 1892; d: 26 Mar 1892 in Auckland)