Click Slide menu on left
William Victor Hargreaves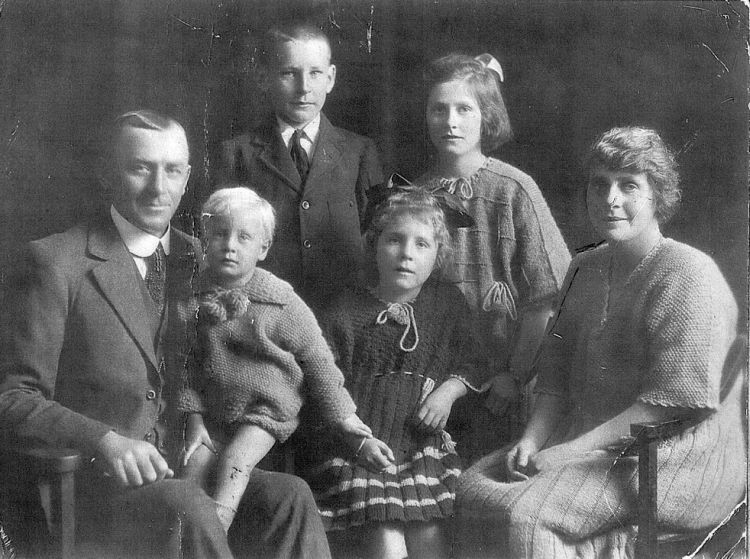 William Hargreaves, seated left with wife Elizabeth Hargreaves. Children - Back: William Victor Hargeaves and May Nickel; Front: Charles William Henry Hargreaves (d: meningitis 7Y) and Kathleen Veronica Nickel (Photo 1925c)
William Victor (Guilford) Hargreaves was b: 24 May 1911 to birth mother Ethel Florence Guilford (her father: James Guilford

(1846-1902) and mother: Mary Hagan (1851-1907); Victor was a WW2 Serviceman; last residence Raumati, he d: 20 Apr 1977; Crem: Karori Cem.)

William Victor Hargreaves mar: 1935 to Mary Jean Alberta Hogg (b: 1915 to parents William James Hogg and Mary nee Barfield) - Their daughter: Myrna Beverley Hargreaves

William Victor Hargreaves mar: 1944 to Beatrice Joan* Coryndon Luxmore (b: 08 Jul 1914 - her parents, Arthur George Coryndon Luxmore and mother Georgina Agnew Cowles; d: 2007)

William's father William Henry Hargreaves was b: 20 Jun 1887 at Dunedin, the son of Charles Daniel Hargreaves occ: Wgtn; carrier (b: 1855; d: 2 Aug 1928 aged 71Y) and mother Annie Gagan (b: 1856; d: 1 Dec 1924 aged 68Y; bur: Karori Cem).

Evening Star: 22 Apr 1903; A deplorable state of affairs was revealed in a case that came before the Wellington magistrate last Friday, when three girls, by name Florrie Hill, Minnie Anderson, and Lottie Anderson, who had been living in a house of ill-repute in Newtown, were convicted on the idle and disorderly charge. "It is no use saying you women cannot get an honest living in the conditions that prevail in Wellington," remarked the stipendiary magistrate. " Instead of that, you prefer to revel in the licentious life you lead, and even parade it before the people of the neighborhood. It may be better for you and it certainly will be better for the public for a short time, if you go to gaol for three months." William Henderson was also sentenced to three months for having consorted with the above women. Subsequently the Salvation Army notified that Minnie Anderson, who is aged only seventeen years, would be admitted to the Army's Home if released on that condition. The magistrate accordingly permitted her to go to the home for three months instead of to gaol.

William Henry Hargreaves (Victor's father) mar: 9 Oct 1905 to Minnie Anderson (b: 1886, dau: of Charles Frederick and Annie Anderson; d: 5 Apr 1962, Lower Hutt; Bur; 7 May 1962, Karori Cem.) With no children together Minnie and Wm took baby William Victor into their care - he is registered as their child (Src: stated "Adopted 21 July 1911" taken from the 1918 divorce papers of Wm H. Snr and Minnie Anderson).

During the years of Minnie and Wm's marriage, they lived at various address's: 1911: Gordon Rd, Khandallah and 12 Arthur St; 1914 Crawford Tce; 1917 at 272 Willis St; 1919 - 195 Vivian St, Wgtn Central

NZ Truth: 15 Jun 1918: HARGREAVES v HARGREAVES. William Henry Hargreaves, a carrier said he mar; Minnie Hargreaves in Oct 1905, and they lived together until Dec of last year. His wife stated that she had misconducted herself with one A. B. Sadler. The co-respondent was ordered to pay £20 costs and disbursements to the petitioner. Decree Absolute; 11 Sep 1919

Evening Post: 25 Nov 1919: STREET COLLISIONS: FOLLOWED BY CIVIL ACTIONS: At the Magistrate's' Court a claim brought by James Leach, taxi proprietor, against William H. Hargreaves and Charles D. Hargreaves, carriers, for £157 12s 3d, damages in respect of a collision between a lorry owned by the defendant and the plaintiff's motor-car On 11th August the plaintiff was driving his car down Adelaide-road when the lorry, driven by W. H. Hargreaves, overtook and collided with it. His Worship said that evidence showed the collision was brought about by the negligent driving of the lorry by the defendant, W. H. Hargreaves. Judgment for the plaintiff Leach against W. H. Hargreaves - £115 15s, with £11 13s costs. Non-suited C. D. Hargreaves, with costs amounting to £5 19s, on the grounds that father and son were carrying on independent businesses.

Elizabeth Woods b: 29 Jul 1890, first mar: in Westham, Essex in the Sep Quarter, 1911, to Conrad Nickel (b: Ropperhausen, near Kassell, Germany - it is a very small farming town and at that time, the bleak economy would have been the reason he went to the UK. Conrad immigrated to NZ as crew - occ: as cook, from London on 28 Mar 1912 on the ship "Waimana" (Capt W B Holmes) to Wellington

Conrad Nickel and his wife, Elizabeth nee Woods had two children;
i May Beatrice Nickel b: Abt. Mar 1909 in Southampton She travelled to NZ with her mother, she became a milliner and ran a hat shop in the Prudential Building on Lambton Quay

ii Kathleen Veronica Nickel (b: 06 Sep 1916 in Wellington; d: 20 Mar 2012 in Nursing Home, Melbourne) She mar: 1935 to Francis Bernard Collis (b: 16 Jun 1912 in Malbourne, Victoria - his parents were William Francis Collis and mother, Margaret Ann O'Neil; he d: 16 May 1998 in Whangarei; Bur: Manunu Cem. RSA Block 21 C
NZ 1917 Alien Records - Prisoner of War: Name CONRAD NICKEL; Date 1917; Age 40; Birth Country Germany; 4 Yrs in NZ; Place; Somes Island
(May Beatrice NICKEL attended Mt Cook Infants School, Wellington; Admission Date 9 Nov 1916. She and baby sister Kathleen Veronica were sent to separate Homes of Compassion (one for babies, the other for older children) because Elizabeth was sick after childbirth and couldn't feed and look after the two children.)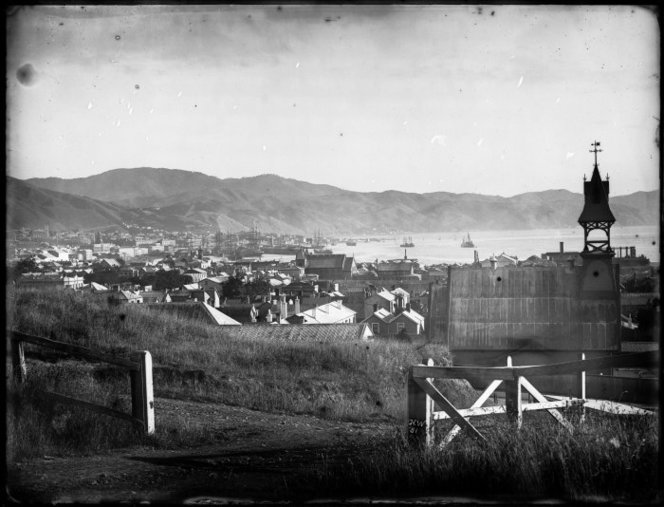 Wellington from Mount Cook circa 1890s. Photo looks over buildings towards the harbour with Mount Cook Infant School in the foreground and the Wesleyan Church in Taranaki Street in the centre. Photograph taken by Henry Charles Clarke Wright.
Dominion: 11 Nov 1920: UNUSUAL DIVORCE CASE: ENGLISH WIFE V GERMAN HUSBAND. An undefended divorce case Elizabeth Nickel petitioned for dissolution of her marriage with Conrad Nickel, on the ground that he was a person ot enemy origin, who was absent from New Zealand, the petition being brought under the provisions of the Divorce and Matrimonial Causes Amendment Act of 1919. Mrs Nickel said she had married Nickel, a German in England in 1911, and had come to the Dominion in 1912 prior to the war, In 1914 he was arrested as an enemy alien, and was interned on Somes Island for a month, When released and liberated in September and returned to his former employers as cook, and petitioner had received £l8 a month for a time. The other men would not work with him and he applied to be sent back to the island On his own application, was re-interned, being employed on Somes Island as a cook and was later at Featherston During the period of his internment for the second time, respondent's wife received £l8 a month from the Defence Department. In 1916 the internee was liberated, but within a few days he became under the influence of liquor and used language that resulted in his re-internment. During his third period of incarceration, the respondent received 3s. a day for road making, but never again sent his wife any money. Before his deportation took place, he offered to take his wife to Germany, but she refused. She requested grounds for a decree - Desertion. The Judge said that there was no evidence of desertion. The respondent had maintained his wife until his final internment in 1916, and had offered to take her home with him. Mr. Scott submitted that respondent had failed to maintain his wife since 1916 which constituted desertion. His Honour maintained that if a man who was in gaol for over four years was he guilty of desertion?
31 May 1921 - HUSBAND DEPORTED - WIFE GRANTED A DECREE NISI: The average undefended divorce case has little to commend it to the public interest, but "Has a man left New Zealand if he has been forcibly ejected?" asked His Honour. "One would have thought that the Act would apply in cases where the man left the country voluntarily. The Act was passed for the protection of British women, and is intended to apply in cases in which wives have been deserted. "This is a case of deporting, not a deserting" replied his Honour. Mr Scott submitted that as the Act was passed in 1919, some time after the Germans had been deported, it was clear that the provisions should apply to deportees, otherwise special mention would have been made of particular cases. Major T Finnis gave formal evidence to Nickel's having been deported to Germany "at his own request" His Honour, remarked that the evidence given by Major Finnis dealed up the difficulty as to "deporting or deserting'' An order was made for a decree nisi, to be made absolute within three months - Petitioner was given custody of the children.
William Henry Hargreaves mar: 15 Sep 1921 to divorcee Elizabeth Nicol (marriage registered under her maiden name of Woods) She was b: 1883 Essex to parents Peter and Sarah Woods and d: 17 Dec 1976 Wellington; bur: 17 Dec 1976 Karori Cem.) They had 2 sons:
i Charles William Henry Hargreaves (b: 1922; d: 19 May 1929 in Wellington, 7Y)
ii Henry Louis Mitchell Hargreaves (b: 09 Nov 1925; d: 03 Aug 2006 in Lower Hutt; Wgtn)
Evening Post, 23 Aug 1922: UNDER PRESSURE
:
CARRIER GOES BANKRUPT. William Henry Hargreaves, carrier at a meeting of creditors held yesterday made plea that if he had been given time he could have paid his creditors before the Official Assignee (Mr. S. Tansley). Bankrupt's statement was as follows: "My business is that of a general carrier, which I carry one with one van. For some time past I have not been able to obtain sufficient carrying business to pay my way. Numerous creditors sued me, and there was also an order on judgment summons against me. I have not got the money to meet these debts, and to save myself from imprisonment I have been forced to file my petition in bankruptcy. If I had been given time, and not forced through Court proceedings, I believe that I could have paid off my debts." The debts to unsecured creditors totalled £180 18s 6d, and those to secured creditors £61 3s l0d; his assets estimated at £134 18s 7d. The bankrupt, in reply to questions, admitted he had gone to races sometimes, but denied gambling or leading a fast life. He had a wife and four children, and his earnings had averaged about £6 a week. The Official Assignee said he would adjourn the case sine die for the assets to be realised, although-he thought the securities placed at £83 would probably turn out nil. He might be able to pay 4s. in the £.
Hargreaves Family Research courtesy of descendants Tracey and Mark